israeli election results 2021
Official election results are in: President Rivlin emphasizes that voters have called for 'unusual' collaborations
Likud immediately strikes back with warning for Rivlin to stay out of politics
President Rivlin received the official results of the elections to the 24th Knesset in a ceremony at Beit HaNasi, March 31, 2021. (Photo: Amos Ben Gershom/GPO)
Upon receiving the official election results of the 24th Knesset in a ceremony today, President Reuven Rivlin called for "out-of-the-ordinary coalitions," perhaps an indication that he will take an untraditional approach in determining who is the best candidate for prime minister.
This was the fifth time since he became president seven years ago that Rivlin received the official results of the nation's elections. Central Elections Committee Chairman and Supreme Court Justice Uzi Vogelman presented the results to Rivlin at his official residence in Jerusalem.
"I truly hope that the elected officials, representatives of the public, are able to hear the Israeli people and their call for out-of-the-ordinary coalitions, collaborations that cross sectors, working in a serious and dedicated way for the good of all of Israel's citizens," Rivlin said.
The president usually taps the party leader with the highest number of seats to get a first chance to form a government. But after so many inconclusive elections and more than one year into a global pandemic, times are complicated, he said.
"I have not yet completed seven years of my term as president, and yet this is the fifth time I am receiving results of elections to the Knesset, and the fourth time in less than two years," Rivlin noted. "There is no need to elaborate on the complicated situation that Israeli society and politics find themselves in, but we must not forget that elections to the Knesset are a prime example of our statehood, the 'holy of holies' of our democracy."
Likud – the part with the highest number of seats at 30 – shot back immediately after Rivlin's speech, posting a warning on Twitter for the president to act responsibly.
"The president does not determine the election results! He must not be a political actor," Knesset Speaker Yariv Levin, Energy Minister Yuval Steinitz and Internal Security Minister Amir Ohana wrote in the tweet. "Since the establishment of the state, all Israeli presidents have given the first opportunity to form a government to the candidate who received the largest number of recommenders – and this should be the case this time as well."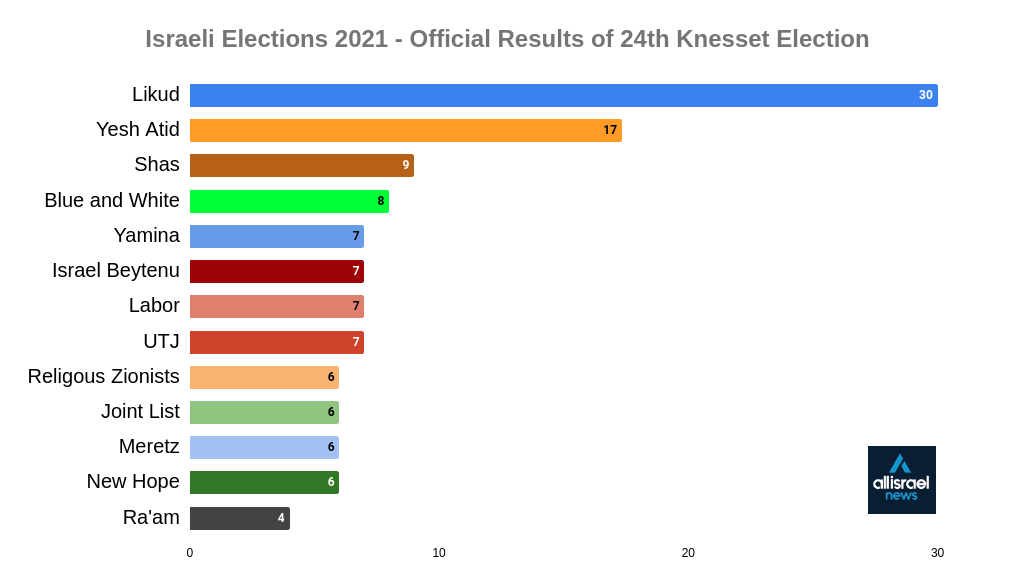 The results of the last three elections have failed to result in a stable, majority government and instead the country has been swept into a seemingly endless loop of elections.
Most recently, a coalition was formed based on a rotation of the prime minister position between Benjamin Netanyahu and Benny Gantz, but the government crumbled after the Knesset failed to agree on a budget.
"Israeli society needs a government that will pass a budget, that will lead a process where the symptoms and the citizens who have been harmed are made better, and where the institutions of the state are rescued from the political stalemate that we found ourselves in precisely at the time when Israel's citizens need them more than ever," Rivlin said.
Behind the scenes, parties are deep in negotiations. Netanyahu and Likud are supposedly trying to recruit defectors and to secure a 61-seat majority.
But much depends on – as Rivlin put it – "out-of-the-box" alliances such as the Islamic party Ra'am sitting with Religious Zionism and ultra-Orthodox parties.
Another possible "unusual collaboration" would be the "change bloc" of Yair Lapid's centrist Yesh Atid and his 17 seats with right-wing allies, Naftali Bennett and Gideon Sa'ar.
Defense Minister Gantz, whose Blue and White party ended with 8 seats, has been pushing the anti-Netanyahu bloc to set their differences aside and unite. He is reportedly meeting with Lapid today.
These parties would align along a singular principle: to prevent Netanyahu from continuing as prime minister.
Some reports today said that Lapid is willing to share a prime minister rotation with Bennett, but he wants to be the one to form the government. Meanwhile, Sa'ar – who supports such an alliance – reportedly urged Lapid to "put ego aside," and let Bennett serve as prime minister first.
The clock is ticking. On Monday, each party will begin presenting their recommendations for prime minister to Rivlin. On Wednesday, Rivlin will announce his decision.
"The main consideration that will guide me in selecting a candidate to entrust with forming a government is the chance of the selected Knesset Member to form a government that will secure the confidence of the Knesset," Rivlin said. "A government that will heal the divisions between us and rebuild Israeli society, which has suffered such a grievous blow because of the coronavirus pandemic." 
"The political crisis that is shaking us is harming and weakening our democracy to a certain extent, but it will not beat us," Rivlin continued. "We are stronger than it. Israeli society is stronger than it."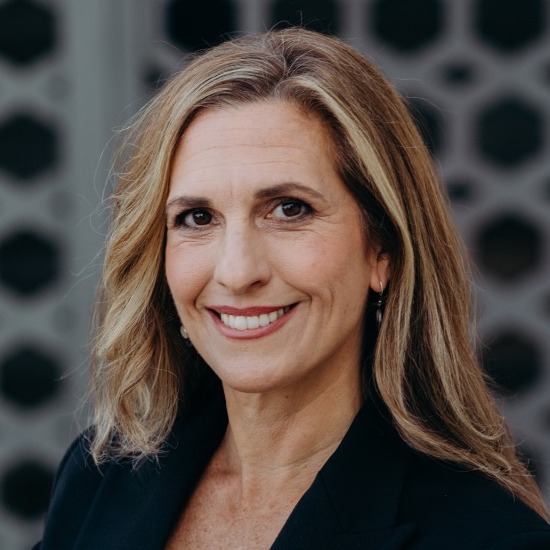 Nicole Jansezian was the news editor and senior correspondent for ALL ISRAEL NEWS.
A message from All Israel News
Help us educate Christians on a daily basis about what is happening in Israel & the Middle East and why it matters.
For as little as $5, you can support ALL ISRAEL NEWS, a non-profit media organization that is supported by readers like you.
Donate to ALL ISRAEL NEWS
Current Top Stories
Comments