Newsmax TV opens bureau in Israel – and its first correspondent is Jewish, the grandson of an Auschwitz survivor, and sees Israel as 'the center of the world'
Daniel Cohen speaks to ALL ISRAEL NEWS for the first time about why the fastest growing TV network in the US now has its eye on Israel and the Middle East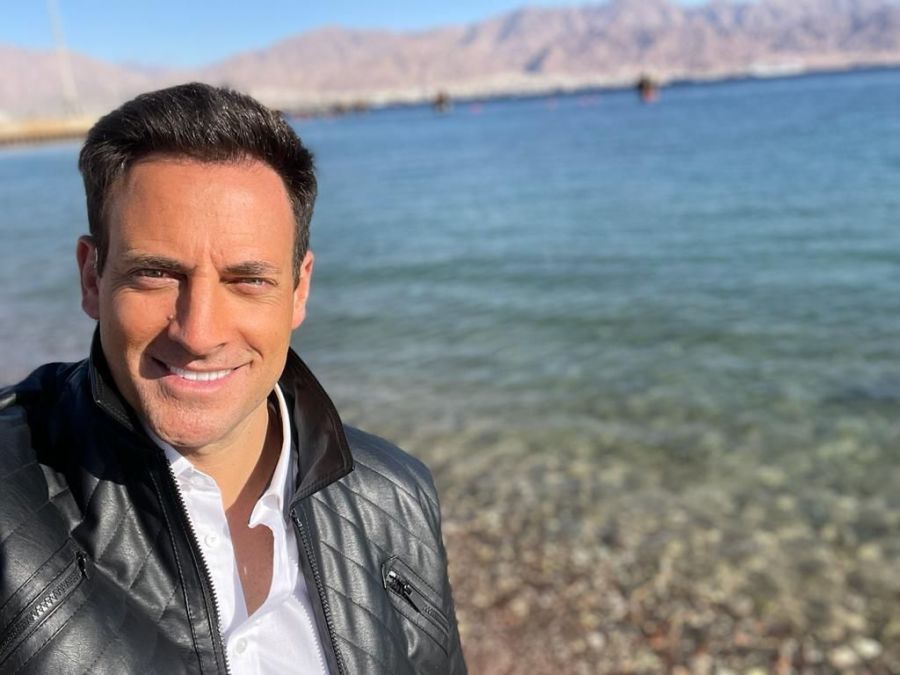 Daniel Cohen (Photo courtesy)
JERUSALEM—Last September, shortly after appearing on "Spicer & Co" on Newsmax TV to discuss how President Biden was handling the Iran nuclear threat, I had dinner with Chris Ruddy, the founder of the Newsmax media empire.
I told him that with all that he has accomplished so far, it was time he opened a bureau in Israel.
"I just did," Ruddy told me. "We've just hired a reporter. He's there now and we're getting up and running."
THE NEWSMAX SURGE
In December, I traveled to the Newsmax headquarters in Boca Raton, Florida, to spend the day with Ruddy.
I wanted to better understand his vision for his news agency, his reasons for opening an Israel bureau, and to discuss ways to work together. 
He asked me to appear again on his network to discuss why former President Donald Trump told an Israeli reporter how angry he was at former Israeli Prime Minister Benjamin Netanyahu, and why Trump would say on the record, "F--- Bibi."
Afterwards, we had dinner at Mar-a-Lago and spent time with Trump, the club's owner.
What Ruddy has built from scratch is truly extraordinary.
NEWSMAX TURNS TO THE EPICENTER
Now the conservative media mogul wants to provide original coverage of Israel and the Arab/Muslim world.
To do that, Ruddy has hired Daniel Cohen.
A 44-year-old Emmy-award winning journalist, Cohen previously served as the morning co-anchor on the highly rated "Good Day LA" on Fox 11 in Los Angeles, as well as morning anchor at CBS 8 in San Diego.
"The Mideast is extremely important regarding geopolitical issues, and for American interests," Ruddy said when the bureau opened last fall. "We're pleased to have Daniel Cohen – a savvy, experienced news anchor with a keen ability to communicate complex matters to the public, as our person in the region."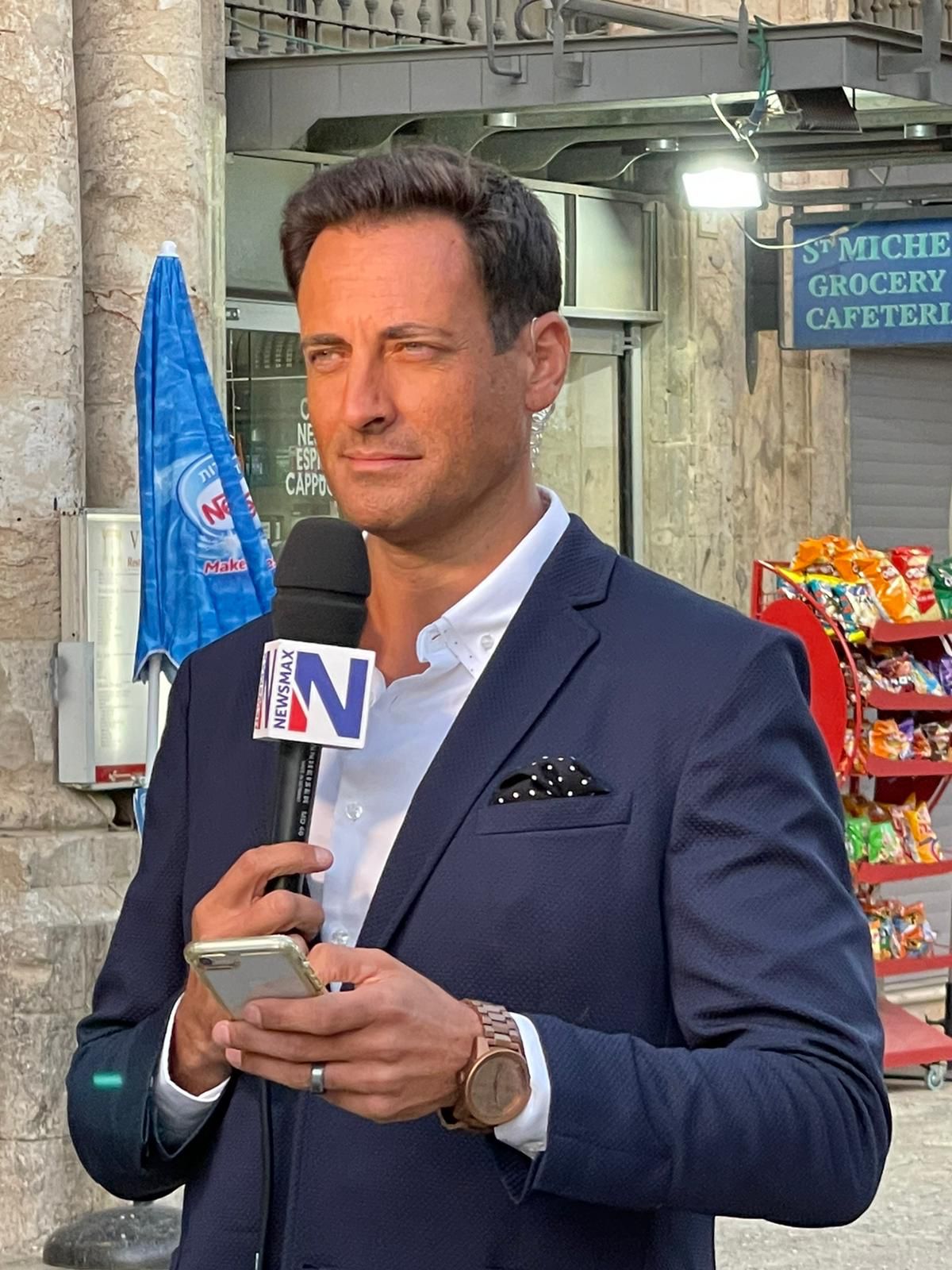 Daniel Cohen (Photo courtesy)
SO, WHO IS DANIEL COHEN REALLY?
Beyond the basic facts of his bio, I found Cohen a fascinating guy who is deeply excited about this news assignment and new season in life.
A husband and father of three kids, all of whom have moved here to Israel, Cohen is Jewish on both sides of his family.
One of his grandmothers was not only a survivor of the Holocaust, but a survivor of the Auschwitz-Birkenau death camp.
And he's fascinated with the Bible and the ancient history of Israel and the region, as well as with its breaking news.
Cohen told me he believes Israel is "the center of the world" but the subject of tremendous media bias and disinformation.
That's why he's grateful for the opportunity to cover the country and region, especially with the prospect of an Israeli war with Iran brewing.
"I feel like it's very important for me to be here just to be able to be a truth-teller."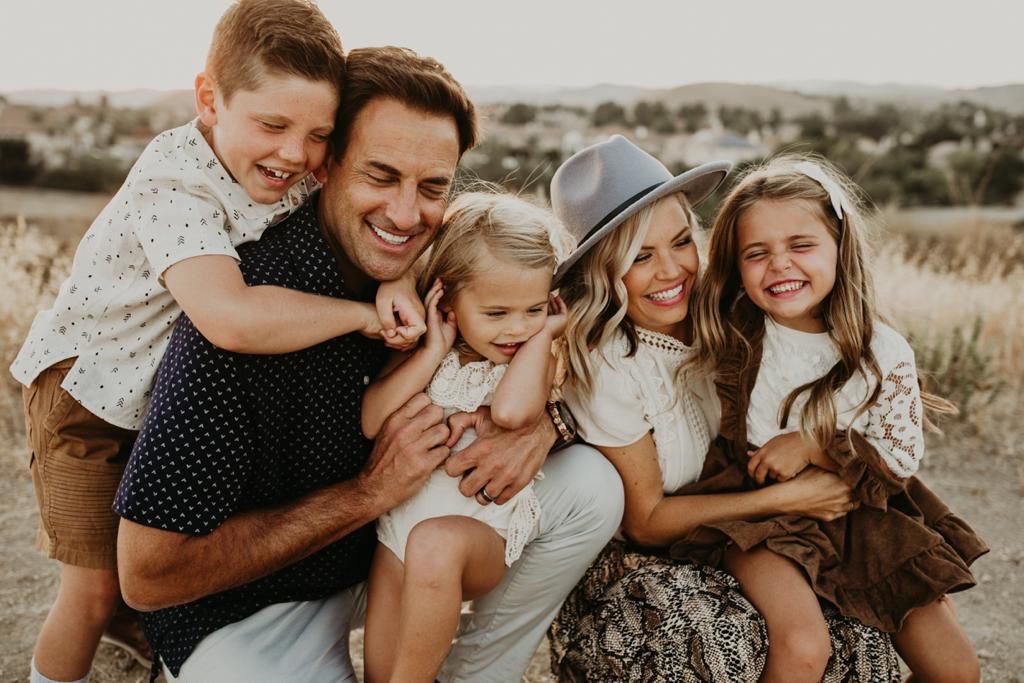 Daniel Cohen and his family (Photo courtesy)
Here's my exclusive interview with Cohen, the first he has done since opening the bureau last September. 
The following is the transcript of our interview, lightly edited for clarity.
ROSENBERG: Daniel, you are Newsmax's first-ever correspondent in Israel. Welcome. You also have a fascinating backstory. I want to talk to you about your Jewish roots and family's connection to the Holocaust in a moment. But first, why has Newsmax opened a bureau here and why have they sent you?
COHEN. Well, as you know, every reputable, powerhouse news organization around the world that wants to be taken seriously has to have a presence in Israel. I mean, it's the center of the world. 
For a country the size of New Jersey with around about 9 million people or so, Israel generates a lot of news. 
It's the home of all the Abrahamic faiths – Christian, Jewish, Muslim – and there's so much that happens here and it all goes back to the Bible. There's an historical context that's beautiful. There is biblical context that's beautiful, if you know what the Word says. And it's amazing to see all these dynamics playing out, based on events that happen thousands of years ago. 
So why am I here? I am here to bring the truth of what happens in the Middle East, the truth of what happens in Jerusalem and Israel, and bring the truth to light because Israel doesn't get a lot of fair coverage. 
There are politicians and others in the United States who have never been here, who have never set foot in Israel, yet they hold up "Free Palestine" signs or use anti-Israel rhetoric. They don't support our only democratic ally here in the Middle East, which is surrounded by enemies that want to destroy it. So, I feel like it's very important for me to be here just to be able to be a truth-teller.
And the Newsmax audience is a conservative audience that loves Israel. And so for me, it's the right place, right time – a perfect fit.
ROSENBERG: Now with a name like Daniel Cohen, people going to say, "I think that guy is Jewish." Is that the case?
COHEN: Yeah. So, my mother is Jewish. My father is Jewish. Both sets of my grandparents on both sides are Jewish. My grandmother is a Holocaust survivor. My grandfather is buried in Eretz Chaim Cemetery right outside the Jerusalem hills. So I am absolutely as Jewish as Jewish can be. 
ROSENBERG: That's great. Now, we've just celebrated International Holocaust Remembrance Day. And I understand that your family has a personal connection not just to the Holocaust, but to Auschwitz. Would you tell our readers about that?
COHEN: Sure. My grandmother just died a month-and-a-half shy of her 99th birthday. 
ROSENBERG: Wow. 
COHEN: She survived two concentration camps, including Auschwitz. 
Only 2% of the Jews who were sent to Auschwitz made it out alive. Two percent. And we know how many were slaughtered. We've seen the grotesque and horrific images. So, I am here because of her fortitude, because of her strength, because of her courage. 
She told us stories when I was younger about how she stood in front of an electric fence one day at Auschwitz, all day, just contemplating throwing herself on the fence just to end her misery. That was real life for people who were suffering to such a degree that jumping on an electric fence seemed to be the better alternative to trying to fight through it. 
But I'm glad she fought through it. I wouldn't be here if she didn't.
ROSENBERG: What a heroine. And she was must have been so young.
COHEN: Yeah – in the prime of her life. She was born in 1922. 
And you know, there is the ripple effect, the psychological damage that the Holocaust has, and there are generations of Jewish people who live with the scars. So, I was never in Auschwitz. But there are scars that were passed down in my family and my bloodline because of what she saw and what she experienced. 
So, I am just thankful that God spared her. She was sent to die multiple times over, and God kept sparing her life. And I'm so very thankful that He did, and then I'm thankful that I get to carry on her legacy in her name.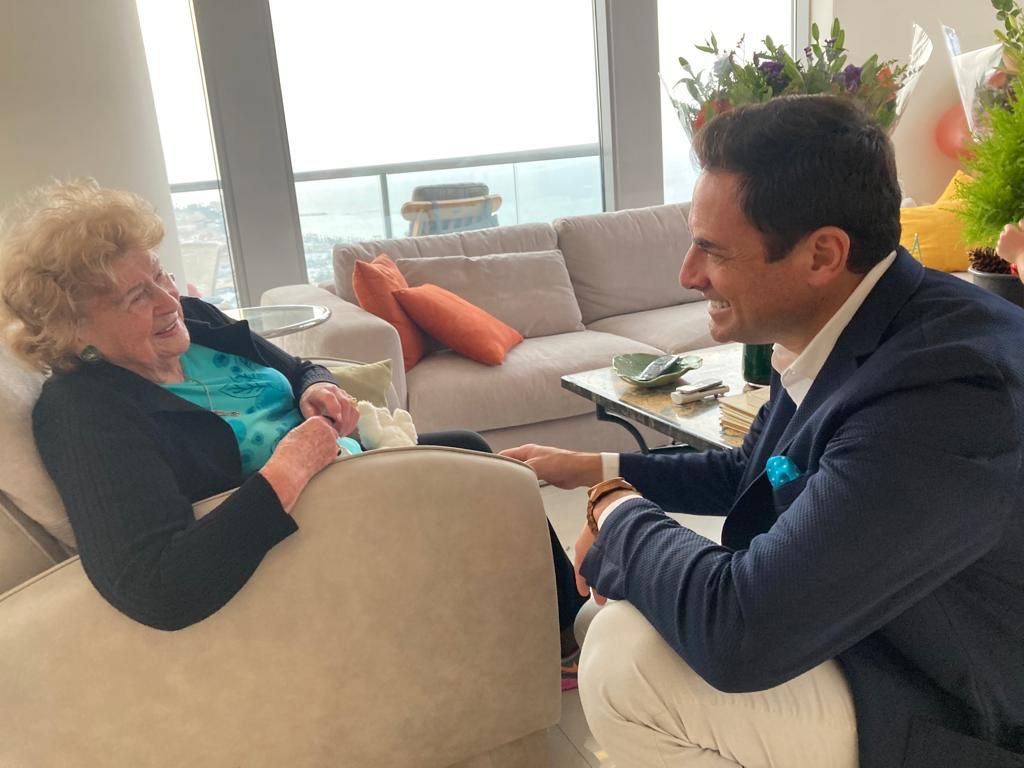 Daniel Cohen with his grandmother Laura for her 98th birthday in Tel Aviv, Dec. 2020 (Photo courtesy)
ROSENBERG: Absolutely. Daniel, thank you for sharing that story. I believe the history of the Holocaust is relevant again as we cover stories like the Iran nuclear threat. 
After all, the risk is that if the Ayatollah Khamenei, or his successor, is able to get nuclear weapons and attach them to the high-speed missiles they already have, the Ayatollah could do in about six minutes what it took Adolf Hitler six years to do and that is kill six million Jews. If Iran is actually able to attack the State of Israel with nuclear weapons, they could take out more than six million Jews. 
So, the Holocaust isn't some dusty, irrelevant story from the past. No. The lessons of standing up to evil are as current as today's headlines. That's why I appreciate all the work that you're doing here to cover the region and tell the truth. 
COHEN: Thanks. And what you're saying is so powerful – we shouldn't just be watching and following the news. People need to understand the historical context. Right?
We see China, Russia and Iran forming a powerful alliance. Last Friday, their navies decided to hold drills together. 
And we're seeing America projecting weakness from the White House. That's not a cheap shot. That's the truth. 
America has withdrawn its diplomats from Ukraine. President Biden just agreed to release five terrorists from GITMO, one that planned a Hanukkah bombing in 2002 in Kenya that killed Jewish children. 
Why are we projecting this weakness? There's a historical context to all this, and I believe there are dynamics here that go all the way back to the Bible. 
ROSENBERG: Well, you've certainly come to a target rich environment when it comes to journalism. Congratulations on being Newsmax's reporter on the scene, and I wish you all the success.
COHEN: Thanks, Joel. Nice to see you. 

Joel C. Rosenberg is the editor-in-chief of ALL ISRAEL NEWS and ALL ARAB NEWS and the President and CEO of Near East Media. A New York Times best-selling author, Middle East analyst, and Evangelical leader, he lives in Jerusalem with his wife and sons.
A message from All Israel News
Help us educate Christians on a daily basis about what is happening in Israel & the Middle East and why it matters.
For as little as $5, you can support ALL ISRAEL NEWS, a non-profit media organization that is supported by readers like you.
Donate to ALL ISRAEL NEWS
Current Top Stories
Comments