Netanyahu meets with Rev. Franklin Graham, 1st major Evangelical leader to come to Israel since Oct. 7
'Your coming here, standing with Israel – in Israel – is mightily important and gives us a lot of strength,' Netanyahu tells Graham
Israeli Prime Minister Benjamin Netanyahu meets with Samaritan's Purse President and CEO Rev. Franklin Graham, Nov. 15, 2023 (Photo: Kobi Gideon/GPO)
JERUSALEM, ISRAEL — Israeli Prime Minister Benjamin Netanyahu today warmly welcomed Reverend Franklin Graham, the president and CEO of Samaritan's Purse – the world's largest Christian humanitarian relief organization – to his military command center known as the Kirya in Tel Aviv.
ALL ISRAEL NEWS broke the story earlier today that Graham is here in Israel this week, having arrived on Monday.
Graham came to provide much-needed relief supplies for Israeli families devastated by the Hamas invasion and massacre, meet hostage families, tour the Gaza border, record an interview for TBN TV, meet with Israeli Christian and Messianic Jewish leaders, and offer the nation hope from the Bible. 
I was surprised but grateful to be invited to have a private meeting with the famed evangelist on Wednesday morning.
We had about 20 minutes together and I really appreciated the questions he asked me.
What's more, I appreciated the opportunity to get a first-hand report from him of what he's been seeing and hearing – and what he's been saying – over the past several days.
"The fact that you're coming here, standing with Israel – in Israel – is mightily important and gives us a lot of strength, a lot of encouragement," Netanyahu told Graham during their meeting Wednesday afternoon.
"I have to say that the world today appears to be divided by two forces: Those who support Israel and its just fight against Hamas terrorism, and those who support Hamas terrorism."
"I think, Reverend Graham, your many followers around the world understand that Israel is fighting a just war, fighting according to international law, trying to minimize civilian casualties, and root out the terrorists," Netanyahu added. "And I think that's our common battle, the battle of civilization against barbarism."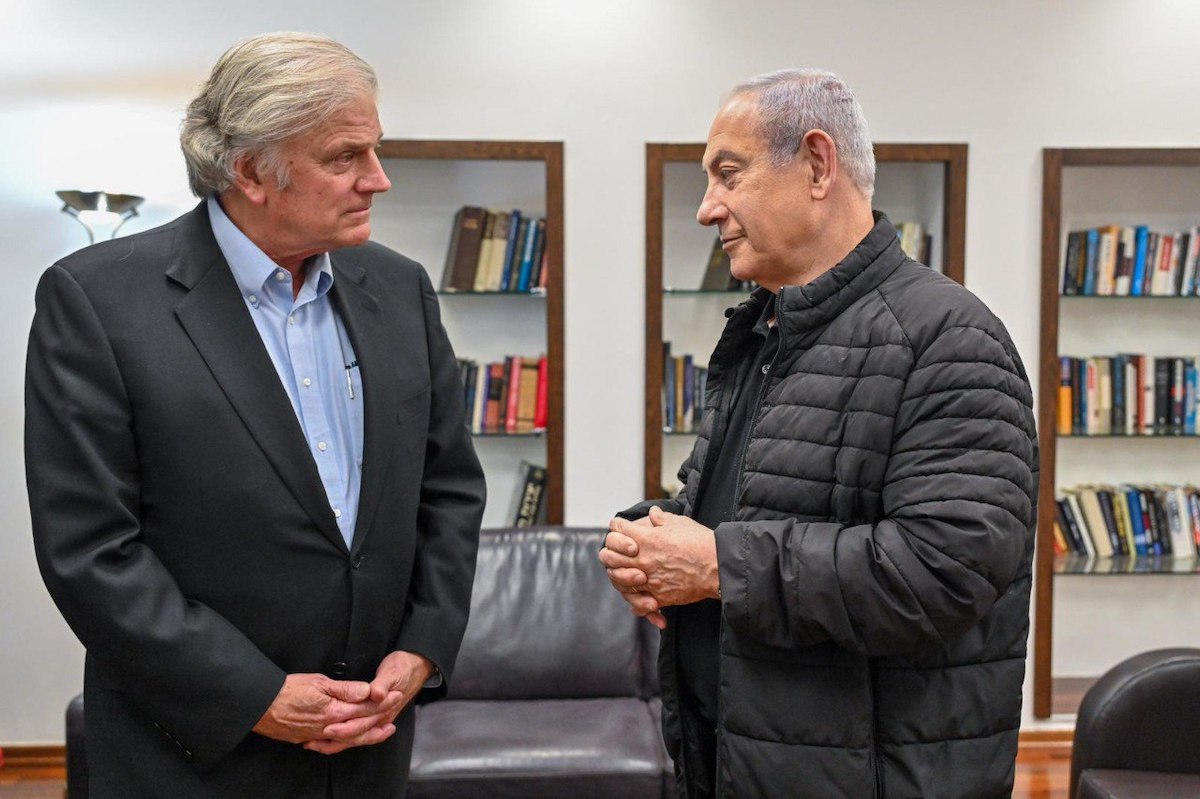 Israeli Prime Minister Benjamin Netanyahu meets with Samaritan's Purse President and CEO Rev. Franklin Graham, Nov. 15, 2023 (Photo: Kobi Gideon/GPO)
Netanyahu, who has met Graham numerous times over the years, confided: "I have to say that, by contrast, you know, there are forces that support the terrorists. And one of them is President Erdoğan of Turkey, who calls Israel a terrorist state, but actually supports the terror state of Hamas, has himself bombed Turkish villages inside Turkey itself. So, we're not going to get any lectures from them."
"We stand with those who stand for justice and truth, like Reverend Graham, our many Christian friends around the world, but also so many others. We saw that yesterday in a mass demonstration in Washington of Jewish leaders and non-Jewish leaders – leaders of the Senate, leaders of the House. They stood for Israel. They stood for truth. They stood for justice. That's the forces of civilization that will ultimately win the day."
Also participating in the meeting was Ron Dermer, Israel's Strategic Affairs minister, as well as the National Security council director and the prime minister's foreign policy advisor.

Joel C. Rosenberg is the editor-in-chief of ALL ISRAEL NEWS and ALL ARAB NEWS and the President and CEO of Near East Media. A New York Times best-selling author, Middle East analyst, and Evangelical leader, he lives in Jerusalem with his wife and sons.
Popular Articles
A message from All Israel News
Help us educate Christians on a daily basis about what is happening in Israel & the Middle East and why it matters.
For as little as $5, you can support ALL ISRAEL NEWS, a non-profit media organization that is supported by readers like you.
Donate to ALL ISRAEL NEWS
Latest Stories