Evangelical leader Franklin Graham is in Israel to provide humanitarian aid, meet hostage families, tour Gaza border, offer hope from the Bible
I met privately with Franklin this morning – here's what I learned
Rev. Franklin Graham meets Israeli families at Kibbutz Be'eri (Photo courtesy of Samaritan's Purse)
JERUSALEM, ISRAEL – The Reverend Franklin Graham is one of the most prominent and influential Evangelical Christian leaders in the world.
He's also the first Evangelical leader to rearrange his schedule and come into the hot war zone known as Israel since Hamas attacked us on October 7.
I'm so grateful that he is here.
And I'm both praying for and actively encouraging other Evangelical leaders to visit soon.
Arriving Monday evening, Graham spent Tuesday touring Israeli communities along the Gaza border that were devastated by the Hamas invasion.
In Kibbutz Be'eri, for example, he met with Jewish families who have lost everything.
He walked through bomb-damaged homes whose floors are stained with blood and walls are riddled with bullet holes.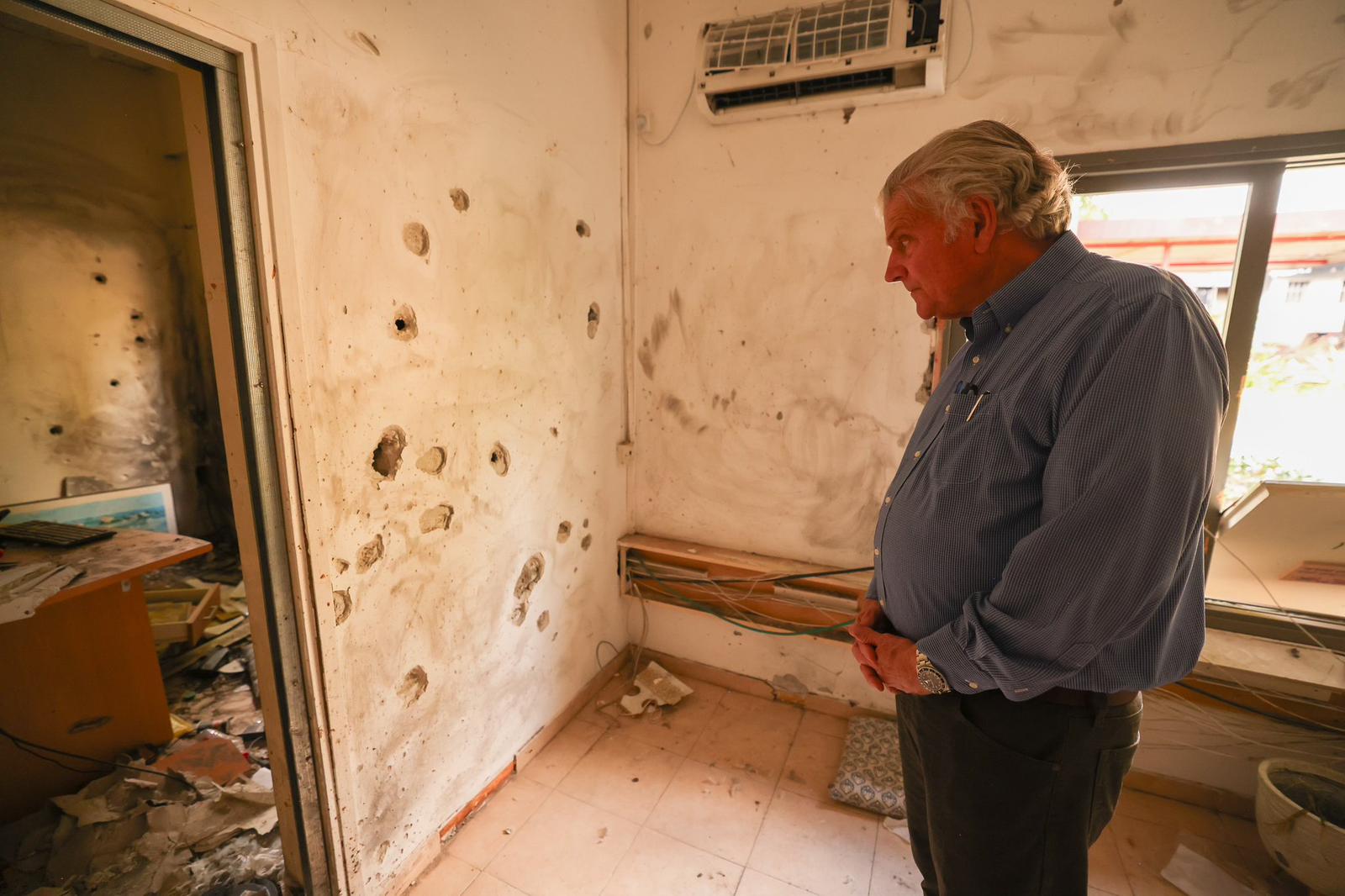 Rev. Franklin Graham tours Kibbutz Be'eri (Photo courtesy of Samaritan's Purse)
He heard the explosions of ongoing artillery and mortar fire.
He was also briefed on the latest developments in the war.
In a different location, Graham met with grieving Israelis whose loved ones were captured by Hamas terrorists and are now held hostage in the Gaza Strip.
In each place, Graham listened to intensely personal and painful stories of heartache and loss.
He asked a wide range of questions, and was asked a wide range of questions by some Israelis who are religious and quite a few who are not.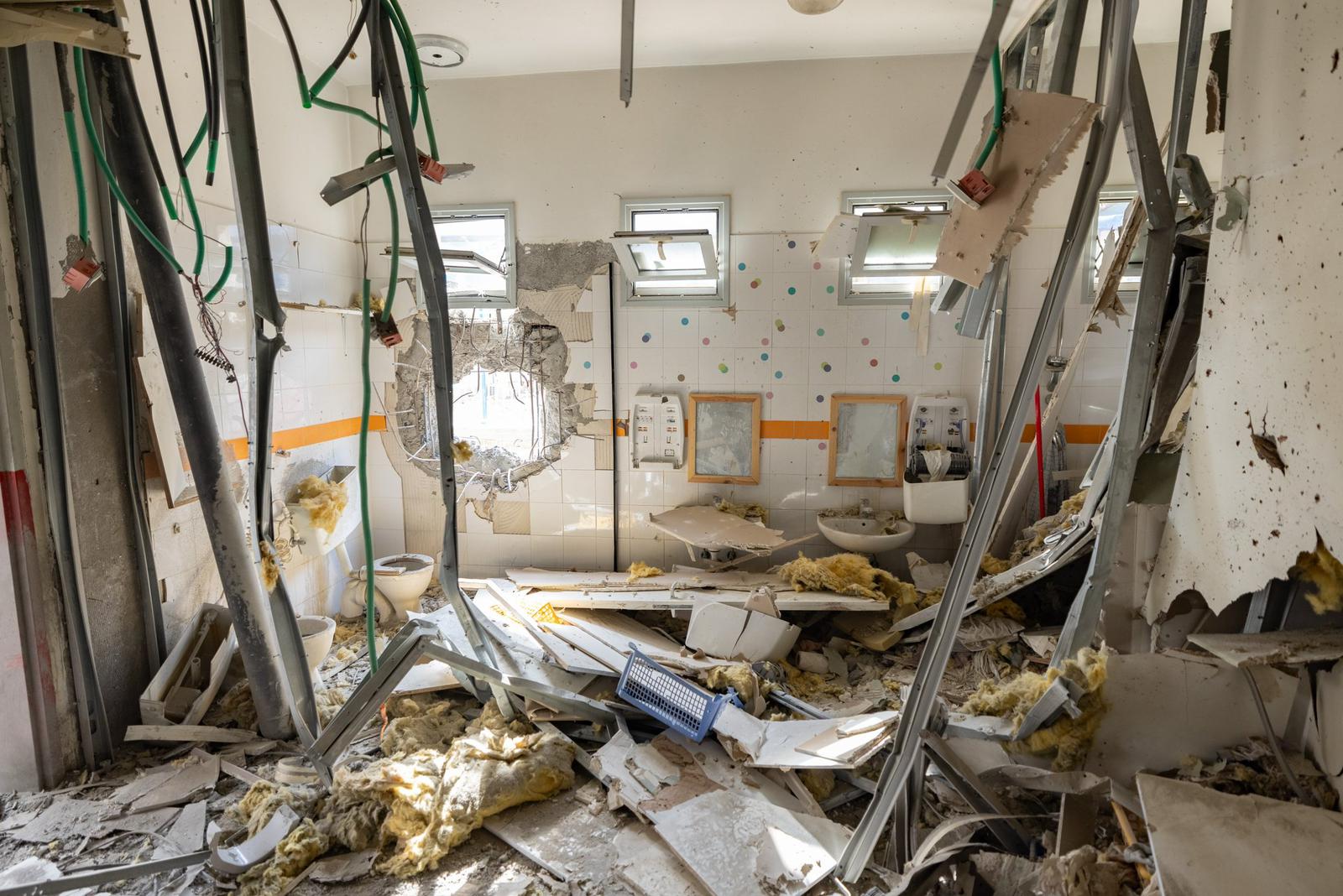 Home destroyed by Hamas terrorists in Kibbutz Be'eri (Photo courtesy of Samaritan's Purse)
Consistent with his practice in war-torn regions all over the world – including in the Arab/Muslim world – he brought a message of hope.
Graham quoted numerous passages from the Hebrew scriptures – what Jews call the "Tanakh" and Christians call the "Old Testament" – especially from the Psalms.
The 23rd Psalm – one of the most beloved in all of the Bible – was one he particularly turned to.
Graham emphasized that God is the Good Shepherd of Israel who wants to care for and protect His flock.
Also consistent with his message all over the world, Graham made it clear – with particular gentleness and respect – he believes that Jesus of Nazareth is the Messiah and the Good Shepherd who loves both Israelis and Palestinians with a deep and everlasting love.
Good for him.
This morning, Graham came to Jerusalem to visit the television studios of the Trinity Broadcasting Network (TBN).
Here he recorded a TV special with his friend Samuel Smadja – a sabra Israeli, Jewish follower of Jesus, and the owner of TBN Israel, among several other businesses and ministries – on his impressions of the war, the pain he sees innocent civilians feeling on both sides as they are being traumatized by this war, and why he hopes Jews and Muslims will look to the Bible, both the Old and New Testaments, for answers in this terrible time.
I was encouraged to find out that amidst his intensely busy schedule on the ground here in Israel, he is meeting with various Evangelical and Messianic believers in the Land.
And I was surprised but grateful to be invited to have a private meeting with the famed evangelist.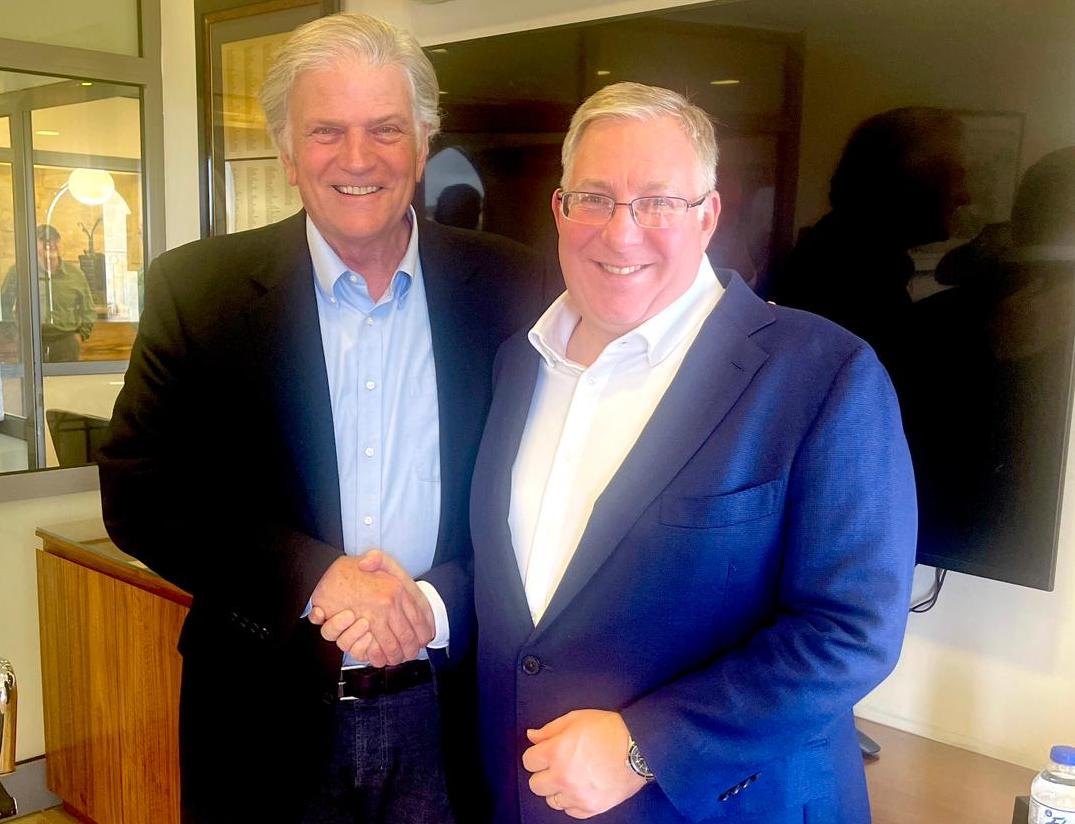 Rev. Franklin Graham and Joel Rosenberg meet in Jerusalem (Photo courtesy of Samaritan's Purse)
We had about 20 minutes together and I really appreciated the questions he asked me.
What's more, I appreciated the opportunity to get a first-hand report from him of what he's been seeing and hearing – and what he's been saying – over the past several days.
By God's grace, I had the joy and honor of knowing his father – the late Rev. Billy Graham, the most famous evangelist of the 20th century – but this was my first time meeting Franklin.
I told him I am particularly grateful that he and his ministry, Samaritan's Purse, have brought so much humanitarian relief supplies into the country.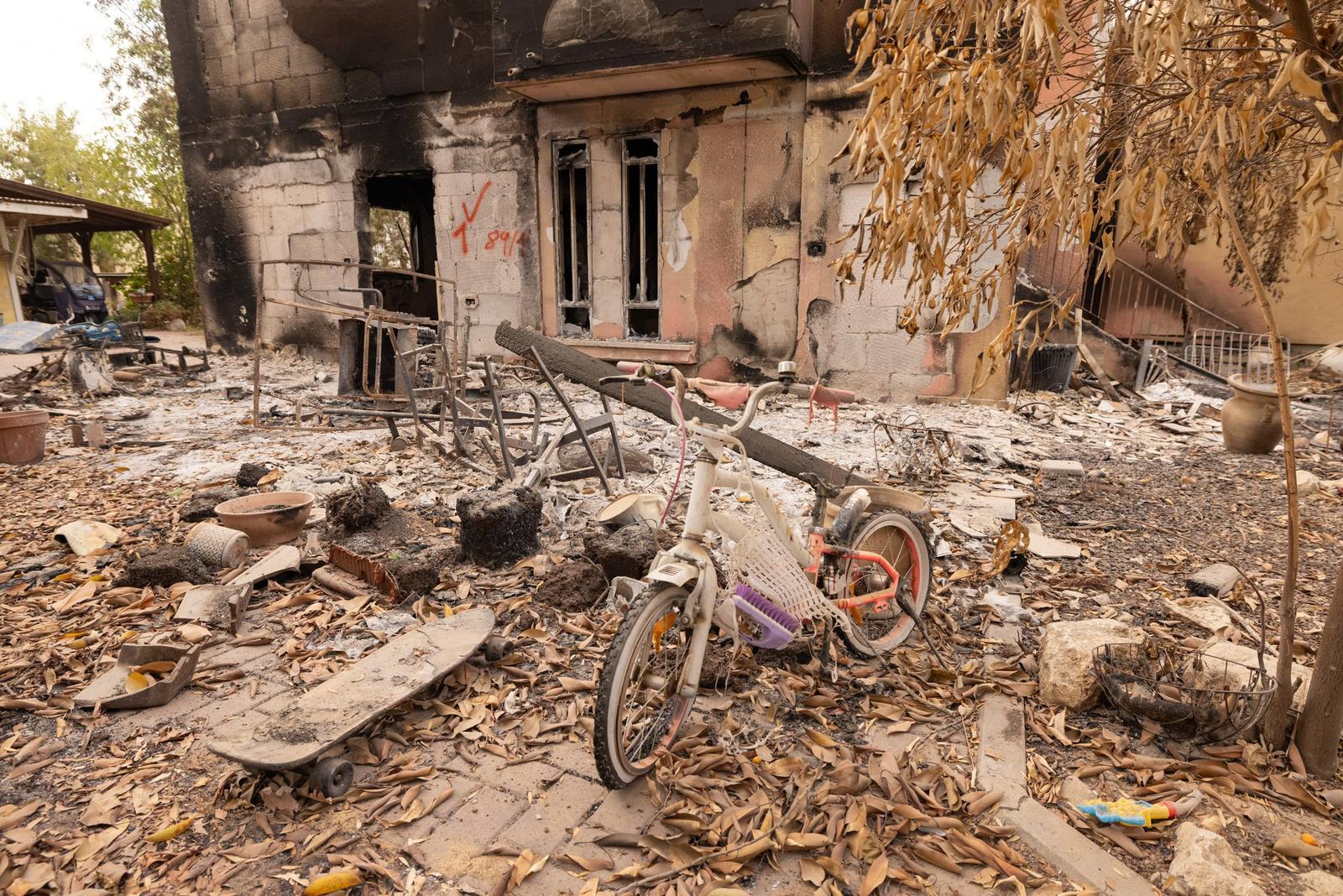 Destruction by Hamas terrorists in Kibbutz Be'eri (Photo courtesy of Samaritan's Purse)
And that his team has set up an emergency operation to bring in even more supplies in the days and weeks ahead.
"Innocent families are suffering in Israel and Gaza as a result of the war, and many lives have been lost because they haven't been able to reach medical care fast enough," Graham explained.
"This is why we are committed to replacing ambulances that Hamas destroyed and sending trauma kits. We are also partnering with more than 50 local churches on the ground to provide emergency relief like hot meals and food boxes."
Graham is urging Christians around the world to "please pray for the peace of Jerusalem, as the Bible instructs us."
"I'm in Israel and today we drove up to the Gaza border, visiting several kibbutzim, one where 130 residents were killed and 26 taken hostage in the October 7 Hamas invasion," he wrote on X, the social media platform formerly known as Twitter, Tuesday night.
"Now there are only IDF soldiers there, but I met a young woman who was just able to come back for the first time since the attack to get some things from her home. She and her two small children had hidden inside their home and survived. Her husband, Daniel, was a medical doctor who had rushed off during the emergency to help treat injured patients at the nearby clinic where he worked. While he was working to save lives, the terrorists shot their way into the clinic and he and nearly every other person there were killed—only one or two people escaped alive. She told me that he was the love of her life. There are countless untold stories of grief, heartbreak, horror, and trauma – and there is great need."
Within days of the October 7 invasion and massacre, Samaritan's Purse deployed what they call a "Disaster Assistance Response Team."
The Samaritan's Purse team has "committed to providing Magen David Adom with 14 new ambulances to replace the ones that were destroyed by Hamas. We are also sending hundreds of life-saving trauma supply kits to Israel. Each trauma bag will be packed with essential medical supplies – including a combat application tourniquet, chest tube kit, suture kit, and intubation kit – to save lives in the event of further attacks. These bags will be strategically positioned with first responders throughout communities at high risk for future rocket attacks to increase the speed of emergency medical care."
Samaritan's Purse has also "provided hygiene kits, 5,900 food vouchers, 300 food boxes, and 3,800 hot meals for internally displaced families in Israel. In addition to these supplies, the organization has provided medical equipment, including defibrillators to search and rescue teams."
In other messages posted to X, Graham has warned that this new war in the Middle East – both with Hamas in the south and Hezbollah in the north – is "spiraling out of control."
"As Christians, we need to pause – to PRAY. Pray for the civilians who have had to leave their homes and are trying to survive, pray for all those whose loved ones have been killed, pray for Israel's leaders, and pray for the peace of Jerusalem."
"God is the only hope! Our world's problems stem from problems of the heart. Pray for our leaders and the leaders of these nations 'that we may lead a quiet and peaceable life in all godliness and reverence' (1 Timothy 2:2). 'Pray for the peace of Jerusalem' (Psalm 122:6). Pray for hearts to call out to God and turn to Him through faith in His Son, Jesus Christ."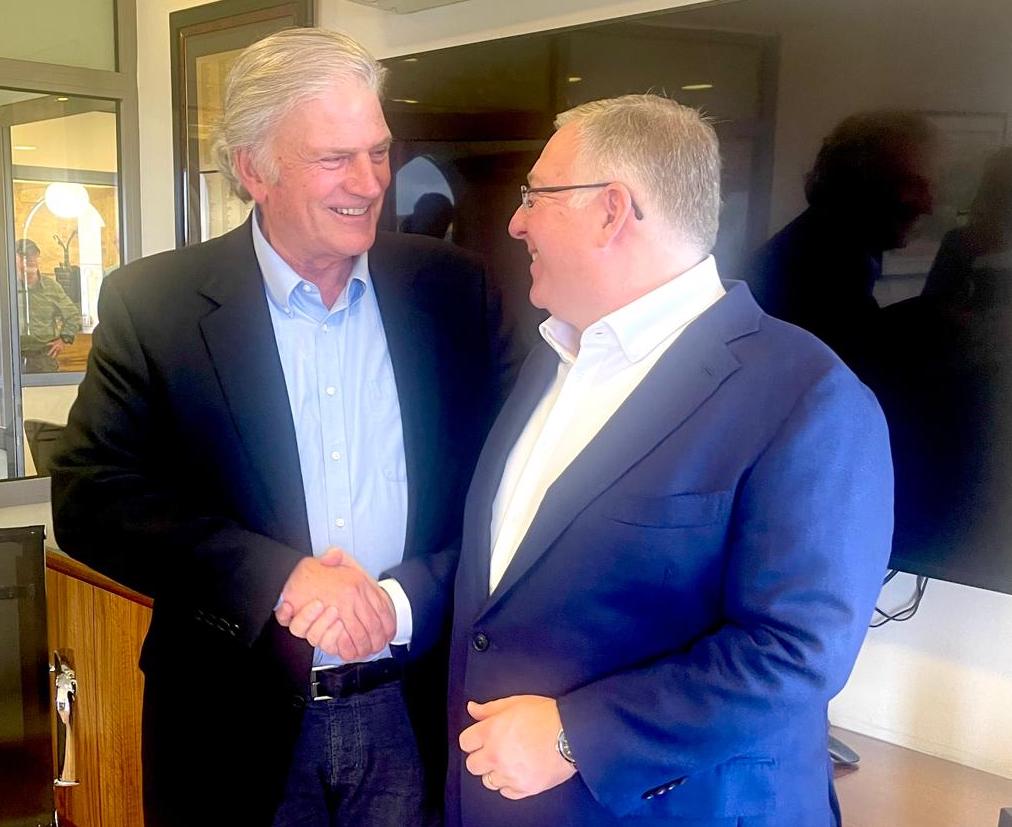 Rev. Franklin Graham and Joel Rosenberg meet in Jerusalem (Photo courtesy of Samaritan's Purse)
Graham has also been outspoken against virulent antisemitism in the United States and around the world.
"The Brooklyn Bridge had to be closed Saturday because of hundreds of anti-Israel protesters," he wrote on X a few days ago. "In Dagestan, hate-filled anti-Israel protesters stormed the airport where a flight from Tel Aviv was landing and they thought Jewish evacuees were on board. We are seeing escalating protests all around the world. Antisemitism is a dangerous cancer that is rearing its head everywhere we look – it's not hiding anymore."
"Have these people missed the fact that Hamas attacked Israel? Are they overlooking that Hamas brutally murdered 1,400 Jewish men, women, and children and took over 230 hostages? We are still hearing details of the barbaric atrocities they inflicted on their victims. They are open about their goal to kill all Jews (and Christians) – it's no secret. Yet the protests go on."
"While Israel defends itself and is on a mission to rid the world of Hamas, there are innocent civilians in Gaza. Israel has given warnings and taken many precautions. They have allowed food and relief supplies to go into Gaza for the civilians trapped there, but they are fighting an enemy that uses the lives of innocent people as human shields to protect themselves and further their evil agenda. Join me in praying for the peace of Jerusalem."

Joel C. Rosenberg is the editor-in-chief of ALL ISRAEL NEWS and ALL ARAB NEWS and the President and CEO of Near East Media. A New York Times best-selling author, Middle East analyst, and Evangelical leader, he lives in Jerusalem with his wife and sons.
Popular Articles
A message from All Israel News
Help us educate Christians on a daily basis about what is happening in Israel & the Middle East and why it matters.
For as little as $5, you can support ALL ISRAEL NEWS, a non-profit media organization that is supported by readers like you.
Donate to ALL ISRAEL NEWS
Latest Stories