'Netanyahu is the greatest prime minister we have had since David Ben-Gurion,' Rosenberg tells Newsmax TV, recounting historic achievements
Bibi's fall from power – and being replaced by his protégé – is 'Shakespearean,' says ALL ISRAEL NEWS founder, calling Netanyahu a 'global statesman'
Photo: screenshot Newsmax
JERUSALEM – Americans are just beginning to hear about and process the stunning news that Benjamin Netanyahu, admired and beloved by so many – especially Evangelical Christians – is no longer the prime minister of Israel.
As journalists and commentators try to make sense of the political earthquake, how it happened, and what it means for the U.S., many are turning to ALL ISRAEL NEWS founder and Editor-in-chief Joel C. Rosenberg for answers.
Rosenberg was on three TV news programs in the U.S. on Monday.
One of them was Spicer & Co. on Newsmax TV, hosted by Sean Spicer, the former White House press secretary during the Trump years. Joining him last night as a guest host was Mercedes Schlapp, who served as White House director of strategic communications during the Trump administration.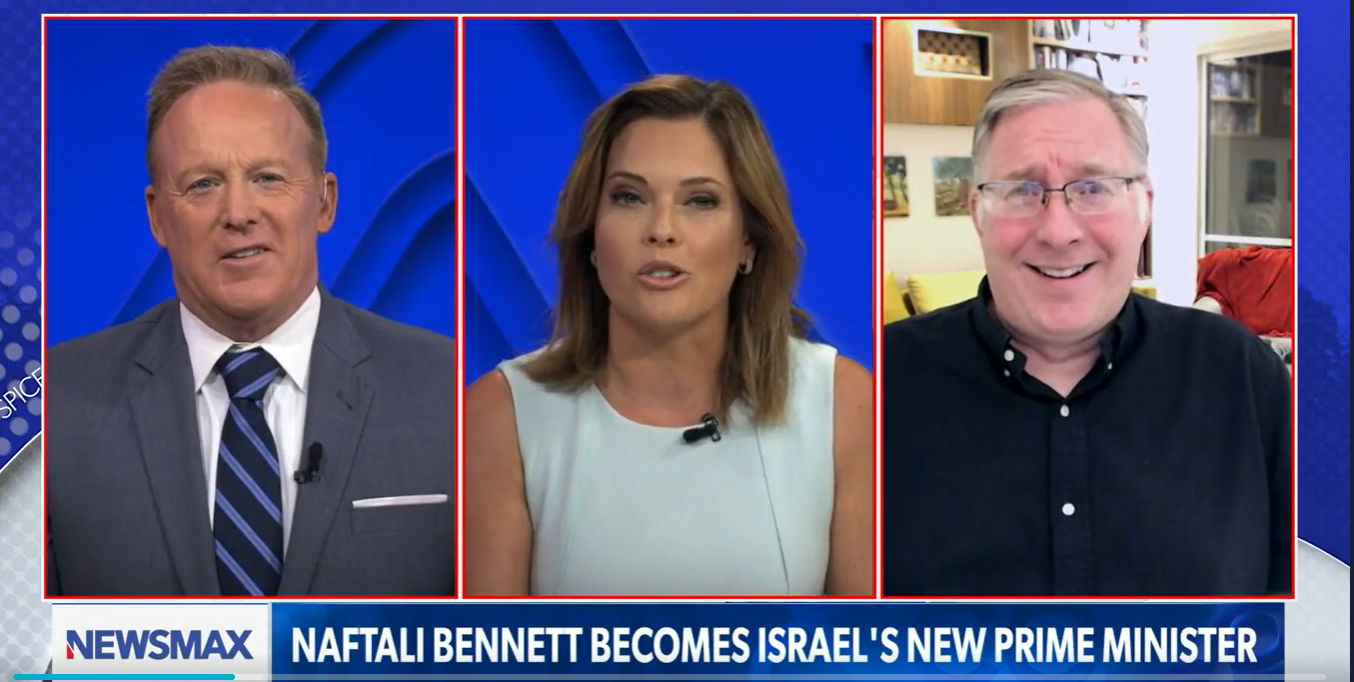 Photo: screenshot Newsmax
Rosenberg called Netanyahu "the greatest prime minister we have had since David Ben-Gurion" and a "global statesman," recounting many of the historic achievements for which Netanyahu and Trump were responsible.
Noting that he worked for Netanyahu 21 years ago, he called the premier's fall from power – and being replaced by Naftali Bennett, his protégé – "sad" and "Shakespearean."
At the same time, Rosenberg questioned whether Netanyahu was wise to launch a new political attack against U.S. President Joe Biden just as Bibi was leaving office.
Rosenberg noted that while he personally had many criticisms of the American president – especially on Iran policy – he also believed that Biden is "the best that the Democratic party has" when it comes to Israel and is "fighting the lunatics in his party."
Recently, Rosenberg wrote a column for ALL ISRAEL NEWS on "five specific reasons Biden deserves credit for standing with Israel during recent Gaza war."
You can watch the video of the interview by clicking here (it begins 7:49 minutes into the broadcast).
Here is the full transcript of the interview:
SEAN SPICER: Naftali Bennett, who was just on this show last month, was sworn in as Israel's new prime minister, ending Benjamin Netanyahu's 12-year run. To discuss, let's bring in friend of the show, Middle East expert and Editor-in-chief of ALL ISRAEL NEWS, Joel Rosenberg.
Joel, once again, it's late there in Israel – thank you for staying up.
ROSENBERG: It's later than you know. We've had a political earthquake here, and I think the tremors are just starting to hit Washington.
SPICER: I want to ask you about that. I mean, you guys for 12 years have known nothing but Benjamin Netanyahu. I know that he wasn't going to go out quietly. How is this transition gone in the last 24 hours?
ROSENBERG: Well, you're right. He did not go out quietly. Look, he has served 15 years total – 12 consecutively. He's the longest serving prime minister in the modern history of Israel. You have to go back to the biblical era of the kings to see anyone who served this long. And I will tell you, Sean, I did work for him 21 years ago, but we're not close and I haven't seen him [in person] in a number of years. But I will say this: Prime Minister Netanyahu is the greatest prime minister that we have had since the founder, David Ben-Gurion. With your president – President Trump – he accomplished not one, not two, not three, but four Arab-Israeli peace treaties, not to even mention Kosovo, another Muslim country. And the moving of the U.S. embassy to Jerusalem. And [persuading the U.S. to be] recognizing the Golan Heights as Israeli sovereign territory. Plus withdrawing from the Iran [nuclear] deal. So there should have been a landslide victory in any of the last four elections for Netanyahu.
The fact that he couldn't pull off any victories in the last four elections – and now he has been replaced by his protégé – it's Shakespearean. And in some ways, it's very sad. But it's also fascinating if you're interested in politics, because I thought Washington played hardball. You guys are Base Camp One. But Israel is Mount Everest, I got to tell you.
MERCEDES SCHLAPP: I know Prime Minister Netanyahu had a very strong relationship with President Trump. And now he spent part of his exit speech blasting President Biden, saying he would no longer keep his foreign policy disagreements with the Biden administration behind closed doors. Are you surprised by this?
ROSENBERG: I'm not surprised, but I will say I think it's a mistake. Look, Prime Minister Netanyahu has these incredible strengths. But I think shifting from being the leader – he's a global leader, right? He's not just a local regional leader of a 10 million-person country. He's a global statesman. He plays with the big boys on the big stage.
But shifting to the opposition, I think picking a new fight with the president of the United States, one that the State of Israel needs – is not a good idea. There will come a time that Biden will go too far in certain areas and you'll have to call him on it. But I don't really see the strategy to win back over more of the center of Israel's political parties, or the right, by attacking Biden. And actually, the reason Netanyahu is not in office right now is not because the center or the left. It's because right-wing parties who agree with him on policy have had it with his personal style and his management approach. So, I don't think this is going to help convince Naftali Bennett, Gideon Sa'ar, and these other folks [on the center-right] to come back [into Netanyahu's fold].
SPICER: You know, back here in the U.S., we've been dealing with some anti-Semitic comments that were made by members of what we call "The Squad," right? If you don't know them, look them up. But it all stems from this tweet that Congresswoman Ilan Omar said, which was we have seen "unthinkable atrocities committed by the U.S., Hamas, Israel, Afghanistan and the Taliban." Holy smokes. To lump us in with them? House Speaker Nancy Pelosi was on CNN and she was trying to clean it up. What's your reaction to seeing the U.S. and Israel lumped in with Hamas.
ROSENBERG: It is despicable what Congresswoman Omar is saying. But it's just despicable what Bernie Sanders was trying to do, which was cancel U.S. military funding for Israel in the middle of a war with terrorists. And this is why it's a bad time to pick a fight with Joe Biden.
Why? Look, as a conservative, as an Evangelical, as an American and an Israeli, I got a lot of problems with Joe Biden. On life. On budgets. On growth.
SCHLAPP: So do we, Joel – so do we.
ROSENBERG: I know you do. But I will say this: On the Gaza war, Biden did a pretty good job, and he is fighting the lunatics in his party. And that's what Israel should be praising right now. We're going to have problems with Iran policy. Absolutely. But look, you got to give President Biden credit where it's due. And in this case, Israel needs to be close to Biden in the areas that you can work together. Why? Because he's the best – when it comes to Israel – that the Democratic Party has. You do not want to throw him under the bus.
SPICER: Right. Hey, Joel, thank you for staying up. I always appreciate it. Real quick, yes or no, because I'm so out of time: Will we see Benjamin Netanyahu back in office again?
ROSENBERG: Oh, wow – I don't think so, but it's always possible.
SPICER: Okay, Joel Rosenberg, thank you as always.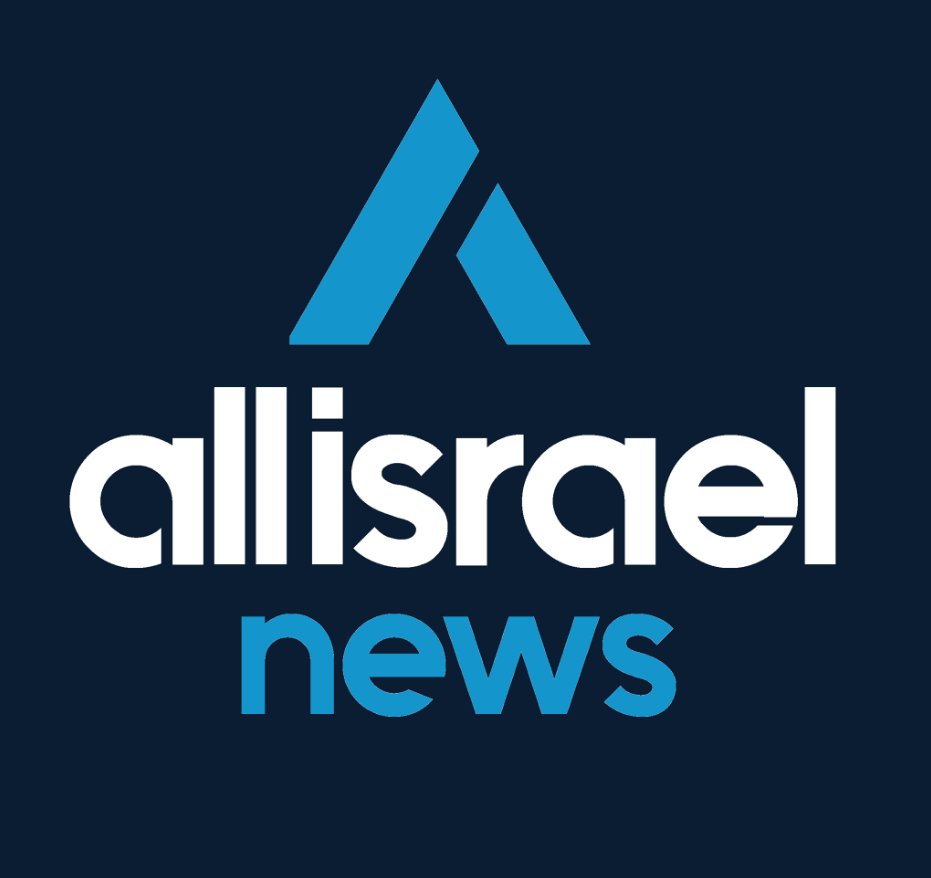 The All Israel News Staff is a team of journalists in Israel.
Popular Articles
A message from All Israel News
Help us educate Christians on a daily basis about what is happening in Israel & the Middle East and why it matters.
For as little as $5, you can support ALL ISRAEL NEWS, a non-profit media organization that is supported by readers like you.
Donate to ALL ISRAEL NEWS
Latest Stories
Comments