National Prayer Breakfast cancels annual in-person event in Washington again, but will be held online on Thursday
More than 4,000 Evangelical leaders, members of Congress, president, VP, and foreign leaders – including Israeli and Arab leaders – typically attend to pray for the nation and advance interfaith dialogue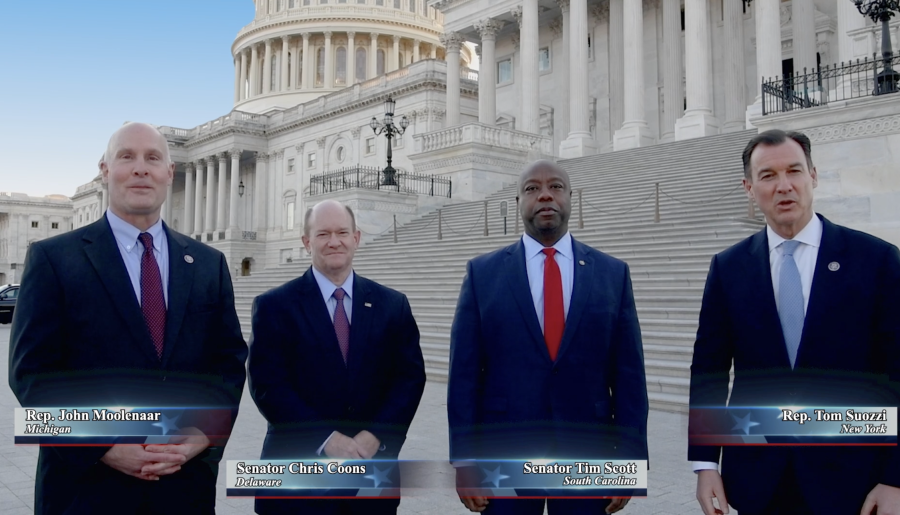 Screenshot of 2021 National Prayer Breakfast virtual event
JERUSALEM—Despite the urgent need to pray for national and international revival and for the Lord to lift the scourge of the COVID pandemic, the organizers of the National Prayer Breakfast have once again canceled their in-person gathering at the Washington Hilton Hotel in Washington, D.C. due to the coronavirus threat.
For the second year in a row, the event will only be held online.
ALL ISRAEL NEWS has obtained a letter that has been sent to thousands of VIP leaders throughout the U.S. and around the world, which we publish below.
Launched in 1953 by American Evangelist Billy Graham and then-U.S. President Dwight Eisenhower, the National Prayer Breakfast has become the premier annual gathering of Christian leaders, with typical attendance upwards of 4,000 people.
It is actually not just a breakfast but a two-day series of meals, large group meetings and smaller breakout sessions in which Christians meet with each other and other faith leaders "in the name and Spirit of Jesus Christ of Nazareth."
A major Christian thinker, author or opinion leader delivers the keynote address, Christian artists provide worship music, and various people pray for the nation and the world.
Held the first Thursday of February, the event is attended every year by the sitting American president – who gives a brief address – as well as the sitting vice president, the speaker of the House, many members of the House and Senate, governors, state legislators, pastors, priests, rabbis and business leaders.
It is also attended by world leaders and many ambassadors.
Typically, a delegation of Knesset members attends.
I have attended several of these wonderful gatherings over the years and was hoping to attend this one. It is sad that COVID has dissuaded people from gathering in such large groups, and I'm praying we can meet in-person again next year.
Here is the letter that has been sent by the bipartisan Congressional organizers of this year's National Prayer Breakfast.
Dear Friends,
This Thursday, February 3 at 8 a.m EST., U.S. Senate co-chairs, Senator Kirsten Gillibrand (NY) and Senator Mike Rounds (SD), will host the 70th National Prayer Breakfast on Capitol Hill. (See link below)
At this event, Members of Congress and their spouses, regardless of the Members' faith tradition, come together to pray in the Spirit of Jesus of Nazareth for our nation and our President. 
We are pleased to announce that the keynote speaker for this year will be Mr. Bryan Stevenson, founder and Executive Director of the Equal Justice Initiative, a human rights organization in Montgomery, Alabama.  A widely acclaimed public interest lawyer, Mr. Stevenson has dedicated his career to helping the poor, the incarcerated, and the condemned.  He is the author of the bestselling book "Just Mercy" which was recently adapted as a feature film.  The program will also include a musical performance by gospel music singer and songwriter Kari Jobe.  Since her first album in 2009, she has received two Grammy Award nominations and ten Dove Award nominations, six of which she won.
Because of Covid, a widely attended event was not possible again this year and, as such, the 2022 National Prayer Breakfast will be made available for people throughout the nation and around the world to view via CSPAN or live-streamed at www.2022nationalprayerbreakfast.org beginning at 8 a.m. EST on Feb 3rd.  
After the event, this year's NPB will continue to be available for viewing until March 15, 2022. 
While there is naturally disappointment that the larger gathering of friends from across our nation and around the world will not take place in Washington DC, it is the Congressional Cabinet's* hope that you will use this as an opportunity to gather together in the Spirit of Jesus with others in your local communities to pray for our nation and our President.
Blessings,
Congressman John Moolenaar, Congressman Tom Suozzi, Senator Mark Pryor, and Representative Zach Wamp
On behalf of the Congressional Cabinet
*The Congressional Cabinet a group of sitting and former Members of Congress who are part of the weekly House and Senate Prayer Breakfasts and provide leadership for the National Prayer Breakfast.

Joel C. Rosenberg is the editor-in-chief of ALL ISRAEL NEWS and ALL ARAB NEWS and the President and CEO of Near East Media. A New York Times best-selling author, Middle East analyst, and Evangelical leader, he lives in Jerusalem with his wife and sons.
A message from All Israel News
Help us educate Christians on a daily basis about what is happening in Israel & the Middle East and why it matters.
For as little as $5, you can support ALL ISRAEL NEWS, a non-profit media organization that is supported by readers like you.
Donate to ALL ISRAEL NEWS
Current Top Stories
Comments