"INSIDE THE EPICENTER" PODCAST
My new podcast, 'Inside The Epicenter,' has drawn 2.5 million downloads in its first year – why are so many people interested in how Evangelicals view Israeli Jews, Arab Muslims and the rapidly-changing Middle East?
In kick-off of Season Two, I interview Pastor John MacArthur about his fascinating conversations with – and genuine love for – Ben Shapiro, the Orthodox Jewish commentator and Millennial conservative
JERUSALEM, ISRAEL—About 18 months ago, a good friend suggested that I launch a podcast.
Given the many things on my plate, from writing books to running ALL ISRAEL NEWS and ALL ARAB NEWS, I was hesitant to add anything more.
But my friend was persistent.
He also made the case that as widely read as my books and columns are, there are many people who just don't have the time or interest in reading, but still are hungry to learn about topics that intrigue them.
Podcasting, he said, is becoming very popular among people of all ages, but particularly among young people, who want to be able to absorb information on their own schedule, anytime day or night, even while they're driving, jogging, walking, working out, commuting on train or plane or bus, or just working around the house.
A podcast with me – especially from Jerusalem – he suggested could really help educate people about who Evangelical Christians are, what we believe, why we love Israel so much, why we also love Israel's neighbors, what the threats in the Middle East and North Africa really are, how the Church is faring in the region that I call the "Epicenter," and how we can pray for, encourage and financially invest in the poor and needy in the region and strengthen the Church to be a great blessing to Jews and Muslims alike.
Given that my friend, Carl Moeller, serves as executive director of The Joshua Fund, I took his counsel seriously.
The Joshua Fund is the non-profit organization that my wife, Lynn, and I founded in 2006 to educate and mobilize Christians to bless Israel and her neighbors in the name of Jesus, according to the Abrahamic Covenant as recorded in Genesis 12:1-3.
Over the past 15 years, by God's grace, The Joshua Fund has been able to invest more than $80 million blessing the people of Israel, the West Bank and Gaza, and five neighboring Arab countries (Lebanon, Syria, Jordan, Iraq and Egypt).
So, in January of 2021, Carl and I launched our first podcast – "Inside The Epicenter With Joel C. Rosenberg" – which can be found on all major podcast platforms, as well as on YouTube.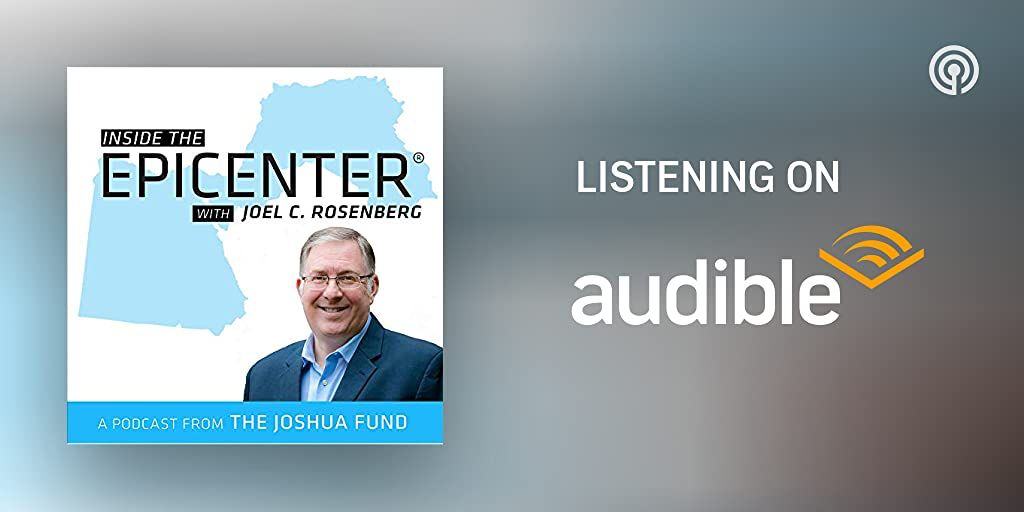 ASTONISHING RESULTS
To my astonishment, the podcast has found an audience.
In just our first year, we had more than 2.57 million views and listens.
In fact, "Inside The Epicenter" is now in the top 3% of all podcasts worldwide.
Particularly encouraging to me is that 23.5% of the audience for the videos of our podcast on YouTube are from people under the age of 35.  
The bulk of our audience is in the United States, but we're also seeing a strong response around the world, particularly in Canada, Israel, France, Japan, Singapore, Malta, Paraguay and the Philippines.
Why is the podcast seeing such a strong response?
I believe there are several answers:
·       Far too few Christian leaders are teaching about God's love and plan for Israel and her neighbors or discussing challenging and controversial but important topics related to Israel and the Jewish people from a sound biblical perspective, or doing so in a way that respects those in the audience who don't agree.
·       Far too few Christian leaders who love Israel are explaining or modeling how their theology can and should motivate them to bless Israel and the Jewish people in real and practical ways.
·       What's more, far too few Christian leaders who do love Israel and the Jewish people are also openly talking about how much God loves Arabs, Iranians and Muslims more broadly, and how we as followers of Jesus Christ are commanded to love them, too, whether they are neighbors or outright enemies.
What the popularity of the podcast tells me is that there is a much wider audience out there that is curious about – even hungry for – both a basic primer on how to think about Israel and the Middle East from a biblical perspective, as well as those who want a deeper dive into people and issues in the region, but aren't sure where to turn for honest, clear and trustworthy information.
Part of the mission and mandate of The Joshua Fund from the beginning was not simply to care for the poor and needy in Israel and the Arab world and to strengthen and encourage the embattled Church in the Epicenter, but to educate Christians and mobilize them to "learn, pray, give and go" to God's work in the region.
And it turns out that Carl was spot on. This podcast has been a great way to advance our passion and calling to teach people who are curious, even if they aren't entirely convinced of our views, including young people under the age of 35, some of whom are really drifting away from Israel.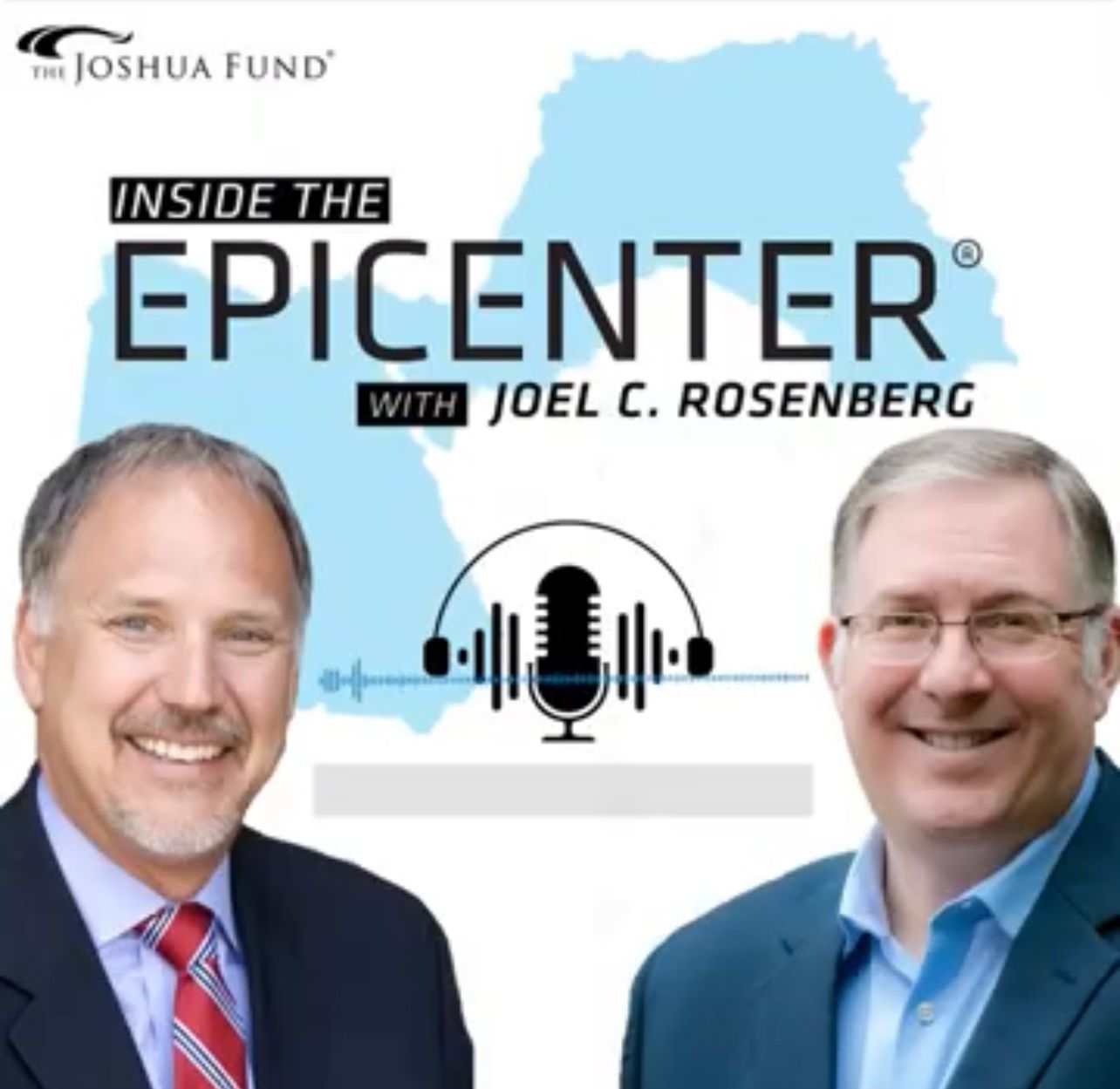 SEASON ONE: WHO ARE EVANGELICALS AND WHAT DO WE REALLY BELIEVE?
In Season One, we produced 32 episodes on a wide range of topics, including a truly fascinating conversation with Evangelical Pastor Andrew Brunson and his wife, Norine, about why he was imprisoned for two years by the Turkish government, how badly he suffered in prison, and why Turkish President Recep Erdoğan refused for so long to release him until U.S. President Trump imposed economic sanctions on Turkey.
But we started by laying a foundation for our Christian listeners, as well as for Jews, Muslims, atheists, agnostics, people of other faiths and people of no faith, to better understand who the world's 600 million Evangelicals are, what we believe and how our beliefs motivate our actions.
Here are a few of the programs we created:
·       A trailer: What Is The "Inside The Epicenter" Podcast?
·       Why Do Evangelicals Love Israel?
·       How Should Evangelicals View Palestinians?
·       Why Are Some Young Evangelicals Turning Away From Israel?
·       Why Is Jesus So Controversial Among Jewish People?
·       Is Iran Experiencing A Spiritual Revolution?
·       How Do Palestinian Evangelicals See Ministry In The West Bank and Gaza? A Panel With Arab Christian Leaders
·       What Events Lead To The Second Coming of the Messiah?
·       Does The Bible Really Predict A Coming Russian-Iranian-Turkish War Against Israel?
·       20 Years After 9/11, What Have We Learn About The Epicenter?
SEASON TWO: WHAT DO MAJOR EVANGELICAL LEADERS LIKE JOHN MACARTHUR THINK ABOUT ISRAEL AND THE EPICENTER?
Now, Carl and I have just launched Season Two with a wonderful two-part interview that we conducted with John MacArthur, one of the most influential Evangelical leaders in the United States.
He is the senior pastor of Grace Community Church and the founder and Chancellor of Master's University and Master's Seminary in Southern California.
Rosenberg interviews Pastor John MacArthur at Master's Seminary in Southern California to launch Season Two of his new podcast (Photo: ALL ISRAEL NEWS)
He has sold millions of copies of his books on Christian living, commentaries on every book of the New Testament and the MacArthur Study Bible.
"Grace To You," his 30-minute daily radio program, is also heard by millions and is one of the most popular programs on Christian radio.
In part one of our conversation, we asked MacArthur why he loves Israel and the Jewish people so much, what shaped his views about Israel, and what it was like to be born at a time when the State of Israel did not exist, and then suddenly and dramatically came into being after 2,000 years of not being a sovereign nation state.
We pressed MacArthur – a prominent, passionate Calvinist who is outspoken about his belief that the current State of Israel is biblically prophetic and significant – why so many of his fellow Reformed theologians do not believe as he does when it comes to Israel. And why supercessionism – more commonly known as "replacement theology" – is so pervasive in the Reformed community.
We also asked him about his views regarding sharing the Gospel with Jewish people, and why so many Jewish people are becoming followers of Jesus as Messiah.
In part two, we had an intriguing conversation about the time that Ben Shapiro, the Millennial and wildly popular conservative commentator and devout Orthodox Jew, invited MacArthur onto his Sunday night TV program.
Why would Shapiro engage in such a lengthy and nuanced conversation about Evangelical Christianity and messianic prophecies like Isaiah 53?
MacArthur shared openly about how much he loves and respects Shapiro, even if they don't agree theologically.
It was a great conversation – one of many great conversations we hope will be part of Season Two – and I hope you'll be sure to subscribe to "Inside The Epicenter" on your favorite podcast platform, as well as watch the videos of our conversations on YouTube.

Joel C. Rosenberg is the editor-in-chief of ALL ISRAEL NEWS and ALL ARAB NEWS and the President and CEO of Near East Media. A New York Times best-selling author, Middle East analyst, and Evangelical leader, he lives in Jerusalem with his wife and sons.
Popular Articles
A message from All Israel News
Help us educate Christians on a daily basis about what is happening in Israel & the Middle East and why it matters.
For as little as $5, you can support ALL ISRAEL NEWS, a non-profit media organization that is supported by readers like you.
Donate to ALL ISRAEL NEWS
Latest Stories
Comments