MORALLY BANKRUPT MEDIA: A closer look at how AP, Reuters, CNN and New York Times used photojournalists 'embedded' with Hamas terrorists Oct. 7
Freelance photojournalist Hassan Eslaiah (right) poses with Hamas' Gaza Strip leader Yahya Sinwar (Photo: Social Media)
DALLAS, TEXAS – During World War I, a U.S. Senator from California named Hiram Johnson was credited with uttering the phrase, "The first casualty of war is the truth."  
Ironically, Sen. Johnson died on Aug. 6, 1945, the day America dropped an atomic bomb on Hiroshima, Japan. 
While not "atomic," the Israeli media monitoring site, Honest Reporting, dropped the equivalent of an ethical bomb last week.
Their stunning Nov. 8 exposé – "Broken Borders: AP & Reuters Photographs of Hamas Atrocities Raise Ethical Questions" – revealed appalling behavior by some of the biggest brand names in the global mainstream media.
"On October 7, Hamas terrorists were not the only ones who documented the war crimes they had committed during their deadly rampage across southern Israel," the report began.
"Some of their atrocities were captured by Gaza-based photojournalists working for the Associated Press and Reuters news agencies whose early morning presence at the breached border area raises serious ethical questions."
Among them:
What were they (the freelance photographers) doing there so early on what would ordinarily have been a quiet Saturday morning?

Was it coordinated with Hamas? 

Did the respectable wire services, which published their photos, approve of their presence inside enemy territory, together with the terrorist infiltrators? 

Did the photojournalists who freelance for other media, like CNN and the New York Times, notify these outlets? 
Honest Reporting noted that "four names appear on AP's photo credits from the Israel-Gaza border area on October 7: Hassan Eslaiah, Yousef Masoud, Ali Mahmud, and Hatem Ali."
"Eslaiah, a freelancer who also works for CNN, crossed into Israel, took photos of a burning Israeli tank, and then captured infiltrators entering Kibbutz Kfar Aza….[P]hotos he took in Kfar Aza show Hamas terrorists trying to breach the Kibbutz's fence and a burning house inside the community."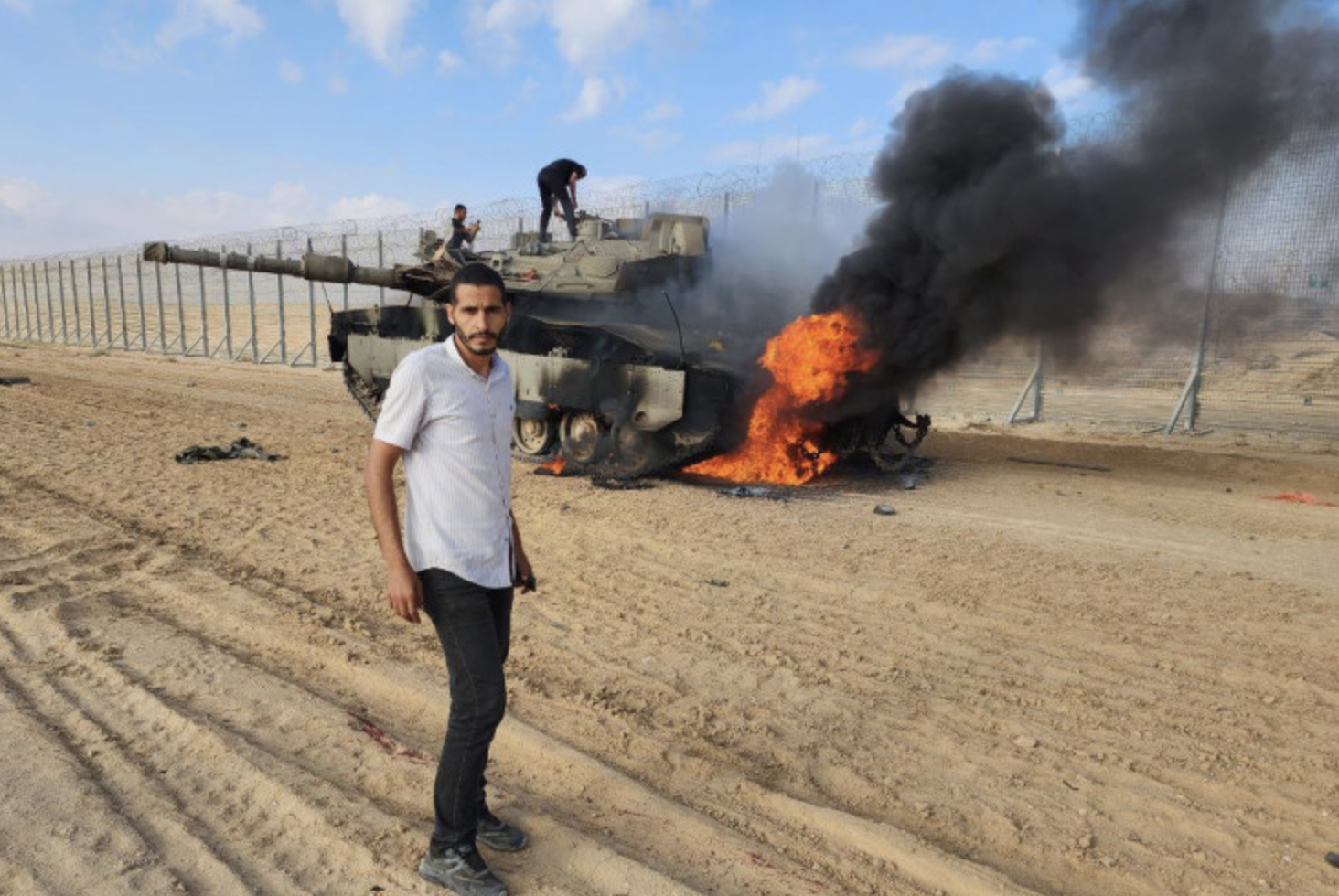 Gazan photojournalist Hassan Eslaiah in front of a burning Israeli tank, Oct. 7, 2023 (Photo: Screenshot)
As ALL ISRAEL NEWS Editor-in-Chief Joel C. Rosenberg has reported after touring the village, Kfar Aza was one of the Israeli border communities most devastated by Hamas, a place where at least 40 babies were slaughtered and some of them were decapitated.
How could a reporter from the Associated Press have actually been on site, taking pictures in real-time, when no one knew the attack was coming, least of all the Israeli military or the residents of Kfar Aza?
Honest Reporting also noted that Eslaiah had been previously photographed being embraced by Hamas leader Yahya Sinwar, widely considered the mastermind of the genocidal attacks on Oct. 7.
"Judging from the pictures of lynching, kidnapping and storming of an Israeli kibbutz, it seems like the border has been breached not only physically, but also journalistically," the Honest Reporting article concluded.
To be clear, Honest Reporting stated that it was offering no proof that the news organizations that published photographs or broadcast videos had been given any advance notice of the massacre, merely that they were raising questions. 
They are incredibly important questions, at that.
But so far, I've seen no adequate answers.
The outcry over Honest Reporting's exposé was swift and furious. 
The Israeli Prime Minister's Office immediately issued a statement declaring that it "views with utmost gravity… photojournalists working with international media joined in covering the brutal acts of murder perpetrated by Hamas terrorists on Saturday, Oct. 7 in the communities adjacent to the Gaza Strip." 
"These journalists were accomplices in crimes against humanity; their actions were contrary to professional ethics," the statement added.
Journalists routinely hold politicians and other citizens in contempt for even the appearance of unethical behavior.
Yet, the major media outlets that have employed freelance photographers who appear to have been working hand-in-glove with Hamas terrorists have not apologized or even acknowledged that they have done anything wrong. 
"In its report, the watchdog group questioned why six Gaza-based photographers, all of whom were working for the Associated Press and Reuters, were early to document the incursion by Hamas into Israel on Oct. 7," reported the New York Times on Nov. 9, one day after the Honest Reporting story was published.   
"While [another] A.P. photographer named in the report, Yousef Masoud, has worked as a freelancer for The Times since shortly after the war began, he was not on assignment for the paper on the morning of Oct. 7, according to a statement issued by The Times."
Executives at The Times "rejected suggestions that it had advance warning of the attacks or had accompanied Hamas terrorists, calling the claims 'untrue and outrageous'" and added that there was "no evidence for Honest Reporting's insinuations" about Mr. Masoud.
The Times said it had reviewed Mr. Masoud's work for the AP on Oct. 7 and determined that "he was doing what photojournalists always do during major news events, documenting the tragedy as it unfolded."
"The Times has extensively covered the Oct. 7 attacks and the war with fairness, impartiality, and an abiding understanding of the complexities of the conflict."
How can the leadership of the New York Times say that with a straight face?
Why are they not concerned – much less outraged – that photojournalists they employ, and whose work they publish, entered Israel with Hamas terrorists, took pictures of the Hamas massacres and kidnappings as they were happening, and were photographed hugging the leader of Hamas?
How can they say that these people were "doing what photojournalists always do during major news events?"
How can they possibly expect people to believe them that the Times is covering the war "with fairness, impartiality, and an abiding understanding of the complexities of the conflict?"
Don't they believe the photojournalists in their employ aided and abetted in one of the worst acts of genocide in modern history?
But it was not just the New York Times who downplayed the seriousness of this situation.
Reuters, The Associated Press, and CNN all issued denials that any photojournalists had prior knowledge of the attacks, had tipped off their outlets, or had done anything wrong in using the images provided by people who appeared to be acting in league with Hamas.
But in a mysterious statement, a Reuters spokesperson told Newsweek magazine, "Reuters acquired photographs from two Gaza-based freelance photographers who were at the border on the morning of October 7, with whom it did not have a prior relationship."
Call me skeptical.
If you or I were running an international news agency like Reuters on a day when Hamas terrorists were beheading babies and raping women as part of their murderous carnage, would we "acquire" photographs from sources with whom we "did not have a prior relationship" on that very same day?
Would we not ask ourselves if we should be working with people who were acting as agents of Hamas, helping them spread their hateful, antisemitic, anti-Israel propaganda around the globe under the guise of trusted media brands?
CNN, at least, announced that it had decided to cut all ties with Hassan Eslaiah, the photographer who had been embraced by the Hamas leader.
But they have taken no responsibility.
"We had no prior knowledge of the October 7 attacks," the CNN leadership insisted in a statement. 
"Hassan Eslaiah, who was a freelance journalist working for us and many other outlets, was not working for the network on October 7," CNN added. "As of today, we have severed all ties with him."
That's one step, but not nearly enough.
CNN bills itself as "the most trusted name in news."
Yet, how many people do you know that trust CNN?
And why should we?
Look again at their statement, insisting the network "had no prior knowledge of the October 7th attacks. Hassan Eslaiah, who was a freelance journalist working for us and many other outlets, (emphasis mine) was not working for the network on October 7. As of today, we have severed all ties with him."  
That's like a little kid stealing candy from a supermarket and excusing himself by saying, "But all the other kids were doing it."
Compounding the ethical squishiness of these news organizations, Reuters went beyond merely publishing photos from the aforementioned Hassan Eslaiah.
They also used pictures taken from the scene on Oct. 7 in real-time that were credited to Mohammed Fayq Abu Mostafa and Yasser Qudih, two freelancers whom Reuters admits it also had no prior relationship with. 
Again, ask yourself: As the worst massacre of Jews since the Holocaust was unfolding on Oct. 7, would you have raced to publish photographs or videos provided by Gaza-based freelancers with whom your agency had no prior relationship? 
As Israeli Prime Minister Benjamin Netanyahu has forcefully stated, Israel's war with Hamas "will be a victory of good over evil, of light over darkness." 
"Together we will fight and together we will win," Netanyahu added.
But it's not just terrorists that Israel is fighting.
Israeli Jews and Christians are also actively fighting a media establishment – a media "Goliath," if you will – who appear to have no moral or ethical compass whatsoever.
Let us pray that such morally bankrupt media platforms either realize how much damage they are doing and change their ways, or go financially bankrupt, or are bought and completely reorganized by those who understand what true and trustworthy journalism really is.
In the meantime, ALL ISRAEL NEWS and ALL ARAB NEWS are committed to providing you with honest, accurate and trustworthy reporting and analysis every step of the way.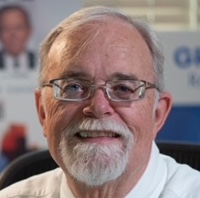 Tom is a contributing editor for ALL ISRAEL NEWS. He has long served as vice president of News & Talk Programming for the Salem Radio Network and SRN News, the #1 Christian radio news network in the United States.
Popular Articles
A message from All Israel News
Help us educate Christians on a daily basis about what is happening in Israel & the Middle East and why it matters.
For as little as $5, you can support ALL ISRAEL NEWS, a non-profit media organization that is supported by readers like you.
Donate to ALL ISRAEL NEWS
Latest Stories