MONDAY UPDATE: Pressure for ceasefire intensifying after 3,100 rockets fired at Israel, growing number of Hamas commanders killed, bases destroyed
UN Secretary General demands immediate halt to fighting – Biden resisting UN pressure, for now – Netanyahu vows to keep destroying Hamas capabilities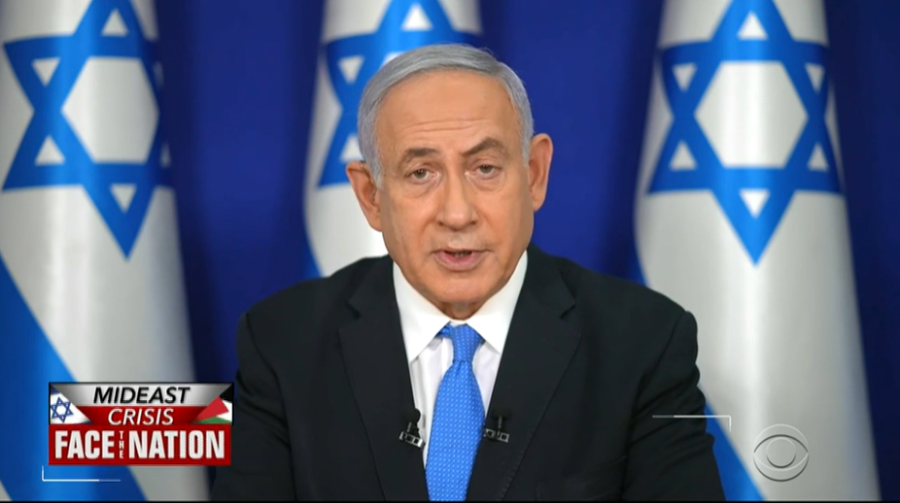 Prime Minister Benjamin Netanyahu (photo credit: CBS News "Face The Nation" screenshot)
JERUSALEM—As the latest Gaza war enters its second week, pressure for a ceasefire intensified Sunday during an emergency session of the United Nations Security Council in New York.
So far, to its credit, the Biden administration is resisting UN pressure, hoping to give Israel more time to degrade the military capacities of Hamas and Islamic Jihad.
Meanwhile, Israeli Prime Minister Benjamin Netanyahu – appearing on the CBS News program "Face The Nation" on Sunday – insisted the IDF would keep fighting "as long as it takes" to protect his citizens.
This evening he said Israel would continue striking terrorist targets.
"The IDF is doing this very well. Today, it targeted a senior Islamic Jihad commander. We struck at the Hamas naval unit and we are continuing to strike at underground targets – Hamas's metro and there are other targets," he said. "We will continue to take whatever action necessary to restore quiet and security to all residents of Israel."
All of this while Israel absorbed some 190 rockets on the biblical holiday of Shavuot on Monday in spurts of launches every few hours. School in most of the country has been canceled until Thursday. For now.
Here's the latest.
BY LAND AND BY SEAR: ISRAEL TAKES OUT TOP TERROR COMMANDER
A senior Palestinian Islamic Jihad commander was killed in an Israeli airstrike in Gaza this afternoon. Hassam Abu-Harbid was a commander over PIJ's northern Gaza Strip division since 2019.
IDF Spokesperson Brig.-Gen. Hidai Zilberman said that shortly after that, the army targeted operatives heading toward the sea with an autonomous submersible naval vessel.
"We recognized preparations for a maritime attack," Zilberman said.
A barrage of rockets was launched afterward towards Israel reaching as far north as Ashdod and east toward Beersheva. Eight people were wounded in a direct hit on an Ashdod apartment and were treated at the scene.
UN PRESSURE MOUNTING
On Sunday, UN Secretary-General Antonio Guterres demanded that the "fighting must stop" immediately.
"This latest round of violence only perpetuates the cycles of death, destruction and despair, and pushes farther to the horizon any hopes of coexistence and peace," Guterres said.
"Fighting must stop. It must stop immediately," he added. "Rockets and mortars on one side and aerial and artillery bombardments on the other must stop….I appeal to all parties to heed this call."
The governments of Norway, China and Tunisia introduced a resolution insisting upon a ceasefire.
It was the third such resolution introduced at the UN over the past week.
Fourteen of the 15 members of the Security Council voiced their support for the resolution.
To pass, however, it must have unanimous support.
In response to non-stop rocket fire on Israeli civilians, the IDF launched Operation Guardian of the Walls one week ago. Here's what's happened so far: pic.twitter.com/sBcXSKxiMz

— Israel Defense Forces (@IDF) May 17, 2021
BIDEN TEAM RESISTING UN PRESSURE – FOR NOW
The Biden administration has thus far refused to support a vote on any of these three efforts, saying more behind-the-scenes diplomacy was needed first.
The White House resistance to UN pressure so far is widely perceived as an effort to give Israel more time to degrade – if not completely destroy – the military capabilities of Hamas and Islamic Jihad.
That said, Biden is under growing pressure within the Democrat party to force Israel into a ceasefire.
On Sunday, 28 Democrat U.S. senators called for an "immediate ceasefire."
Afterwards, Secretary of State Antony Blinken sent out a tweet saying: "Spoke today with Egyptian Foreign Minister Shoukry to discuss the ongoing violence in Israel, West Bank, and Gaza. All parties need to deescalate tensions – the violence must end immediately."
Spoke today with Egyptian Foreign Minister Shoukry to discuss the ongoing violence in Israel, West Bank, and Gaza. All parties need to deescalate tensions – the violence must end immediately.

— Secretary Antony Blinken (@SecBlinken) May 16, 2021
NETANYAHU VOWS TO KEEP FIGHTING
Appearing on "Face The Nation" – his first U.S. television interview since the crisis started – Netanyahu sought to counter the lies and slander being leveled against Israel.
He also vowed that the IDF would keep conducting operations against the terrorists in Gaza for the time being.
However, he did signal that an end to the fighting might not be so far off.
"We were attacked by Hamas on our National Day – Jerusalem Day – attacked [with] unprovoked attacks on Jerusalem and then thousands of rockets and missiles on our cities," Netanyahu said.
"I think any country has to defend itself. It has a natural right of self-defense. We'll do whatever it takes to restore order and quiet and the security of our people and deterrence. We're trying to degrade Hamas's terrorist abilities and to degrade their will to do this again. So it'll take some time. I hope it won't take long, but it's not immediate."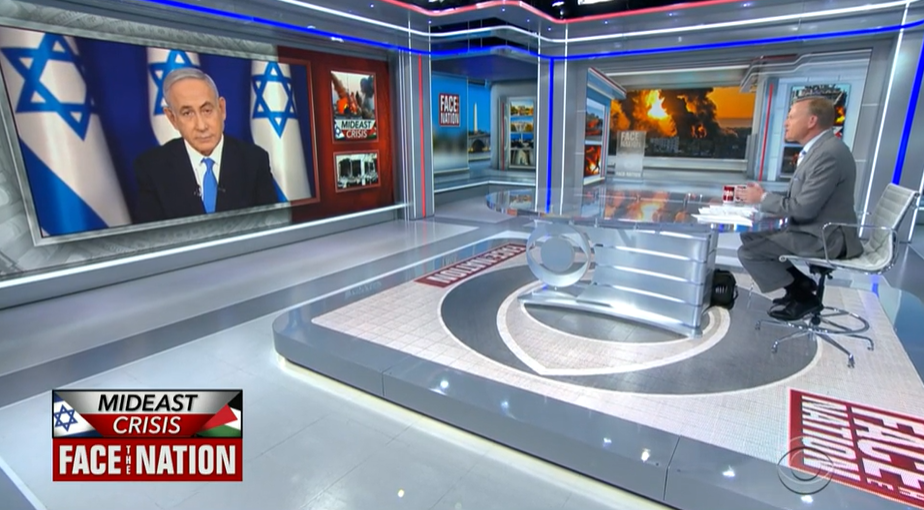 Israeli Prime Minister Benjamin Netanyahu on Face the Nation. (Photo: CBS News "Face The Nation" screenshot)
Host John Dickerson pressed Netanyahu on the destruction of a building in Gaza City on Saturday that was allegedly a base for Hamas intelligence.
"There's been a lot of focus on the bombing on Saturday in Gaza of a building that housed the Associated Press and Al Jazeera," Dickerson said. "The Committee to Protect Journalists, demanded 'detailed and documented justification.' This morning, there's a Jerusalem Post story that says the Americans were shown a smoking gun – proof that Hamas was in that building. What is that proof? And did you show it to the Americans?"
"We share with our American friends all that intelligence and here's the intelligence we had…an intelligence office for the Palestinian terrorist organization housed in that building that plots and organizes the terror attacks against Israeli civilians," Netanyahu replied. "So it's a perfectly legitimate target."
"I can tell you that we took every precaution to make sure that there were no civilian injuries. In fact, no deaths, no injuries whatsoever. Well, I can't say injuries, I don't know if somebody received a fragment of a stone. I don't know that. But no people were killed. Now, imagine ask yourself, how is that possible? You see these high rise towers that are used by Hamas over and over again. They collapse and no one is killed. Why does that happen? Because we, unlike Hamas, take special precautions to tell people, leave the building, leave the premises. We make sure that everyone is gone before we bring down those terrorist facilities. And that's the difference between Israel and Hamas. They deliberately target our cities, deliberately target our civilians. They glorify the death of children and civilians and old people. They are happy with it. I think they're happy with any deaths that are caused to them. We grieve for every non-combatant loss in Gaza and we grieve for all our civilians who died." 
[To read the full transcript of the "Face The Nation" interview, please click here]

Joel C. Rosenberg is the editor-in-chief of ALL ISRAEL NEWS and ALL ARAB NEWS and the President and CEO of Near East Media. A New York Times best-selling author, Middle East analyst, and Evangelical leader, he lives in Jerusalem with his wife and sons.
A message from All Israel News
Help us educate Christians on a daily basis about what is happening in Israel & the Middle East and why it matters.
For as little as $5, you can support ALL ISRAEL NEWS, a non-profit media organization that is supported by readers like you.
Donate to ALL ISRAEL NEWS
Current Top Stories
Comments