Mike Pence, former VP and prominent Evangelical, arrives in Israel to meet PM Bennett and former PM Netanyahu as he lays groundwork for possible presidential run in 2024
Pence will focus on Russia, Iran threats — then he heads to Morocco, an Abraham Accords peace partner 
Mike Pence (@Mike_Pence) - Twitter page
With Russia rampaging into Ukraine, the Iranian regime on the brink of signing a disastrous new nuclear deal, and President Joe Biden's poll numbers plunging, former Vice President Mike Pence has just arrived in Israel for three days of high-level meetings.
And to further lay the groundwork for a possible run for the presidency in 2024.
While on the ground in Israel, Pence — a leading conservative voice and a devout Evangelical Christian — will meet with:
• Prime Minister Naftali Bennett
• Foreign Minister Yair Lapid 
• President Isaac Herzog
• Opposition Leader Benjamin Netanyahu
• Other senior officials and Members of Knesset
On Wednesday, March 9, former U.S. Ambassador David Friedman will take Pence to Ariel University in Samaria.
Pence will be awarded an honorary doctorate and deliver a major address.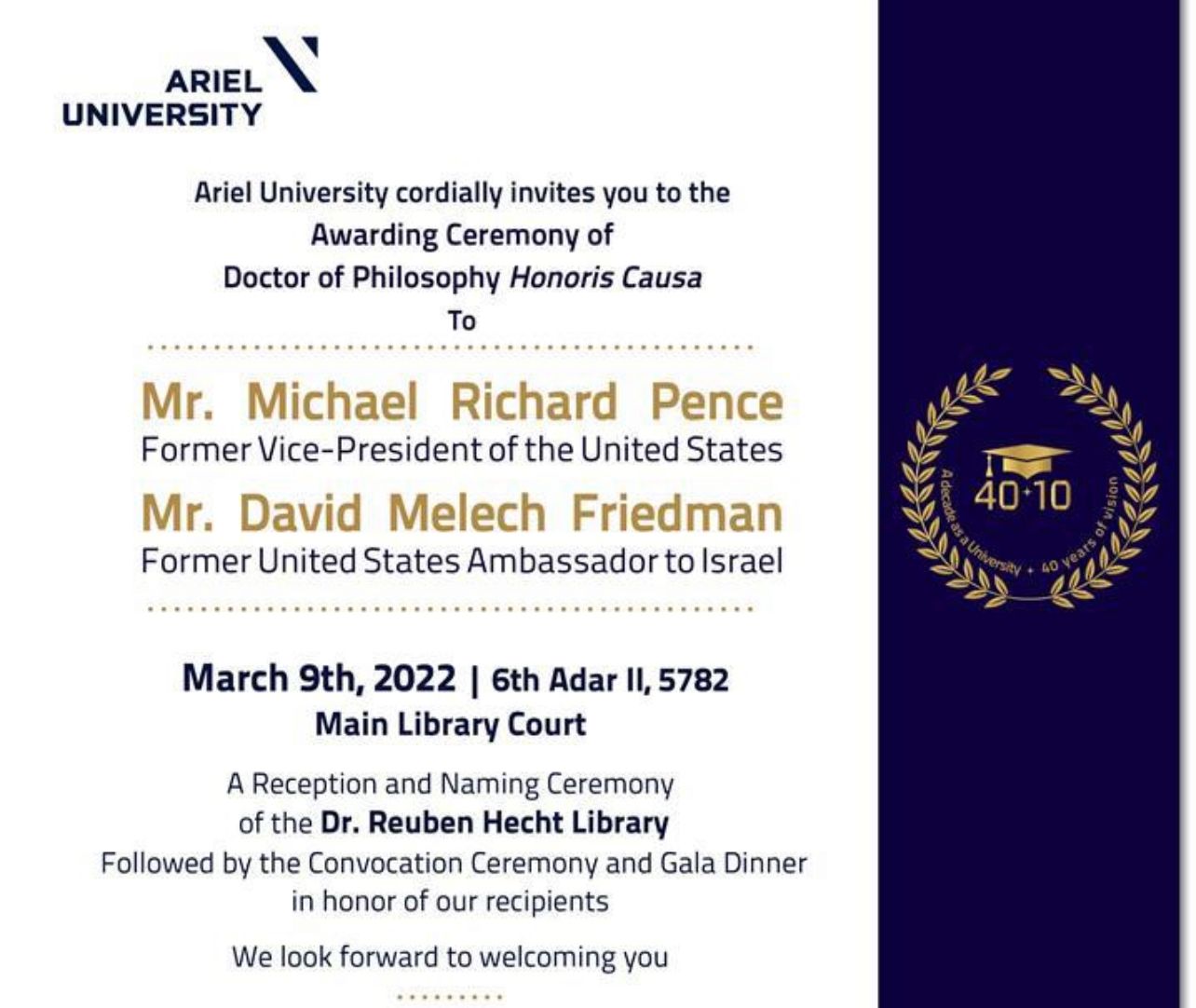 Friedman recently featured Pence prominently in his four-part documentary series, "The Abraham Accords," which has aired on TBN, the world's largest Christian television network.
ALL ISRAEL NEWS was the first to report that Pence was planning a return visit to Israel.
Pence began his visit by giving an exclusive interview to Israel Hayom, the nation's most read newspaper.
IMPORTANT TIMING
While Pence's trip has been in the planning for nearly a year, the precise timing of his arrival is important.
The Russian invasion of Ukraine has drawn Bennett into the unenviable position of trying to mediate between the two countries to de-escalate the crisis. 
Putin is also working closely with the Supreme Leader and other senior officials in Iran to negotiate a nuclear deal that is most advantageous for both Iran and Russia and the most disadvantageous to the United States.
Pence has been highly critical of the Biden administration on both issues.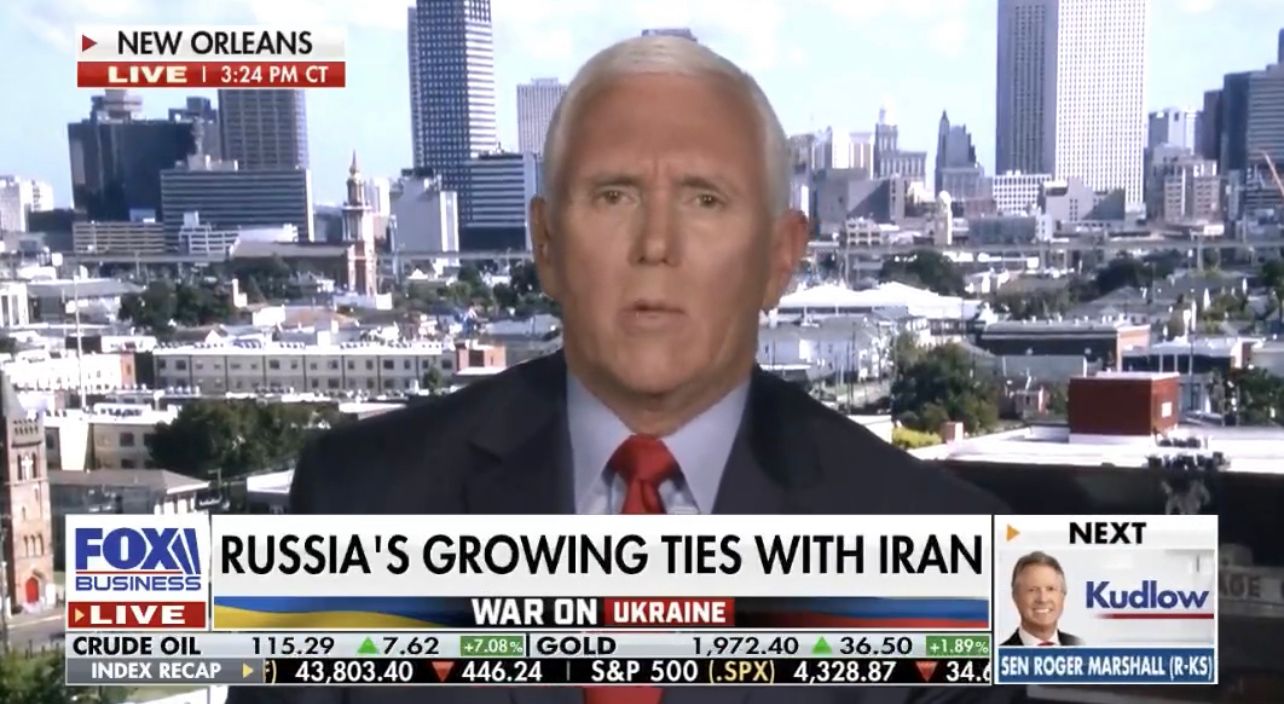 Mike Pence (@Mike_Pence) - Twitter page
Pence accuses the White House of not doing nearly enough to support Ukraine, and of negotiating a new deal with Tehran that is as bad — and possibly worse — than the last nuclear deal in 2015.
"I'm going to be in Israel meeting with the new prime minister, the former prime minister, the current president of Israel," Pence said last week on the Fox Business Channel, speaking with anchor Larry Kudlow.
"I will make clear to them that whatever this [Biden] administration is doing [on a nuclear deal with Tehran], the American people will stand with Israel," Pence insisted. 
"We need to expose any deal this administration agrees to and make it clear that the next American administration will get out of that deal every bit as quick as the Trump-Pence administration got out [of the last one]."
NEXT STOP: MOROCCO
After three days in Israel, Pence will travel to the Kingdom of Morocco.
Morocco is a moderate Arab nation and a longtime loyal ally of the U.S.
It is also the fourth of four Arab countries that normalized relations with Israel and joined the Abraham Accords in December 2020, the final month of the Trump-Pence administration. 
"ISRAEL IS THE NEW IOWA"
Pence's visit to both Israel and Morocco must be seen in the context of the work the former VP and his team are doing to prepare for a possible presidential campaign in 2024.
Other potential GOP contenders who have already visited Israel in 2021 or 2022 include:
• Former CIA Director and Secretary of State Mike Pompeo
• Senator Ted Cruz of Texas
• Former UN Ambassador Nikki Haley
• Senator Lindsey Graham of South Carolina
Last year, Bob Vander Plaats — the president of The Family Leader, the foremost conservative and Evangelical grassroots organization in Iowa, as well as a founding member of the ALL ISRAEL NEWS Advisory Board — told me he believes that any serious GOP presidential contender needs to not only visit Iowa repeatedly, but Israel, as well.
"It only makes sense that, internationally, Israel is the new Iowa to presidential hopefuls," Vander Plaats told ALL ISRAEL NEWS.
"If presidential candidates have a firm understanding of the necessary alliance between Israel and America, they will most likely get a lot of other things right when it comes to national security and global leadership," he noted. 
"That said, if it is clear they don't understand, or if they are politically nuanced when it comes to Israel, their leadership on all things international as it relates to global peace and America's security should be questioned." 
"Iowa voters will take note" of which potential presidential contenders truly understand Israel and the broader Middle East," Vander Plaats said. So will "a growing Evangelical base in all key primary states, that will eventually determine presidential nominees and, ultimately, who gets elected president of the United States."
PENCE'S PRESIDENTIAL PROSPECTS 
That said, does Pence have a serious shot at the GOP nomination?
It's an interesting question.
ALL ISRAEL NEWS and ALL ARAB NEWS are run by a non-profit organization, NEAR EAST MEDIA, and these are non-partisan media sites.
We do not endorse candidates or political parties.
We just report and analyze news and trends in Israel and the Arab/Muslim world, and trends affecting the Middle East and North Africa.
So, despite my decade-long friendship with the Pence family, ALL ISRAEL NEWS is not going to endorse him or any other candidate.
That said, for a purely analytical perspective, I believe Pence does have a serious shot and is being underestimated by the establishment media pundits and prognosticators. 
True, Pence remains deeply distrusted and dismissed by former President Donald J. Trump and Trump's most die-hard supporters.
It seems unlikely that Pence could win the nomination in a head-to-head matchup against Trump.
Yet despite Trump's strong poll numbers, it is by no means clear that Trump will actually run in 2024 due to his age and desire to rebuild his business and financial empire.
The same is true with Florida Governor Ron DeSantis. 
Most polls show DeSantis leading Pence, but again, it is far from certain that DeSantis plans to run, or would have the time to build an effective national grassroots campaign structure and fundraising apparatus like Pence is doing.
Pence has other liabilities, too.
He is widely seen in the GOP as too "Midwestern nice," and not enough of a fighter on conservative causes.
And Pence's role leading the White House COVID task force with officials like Anthony Fauci — who is sharply criticized by many rank-and-file conservatives — won't help.
That said, Pence has a loyal band of political allies cultivated over decades in public life.
He is a strict constitutionalist who refused to violate the constitution on January 6, 2020, despite withering pressure from Trump.
Pence has one of the strongest conservative policy track records at home and abroad or anytime thinking of running in 2024. 
He's passionately pro-life and just as passionately pro-Israel.
And so many of the policy success of the previous administration are just as much Pence's achievements as Trump's.
So those who rule out a serious Pence run in 2024 may be underestimating his appeal to Evangelicals who form the base of the Republican Party, as well as to suburban moms and to Independents who were badly turned off by Trump's personality.
That could create an opening.
Pence's return visit to Israel this week certainly won't hurt.

Joel C. Rosenberg is the editor-in-chief of ALL ISRAEL NEWS and ALL ARAB NEWS and the President and CEO of Near East Media. A New York Times best-selling author, Middle East analyst, and Evangelical leader, he lives in Jerusalem with his wife and sons.
Popular Articles
A message from All Israel News
Help us educate Christians on a daily basis about what is happening in Israel & the Middle East and why it matters.
For as little as $5, you can support ALL ISRAEL NEWS, a non-profit media organization that is supported by readers like you.
Donate to ALL ISRAEL NEWS
Latest Stories
Comments