Israeli volunteers save earthquake victims in Turkey
Rescuers Without Borders volunteer, Dvir Dimri, describes the situation on-the-ground in an exclusive interview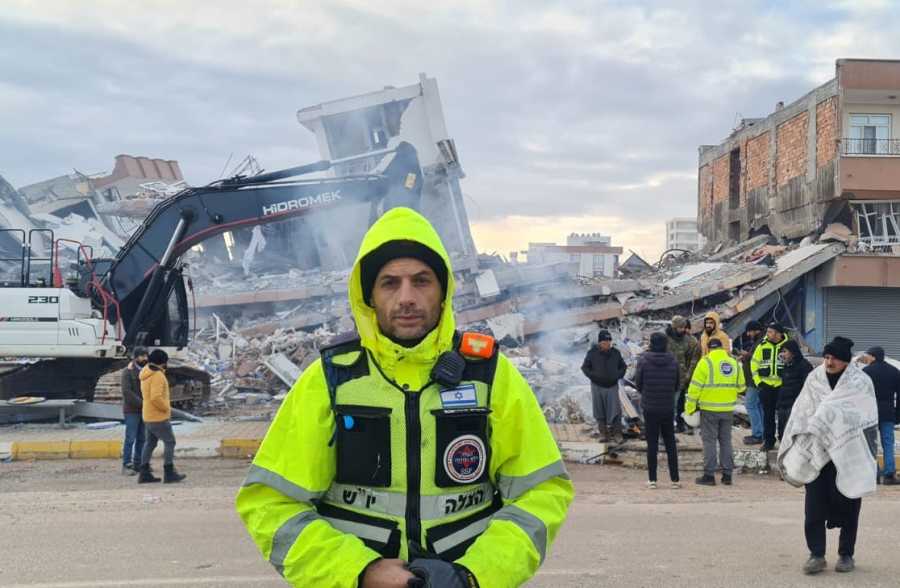 Israeli volunteer with Rescuers Without Borders in Turkey (Photo courtesy)
When a 7.8-magnitude earthquake struck southeastern Turkey on Feb. 6, a delegation of Israeli rescue workers were quickly mobilized to help search for survivors and provide medical treatment for the injured. One volunteer with the Israeli organization, Rescuers Without Borders, was dispatched with his colleagues just hours after receiving the urgent message to "report to duty."
Dvir Dimri, 39, is a soldier, trained medic and experienced rescue worker and has been helping people in the aftermath of disasters across the globe for over 20 years. He is also a husband, a father and the CEO of an Israeli real estate equity investment company.
He was signing documents for a real estate deal in Jerusalem on the day of the earthquake, when he received the message to drop everything and prepare to fly to the disaster-struck nation. By 5 p.m. that evening, the volunteer team – made up of both Jewish and Arab Israelis – was at Ben-Gurion International Airport with medical equipment and rescue gear, heading toward the hardest hit areas of devastation.
"It's very hard to describe what I have been seeing. It was a very, very tough situation," Dimri told Paul Calvert – a Christian journalist based in the Middle East – in an interview. "We landed 17 hours after the collapse – after the earthquake – and it was so close to the disaster."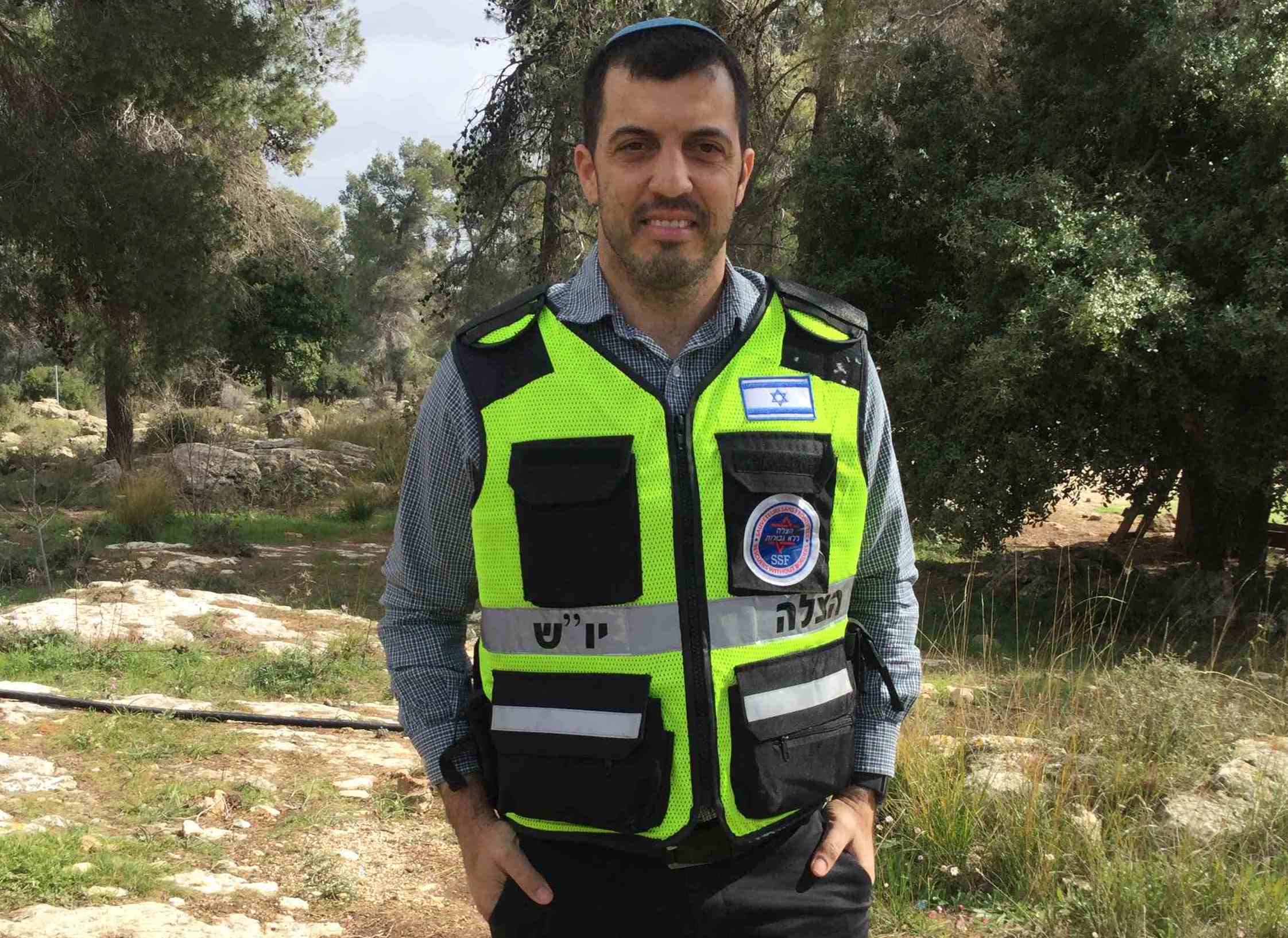 Dvir Dimri (Photo courtesy)
The local police redirected the rescue team to Adiyaman, a city of about 250,000 predominantly Kurdish citizens. A group of Turkish soldiers escorted the Rescuers Without Borders team, providing them with local resources and protection. Nothing could have prepared them for what came next.
Upon arriving in Adiyaman, Dimri described the situation as chaotic.
"We saw so much mess. A lot of people running, shouting, screaming, crying all over. We saw a building that collapsed and people trying to dig and to look for their beloved. And we put all our stuff there and we started to dig in one of the houses," he told Calvert.
"Then, after three very, very complicated hours, we succeeded to get three people out of the building. One of them, unfortunately, was dead – a pregnant woman."
"When we are there, our people need to tell the tractor driver how to dig, where to dig… And you know, we need to choose…you don't know where the better chance is," Dimri said, referring to the rescuing survivors.
"And the local people jump into the road, close the road and start to almost crash the [rescue] vans because they try to get the rescue team to tell them, "Dig here! Dig here because I hear someone…I hear my mom, I hear my mom, stop the bus. Start to dig! My mom is here. She's still alive!"
Dimri said it was also extremely stressful because the team had to make decisions on the spot what to do with people they were pulling out of the rubble. There were separate zones for the bodies, depending on the condition of the person. He described the heartbreaking situation, deciding whether to administer CPR or to transport the body to a room of people who were already pronounced dead.
Dimri said he had never seen anything as horrible as what witnessed in the aftermath of the earthquake.
"I work in the rescue team and the paramedic staff more than 20 years in the cities in Israel. It's a tough situation, like terror attacks, car accidents. But I can say nothing comes close. Here in Israel, they have a social team, and they work with us for the trauma and how to process the situations."
The next morning, the Turkish police asked the Rescuers Without Borders team to move their operations to the new local hospital, which had quite fortunately suffered no damage. Israeli emergency doctor, Dr. Amin Ziad and a couple of paramedics, including Dimri, were greeted at the hospital by truckloads of people in need of urgent medical attention.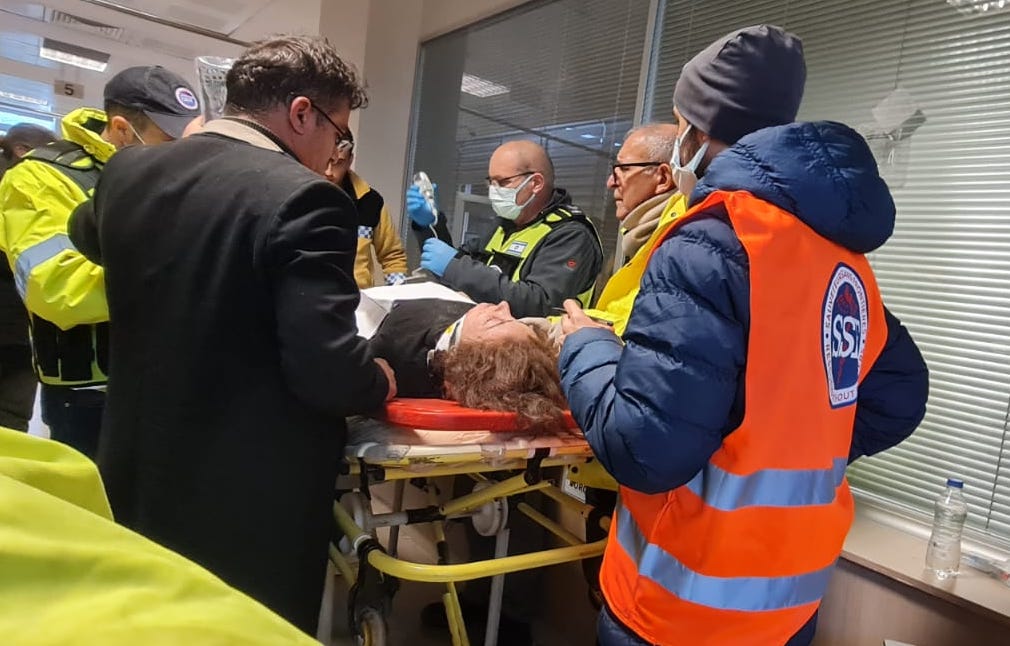 Israeli medics with Rescuers Without Borders treating patients in Turkey (Photo courtesy)
"I can say that around me, I had six or seven who received CPR and we did the best we could to save lives, actually with a lot of success. We cut the clothes, we gave them medicine, we sent them to x-rays."  Some of the injured had been buried under the rubble for anywhere from 60 to 80 hours, Dimri added.
"We're paramedics with a lot of training… more than 20 hours a month, at least. And all the time, you have new techniques and new medicine. You need to understand and learn and to keep up all the time and practice, practice, practice."
"We had to work around the clock all the time. We got to nap one hour, two hours and run back. All the days, we worked very hard to save lives, to give the treatment needed. I can say the team had enough medicine but what we really needed were extra hands."
In addition, Dimri said the team did not always feel safe due to both the rescue conditions and the overall health and hygienic situation. The team was not able to sleep in the hospital, but took shifts sleeping in a tent in freezing cold winter temperatures. In addition, he said it was almost impossible to create a sterile environment to prevent infections.
After three days into the rescue efforts, the Turkish army opened the airport in Adiyaman and rescue helicopters were able to take some injured patients to other cities for treatment.
Dimri said that his team could finally 'catch their breath' and reassess the needs of the earthquake victims who were returning to the hospital with infections and other illnesses. They soon realized they no longer needed paramedics but surgeons.
"We called our network at Rescuers Without Borders, which has a huge network of doctors, and we had a lot of applications from doctors who wanted to come. We brought a couple of specific doctors – neurology and cardiovascular surgeons, and others."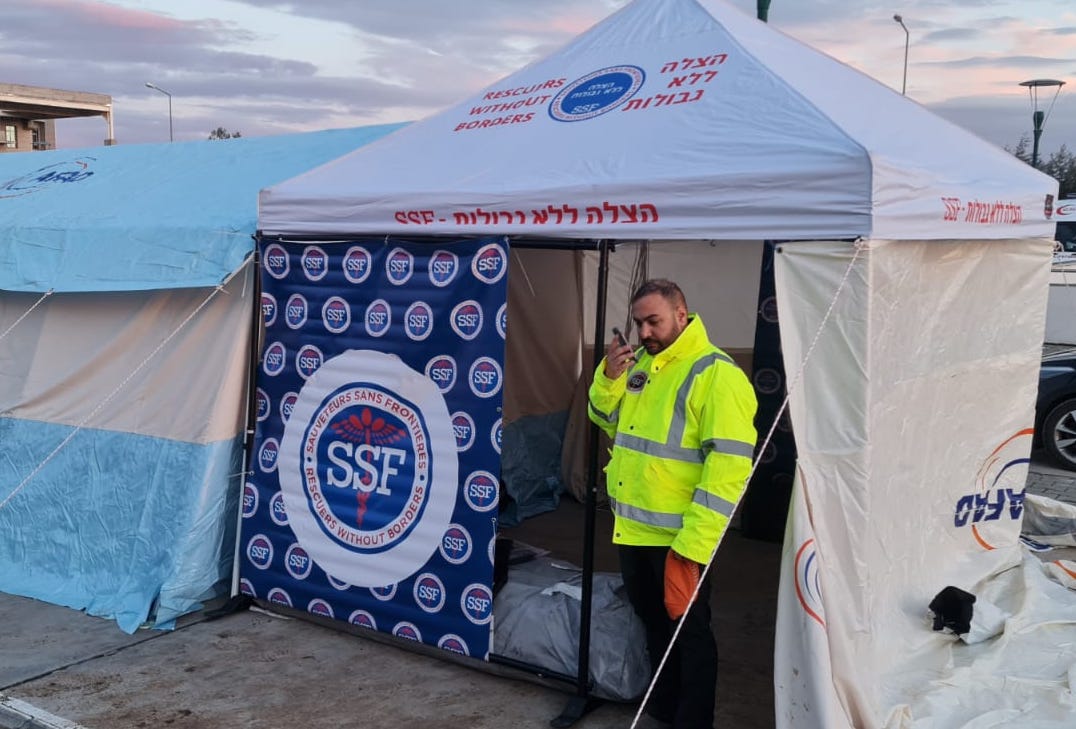 Rescuers Without Borders tent in Turkey (Photo courtesy)
The hospitals were overcrowded and overwhelmed with people suffering, both physically and emotionally, Dimri told Calvert, describing situations that required composure, discernment and good instincts.
"you need the ability to work under pressure, to understand what should be done now, because no one would tell you…"
For example, Dimri said there was a woman at the hospital who asked to have her IV removed from her arm because it was uncomfortable and she thought she no longer needed it for shoulder pain.
"I said, 'Okay, hold on. I will take care of you.' So I did the full check, with breathing... with everything. She looked calm and talked with me."
But Dimri could see that something was wrong. After performing all of the proper assessments, he realized that her leg was infected and she was in need of immediate treatment with antibiotics.
"So you know, no one told me, 'Go to this woman and check her,'" he explained. "But this is what you need to do – open your eyes and your mind. And this is what we are training in Rescuers Without Borders again and again. How to deal and how to work in tough situations and how to succeed, to not miss anything…and how to deal in that tough situation."
Despite the tremendous tragedy and suffering in Turkey, Dimri said he finds a lot of personal satisfaction in saving lives.
He shared a heartwarming story – new life amid tragedy and death – when one of the paramedics helped a woman in labor to give birth.
"And after a couple of hours, the hospital told her, 'Okay, fine, go home. No one can stay here more than two hours.' But she had no home to go back to," he said. "So, we took her to our tent, the paramedic gave her $200  – in Turkey, it's two months salary – and also he took her to find her a place."
She was so grateful to the Israeli team that she said she would name her newborn baby "Furkan," which in Turkish means 'helpfulness,' in honor of the men that saved their lives.
Another earthquake victim came back to the hospital days later to thank Dimri for saving his mother.
"He didn't know English," Dimri explained. "And he came with his phone, Google Translate, Turkish to Hebrew. And it was very, very important to him to show me. He wrote, 'Thank you for saving my mother.' And then we took a picture together," Dimri recalled.
"Other people came, gave us a hug and said, 'We're so thankful that you are the first people from all over the world, like 8 million people in Israel. And you brought more than 500 rescue people, immediately."
"One of the Turkish doctors said 'I will never forget you," Dimri said. "The Turkish nation will never forget. From now on, I will remember you, when Israel is mentioned. I love the country of Israel and the Israelis more because of you. The Turkish nation will never forget this, this noble act. You showed you a very big heart, my brother."
To find out more about Rescuers Without Borders, click here.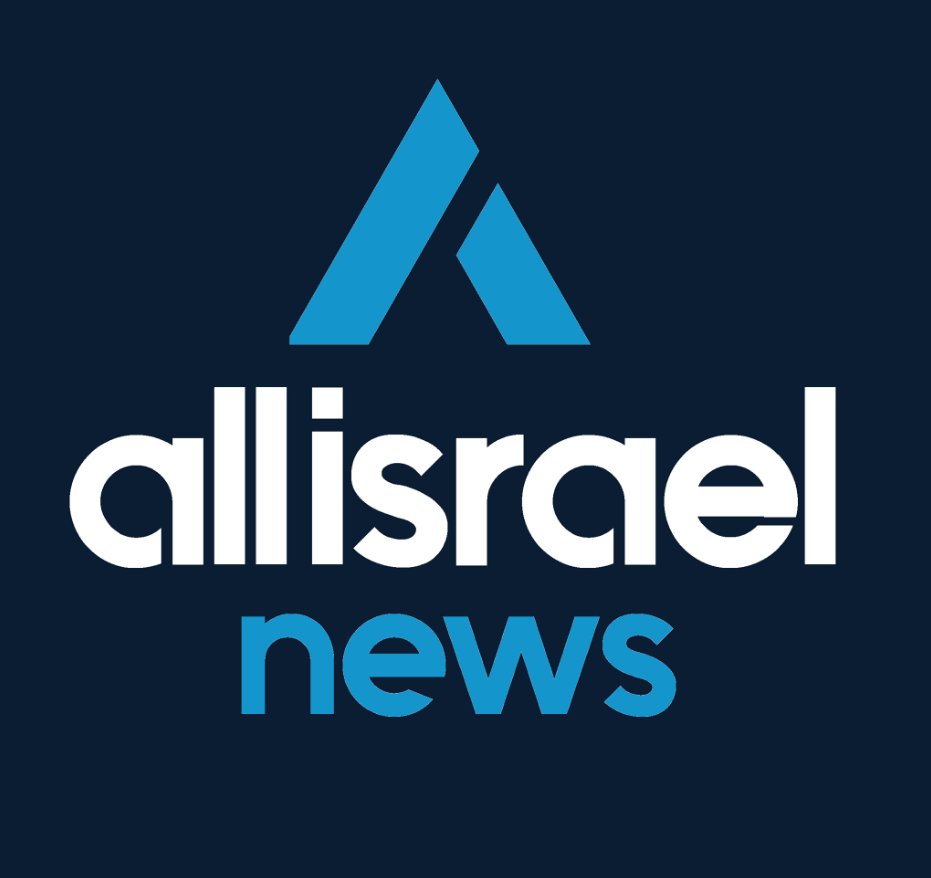 The All Israel News Staff is a team of journalists in Israel.
A message from All Israel News
Help us educate Christians on a daily basis about what is happening in Israel & the Middle East and why it matters.
For as little as $5, you can support ALL ISRAEL NEWS, a non-profit media organization that is supported by readers like you.
Donate to ALL ISRAEL NEWS
Current Top Stories
Comments