Israeli tourism is back! Reaching 2019 tourism record 'realistic goal,' tourism ministry says
Some 2.6 million tourists visited Israel in 2019, but Christian tour operator says tourism not recovering as much as she hoped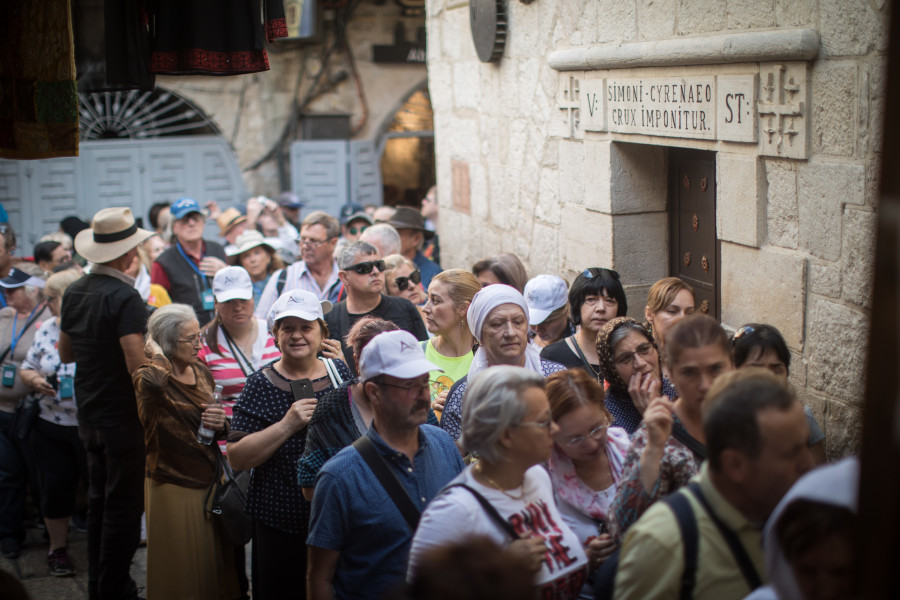 Christian pilgrims line up to touch the stone they believe Jesus Christ touched, which is the sixth station on the Way of the Cross, the Via Dolorosa, in Jerusalem's Old City, Nov. 3, 2019. (Photo: Hadas Parush/Flash90)
Israeli tourism is once again on the incline and pacing to reach, or even trump, 2019, pre-COVID numbers, the Tourism Ministry said earlier this week.
In 2022, 2.6 million tourists visited Israel, infusing the economy with around NIS 13.5 billion (about $3.85 billion), the ministry said.
"2022 was a year of recovery from the corona crisis," newly appointed Tourism Minister Haim Katz said, "The trend is positive and breaking the incoming tourism record of 2019 is a realistic goal on the horizon."
In 2019, more than 3.5 million tourists visited Israel, over half of them Christian, according to the ministry. Israel was geared up to hit 4 million visits in 2020, before the pandemic. Instead, only 831,000 tourists visited in 2020 and 397,000 in 2021, respectively.
In 2016, 2.49 million tourists visited Israel, 2.9 million in 2017 and 3.26 million in 2018.
While Israel opened its skies to some tourism in March 2022, it only fully resumed operation in May 2022, which meant that the 2022 numbers account for only eight months of full travel. The resumption of flights was only announced in the final hour and after many similar European destinations resumed operating, which the ministry said could have deterred some travelers from visiting most of last year.
Overall, Israel's recovery rate is slightly lower than the global average of
a roughly 36% decrease in the volume of incoming tourism relative to 2019. But in December 2022, the country appears to be catching up, hitting 266,200 tourist entries last month alone – a 25% decrease in relation to 2019.
The ministry said it did not have data on the number of Christians versus other tourists last year, but told ALL ISRAEL NEWS that around 50% of visitors consistently tend to be Christian. 
At the same time, Israel experienced an increase in overnight stays in 2022, with more than 20 million Israeli overnights recorded in a variety of accommodation options. In 2019, only 18.4 million overnights were recorded. 
This is likely connected to the increase in domestic tourism, which hit
NIS 17 billion ($4.47 billion) compared to 12.7 billion ($3.6 billion) in 2019.
But Donna Jollay, owner of Jerusalem Tours, said she is not yet feeling the recovery as much as the numbers portray. Before the pandemic, her tour company would bring 1,200 to 1,300 Christian tourists to Israel a year. In 2022, she brought only 630. 
Although Jollay quipped that "this is a huge increase compared to the four I brought in 2021, thank God."
She also noted that many of the mass Christian gatherings that take place in the Holy Land were down this past year, such as the Feast of Tabernacles, which hosted close to 6,000 people the year before the pandemic and fewer than 2,000 in 2022.
In addition, Christians United for Israel hosted a paired down 2022 mission.
"Seeing this has been very discouraging," Jollay admitted.
She noted that she and her colleagues have seen some shifts since the pandemic which could be hindering Christian tourism, including economic instability and inflation, which has negatively impacted the retirement funds of traditionally older Christian travelers.
Moreover, with the rise in domestic tourism over the pandemic, many Israeli hotels raised their already expensive prices, while reducing quality due to lack of trained staff, Jollay added.
"I am having a lot of complaints about the quality of hotels that were not maintained during this multi-year global pandemic," she said. "The quality has gone down, and because so many people had to leave the hospitality and tourism industry, we have lost the majority of experienced staff.
"This is not a good set up for people having such an amazing experience."
But Jollay said she has hope. 
Jerusalem Tours already has 1,000 people on the books for 2023, she noted.
"Our goal is to reduce obstacles, to launch projects that increase the accommodation supply and develop infrastructure, to fully realize the tourism potential in the country," Katz concluded.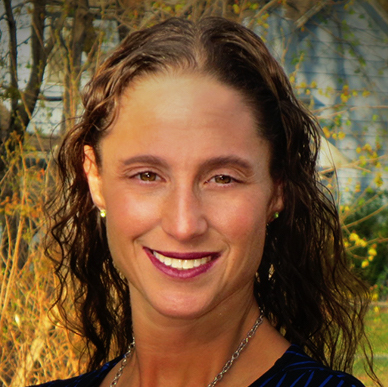 Maayan Hoffman is a veteran American-Israeli journalist and strategic communications consultant. She is Deputy CEO - Strategy & Innovation for the Jerusalem Post, where she also served as news editor, head of strategy and senior health analyst.
A message from All Israel News
Help us educate Christians on a daily basis about what is happening in Israel & the Middle East and why it matters.
For as little as $5, you can support ALL ISRAEL NEWS, a non-profit media organization that is supported by readers like you.
Donate to ALL ISRAEL NEWS
Current Top Stories
Comments