ISRAELIS TO WATCH IN 2021
Israeli President Rivlin wants millions of Christians to visit when the country reopens; is planning dramatic development of site where Jesus was baptized
Reuven "Ruvi" Rivlin gives exclusive interview to ALL ISRAEL NEWS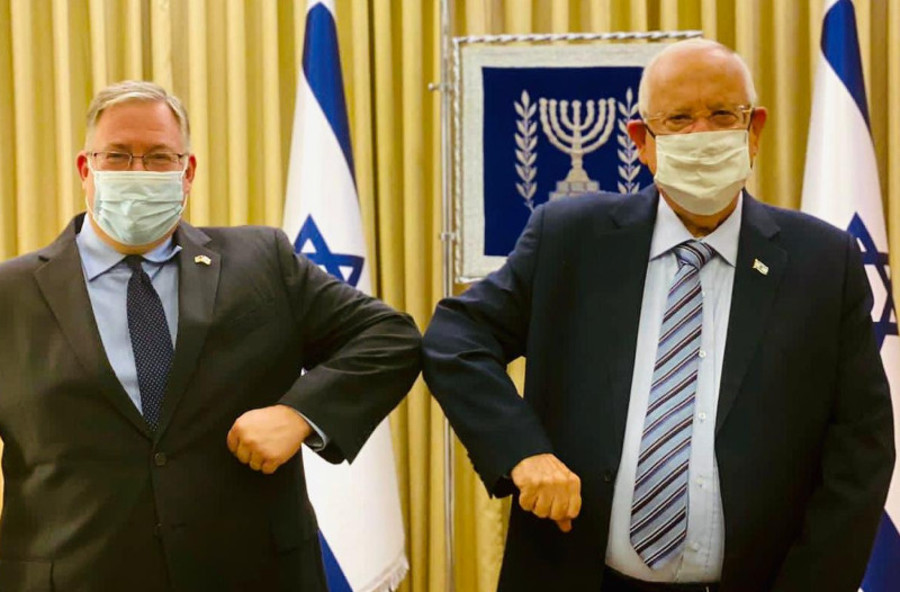 Joel C. Rosenberg with Israeli President Reuven Rivlin (Photo: All Israel News)
JERUSALEM – Talk is growing among senior Israeli government officials about when and how to reopen the country to tourists from around the world.
With Israel currently the world leader in vaccinating its citizens against the COVID-19 virus – fully 30% of Israel's adult population has received their first shot – it is increasingly possible that the country could reopen as early as this summer.
In an exclusive interview, Israeli President Reuven "Ruvi" Rivlin told me he wants to see millions of Christians visiting the Holy Land this year 
Rivlin also told me he is eager to see hundreds of thousands of Arabs from the United Arab Emirates, Bahrain and Morocco come to Israel, as part of the fruit of peace and normalization of the Abraham Accords.
After a record-breaking year in 2019 in which 4.55 million tourists came to Israel – a figure that was up fully 11% over 2018 – 2020 was a disastrous year for the Israeli tourism industry.
In March, the government was forced to shut the entire country to all foreign visitors – both tourists and businesspeople – as the pandemic swept the country and the world. 
This was the first time in the modern history of the Jewish state that the borders of the country were closed and remained shut for so long.
During a 90-minute, on-the-record conversation at his official residence in Jerusalem, Rivlin specifically shared with me his fascinating vision to boost the interest of Christians to walk in the land where Jesus, the apostles and the Hebrew prophets walked.
I'll share with you our discussion in a moment – but first a bit of background, since most people outside of Israel are not too familiar with the president.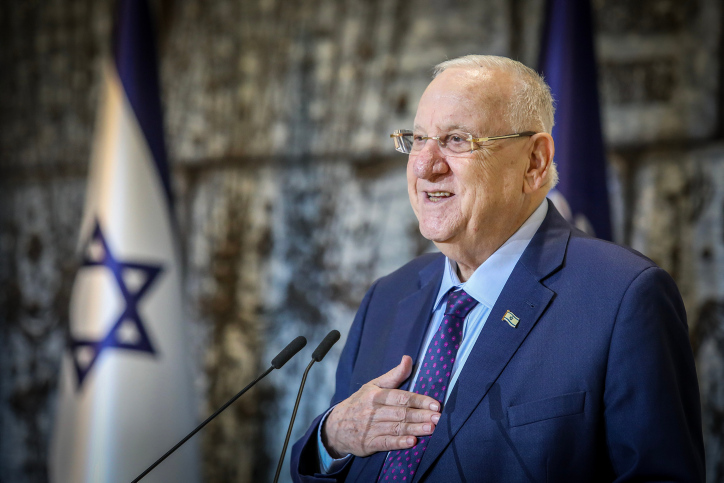 Israeli President Reuven Rivlin
A 9th GENERATION JERUSALEMITE
Last week, I put President Rivlin at #3 on ALL ISRAEL NEWS' list of the 21 most interesting Israelis to keep an eye on in 2021 – ahead of Prime Minister Benjamin Netanyahu, and ahead of all other political party leaders.
Why?
"At 81," I noted, Rivlin "has become the 'grandfather' of the nation, a voice of reason and moderation amid increasingly shrill and divisive voices. Watch closely as Rivlin builds strong relations with Israeli Arabs and Christians in 2021. Watch, too, as he carefully oversees the March 23 elections and then calmly and professionally handles the coalition building process in a time of bitter and intensifying political rancor."
Rivlin, a ninth generation Jerusalemite whose Jewish family made aliyah from Vilnius in the early 1800s, was elected in the summer of 2014. 
But Israeli presidents can only serve one seven-year term.
As he comes to the end of his term, it has become clear to me that Rivlin is making the dramatic expansion of Christian and Arab tourism to the Jewish state his highest priority.
His goal isn't simply to boost the commercial prospects of Israelis in the tourism industry, though this is hugely important to him.
Rivlin's primary objective is to advance regional peace, religious freedom and cooperation, and if he succeeds, it will be central to his enduring legacy as one of Israel's most appreciated and effective presidents.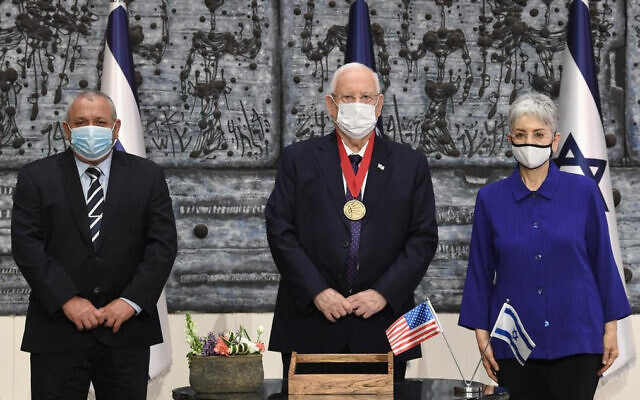 President Reuven Rivlin (c) being presented the Washington Institute Scholar-Statesman Medal by representatives of the Institute in Israel, Mrs. Robin Neustein, of the Board of Trustees of the Washington Institute, and former IDF Chief of Staff Gadi Eisenkot (Photo: Mark Neyman/GPO)
"THE ABRAHAM ACCORDS ARE VERY IMPORTANT"
Were you surprised by the dramatic diplomatic breakthroughs of 2020? I asked the president when we met in December.
Not at all, Rivlin replied, without missing a beat.
"I thought this was possible 80 years ago."
He has always believed that true peace, mutual respect and cooperation between Jews and Arabs was possible because he had seen it with his own eyes growing up. 
His father learned to speak, read and write Arabic fluently, and even translated the Qur'an into modern Hebrew. 
His parents constantly welcomed Arabs into their home, both before and after the 1948 War of Independence.
Under his father's influence – and growing up in the Holy City making many Arab friends – Ruvi Rivlin learned Arabic as well.
Though he is a long-time member of the Likud party and his politics are right wing, Rivlin surprises many by having a deep love for Israeli Arabs and a deep desire to communicate with and make peace with the Arab states that are Israel's neighbors.
We sat together just days after he welcomed the first-ever delegation of Bahraini diplomats to Jerusalem to discuss how to accelerate commercial, cultural and tourism ties, and Rivlin was enthusiastic about the Abraham Accords because they validated his view of how Arab-Israeli relations should be.
"I believe the Abraham Accords are very important," he told me. "I know that the people of the Emirates, and the people ruling the Emirates, and ruling Bahrain and ruling Saudi Arabia, they are people who have never had a war with Israel. They are very open. They are very successful in the business world and they believe in the power of free markets. So, it is easier to make peace with them."
"These countries are very important to us and peace with them shows that we have no war with Islam, that we have no war with Arab nations. We have only war with people who are trying to reject our right to exist and who are trying to destroy us."
"It's important to find a way to create real cooperation, diplomatic relations and the idea that we are meeting their people and they are meeting our people," Rivlin added. "They are coming to us, and we are coming to them. It shows that it is possible, that Arabs and Jews can live together. I really believe it is very, very important."
Rivlin is eager to visit the Arab countries that have joined the Abraham Accords as soon as possible, and to welcome Gulf and Moroccan Arabs to come to Israel en masse.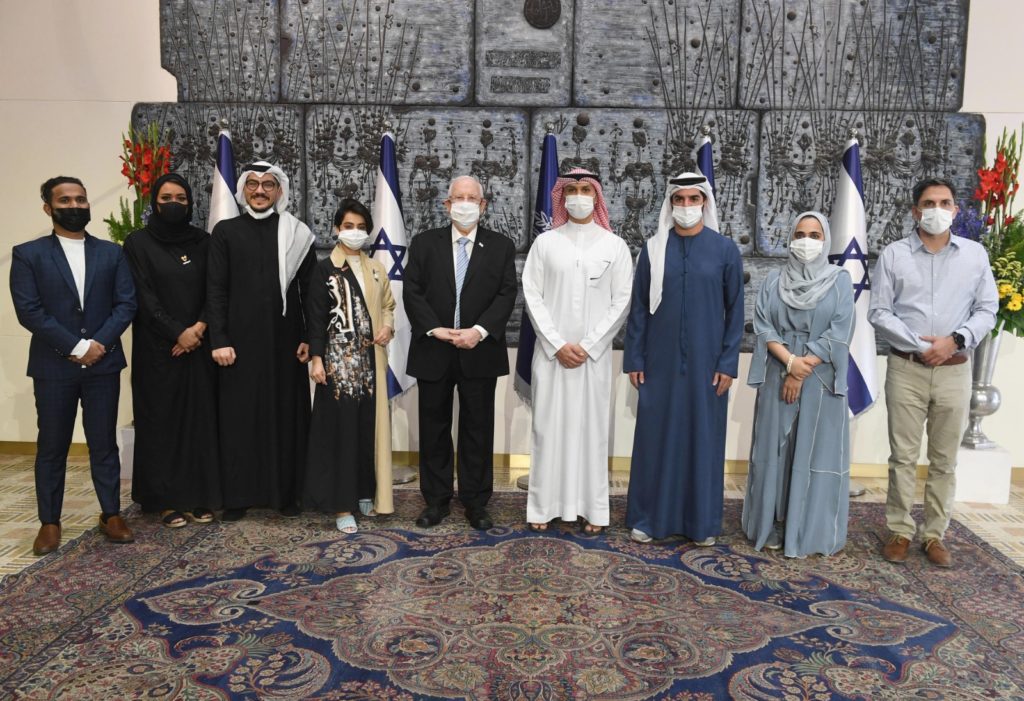 Israeli President Rivlin welcomes a delegation of opinion-leaders from Bahrain and the UAE to Beit HaNasi (Photo: Mark Neyman/GPO)
JESUS + JORDAN + JERICHO + JEWS = TOURISM & PEACE?
Rivlin is also passionate about honoring – indeed, celebrating – the place where the New Testament indicates that Jesus of Nazareth was baptized in the Jordan River.
One of his closest advisors told me that this is one of Rivlin's "life missions."
Specifically, Rivlin explained to me at length that he is working together with the Kingdom of Jordan and the Palestinian Authority to restore the historic baptism site of Jesus and make it a must-see destination for millions upon millions of Christians, Jews, and Muslims. 
Upon becoming president in 2014, Rivlin began noticing that Christians wanted to see the place where Jesus was baptized by John the Baptist, yet because of so many mines from past Arab-Israeli wars, and the lack of developed facilities, the site known as Qasr al-Yahud – "Castle of the Jews" – only received about 1,000 Christian tourists a year. 
He also noticed that there was only one church in the area, an ancient monastery erected around 400 years after Christ, one of the first churches built after the Romans adopted Christianity as their official religion.
Upon the advice of Major General Yoav "Poli" Mordechai, who served as the Israeli military's coordinator of government activities in the territories (COGAT) from 2014 to 2018 – and is also a fluent Arabic speaker – Rivlin became intrigued in the idea of bringing millions of Christian tourists, among others, so long as the initiative would not only benefit Israel but also Palestinians and Jordanians. 
He found funds to begin clearing the Jordan Valley of mines. He worked to improve access to the site and draw attention to it and by 2019, before the coronavirus pandemic hit, nearly 1 million tourists visited Qasr al-Yahud.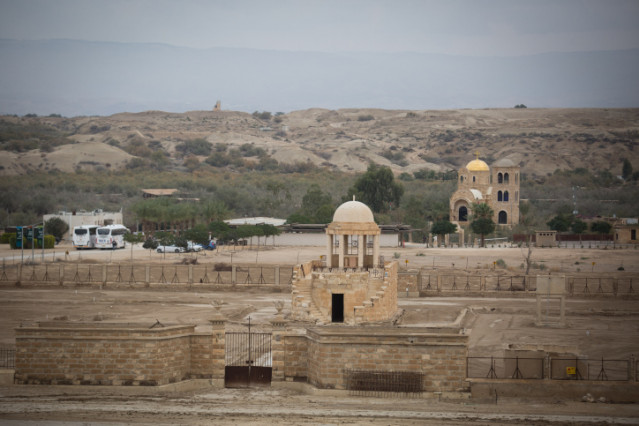 Old churches near the site of Qasr al Yahud, the place where Jesus is believed to have been baptized, near town of Jericho (Photo: Hadas Parush/Flash90)
As I have seen on my many visits to Jordan, King Abdullah II has already created a national park on the east side of the river to honor the baptism of Jesus. The King also invited 13 historic Christian denominations to build churches and cathedrals there and directed archaeologists to excavate the site known in the New Testament as "Bethany Beyond the Jordan," where John the Baptist lived and ministered for a time.
So, Rivlin began thinking: What if Israel could work with the Jordanians to create a unique international park that linked the two baptism sites, that would have bridges allowing tourists on Israel's side to cross over and see the Jordanian churches and Bethany Beyond the Jordan and allowing tourists on the Jordanian side to cross over and visit the Israeli side, all within a jointly-operated "security bubble" that would keep everyone safe.
"I want to allow people to fulfill their wishes to be baptized," he told me. 
To get the buy-in of Roman Catholics, Rivlin went to see the Pope at the Vatican, explained the potential of the project to encourage cooperation between Christians, Jews and Muslims, and between Israel, the Palestinians and the Jordanians.
Pope Francis loved the idea.
"If you manage to do this, you could bring peace to region," Francis told Rivlin.
"Can I get your blessing for this project?" Rivlin asked.
The Pope said yes.
Rivlin then went back to the Jordanians and found the idea received favorably by King Abdullah and Prince Ghazi, the king's special representative for interfaith religious matters. Rivlin went back and updated the Pope who said he would love to come to the site once such a project was ready to be implemented.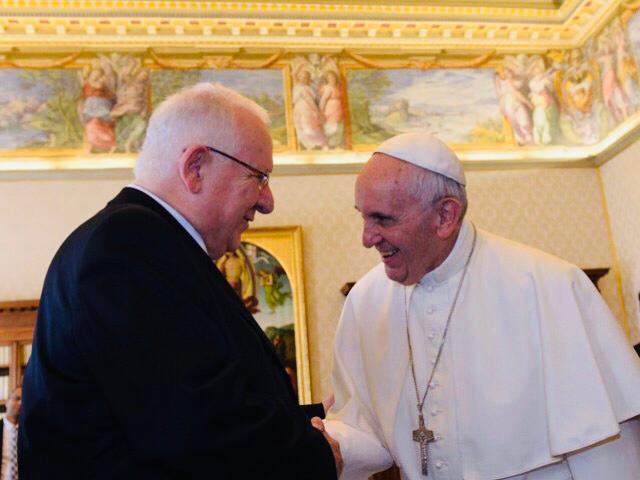 President Rivlin meeting with Pope Francis (Photo: GPO/Haim Zach)
The controversy kicked up by Netanyahu's "annexation" proposal for the Jordan River valley brought all talks to a halt. Now, however, since the Israeli government has opted for the Abraham Accords rather than annexation, the negotiations are getting back on track. Rivlin says Palestinian leaders are cautiously supportive, as long as Israel does not change the status of the baptism site. They do not want the site to be annexed into Israel. For now, they want COGAT to oversee the area until a final status agreement is reached defining borders. 
Rivlin agrees. 
He has even found funding to create mechanisms to clean the water flowing through the Jordan so that it will be less murky, giving those being baptized an optimal experience.
"This going to be very good for the Palestinians, and specifically for Jericho," he said, the excitement in his voice palpable. 
"Millions of Christians are going to come to Israel, visit the Church of the Nativity in Bethlehem, visit the Via Dolorosa and Church of the Holy Sepulcher in Jerusalem, then go up to Nazareth and visit the Church of the Annunciation. Then they will visit the Sea of Galilee, and come down the Jordan Valley and visit Qasr al-Yahud and get baptized in the Jordan River, and then cross over the river and visit the national park of the churches in Jordan, and then come back into Israel." 
Jericho, he insists, will become "one of the most interesting cities" for Jews and Christians who know their Bibles, and "tens of thousands of news jobs will be created in hotels, restaurants and other tourist sites."
Jesus told His disciples, "Blessed are the peacemakers." 
How remarkable would it be if a Jewish president and a Muslim monarch found a way to advance peace by honoring the life and ministry of Jesus and welcoming millions of His followers to come step into the story for themselves.
I love Rivlin's vision and told him I stand ready to help advance this project in any way that I can, particularly with Evangelicals in the U.S. and around the world for whom the biblical accounts of Jesus' life have so powerfully transformed their own.

Joel C. Rosenberg is the editor-in-chief of ALL ISRAEL NEWS and ALL ARAB NEWS and the President and CEO of Near East Media. A New York Times best-selling author, Middle East analyst, and Evangelical leader, he lives in Jerusalem with his wife and sons.
A message from All Israel News
Help us educate Christians on a daily basis about what is happening in Israel & the Middle East and why it matters.
For as little as $5, you can support ALL ISRAEL NEWS, a non-profit media organization that is supported by readers like you.
Donate to ALL ISRAEL NEWS
Current Top Stories
Comments