JERUSALEM PRAYER BREAKFAST
Israeli MK shares how an Evangelical inspired her to draw closer to God
The sixth Jerusalem Prayer Breakfast continues its second day in the Holy City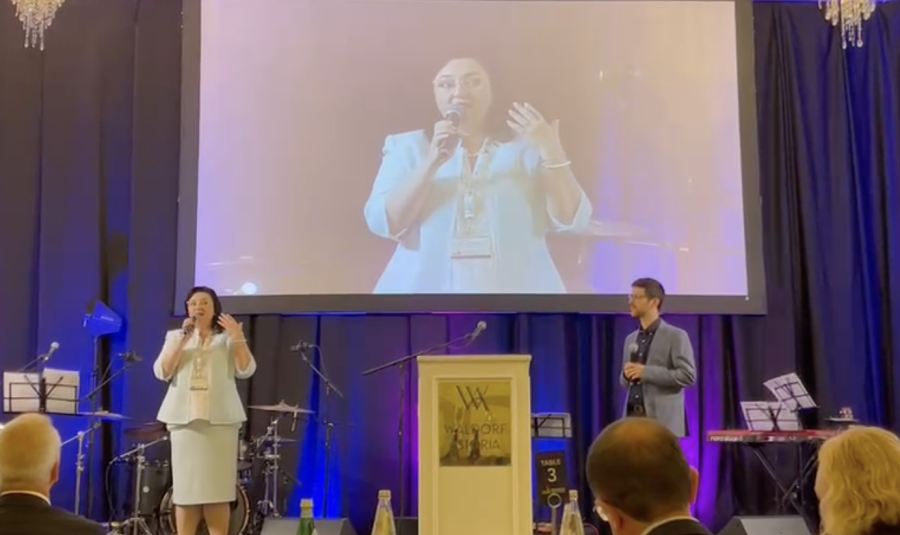 Knesset Member Tatiana Mazarsky speaks at the Jerusalem Prayer Breakfast, June 2, 2022 (Photo: ALL ISRAEL NEWS)
Raised under communism in Russia with scant knowledge of Judaism, belief in God was unimaginable, Knesset Member Tatiana Mazarsky (Yesh Atid) told hundreds of Christian Zionists on Thursday morning at the Jerusalem Prayer Breakfast.
"I knew I was Jewish, but I did not know what that was," explained Mazarsky, Knesset co-chair (with Gila Gamliel of Likud) of the Jerusalem Prayer Breakfast.
"I understood that being Jewish was something to be ashamed of, because everyone around us hated the Jews," she continued. "I did not know there was something called anti-Semitism. But I personally experienced what that is."
At the age of 12, Mazarsky promised herself that her own children would not be ashamed of who they are. Isolated in Russia, she did not know about Israel, but she dreamed of a Jewish homeland.
Then, in 1992, at the age of 16, in the aftermath of the fall of the Soviet Union, the Jewish Agency began operating in her city. They ran a cultural center where Jews could learn about their faith for the first time in at least two decades and they told them about Israel and how Jews could move there. The next year – the same year she finished high school – Mazarsky made aliyah (immigrated to Israel).
"I did not know the language, I had no immediate family, but I had arrived in a place where they did not hate me because I am a Jew," she told the crowd. She admitted that it was hard to fit in, but she knew she did not want to go back to Russia. "It was the first time I felt like I was home."
In her first year she met many students like herself, as well as warm families that offered to host her for Shabbat dinner and holidays. But she had not yet managed to fully connect to the Jewish state.
During a period of transition, she was staying at the Immigrant Absorption Center, when an unexpected encounter with an Evangelical Christian brought her back to her faith and the comfort she needed from God.
An Evangelical social worker offered to host Mazarsky until she found a new apartment.
"She started to speak to me about the difference between religion and faith," Mazarsky recalled. "She also invited me to her community, but I did not go with her. And that night, I talked to God and asked him, 'Show me the way to know You." And that night, for the first time, I knew the love of God.
"I had to go through all of this to pray to the living God the way my grandmother had prayed to the one true God," Mazarsky continued. "I want to thank you all, each one of you, that you are here [in Israel] - in my personal name and the name of our new government, the government of [Prime Minister Naftali] Bennett and [Foreign Minister Yair [Lapid]...
"The children of Israel, we have the same father – in faith and love," she added. "I want to thank you and bless you."
'OUR CHRISTIAN FRIENDS ARE BY OUR SIDE'
This year's breakfast, the first full-scale event of its kind in Israel since the start of the COVID-19 pandemic, brought together hundreds of Christians from around the world. The event is planned by Albert Veksler, CEO and founder of JPBM Consulting. It was founded by former Knesset Member Robert Ilatov and former U.S. Congresswoman Michele Bachmann.
To date, prayer breakfasts have been held in 15 locations outside of Israel.
On Wednesday, attendees prayed together with both the coalition and opposition in the halls of the Knesset. On Thursday, they prayed together for Israel, the Jewish people, peace and prosperity.
"On behalf of the Christians, forgive us," said Nick Vujicic, an Australian-American Christian who was born without arms or legs. "On behalf of the Christians, forgive us for our ignorance at times. For our selfishness at times. Insensitivity at times. Forgive us for being deaf or blind. Forgive us."
He asked the rabbis in the room – including Rabbi Yehudah Glick and Rabbi Pesach Wolicki – to stand. He then asked God to bless them and their synagogues. He also prayed for the Knesset members and the current and previous administration.
"Father, we pray for Israel politically," Vujicic said. "We love you. God bless you and your families."
Participants spent the morning singing biblical songs and reading Psalms, their faces to heaven and their arms outstretched. It was powerful to watch, for Jerusalem Deputy Mayor Fleur Hassan-Nahoum, who also spoke on Thursday.
She recalled how on Sunday, the Holy City awoke in fear that Jerusalem Day celebrations could end with rockets and terror, resulting from the government's decision to allow Jews to march and dance through Jerusalem's streets in honor of its reunification. During last year's celebration inn 2021, Hamas launched a war against Israel in response to what is known as the Flag Parade.
"I woke up with a knot in my stomach, as I did not know if the day would end up in a war," she told the Christian audience members. "We were getting threats and the entire world was telling us don't march and do not celebrate the reunification of the eternal capital.
"We marched anyway," she continued, "and thank the Lord we are still here. I have to say that your being here helped. The fact that you are here by our side in a very difficult and pressured week is an incredible relief. It is incredible to know that our Christian Evangelical friends are not just standing by our side wherever they are from but that they are here [in Jerusalem] standing by our side."
Added Ilatov: "We are building bridges between people… Thank you for supporting us in Jerusalem and all over the world."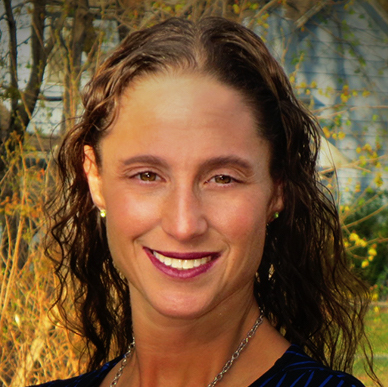 Maayan Hoffman is a veteran American-Israeli journalist and strategic communications consultant. She is Deputy CEO - Strategy & Innovation for the Jerusalem Post, where she also served as news editor, head of strategy and senior health analyst.
A message from All Israel News
Help us educate Christians on a daily basis about what is happening in Israel & the Middle East and why it matters.
For as little as $5, you can support ALL ISRAEL NEWS, a non-profit media organization that is supported by readers like you.
Donate to ALL ISRAEL NEWS
Current Top Stories
Comments