Israeli Culinary Guide - Breads of the East
A baker taps bread to the wall of the oven at the Shuk HaTikva market in Tel Aviv (Photo: Bea Bar Kallos / Izraelinfo)
By exploring Eastern-style breads, one can truly appreciate the cultural fusion and culinary marvels that make Israeli gastronomy so exceptional.
Israel's culinary landscape beautifully mirrors its diverse society. From traditional Ashkenazi dishes originating in Europe to eastern Mizrachi delicacies influenced by the Arab world and the Ottoman Empire, the country's gastronomy is a captivating mix of East and West, North and South. Perhaps the pinnacle of this culinary medley is the country's rich bread culture, boasting an abundance of tempting options, including loaves, flatbreads and other baked goods.
Pita
Pita is the most recognizable bread in the Middle East. It boasts a unique feature: When cut open, a deep pocket emerges, perfect for filling this small, round-shaped bread with all sorts of delicacies. Pita bread is undoubtedly an integral part of Middle Eastern cuisine.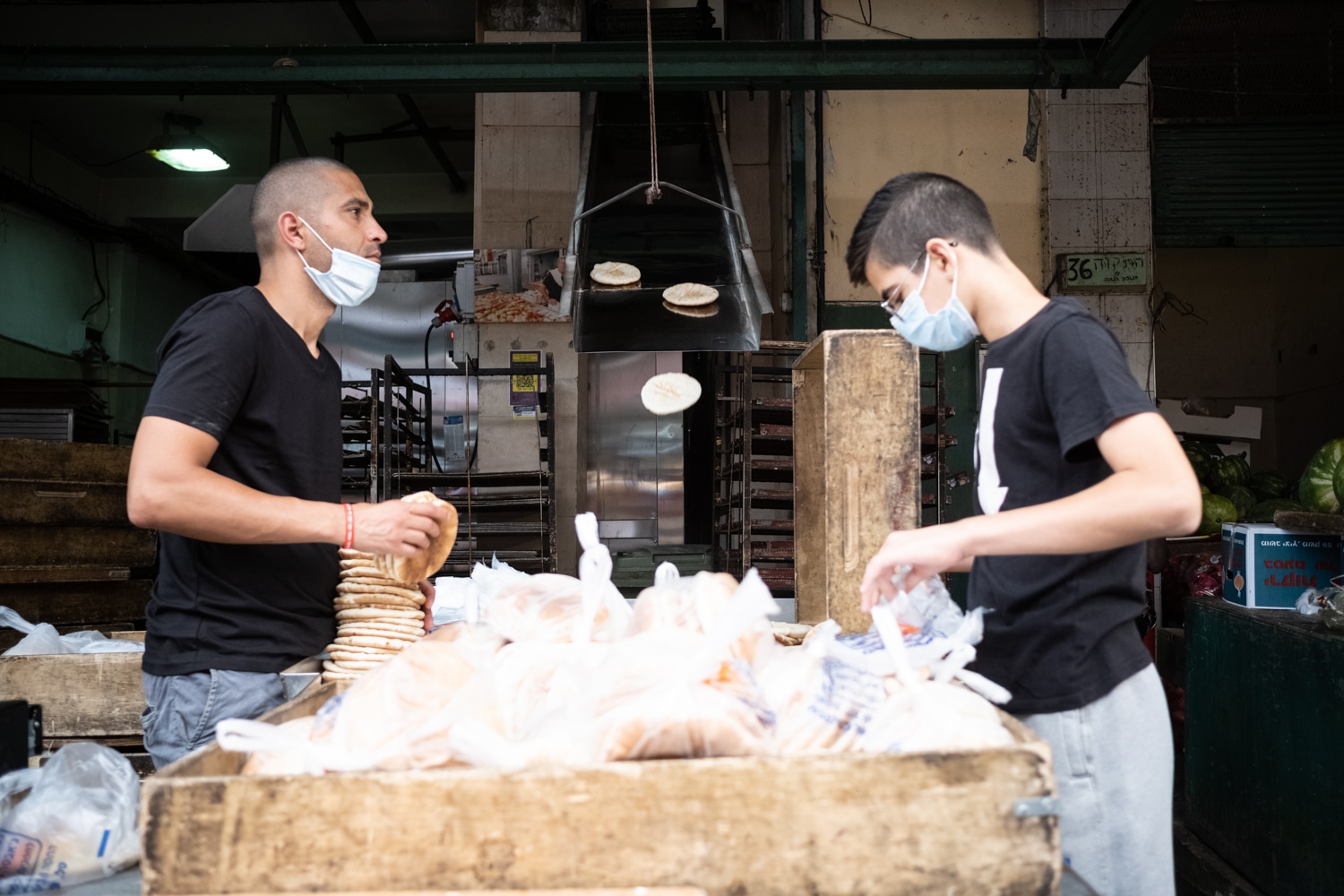 Boys packing pitas at the Shuk HaTikva market in Tel Aviv (Photo: Bea Bar Kallos / Izraelinfo)
Laffa
Laffa has a very similar consistency to pita and is also a common type of Middle Eastern bread. The dough is flattened and baked by placing it on the wall of a clay oven. Laffa bread is used for dipping, as well as for shawarma, falafel, or hummus wraps and more.
Jerusalem Bagel
Unlike its Ashkenazi counterpart, this bagel is made from regular bread dough. It is shaped into a large oval circle, sprinkled with a lot of sesame seeds, and baked without boiling or steaming. The Jerusalem bagel is soft, dipped into za'atar (hyssop) spices and olive oil.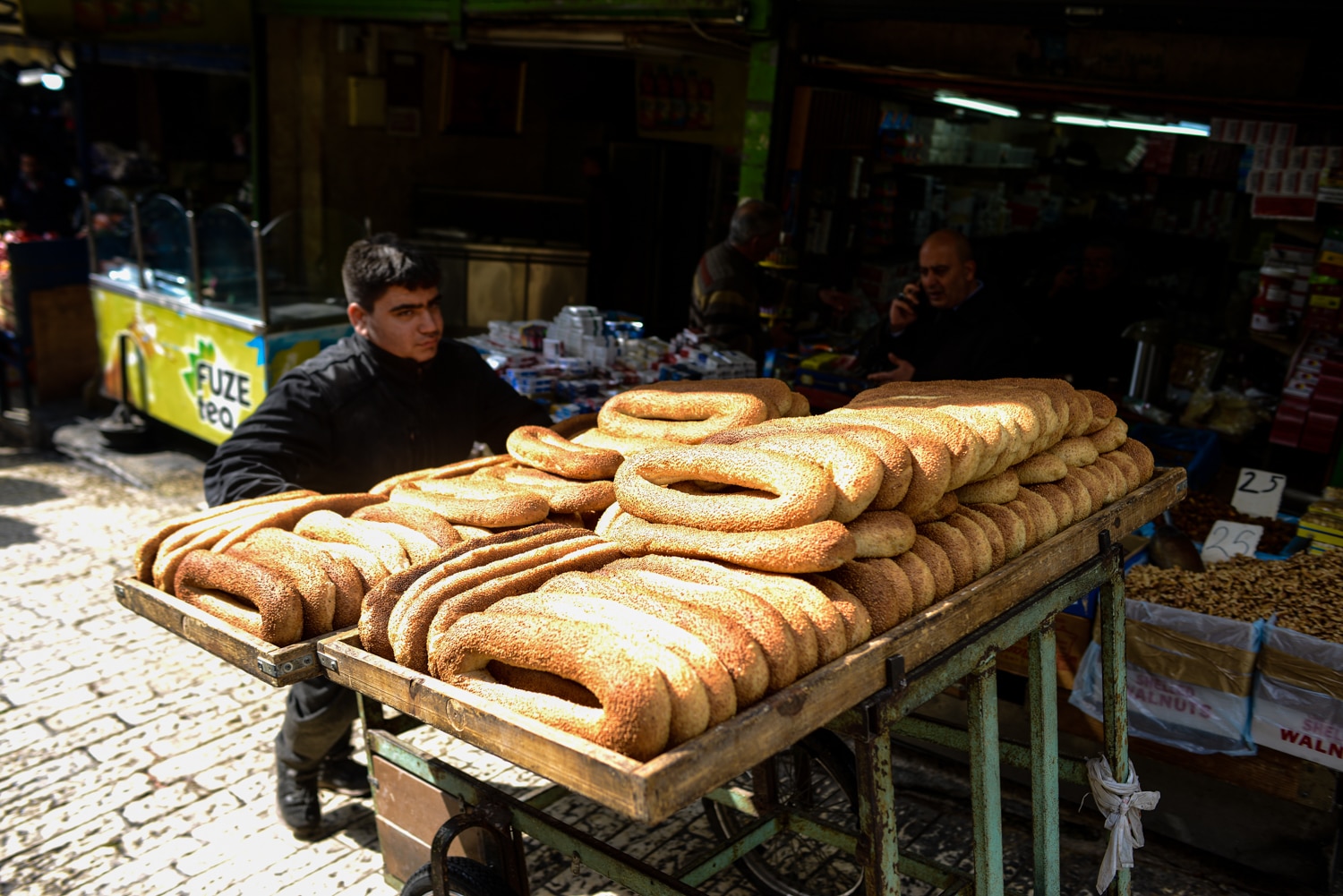 An Arab man delivering Jerusalem bagels in the Old City (Photo: Bea Bar Kallos / Izraelinfo)
Bourekas 
Originating from the Turks during the Ottoman Empire, bourekas are a beloved Turkish staple, available in many versions across the Middle East and the Balkans. While the European variation commonly uses puff pastry, the Israeli and Turkish versions are predominantly made with filo dough. The dough is rolled out paper-thin and consists of three to four layers.
But it's not just about the carbs. Bourekas are traditionally filled with a mixture of cooked onions and potatoes or spinach, or fresh cheese or any other combination your heart desires. These delectable pastries are served hot alongside tomato sauce, hard-boiled eggs, pickles, tahini (sesame) sauce or a local refreshing yogurt drink called Ayran. Typically enjoyed for breakfast or brunch, bourekas are filling and will keep hungry individuals satiated until dinner.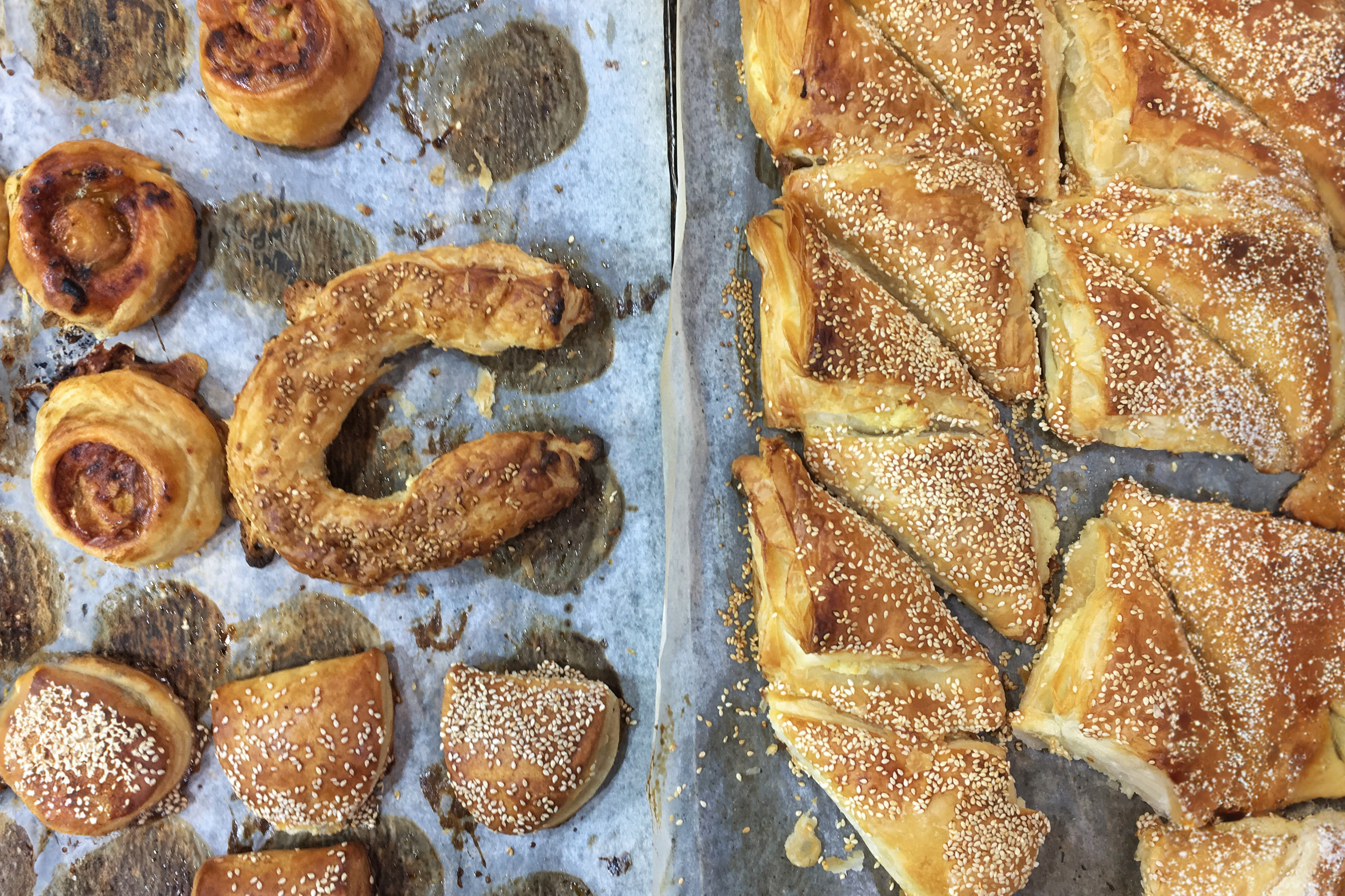 Burekas at the Shuk HaTikva market in Tel Aviv (Photo: Bea Bar Kallos / Izraelinfo)
Burika
Burika resembles bourekas but is a distinct culinary creation that made its way to Israel alongside Moroccan Jews. Within Tel Aviv's vibrant Shouk HaCarmel (Carmel Market), a spirited young vendor stands out among the bustling crowd, energetically promoting his specialty.
Burika, a 4-inch (100 mm) diameter round filo dough, is skillfully filled with a delightful combination of mashed potato, savory-cooked minced spicy lamb, and a raw egg. Then, it is deep-fried to perfection. The result is a crispy outer crust that tantalizes the senses, while the interior presents a harmonious blend of flavors and a velvety filling that may even leave a few drops of egg yolk on your shirt.
For those seeking an extra dose of carbohydrates, the vendor artfully tucks the burika into a pita, complementing it with fresh salad and creamy tahini sauce. One can request the burika to be served "naked" to accommodate vegan or vegetarian preferences.
This particular vendor also crafts sinfully-delicious donuts to top off this culinary experience.
Druze Pita (and sandwich)
The Druze pita is stretched paper-thin and placed on a pillow before laying it upon a hot baking cone resembling an upside-down wok. The flatbread is ready to eat in a few seconds and then spread with labane (goat cheese), tabouleh salad, hard-boiled eggs, za'atar and olive oil and, finally, rolled up into a sandwich. It is the perfect street food you can buy at many markets.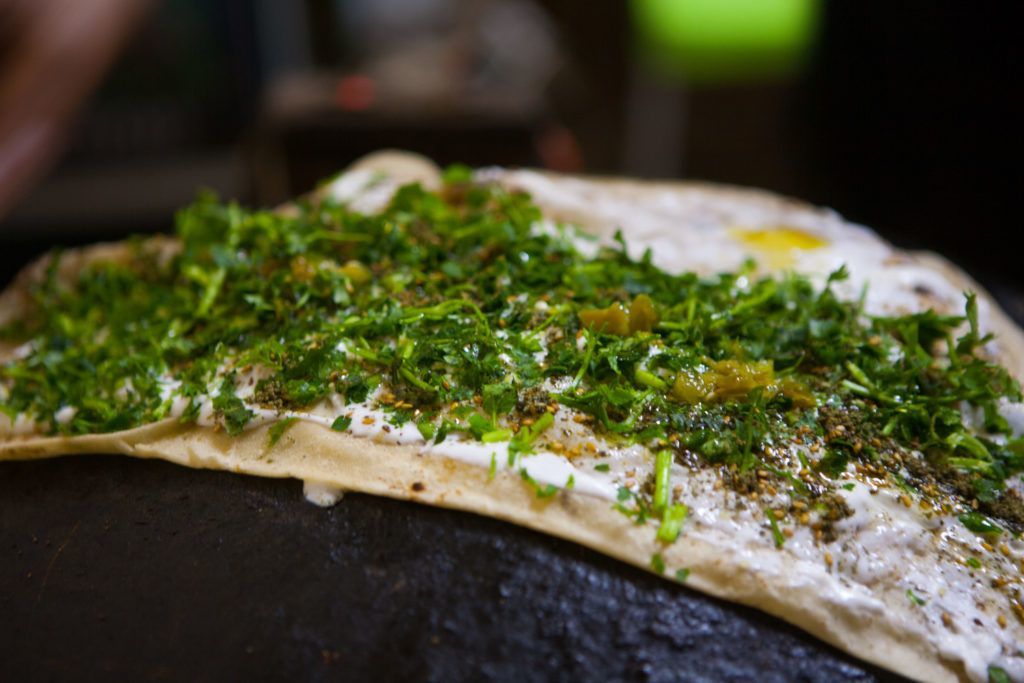 Druze pita, loaded with everything good (Photo: Bea Bar Kallos / Izraelinfo)
Shaak or Markook
In addition to Israel's Druze and Arab minorities, the Bedouin also boast their own distinctive breads, reminiscent of how naan bread is used by Indians to savor their meals. Their baking tool is similar to the Druze cone, but always has an open fire under the "upside-down wok." The soft, full-grain dough is mixed with water, honey and salt. The Bedouin community leavens and stretches the dough into paper-thin pieces using a special technique right before baking.
Jachnun
Originally served on the Sabbath by Aden Jews from Yemen, Jachnun gained widespread popularity throughout the Jewish state when Yemenite Jews arrived in Israel in 1949.  Aden-Jewish gastronomy has taken a strong influence from Arab, Indian and British cuisine. However, with a bit of exaggeration, we can say that Jachnun for the Yemenites is what cholent is for Europeans. The thin dough is smeared with butter, 8-10 layers are put on top of each other, rolled up and then baked at a low temperature for an entire night until it becomes beautifully dark brown.
Jahnun possesses a subtle sweetness that perfectly complements its Middle Eastern counterparts. Traditionally, it is served alongside tomato sauce, slow-baked hard-boiled brown eggs, and chug (a spicy green and red pepper condiment that wonderfully balances the sweetness of the dish).
Some prefer to enjoy Jahnun in its sweet form, pairing it with honey and strawberry jam, while others opt for a savory option.
Jahnun (Photo: Shutterstock / Izraelinfo)
Malawach
Malawach is another Yemenite filo pastry. The filo dough is layered and then pan-fried with hot oil or butter on both sides. It comes with the classic Yemenite sides of tomato sauce, hard-boiled eggs and pickles. Alternatively, it can be paired with labane, a creamy goat cream cheese. For those seeking a sweet breakfast experience, Malawach harmonizes wonderfully with honey or Silan, a luscious date honey.
Kubanech
Kubanech, an exquisite Yemenite slow-baked bread, distinguishes itself from Malawach and Jachnun with its unique characteristics. This buttery yeast dough undergoes a gradual leavening process before being placed in a special baking dish. Baked at a very low temperature throughout the night, Kubanech transforms into a sweet, muffin-shaped bread with the texture and flavor of brioche. It is often served alongside a classic tomato sauce, as well.
Kubanech (Photo: Shutterstock / Izraelinfo)
Lahoh
Our last Yemenite bread is a fermented pancake. This soft, pillowy pancake-style dough is crafted with regular flour, yeast and water. After undergoing multiple rising sessions, it is cooked in a hot, oiled or buttered pancake pan on one side, and served as a side dish for stews.
Injera
Just as lahoh bread represents a staple in Yemenite cuisine, injera holds a similar significance in Ethiopian culinary traditions. While sharing similarities, injera distinguishes itself through its unique preparation method. The injera bread tastes similar to sourdough bread. It is crafted by combining a special teff flour with water, allowing the mixture to ferment for 92 hours until it becomes a dough with a bubbly consistency.
The injera dough is then cooked in a hot pancake pan, only on one side until the top becomes thick but the bubbles can still be seen. The Ethiopian community makes large 10-15 inch (30-40cm) diameter pancakes of injera and top it off with  traditional meat and vegetable stews. The injera is sometimes used to pick up pieces of food to make sure it's good to the last bite.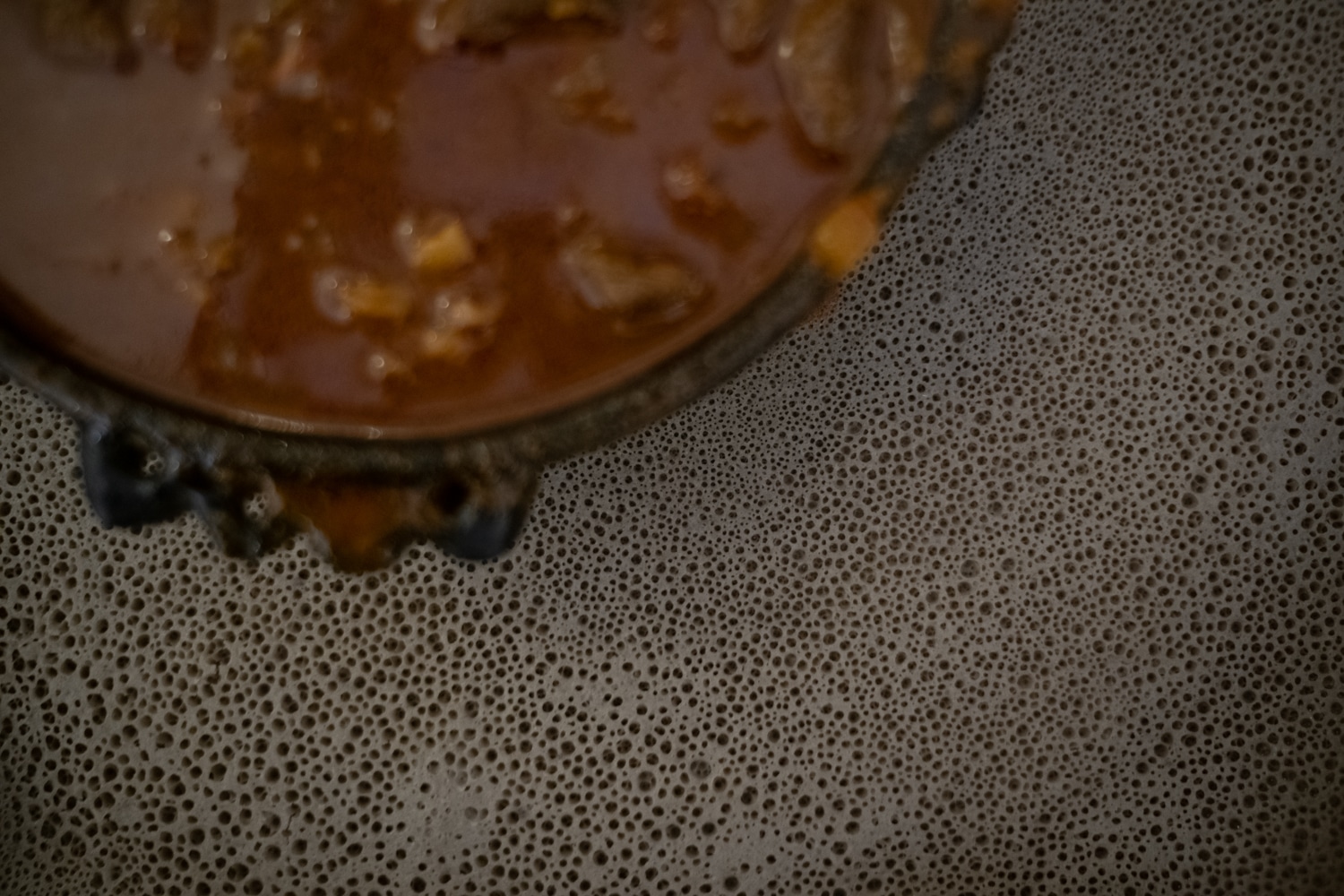 Injeera, the sourdough Ethiopian flatbread (Photo: Bea Bar Kallos / Izraelinfo)
Non
Non, the traditional bread of Middle-Asian Bahraini Jews, found its way to Israel from Uzbekistan. According to their tradition, the large-rounded loaf symbolizes the rising sun over the desert. You can find a traditional Bahraini bakery in Tel Aviv at Shouk HaTikva (HaTikva Market).
The oven looks like a big walk-in wardrobe closet. In the middle of the oven, the baker stands, skillfully affixing the dough onto the oven's walls using a special pillow-like tool. The fire is ignited and the baker sprinkles water around the oven to create a humid environment, which is the secret behind the bread's exceptional quality.
Ash Tanur
Our last Eastern bread is local Ash Tanu, which embodies the essence of local Israeli culinary heritage, showcasing the artistry and ingenuity of ancient baking techniques.
It's a simple sugarless, yeastless sourdough bread. The leavened and flattened dough is draped over a pillow and slapped up against the oven's walls, which creates some bubbles on the bread's surface. The final product is somewhere between a pita and a pizza crust. The best variation is the one topped with a local spice mix, which includes olive oil and za'atar.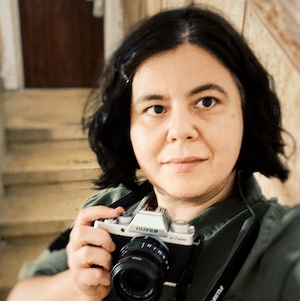 Bea Bar Kallos is a Hungarian-Israeli photojournalist and journalist living in Tel Aviv. Over the years, she received numerous awards for The Hungarian Pictures of the Year and the Israeli Press Photo Contest, Edut Mekomit. Her work has been exhibited in New York, Warsaw, Budapest, Milan, Berlin, Belgrade, Jerusalem and Tel Aviv.
Popular Articles
A message from All Israel News
Help us educate Christians on a daily basis about what is happening in Israel & the Middle East and why it matters.
For as little as $5, you can support ALL ISRAEL NEWS, a non-profit media organization that is supported by readers like you.
Donate to ALL ISRAEL NEWS
Latest Stories
Comments