INVESTING IN THE ABRAHAM ACCORDS – PART TWO
Israel's economy – and stock market – is dramatically outperforming the U.S., which is why Evangelicals should consider investing in the Jewish state
My conversation with an Israeli investment professional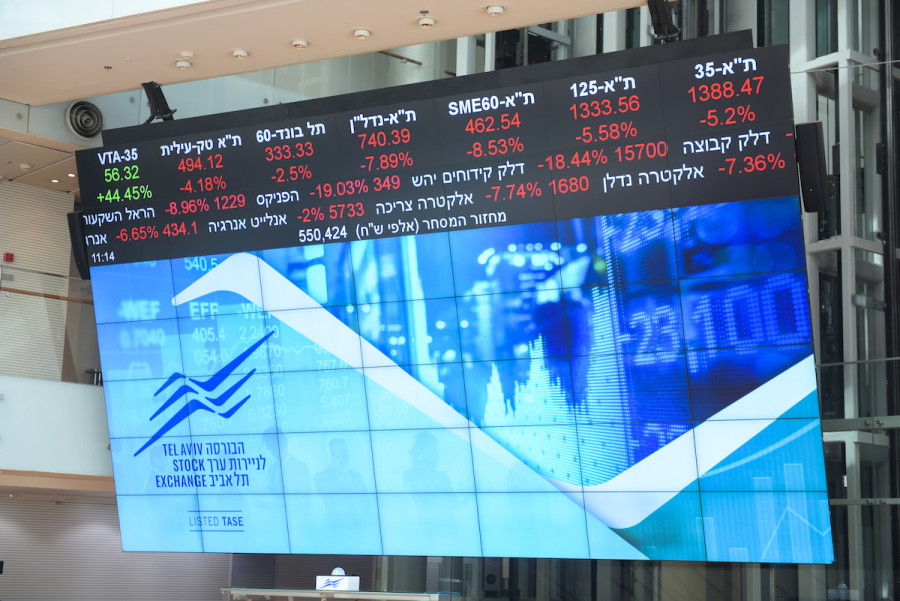 A stock market ticker screen in the lobby of the Tel Aviv Stock Exchange, in the center of Tel Aviv, March 9, 2020. (Photo: Avshalom Sassoni/Flash90)
JERUSALEM—A poll in September found that 3-in-4 Americans believe their country is heading into a recession.
I pray that's not the case, but there have been few positive economic indicators in the States in 2022.
By contrast, Israel's economy – and stock market – is dramatically outperforming the U.S., and most other Western, industrialized nations.
These are just some of the reasons that Evangelicals should consider investing in the Jewish state.
On Oct. 4, I wrote the first in a series of columns on "Investing In The Abraham Accords."
Specifically, I looked at the significant growth in trade between Israel and the Arab nations that have recently normalized relations with us – the United Arab Emirates, Bahrain, and Morocco – as well as our two previous peace partners, Egypt and Jordan.
"Arab and Israeli business leaders, entrepreneurs, CEO, investors and venture capitalists that I have spoken to throughout the region believe a new gold rush is being set into motion," I noted, adding that, "That is extraordinary, and something to which Evangelical investors – among others – should pay close attention."
For this column, I wanted to get the views of an Israeli investment professional to better understand how the Israeli economy and investment climate compares to other nations around the world.
ISRAEL'S STOCK MARKET IS DOING FAR BETTER THAN THE U.S. THIS YEAR
Evan Liberman is the CEO of Wise Money Israel – an Israeli wealth management firm, securities-licensed firm – staffed by Israeli investment professionals who are also believers in Jesus.
The firm assists and encourages investors around the world to open investment accounts in Israel to gain exposure to Israel's growing economy, innovation, stock market and currency.
Their tailored portfolios incorporate "Biblically Responsible" screening.
Liberman makes a compelling case that investing in Israel's public capital market provides investors with global diversification, as well as access to local innovation, local natural gas production/pipelines and positive effects from the Abraham Accords.
And he is quick to note that Israel's economy and stock market have been less affected by world events and inflation this year, in sharp contrast to the U.S. and other OECD nations.
"Israel's stock market has benefited from high GDP, low debt, low unemployment and a lower inflation rate" than many other industrialized nations, Liberman told me.
While still affected by global economics and concerns, he noted, Israel's benchmark TA-35 – the top 35 stocks traded on the Tel Aviv Stock Exchange – is down only 5.8% this year.
"This ranks as the best performer of any stock market in North America, most of Asia, Australia, New Zealand, and Europe, except for Turkey, but they have an 83% inflation rate!" he told me.
In comparison, most of these stock markets are down between 20% and 40% this year.
And while the U.S. dollar and stock markets are assumed to outperform in the long-term, over the past 20 years the "Israeli TA-125" – the stock benchmark index of the top 125 stocks traded on the Tel Aviv Exchange – returned investors 678% (in U.S. dollar) compared to the S&P 500 stock index which returned 308%.
ISRAELI INFLATION IS LOWER – AND GDP GROWTH IS HIGHER – THAN THE U.S. AND WESTERN COUNTRIES
Israel has been impacted less by global inflation as well.
While inflation in the U.S. is at the highest in decades at 8.2% – and European nations are averaging more than 14.4% – Israel's inflation is decreasing, and now stands at 4.6%, one of the lowest rates in the world.
Liberman added that "an important measure economists and investors assess before investing in a country is its Gross Domestic Product" and "Israel's GDP grew 8.2% in 2021, compared to America's 5.9% growth."
Moreover, while the U.S. GDP shrank last quarter – raising fears of America going into a recession – Israel grew by 1.7%.
As reported by the OECD, Israel's GDP is projected to grow by 4.8% this year and 3.4% in 2023.
By contrast, the U.S. is expected to only grow by 2.5% and 1.2% respectively.
At this stage, it does not appear that Israel is heading into a recession, though growth rates are definitely being hampered by global trends.
ISRAEL'S BUDGET IS RUNNING A SURPLUS, NOT MASSIVE DEFICITS LIKE IN THE U.S.
"Israel enjoys ongoing government budget surpluses, a low government Debt-to-GDP ratio of 69% – compared to 137% in the U.S. – and a current account surplus," Liberman told me.
Israel's fiscal surplus over the last twelve months was 0.9% of GDP.
Israeli government revenue in 2022 has increased over 20% compared to the same period last year.
Israel has been a lender nation for the past two decades.
"All these factors contribute to a strong and robust economy, and generally contributes to a strong currency," Liberman said. "Over the past two decades, the Israeli shekel has strengthened against the U.S. dollar by 35%," though it has lost a bit of ground in recent weeks."
To be clear, I'm not writing this column to provide financial advice.
I'm just fascinated with the trendlines here and wanted to give you a snapshot of the overall economic conditions and explain why some Evangelicals in the U.S., Singapore and elsewhere are looking more carefully these days at the possibility of investing in Israel and other Abraham Accords nations.
Before making any investment decisions, you should consult with a licensed professional and do your homework.

Joel C. Rosenberg is the editor-in-chief of ALL ISRAEL NEWS and ALL ARAB NEWS and the President and CEO of Near East Media. A New York Times best-selling author, Middle East analyst, and Evangelical leader, he lives in Jerusalem with his wife and sons.
A message from All Israel News
Help us educate Christians on a daily basis about what is happening in Israel & the Middle East and why it matters.
For as little as $5, you can support ALL ISRAEL NEWS, a non-profit media organization that is supported by readers like you.
Donate to ALL ISRAEL NEWS
Current Top Stories
Comments