INVESTING IN THE ABRAHAM ACCORDS – Part One
Evangelicals should look closely at investing in Israel, Arab countries who are creating peace and prosperity through the Abraham Accords
With U.S. markets tanking, recession looming, is now the time to consider exciting opportunities afforded in the Middle East?
A view of Tel Aviv (Photo: Shutterstock)
Investors are rattled by how sharply U.S. stock markets have been tanking in 2022.
And by the very real threat that the U.S. is headed into a recession.
"Markets sank Friday to close a historically bad month and quarter," reported Forbes magazine, "with the Dow Jones Industrial Average closing 22% below its January 5 peak, as investors continue to fret over tighter monetary policy and set the stage for the Dow's worst year-to-date performance since 2008."
Forbes also reported that:
"The Dow Jones Industrial Average fell 1.7% on the last trading day of the quarter, ending the week down 2.7%, about 800 points, and the month down 9.2%, nearly 3,000 points."

"The S&P 500 and the tech-heavy Nasdaq closed out similarly brutal months, each dropping 1.5% Friday, bringing both to a 10% loss on the month."

"That marks the S&P and the Nasdaq's worst respective Septembers since 2008 and the first time the S&P declined for three straight quarters since 2009."

"Stocks remain on pace for one of their worst years, with the Dow, S&P and Nasdaq down 21%, 25% and 33% year-to-date, respectively — none of the indices have ended the year down more than 10% since 2008."
AMERICAN ECONOMY GOING FROM BAD TO WORSE
"The probability of recession, I think it's much higher than 50% — I think it's about 80%," Steve Hanke, a widely respected professor of economics at Johns Hopkins University, told CNBC last week. "Maybe even higher than 80%."
Not every economist thinks the threat of recession is that high.
But most still believe the risk is high and rising.
"According to CNBC's September Fed survey of economists, fund managers and strategists, those surveyed said there's a 52% chance that U.S. could enter into recession over the next 12 months," the financial news network reported.
"We're either in recession or on the front end of a recession," said Larry Kudlow, who served as director of the National Economic Council during the Trump-Pence administration. "The principal cause of this slump, in my view, is the inflationary policies of the Biden administration: too much spending, taxing, regulating, green new dealing and money printing. President Trump's supply-side policies created a boom. Unfortunately, it was too short and Biden's big government socialism has led to the bust." 
YET DRAMATIC GROWTH IN ABRAHAM ACCORDS COUNTRIES
With such dismal economic news in the U.S. and internationally, there is surprisingly good news here in Israel and a number of Arab countries.
Regional stock markets are down, to be sure, but not as badly as in the U.S.
That is, in part, because trade between Israel and her Arab peace partners is growing steadily.
Consider the most recent report published by the Abraham Accords Peace Institute.
The Institute was founded by Jared Kushner, a former senior White House advisor to former President Donald Trump and the chief architect of the Arab-Israeli peace deals.
Here are a few noteworthy excerpts:
Trade between Israel and the United Arab Emirates reached $212.6 million in August 2022, constituting a 163% increase in trade from August 2021. For the first eight months of 2022, bilateral trade was just over $1.62 billion, constituting a 121% increase in trade from the first eight months of 2021.


Trade between Israel and Bahrain increased to $2.4 million in August 2022, up from $0 in August 2021. For the first eight months of 2022, bilateral trade reached $8.6 million, constituting nearly a 2,766% increase from the first eight months of 2021.


Trade between Israel and Morocco reached $2.5 million in August 2022, constituting a 19% increase in trade from August 2021. For the first eight months of 2022, bilateral trade increased to $27 million, constituting a 17% increase in trade from the first eight months of 2021.


Trade between Israel and Egypt increased to $25.9 million in August 2022, constituting a 27% increase in trade from August 2021. For the first eight months of 2022, bilateral trade reached $201.2 million, constituting a 40% increase in trade from the first eight months of 2021.


Trade between Israel and Jordan was $47.2 million in August 2022, constituting a 12% increase in trade from August 2021. For the first eight months of 2022, bilateral trade reached $355.3 million, constituting a 33% increase in trade from the first eight months of 2021.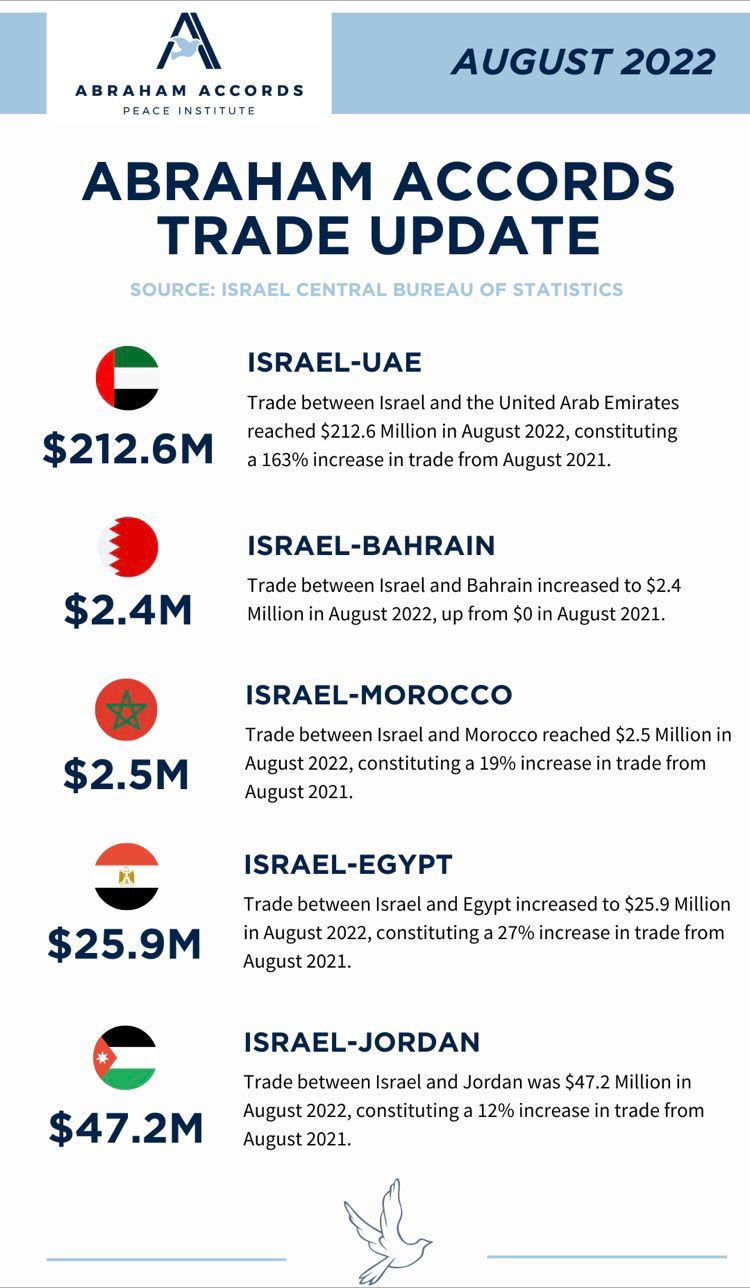 WHAT COULD BE NEXT?
Imagine more dramatic breakthroughs in Arab-Israeli peacemaking, involving more and more Arab and Muslim countries, including a game-changing normalization agreement between Israel and Saudi Arabia.
Imagine the economic boom that could result.
A pipe dream? Perhaps. 
A desert mirage? Maybe.
In 1993, when he wrote the book, "The New Middle East," Shimon Peres was widely ridiculed for suggesting that if Arabs and Israelis chose peace over war, a massive economic boom – fueled by high technology, trade, and tourism – could result. 
On Sept. 11, 2001, the prospect of a "New Middle East" seemed further away than ever, as it did through the wars in Afghanistan and Iraq, and the rise of ISIS and its genocidal caliphate.
But consider how dramatically the situation in the region has changed.
Today, many here believe we really are seeing the rise of a "New Middle East." 
Much more can and should be done to advance peace and prosperity.
And the threat of Iran and its proxies is real and must be accounted for.
That said, for the first time in 2,000 years, people in the vortex of the Middle East suddenly think such a new way forward is possible. 
Arab and Israeli business leaders, entrepreneurs, CEO, investors and venture capitalists that I have spoken to throughout the region believe a new gold rush is being set into motion.
That is extraordinary, and something to which Evangelical investors – among others – should pay close attention.
"What was a trickle of contact and contracts before is now growing into a tsunami of ultimately billions of dollars of bilateral investment, joint ventures, and joint venture creation and research," said Jon Medved, a leading Israeli investment strategist for a firm called OurCrowd. "When two entrepreneurial countries like the UAE and Israel get together, just watch the sparks fly and real value get created."
Jason Greenblatt, who left the White House peace team to advise companies and investors interested in working with both Israel and the Sunni Arab world, is also seeing a massive surge of business opportunities in the region.
"What I'm trying to do now is create what I call a Middle East 2.0," he told me in an interview for my book, "Enemies and Allies."
"What I found at the beginning – long before the Abraham Accords were announced – was that there was strong interest [by Arab businessmen in doing deals with Israel], but also a slight trepidation. Less so in the security space [where] they've been dealing with each other for a long time. . . .However, as soon as the Abraham Accords were announced, it really did become a gold rush."
Greenblatt told me he had just spent time in Saudi Arabia at the Future Investment Initiative conference with the sovereign wealth funds who hosted that conference. 
"I would say that the excitement is deeply palpable—not just at the conference itself, but while visiting with friends in restaurants, at their homes, and just talking to them about the Abraham Accords, about Israel, about the region," he said.
Greenblatt explained that he has "high hopes" for an Israeli-Saudi peace deal, and he believes the economic potential of such a treaty is staggering.
"There is so much opportunity in that region," he added. "There's so much undeveloped land in Saudi Arabia," especially in the northwest quadrant known as NEOM, where the Saudis want to invest $500 billion in developing the cities of the future. "This is a particularly pristine and beautiful area of land. [The Saudis] are ready to pump a real fortune in there. And I think we should all watch it closely, because how often do you get to see something like that created out of nothing?"
"People are excited about the possibilities. Look, in particular, they're excited about His Royal Highness, the Crown Prince MBS' vision – and not just Vision 2030. He just unveiled some great plans on the coast of the Red Sea and his plans for Riyadh. People are excited about the region. I think that filters through everywhere – the United Arab Emirates, Bahrain, Qatar, certainly Morocco. I think we are about to see sort of a dawn of a new economic powerhouse among this group of countries – and, where possible, in partnership with Israel."

Joel C. Rosenberg is the editor-in-chief of ALL ISRAEL NEWS and ALL ARAB NEWS and the President and CEO of Near East Media. A New York Times best-selling author, Middle East analyst, and Evangelical leader, he lives in Jerusalem with his wife and sons.
Popular Articles
A message from All Israel News
Help us educate Christians on a daily basis about what is happening in Israel & the Middle East and why it matters.
For as little as $5, you can support ALL ISRAEL NEWS, a non-profit media organization that is supported by readers like you.
Donate to ALL ISRAEL NEWS
Latest Stories
Comments