Iranian-American Christian leads effort to bring mural to Jerusalem in support of freedom-fighting Iranians
Hooman Khalili worked with Israeli organizations and lawmakers to display large mural on a Jerusalem building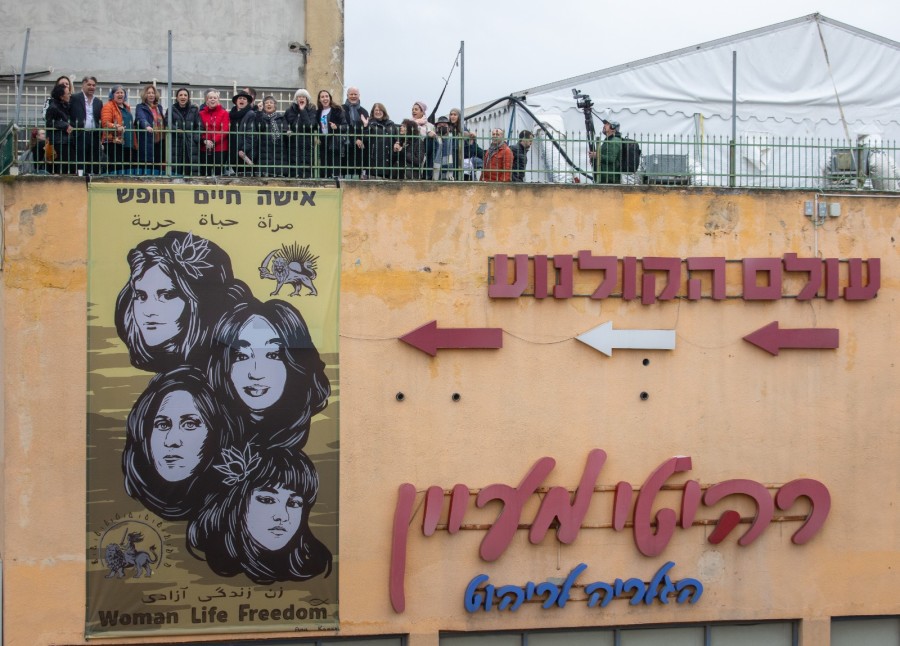 Woman, Life, Freedom mural in support of Iranian protesters is hung in Jerusalem's Talpiot neighborhood. (Photo: Daniel Goodenough)
The Iranian women's movement is about to make its way to the walls of Jerusalem. 
In a special venture between an Iranian-American convert to Christianity, Jewish organizations and the deputy mayor of Jerusalem, a mural will be unveiled next week featuring the women behind the current uprising in Iran.
The journey of such a mural to the Israeli capital was somewhat accidental but highly providential. An Iranian-American Christian, Hooman Khalili, is the driving force behind the initiative to display such a mural here in Jerusalem. Khalili was involved in the efforts of one organization to display one such mural in California, showing support for Iranians protesting for their freedom. 
So far, one organization – Murals for Freedom – managed to get dozens of these giant murals to grace the walls of buildings in several cities in California, New York, Miami, Toronto, Ontario, London, Milan and across Australia.
"But Jerusalem is hands down the most important place," Khalili told ALL ISRAEL NEWS. "It's the holy city for the whole world. Its politics is the most complicated in the whole world."
Khalili is doing this one on his own though, not through Murals for Freedom.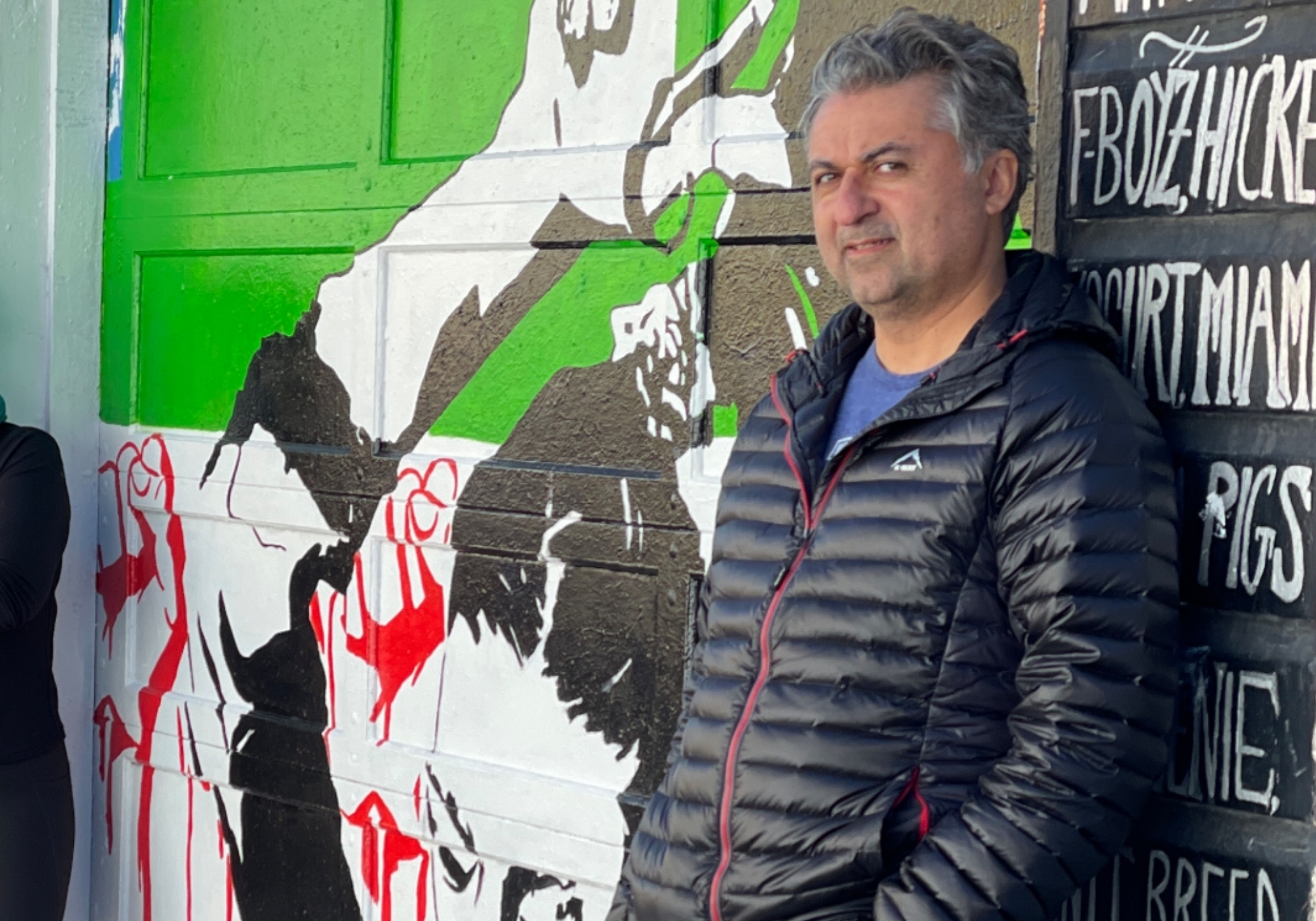 Hooman Khalili in front of mural in support of Iranian protestors in San Francisco, November 2022. (Photo courtesy)
The ball started rolling when an Israeli-American journalist, Emily Schrader, based in Tel Aviv saw Khalili's Instagram post about the San Francisco mural he helped to unveil. Schrader then tagged Jerusalem's deputy mayor, Fleur Hassan-Nahoum, suggesting Israel do likewise. Hassan-Nahoum used her contacts to find wall space on a building.
And, fittingly, the building they found houses an organization – El HaLev – which empowers participants through self defense courses along with its sister organization, MyPwr Ltd. The organizations have partnered with Khalili to make the event happen.
The mural is meant to show Israelis' support for freedom-fighting Iranians and comes on the heels of a worldwide movement of large murals around the world. Khalili said it is an opportunity to give a voice to the silenced voices in Iran while also showing support as governments remain quiet. 
"Joe Biden is not verbally supporting the people of Iran," he said. "So while it's not futile, but not as strong as it could be."
Khalili was born into a Muslim family in Iran, but was whisked away to America by his mother when he was a young boy. After years of struggling to make ends meet, Khalili's mother found support from members of a nearby church and after her own prayers were miraculously answered, she became a Christian. 
Eventually, Khalili said, he stumbled across the scripture, "Salvation comes from the Jews," which has since become a strong part of his faith and work, as he also makes movies that fight anti-Semitism. 
"I love Israel. Israel needs to exist," he said. "Without Israel, the United States wouldn't have one ally in the region." 
Back to the mural – women in Iran are leading the current protests which were sparked by the brutal death of Mahsa Jina Amini, 22, who died while in custody of Iran's "morality police" for failing to wear her hijab according to the strict dress code. The demonstrations are ongoing, but, so far, more than 500 protestors have been killed. The mural will feature Amini, Sarina Esmailzadeh, Fereshteh Ahmadi and Nika Shakarami – four of the women among the protest victims. 
In October, Israeli Knesset Member Sharren Haskel cut her hair in front of an international audience to express her solidarity with Iranian women who are removing their hijabs and cutting their hair in defiance of the Islamic regime's strict dress code. 
In Israel, several rallies have been held in support of Iranian women. Hassan-Nahoum has been part of the rallies and helped to make this mural a reality in the city.
"We wanted to show our support and solidarity for the women of Iran fighting for their basic human rights," she said. "We want the Persian people to know that we in Israel stand with them against a brutal Islamic regime that is causing most of the conflict in our region."
Ana Kogan, an Israeli-based artist, was chosen to create the Jerusalem "Woman Life Freedom" mural, drawn from the motto of the current Iranian uprising. 
Khalili has shouldered responsibility for funding the effort which will see the sprawling 11x20-foot (3.5x6-meter) mural draped on a building in Jerusalem's commercial Talpiot neighborhood. 
Hooman, a filmmaker, produced Olive, the first full-length feature film shot entirely on a cell phone. He is working with MyPwr Ltd., a start-up based in Jerusalem that, along with El HaLev, trains participants in Empowerment Self Defense with an end goal of helping them set healthy boundaries and feeling empowered. 
"They are the perfect partners and our missions align. El HaLev and MyPwr are dedicated to the prevention of physical, emotional and sexual violence," said Yehudit Sidikman, co-founder of El HaLev and CEO of MyPwr Ltd. "It is at the site of this empowerment partnership that we are displaying this mural today; to reach out in solidarity to our sisters in Iran, and to awaken all humans on the planet we share to the devastating effects of violence against women. We are all proud to display the mural from our rooftop at the El HaLev/MyPwr headquarters in Talpiot."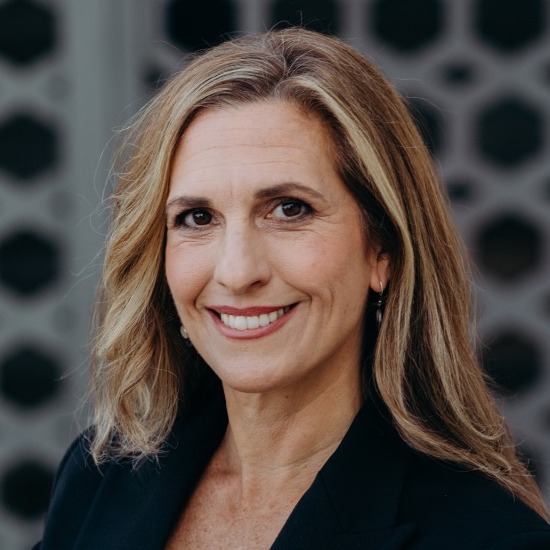 Nicole Jansezian is the news editor for both ALL ISRAEL NEWS and ALL ARAB NEWS and senior correspondent for ALL ISRAEL NEWS
A message from All Israel News
Help us educate Christians on a daily basis about what is happening in Israel & the Middle East and why it matters.
For as little as $5, you can support ALL ISRAEL NEWS, a non-profit media organization that is supported by readers like you.
Donate to ALL ISRAEL NEWS
Current Top Stories
Comments