Iran, West Bank violence and a restructured defense ministry faces new chief of staff
Herzi Halevi takes over as Israel's top soldier today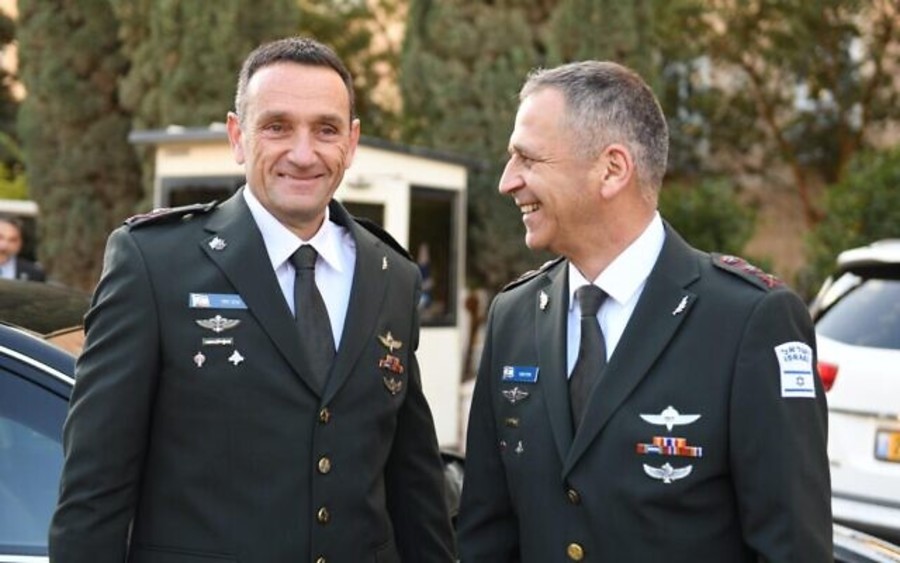 Incoming IDF Chief Herzi Halevi (left), meets with the outgoing head Aviv Kohavi at the Prime Minister's Office in Jerusalem, Jan. 16, 2023. (Photo: Israel Defense Forces)
The new chief of staff of the Israel Defense Forces entered the army's top role today inheriting some tough challenges facing the Jewish state, ranging from a nuclear Iran, rising violence in the West Bank and a newly structured government with an expanded defense ministry.
"In the 75 years of our independence, we have turned from a country surrounded by enemies to a country that has the upper hand, with its power and advanced capabilities, but many different threats are still developing around us," Herzi Halevi said during a ceremony in Jerusalem as he prepared to take over from outgoing Chief of Staff Aviv Kochavi, who is retiring.
"Our enemies should know: We can do what we say we will do, and we are ready to do much more than what we say," he warned. "We will prepare the army for war on fronts near and far."
Prime Minister Benjamin Netanyahu and Defense Minister Yoav Gallant met with both Halevi and Kochavi at the Prime Minister's Office in Jerusalem before the official handover ceremony.
"Only someone who has served as IDF chief of staff knows the responsibility that the chief of staff bears. Our assumption that everything is already in place here, that everything is certain and complete – this is not the case," Netanyahu said. "There is a certain apprehension in our existence and at the end of the day we live here thanks to the IDF, without which there is no existence."
One of the main missions of the Netanyahu government is to prevent a nuclear Iran, something which could include offensive military action. Part of the Iranian threat involves complications on Israel's borders with Lebanon and Syria, where Iran has a large presence through proxy groups.
In addition to external threats facing the Jewish state, Halevi faces rising violence in the Palestinian territories and will also encounter a brand new structure in the Defense Ministry. Kohavi, the outgoing IDF chief of staff, has been vocal about his opposition to the new government's plans to restructure the military, changes brought about by various coalition agreements reached between Netanyahu's Likud and the other ruling parties.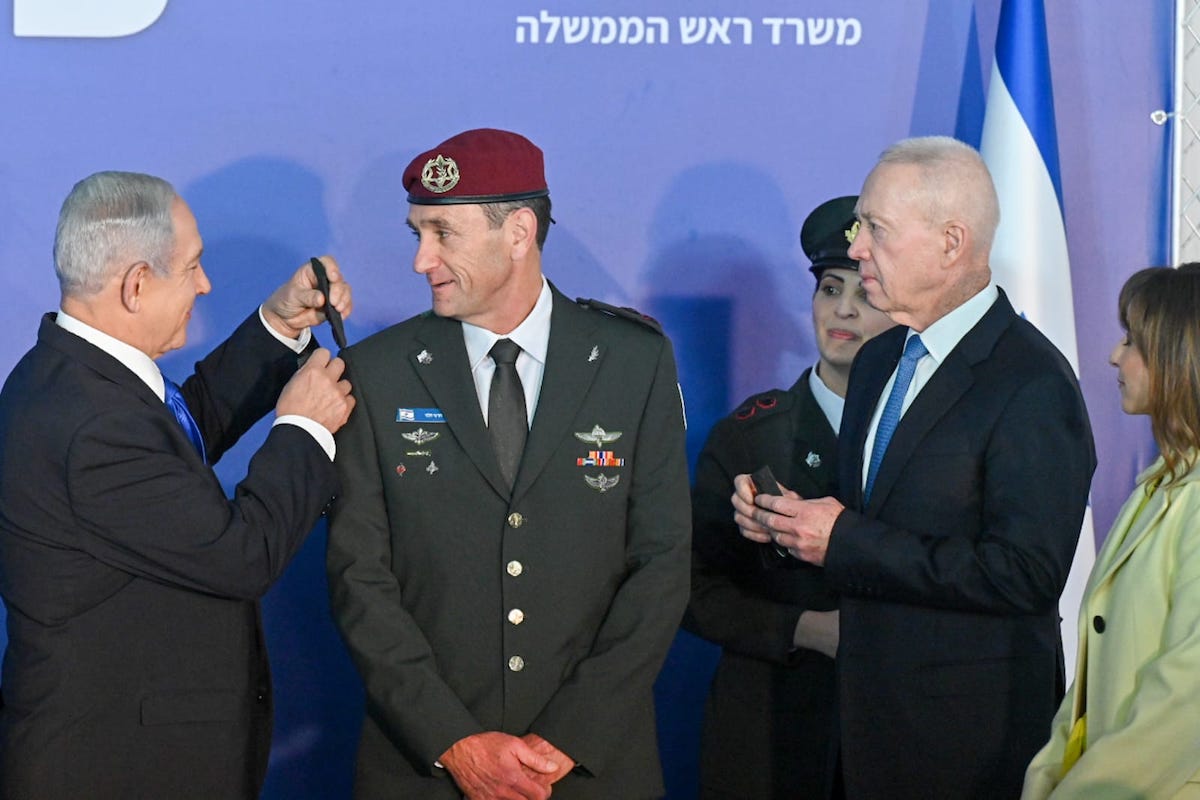 Israeli Prime Minister Netanyahu and Defense Minister award the incoming IDF chief, Herzi Halevi, with the rank of lieutenant general at the Prime Minister's Office in Jerusalem, Jan. 16, 2023. (Photo: Avi Ohayon/GPO)
One change moved the authority over the Border Police from the military to the new position of national security minister and authority over COGAT (the Coordinator for Government Activities in the Territories) to Finance Minister Bezalel Smotrich, who assumes a new position in the Defense Ministry. Smotrich wants authority over civil issues in Judea and Samaria (the West Bank) including issuing building permits there.
Another change to be brought before the Knesset is a bill calling for the office of the military's chief rabbi to be moved from IDF control to the Chief Rabbinate of Israel.
In an apparent reference to some of these changes, Gallant said he would "act so that the chief of staff, Herzi Halevi, can fulfill his responsibilities.
"Meanwhile, I will make sure that external pressures – political, legal, and others – will stop at me and not reach the gates of the IDF," he said.
Former Defense Minister Benny Gantz appointed Halevi in September, a controversial move considering it was just before the Nov. 1 election.
Halevi, who has served in the army for 37 years, is the former head of the Southern Command and Military Intelligence in the IDF. At 55, he is the 23rd chief of staff and the first Orthodox Jew to serve in the position. He lives in a settlement in Binyamin, which is part of the West Bank.
Halevi's uncle, for whom he is named, was killed during the Six-Day War shortly before Halevi was born. Raised in a national religious home, Halevi stopped wearing a kippa as an adult, but is still observant, he has said.
Aside from his military experience, Halevi holds a BA in philosophy – something he once told The New York Times has helped him more on a practical level that his business management degree. Halevi also earned a masters in national resource management from National Defense University in Washington D.C.
In his 2013 interview, Halevi cited the classic Greek philosophers – Plato, Socrates and Maimonides – "that spoke about how to balance, how to prioritize principles in a right way."
"This is something that I find very helpful," he said.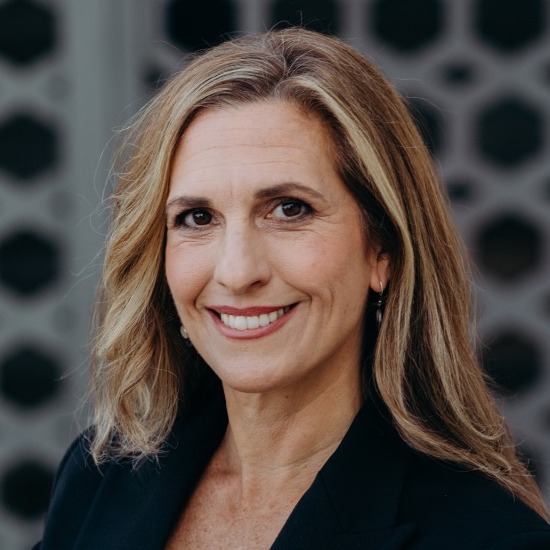 Nicole Jansezian is the news editor for both ALL ISRAEL NEWS and ALL ARAB NEWS and senior correspondent for ALL ISRAEL NEWS
A message from All Israel News
Help us educate Christians on a daily basis about what is happening in Israel & the Middle East and why it matters.
For as little as $5, you can support ALL ISRAEL NEWS, a non-profit media organization that is supported by readers like you.
Donate to ALL ISRAEL NEWS
Current Top Stories
Comments