Incoming Israeli minister: New government seeks to bring Israel closer to American political model
Bezalel Smotrich makes pitch to Americans in WSJ editorial – 'new government is not as bad as you've heard'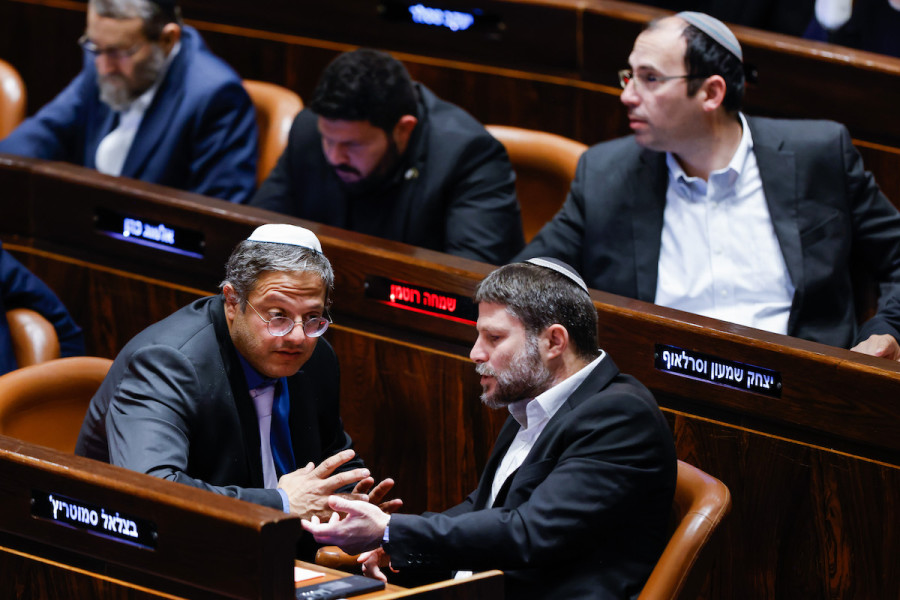 Knesset Members Itamar Ben Gvir and Bezalel Smotrich seen during a plenum session at the Knesset assembly hall in Jerusalem, Dec. 19, 2022. (Photo: Olivier Fitoussi/Flash90)
The head of Israel's far-right Religious Zionism party, Bezalel Smotrich, stated his case for the world to know that "Israel's New Government Isn't What You've Heard."
That was the headline of an editorial he wrote for The Wall Street Journal on Dec. 27 in which he accused the American media of having "vilified me and the traditionalist bloc to which I belong." 
Seeking to quell fears that Israel's most religious government to date will err on the side of religion vs. state, Smotrich said "Israel is a Jewish and democratic state and will remain so."
"On matters of religion and state, the new government will never seek to impose anything on a citizen that goes against his or her beliefs. We wish only to increase the freedom of religious people to participate in the public sphere in accordance with their faith, without coercion on secular people," he wrote. "For example, arranging for a minuscule number of sex-separated beaches, as we propose, scarcely limits the choices of the majority of Israelis who prefer mixed beaches. It simply offers an option to others."
Smotrich addressed some of the controversial issues that have emerged during coalition negotiations, including statements from his fellow party member, Orit Strock, that doctors should not have to treat patients if the procedure is contrary to their religious beliefs. The same with businesses.
"We also will work to guarantee that religious believers aren't punished by the government for standing by their beliefs," Smotrich wrote. "This is no different from the rights the U.S. Supreme Court recently affirmed in its Masterpiece Cakeshop decision. Contrary to some American reporting, we seek to protect all citizens from coercion that would violate their conscience—nothing more."
Smotrich is set to serve as finance minister in a rotation with Aryeh Deri, head of the ultra-Orthodox Shas party, who will become a minister despite two prior convictions on tax offenses. Smotrich will also assume a new position created for him in the Defense Ministry as head of civilian matters in the West Bank, also known as Judea and Samaria. 
He accused critics of mischaracterizing his proposed reforms in Judea and Samaria and seemed to walk back calls to annex the West Bank, a move that would surely create tensions with the international community. Smotrich said his plan is to introduce reforms that will help develop "the area's infrastructure, employment and economy for the benefit of all.
"This doesn't entail changing the political or legal status of the area. If the Palestinian Authority decides to dedicate some of its time and energy to its citizens' welfare rather than demonizing Jews and funding the murder of Israelis, it would find me a full partner in that endeavor," Smotrich wrote.
Currently, Israeli citizens in the West Bank – from a legal standpoint – are residents in areas outside of Israel. To rectify the situation, the Knesset passes a law every year extending Israeli rule over its citizens living in the territories so they can be considered Israeli residents.
The status of the region, which had been under Jordanian occupation until Israel gained it after the Six-Day War in 1967, is considered foreign since Israel has not annexed the land. Responsibility for Areas A, B and C are divided between Israel and the Palestinian Authority.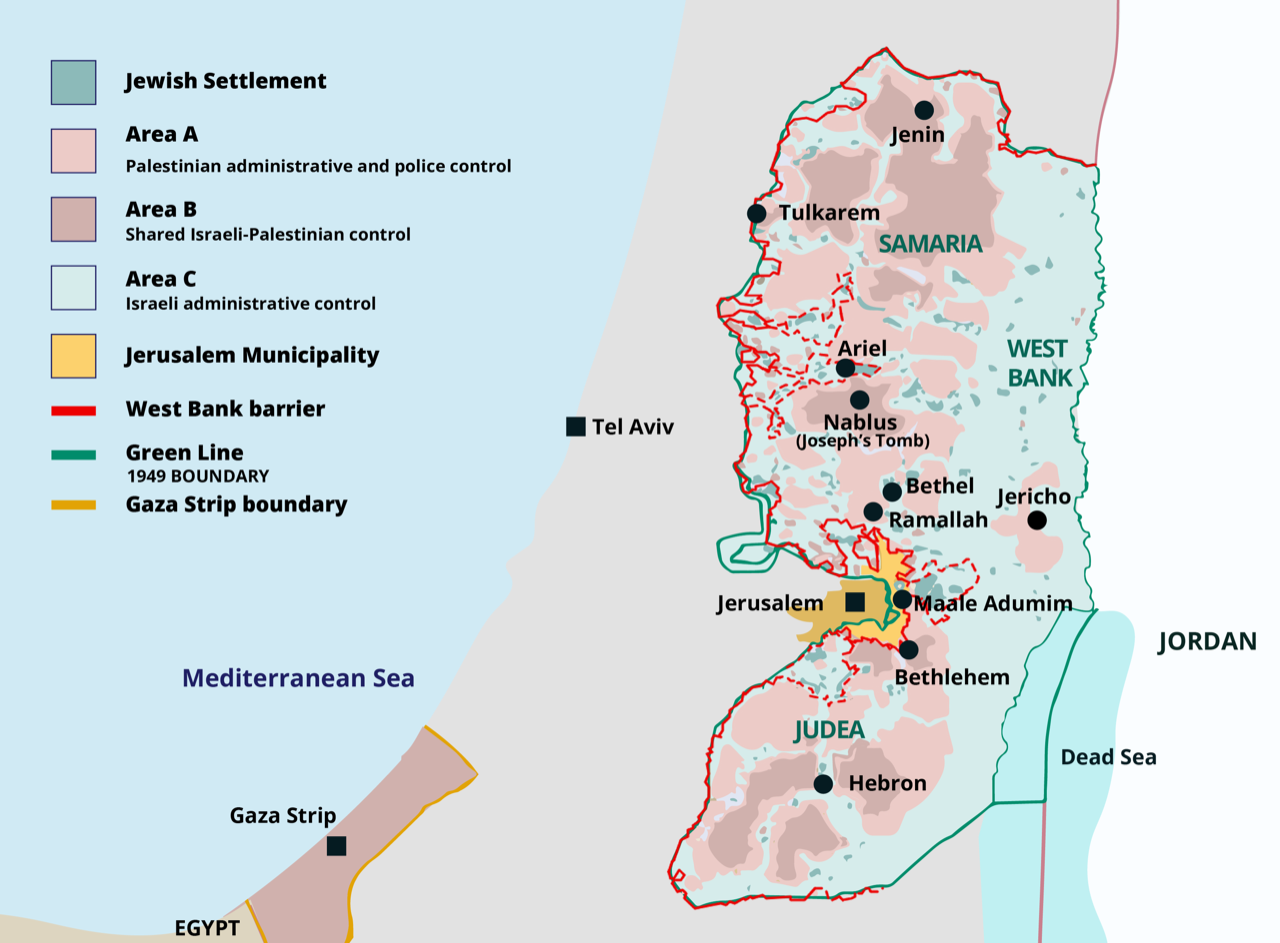 Map of the West Bank – Judea and Samaria (Image: ALL ISRAEL NEWS)
"Whatever one's opinion on ending the Israeli-Arab conflict, the current situation in these regions, in which a feckless military government lacks the civil-service orientation required for governing civil life, is unsustainable," he wrote. "The army needs to deal with security and leave governing to a civil system capable of providing efficient service and protecting individual rights."
He also addressed proposed reforms for the legal system, which critics say will undermine the court's power, endanger minority rights and remove checks and balances. Smotrich contends it is precisely the opposite.
"Our emphasis on judicial reform is meant to bring Israel closer to the American political model with some limited checks to ensure the judicial system respects the law. We seek to appoint judges in Israel in a process similar to America's; to define the attorney general's scope of authority and relation to elected representatives in a manner similar to what's set down in America; to develop effective oversight mechanisms for law enforcement to ensure they protect basic rights; and to restore the Knesset's authority to define the fundamental values of the state and its emerging constitution," he wrote.
"All Americans should appreciate the wisdom and justice in these plans. They should shed their preconceptions and unite to support the resurgence of accountable government, prosperity, individual rights, and democracy in the Jewish homeland."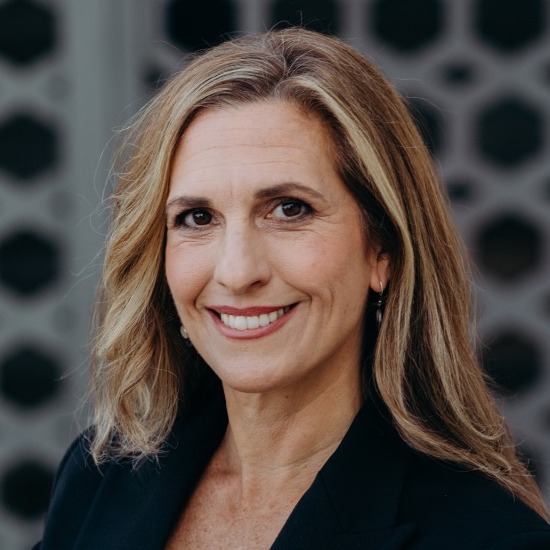 Nicole Jansezian is the news editor for both ALL ISRAEL NEWS and ALL ARAB NEWS and senior correspondent for ALL ISRAEL NEWS
A message from All Israel News
Help us educate Christians on a daily basis about what is happening in Israel & the Middle East and why it matters.
For as little as $5, you can support ALL ISRAEL NEWS, a non-profit media organization that is supported by readers like you.
Donate to ALL ISRAEL NEWS
Current Top Stories
Comments