Jared Kushner visits Jerusalem, tells Knesset members that it's time to deepen, expand Abraham Accords to other Arab nations
ALL ISRAEL NEWS first to publish exclusive coverage from special Knesset event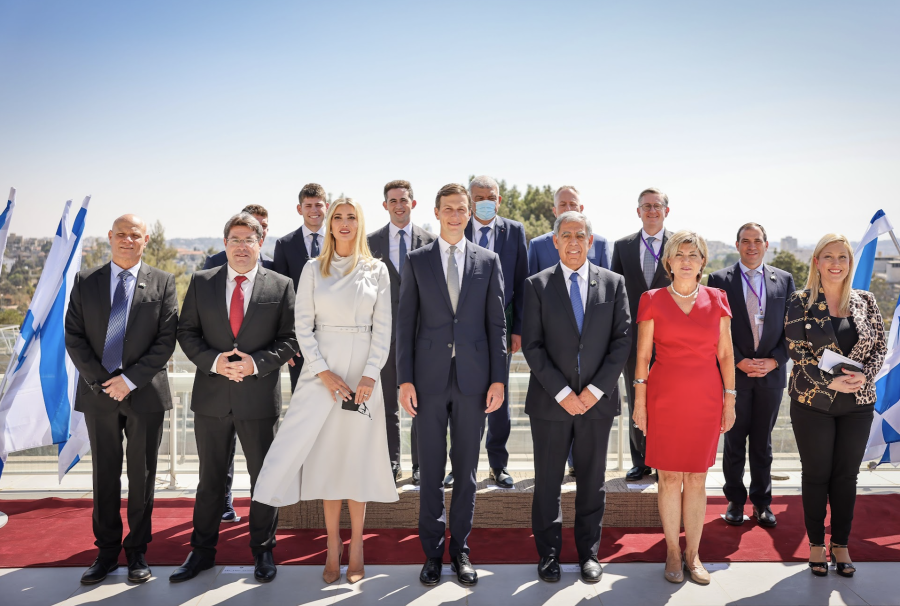 Knesset Speaker Mickey Levy hosts Jared Kushner and Ivanka Trump at the Knesset, Oct. 11, 2021. (Photo: Noam Moskowitz/Knesset)
Former White House Advisor Jared Kushner and his wife Ivanka Trump, daughter of former U.S. President Donald Trump, were welcomed at the Knesset on Monday for the inauguration of the Abraham Accords Caucus – a bipartisan committee in the Israeli government that will focus on deepening and expanding the peace accords.
The event featured members of the governing coalition as well as opposition leader and former Prime Minister Benjamin Netanyahu, who signed the agreements with the United Arab Emirates and Bahrain in a White House ceremony in September 2020.
Kushner – who was influential in brokering the historic peace treaty between Israel and the UAE, Bahrain, Sudan and Morocco – and Ivanka Trump will later attend the grand opening of the new institute established by the former American ambassador to Israel.
It took brave leaders to create this new paradigm, Kushner said.
"They take risks and get things done," he said.
In one year, the Accords have produced 30 diplomatic agreements and 60 economic agreements, Kushner said.
"It's imperative that all of us set extremely high expectations for what we want to see and achieve from the Abraham Accords for what they have the potential to be, for what they have, the potential to bring to our societies, to our families, to the region and really to the world," he said.
For this very reason, Kushner said he founded the Abraham Accords Peace Institute: "We wanted to see the Accords really achieve their potential."
Knesset members Ofir Akunis and Ruth Wasserman Lande will chair the caucus, the focus of which will be on deepening the Accords among the current signatories and recruiting other nations to join.
Other speakers included Netanyahu, Defense Minister Benny Gantz, Foreign Minister Yair Lapid and Morocco's Ambassador to Israel Abderrahim Beyyoudh and American Chargé d'Affaires Michael Ratney.
All of the speakers thanked Donald Trump for his efforts in making these agreements a reality and Ratney reassured the Abraham Accords partners that President Joe Biden will continue in this path.
Knesset members Ofir Akunis and Ruth Wasserman Lande (Photo: ALL ISRAEL NEWS)
"The Biden administration now continues working to expand normalization efforts and to deepen Israel's existing relationships and to bring new countries into the fold," Ratney said.
Alongside these relations, Ratney called on making progress to create "conditions for a viable two-state solution" for Palestinians and Israelis.
Despite the agreements being relatively new, Ratney said it is also beginning to feel "normal," working together and making new friends in the region.
Lapid, who has opened three new Israeli embassies since June, said that with each ribbon cutting, "We are also cutting the cords of hate."
"I call the Palestinians to turn toward peace," he said. "Look around the Middle East – who is better? Those who chose peace or those who chose hate?"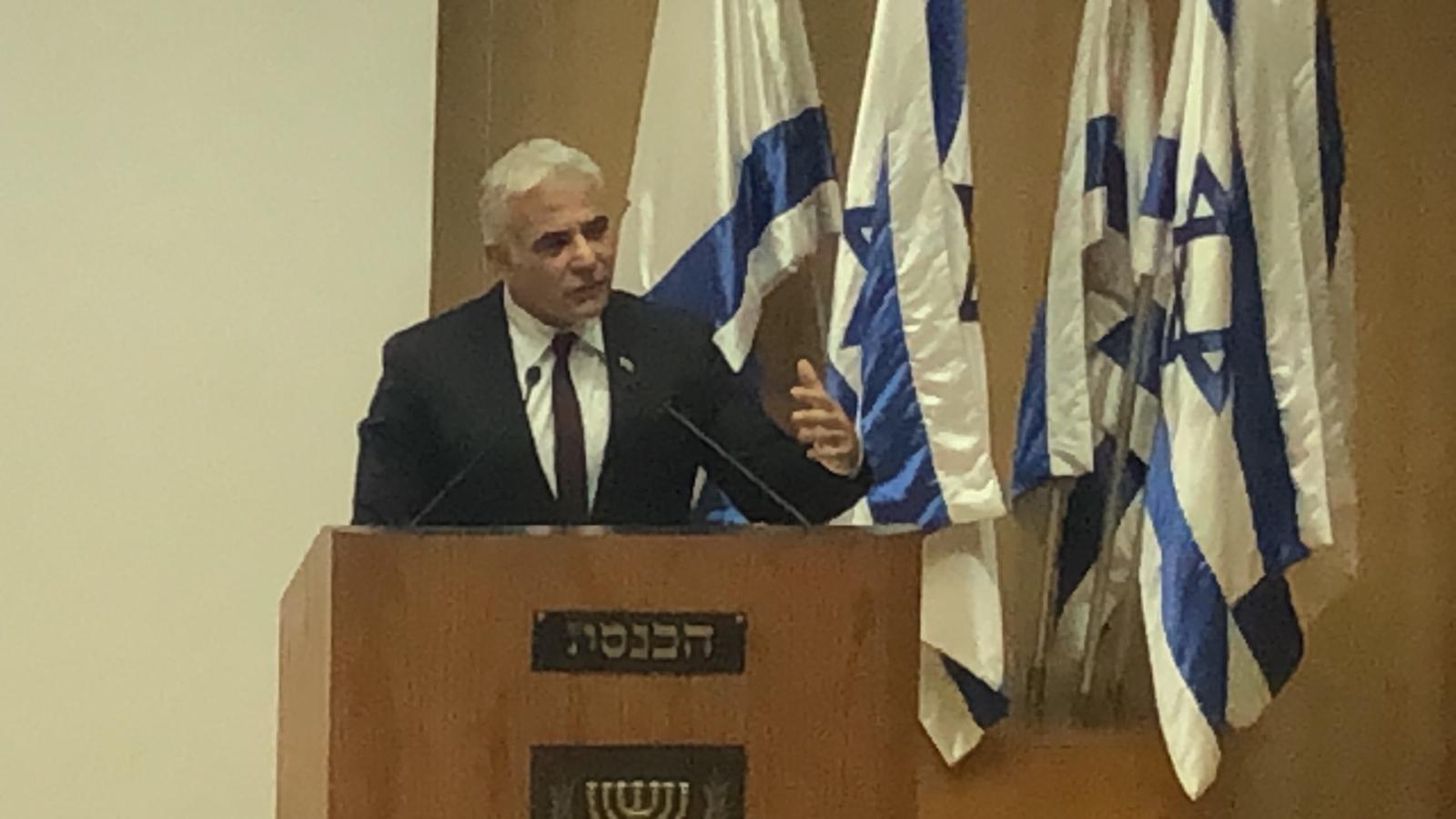 Israeli Foreign Minister Yair Lapid (Photo: ALL ISRAEL NEWS)
Former Prime Minister Benjamin Netanyahu - received with strong applause for his involvement in bringing these agreements to fruition - said that the deals were only possible because Israel became a stronger nation both economically and militarily. He credited the liberalization of the Israeli economy and the focus placed on boosting technology and start-ups as the first steps toward these agreements.
"The first condition was a strong Israel," Netanyahu said.
Once other nations in the region realized Israel was "here to stay" they could focus on common enemies such as Iran and ISIS, he said.
The two other conditions for peace involved dropping the Palestinian-Israeli issue as a prerequisite for peace and a shift in American policy - which former President Donald Trump provided "on steroids," the former prime minister said.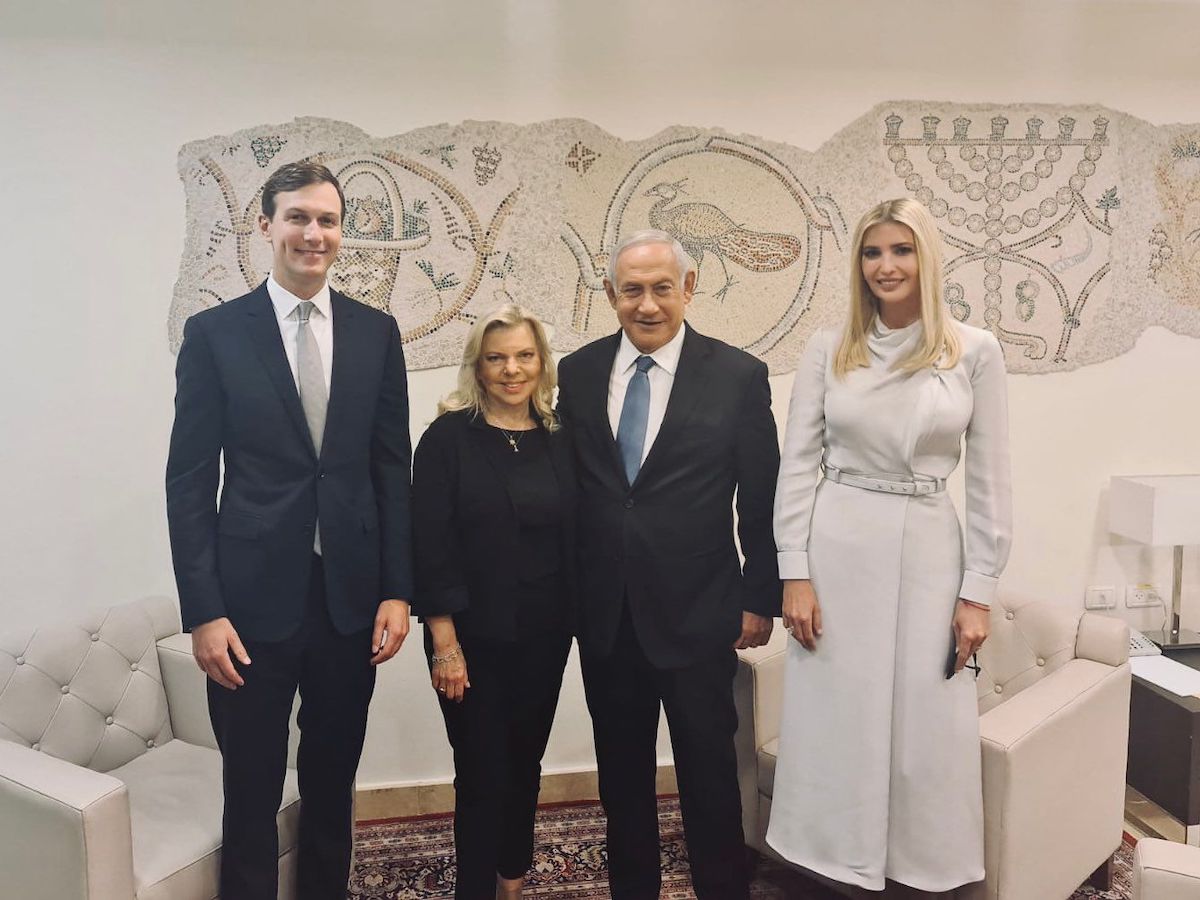 Benjamin and Sarah Netanyahu with Jared and Ivanka Trump (Photo: Benjamin Netanyahu's Twitter feed)
Netanyahu also predicted there will be "many, many more" agreements to follow.
"We changed history," he said. "If we continue to move in this direction, our children and grandchildren will look back and say, 'The peace of Abraham came together through the sons of Abraham.'"
In his remarks, Gantz said Israel "must remain the most powerful state in the Middle East."
"The fact that we prevented the unilateral annexation [of territories] enabled the vision of the Abraham Accords to break through and materialize. I am very happy that these peace treaties were signed, and I am sure that they will be expanded. They will serve as engines of change in the Middle East since they have established peace between our people."
Gantz struck a more conciliatory tone toward the Palestinians than Netanyahu, saying that Israel has "a duty to develop all peace agreements and to continue to strive for peace with the Palestinians as well."
Defense Minister Benny Gantz spoke at the Knesset event to promote and implement the Abraham Accords, Oct. 11, 2021 (Photo courtesy)
Wasserman Lande told ALL ISRAEL NEWS that she and co-chair Akunis will visit their counterparts in the other Abraham Accords nations in order to establish similar caucuses in their governments. Her main priority, she said, is to legislate an international declaration against hate and anti-Semitism.
"This is what this is all about," she said.
Mohammed Al Dhirabi, an official in Bahrain's education ministry, attended the event today and spoke with ALL ISRAEL NEWS about his positive experiences in Israel.
"We came to Israel to meet the people so they can know me and for me to know them," he said.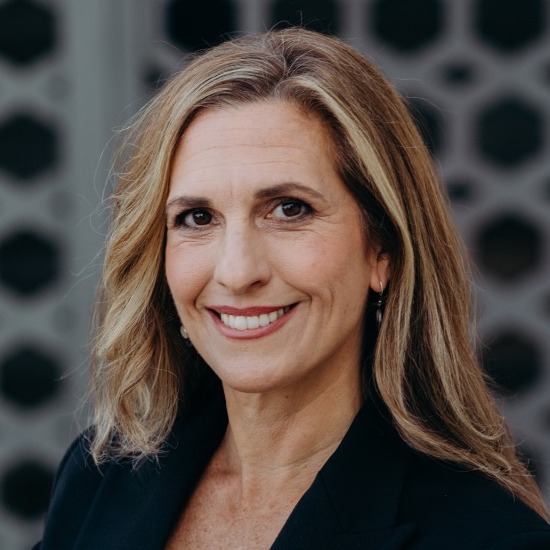 Nicole Jansezian was the news editor and senior correspondent for ALL ISRAEL NEWS.
A message from All Israel News
Help us educate Christians on a daily basis about what is happening in Israel & the Middle East and why it matters.
For as little as $5, you can support ALL ISRAEL NEWS, a non-profit media organization that is supported by readers like you.
Donate to ALL ISRAEL NEWS
Current Top Stories
Comments