Opinion Blog / Guest Columnist
If you want to eat real meat, buy real meat
(Photo: Redefine Meat)
Most of us are old enough to remember the Wendy's Hamburger iconic catchphrase, "Where's the Beef?" made popular by Clara Peller in 1984. The brilliant ad campaign made fun of other hamburger eateries for their lack of meat in the meals they offered.
Today's announcement that "Redefine Meat" has hit the shelves of the Israeli mega supermarket, Shufersal, has taken that, "Where's the Beef?" quandary to a whole new level. This "meat alternative," as its being called, does not contain any animal components and is being marketed to consumers "who wish to reduce their meat consumption."
Being branded as "the ethical choice," there is a not-too-subliminal message being pushed on the public by the company which has declared its "virtuous commitment to transforming the global meat market."
Of course, it has nothing to do with the projection of the global meat-substitute market, which is on target to reach sales of $11 billion by the year 2030. No! Who could, for one minute, think that massive profits have anything to do with this?
To hear it right from the horse's mouth, Redefine Meat sees themselves as a company that will have "a significant impact on the global meat market and the way we consume meat." But, ironically, no one has asked the general public if they are ready to make the massive change from eating animal products to engineered ones – regardless of whether or not they taste the same.
Those in the alternative-meat industry assure us that eating less meat is good for the planet, will, undoubtedly, be better for the environment, and also better for one's health. We recently heard such impressive claims made by New York City Mayor Eric Adams who sang the praises of eating plant-based foods. Extolling the virtues of how such a dietary choice addresses the climate crisis and improves people's health, he has become a vigorous advocate for what he believes is the best way to live, despite the fact that reducing rampant crime probably leads to a much longer lifespan in the long run. Apparently, food choices trump his other duties.
But Mayor Adams is not the only well-known person advocating for a vegan switchover. A long list of celebrities has jumped on that popular bandwagon as they, too, have joined the trend. Among those include such big names as: Joaquin Phoenix, Billie Eilish, Woody Harrelson, Stevie Wonder, Lizzo, Pamela Anderson, Russell Brand and an endless list of others. All anxious to prove their responsible food choices, they are only too eager to post videos on YouTube and elsewhere to convert the world's meat-eating consumers.
But while many are making their case in trying to convince us that the massive demand for meat is not sustainable, it's hard to remember a time when so many of our friends and family have already become vegetarians or total vegans – to the point where event planners and caterers must take into consideration that a good number of attendees are likely to request a non-meat meal option.
According to a 2019 article, entitled "The Rise of Vegetarianism at Events," it places the number of U.S. vegetarian eaters at 7.3 million. Presently, it is estimated that 10-12% of the world's population do not eat meat, but that represents those who are known, so those estimates could be much higher.
If anything, it looks as if the number of meat-eaters has actually been shrinking incrementally. So, could there be a larger agenda behind the growing trend to ditch meat and go to alternative options? One Internet site called C40 Cities says that "A sustainable diet by 2030 is key to solving the climate emergency," while another site, GreenBiz, states that "policy, not politics, will change America's meat habits." Knowing that "there is no chance that humanity is going to give up meat, en masse, anytime soon," it's predicted that the meat wars are going to be worse than all others.
Therefore, policy must change, and this is where a novel solution is offered: "To change something, build a new model that makes the existing model obsolete." 
Just add this to another revolutionary change being forced on society, whether we like it or not. No one is willing to give up their cars, so they eliminate more and more lanes for less than two drivers. No one is willing to give up their gas stove, so they enact law which no longer permits the installation of them in new buildings by 2026. 
It's all quite simple. In fact, convincing people is no longer a necessary component. All that's needed is for legislators to enact laws to ban whatever it is they deem to be bad for the climate, for the environment, for your health, etc., and it'll be gone faster than you can bat an eyelash.  It's the new, progressive wave of fast and effective change.  First, make it uncomfortable for people to continue their personal life choices and then make it illegal by banning them altogether.  
This, likewise, is the push behind going meatless. It's not that eating meat will prematurely kill you, since many meat-eaters have lived to a ripe old age.  It's just that "they" have decided that this is the direction that mankind should take. 
I remember a friend, who, while proudly showing me her new home, asked my advice as to whether or not she should buy a futon for a bed, to accommodate her visiting guests. I told her, "I'd buy a bed for a bed." I gave her that advice, because I knew that nothing is more comfortable, as a bed, than a real bed.
Humanity is, surely, not going to give up meat anytime soon, if left to their own choices, and that is the real crux of the matter. Will we be left to our own choices? The best advice that anyone can give, is not to be sheepish (pun, intended) about being dragged into the world of meat alternatives. Because if you are, you may soon find yourself without a beef – since it will have been taken from you just by way of policy change. It might pay to stake your claim now, if you want to continue enjoying that nice, juice rib-eye! 
ALL ISRAEL NEWS is committed to fair and balanced coverage and analysis, and honored to publish a wide-range of opinions. That said, views expressed by guest columnists may not necessarily reflect the views of our staff.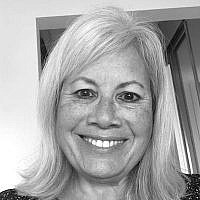 A former Jerusalem elementary and middle-school principal and the granddaughter of European Jews who arrived in the US before the Holocaust. Making Aliyah in 1993, she is retired and now lives in the center of the country with her husband.
Popular Articles
A message from All Israel News
Help us educate Christians on a daily basis about what is happening in Israel & the Middle East and why it matters.
For as little as $5, you can support ALL ISRAEL NEWS, a non-profit media organization that is supported by readers like you.
Donate to ALL ISRAEL NEWS
Latest Stories
Comments