EXCLUSIVE INTERVIEW – PART ONE
If government is formed, Naftali Bennett likely be first Israeli prime minister to make state visit to the United Arab Emirates
We are watching a "New Middle East" being born, says Ruth Wasserman Lande, former advisor to Israeli President Shimon Peres, in ALL ISRAEL NEWS interview on eve of Arab-Israeli investment forum in Dubai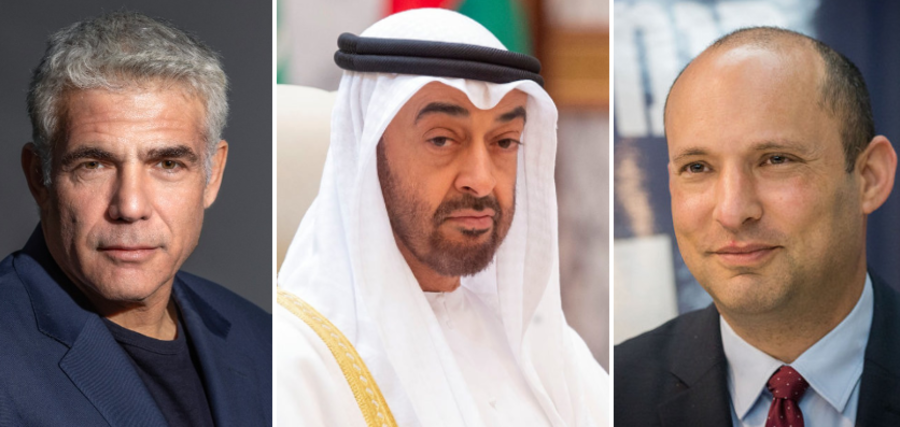 Opposition leader Yair Lapid, UAE's Mohammed bin Zayed and Naftali Bennett (Photos: Flash90)
DUBAI, UNITED ARAB EMIRATES—Huge political events are unfolding back in Israel.
Naftali Bennett and Yair Lapid are in the final 24 hours of trying to form a new government, one that would remove Benjamin Netanyahu from power and make Bennett the prime minister and Lapid the foreign minister. The whole thing could yet fall apart, but aides close to the two leaders say they believe they can work through the snags that remain.
At the same time, the Knesset will vote on Wednesday to choose the next president of Israel, replacing Reuven Rivlin who will complete his seven-year term next month.
Meanwhile, here in Dubai, the commercial capital of the United Arab Emirates, several hundred senior Israeli, Emirati, Bahraini, Moroccan and other government and business leaders have gathered for the Global Investment Forum to discuss practical ways to turn peace into prosperity.
The forum, organized by the Khaleej Times, the largest English-language newspaper in the UAE, and The Jerusalem Post, the largest English-language newspaper in Israel, will also take place on Wednesday.
I'm here in Dubai to cover the forum.
Today at the Burj al-Khalifa – the tallest building in the world – I met with and interviewed Ruth Wasserman Lande, a former member of Knesset and former foreign policy advisor to the late Israeli President Shimon Peres.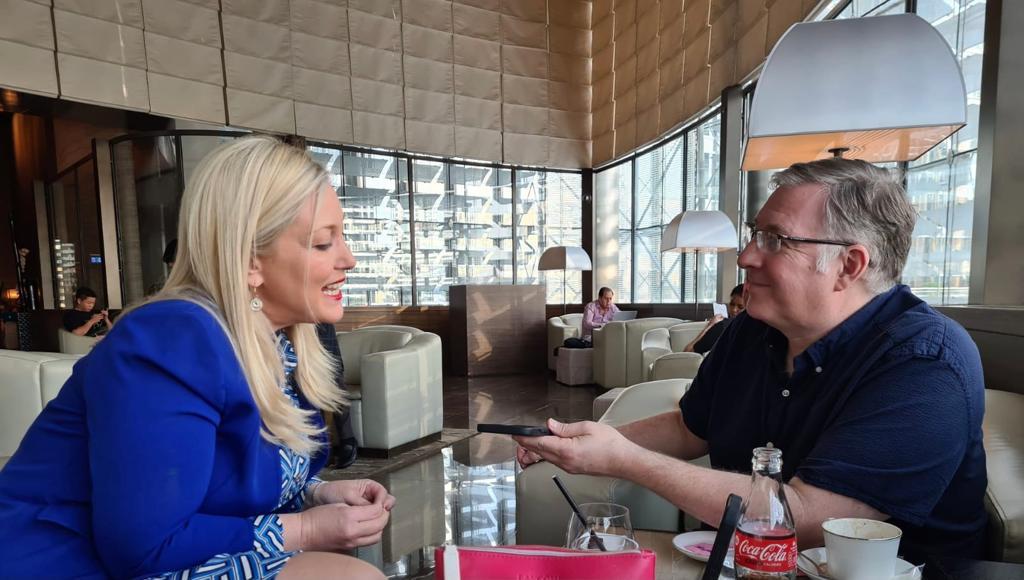 Ruth Wasserman Lande with Joel C. Rosenberg

Lande has just agreed to join the Advisory Board of ALL ISRAEL NEWS. I'll talk about that – and her background – more in our next interview.
Today I want to focus on one of the most interesting parts of our discussion – the idea that whoever emerges as the next prime minister of Israel will likely become the first premier in Israeli history to make a state visit to the UAE.
Netanyahu, who brokered the peace agreement with the UAE, scheduled such a state visit here four times, yet inexplicably canceled it four times.
Now, Naftali Bennett could end up making the historic visit, meeting with Crown Prince Mohammed bin Zayed, and helping both to solidify the normalization agreement and take it to new heights, potentially signing important new trade, tourism and security deals with the UAE, and thwarting the efforts of Iran, Hamas, Islamic Jihad and others to blow up the Arab-Israeli peace momentum.
Lande believes the vision of Peres of a "New Middle East" is coming to pass – but she does not think it will be easy, there are still enormous challenges to overcome, she says. But she, like Peres, is an optimist, and she finds the prospect of an Israeli prime minister coming here to the UAE to build a future with Arab-Israeli peace and prosperity "astounding, exciting and important."
Ruth Wasserman Lande
Here is part of our conversation:
ROSENBERG: What's your sense of being here in Dubai, the commercial capital of the United Arab Emirates, the first Arab country to initiate and agree to the Abraham Accords, normalizing relations with Israel? This is a big deal. You're here as an Israeli. You're here as a former foreign policy advisor to the late Israeli President Shimon Peres, who talked all the time about a "New Middle East" that he saw coming, even though many in Israel mocked him for that as being fanciful, not realistic, and so forth. You're here for an Arab-Israeli investment forum, in the midst of a new era.
RUTH WASSERMAN LANDE: Joel, first of all, just as with the first time that I came to the UAE, I'm very, very excited to be in a major Arab city, being a Jewish Israeli woman, completely unafraid. I'm very open about my identity. And I love what Winston Churchill once said, "A pessimist would see a challenge in every single opportunity, whereas an optimist would see an opportunity in every single challenge." And that was certainly how my boss, Shimon Peres, saw the world. He was a true optimist about the future of this region, and so am I. We do have challenges in the region. But despite that, the UAE leadership and the Emirati people have embraced this peace, and the fact that we can cooperate, and that we can move forward. And that's something that I feel very strongly about and very excited about.
ROSENBERG: You feel that way even with recent challenges, even with the recent war with Hamas and Islamic Jihad? I mean, the Abraham Accords themselves – the very premises of peace between Israel and the Gulf states – was under fire in the last few weeks.
LANDE: Absolutely – the Abraham Accords have not only survived but came out stronger. The Emirati commitment to peace is very impressive. They were not just even-handed in the conflict, they were even greater than that. And that's what this region really needs – conversation, cooperation – despite differences, despite challenges. If we cannot do that, we will not succeed. And what I love about the current leadership of the UAE is that they can see beyond the micro things that are happening, even if they are grave, even if they are truly challenging. They are really looking beyond and to have a long-term strategy. And the strategy is conversation, like what we're doing here at this Global Investment Forum.
ROSENBERG: I agree with you and I'm also fascinated that this forum is not about talking about peace as much as it's about the prosperity that comes from having peace. The forum is focusing on the actual, practical ways that Emirati companies can invest in Israel, and Israeli companies can invest in Emirati companies.
LANDE: Yes, and that's exactly the fruit of the strategic decision made by the Emirati leadership. It's also the mechanism, or the vehicle, which makes this decision to normalize relations with Israel truly sustainable. Because if we have scientific cooperation, mutual investment, economic cooperation, that makes this word "peace" sustainable, lasting, proper, and that's what it's all about.
ROSENBERG: I have to ask you a political question because you were a Member of Knesset. If there is a new government – and that's still an "if" as we do this interview on Tuesday afternoon here in Dubai – but if there is a government, what do you think about the prospect that Naftali Bennett could be the first Israeli prime minister in history to make a state visit to the United Arab Emirates, and to the Kingdom of Bahrain?
LANDE: I think that anybody who will be the prime minister of Israel, whether it's Naftali Bennett or anybody else, it will be an honor, not a given, to come to the UAE for Israel's first state visit. It's something that is astounding, exciting and important to visit an Arab country like the UAE, which was the first Arab country to really properly normalize relations with Israel.
I cannot take the honor away from Egypt for being the actual first Arab country to sign a peace treaty with Israel in 1979. I'm an Egyptologist. I spent three years there [serving in the Israeli Foreign Ministry]. I respect Egypt for its unprecedented decision to reach out to Israel for peace at a very difficult time. But the peace with Egypt is different. It's less warm, by far. And true normalization is very far from us.
But the UAE is in a completely different place. I do see an Israeli prime minister – be he, or she, whoever they may be – visiting this country, and it would be an amazing honor for me in my lifetime to see something like that.
ROSENBERG: I agree, absolutely. And would just add that Jordan's peace treaty with Israel, signed in 1994, is holding, but it puts us under tremendous pressure. I think there is more pressure on Jordan's King Abdullah II than on Egyptian President Abdel Fattah al-Sisi. Al-Sisi certainly has issues, but Jordan's king really has a country that doesn't want to be friendly with Israel. They don't actually want war, but they are struggling with the relationship.
LANDE: You're absolutely right. Jordanian public opinion is very much driven by their Palestinian majority. And yes, they are having tremendous difficulties with all the refugees fleeing from Syria and Iraq towards Jordan. This is challenging their economy. So, altogether, the Jordanian leadership is definitely undergoing a lot of difficulty.
ROSENBERG: So, let me ask you, since we are sitting here in the Burj al-Khalifa tower here in Dubai – if your one-time boss, President Shimon Peres was here at this forum, because he absolutely would have come, what do you think his main message would have been?
LANDE: Shimon Peres would have loved this Global Investment Forum. He would have come here and told the audience that nothing is impossible, that this is just the beginning. Saudi Arabia and other Arab countries will normalize relations with Israel in the near future. He believed in peace and prosperity in the "New Middle East", and by the way, so do I, despite all the challenges that we have seen. In fact, I actually believe that the Abraham Accords are the vehicle by which the Israeli-Palestinian conflict will be solved. I think that's where he would have taken the conversation, as well, because he saw an opportunity in every challenge.

Joel C. Rosenberg is the editor-in-chief of ALL ISRAEL NEWS and ALL ARAB NEWS and the President and CEO of Near East Media. A New York Times best-selling author, Middle East analyst, and Evangelical leader, he lives in Jerusalem with his wife and sons.
A message from All Israel News
Help us educate Christians on a daily basis about what is happening in Israel & the Middle East and why it matters.
For as little as $5, you can support ALL ISRAEL NEWS, a non-profit media organization that is supported by readers like you.
Donate to ALL ISRAEL NEWS
Current Top Stories
Comments