I absolutely loved "JESUS REVOLUTION"– and it's drawing 'miraculous' box office numbers, says stunned media
Though I'm not usually a fan of Christian movies, I was blown away by this one
JERUSALEM, ISRAEL – A major new movie – with an Emmy Award winning actor – released last week tells the miraculous, true story of the greatest spiritual awakening in the modern history of America.
It's the story of the stunning revival of a discouraged pastor, just at the moment his small church in Southern California is dying and he's considering giving up on the ministry altogether.
It's the story of a hippy street preacher who gets radically saved by Christ in San Francisco and then hitchhikes his way down to Orange County, sharing the gospel with anyone he can find, but searching for a place to make a bigger impact.
It's also the story of two teenage hippies – lost, confused and experimenting with drugs – who fall in love with each other and then with Jesus.
And it's in theaters just as a dramatic and exciting new revival is breaking out on the campus of Asbury University in Wilmore, Kentucky, drawing attention from the media and millions of Christians in the U.S. and around the world.
The movie, of course, is called, "JESUS REVOLUTION."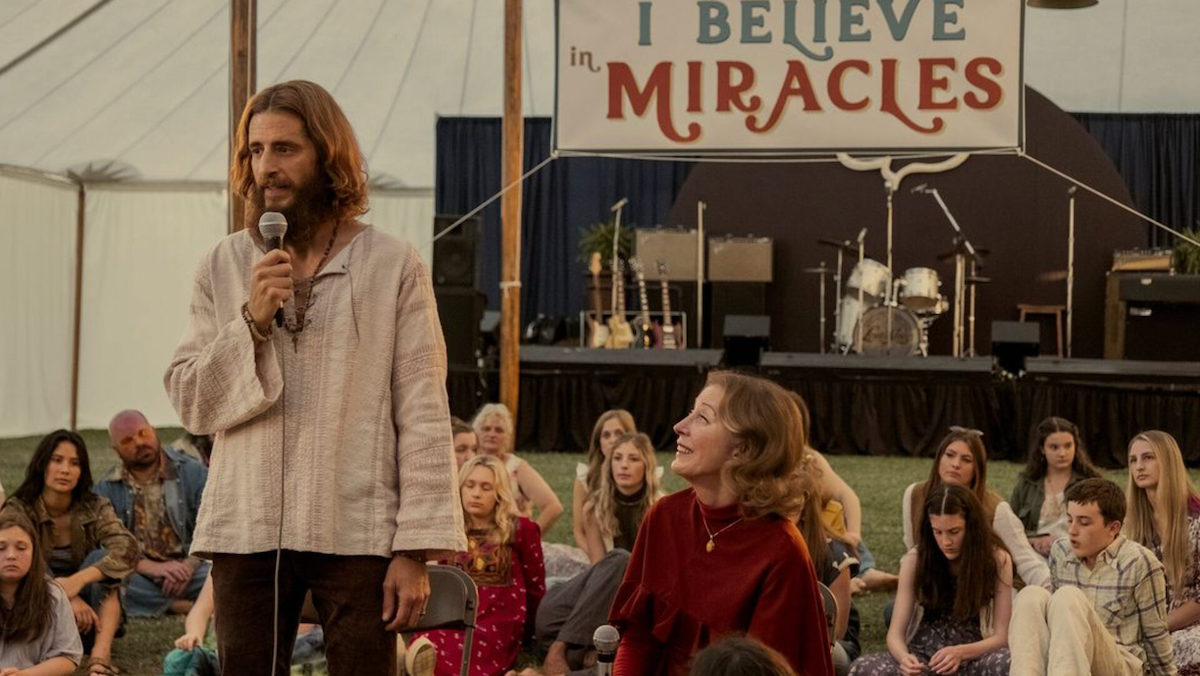 (Photo from Jesus Revolution Movie's Instagram)
It released last Friday and is shocking Hollywood and the so-called "mainstream" media by doing far better in the box office than expected.
Not surprisingly, the critics have not been kind – the movie gets only a 56% rating on Rotten Tomatoes based on 39 reviews.
But the American public is loving it, giving the film a 99% audience rating on Rotten Tomatoes.
Already, the movie has earned more than $17 million.
On its opening weekend, the film earned some $15 million, twice what movie industry insiders were predicting.
"Jesus Revolution [is] turning water into cash with $15.5M after being initially forecast in the $6M-$7M range," reports Deadline, one of Hollywood's prominent news sites.
The movie "is a faith-based win for Lionsgate, as it looks to have a better 2023 stateside than it did in 2022. It's director, Jon Erwin…[earned his] fourth A+ CinemaScore of his career, after American Underdog, I Can Only Imagine, and Woodlawn. Lionsgate built momentum through several word of mouth church and university screenings, as well as an outreach to contemporary Christian musicians," according to the news site.
"Tracking only saw this movie at the single digits? How did they miss this?" Deadline asked. "The theory is that tracking only polled those people who had been to theaters in recent movies. That said, it's been a while since the faith-based crowd has had a wide release like this."
And take a look at some of these other headlines:
·             'Jesus Revolution' performs miracles at the box office, receives rave reviews from audience (Fox News)
·             'Jesus Revolution' overperforms with $15.5 million in domestic box office debut (Collider)
·             'Jesus Revolution' sees stunning opening weekend, finishes third at box office: 'miraculous' (Christian Post)
To be honest, I'm generally not a fan of Christian movies.
I'm not saying they're all bad, or that God can't use them to save souls and change lives.
I'm just saying that for my taste, too many faith-based films are just not that good.
My wife, Lynn, and I saw recently saw a special sneak preview version of JESUS REVOLUTION here in Israel.
We were blown away.
It was so unexpectedly well done, a truly emotional, powerful and inspirational movie.
[Watch the official trailer for JESUS REVOLUTION]
The movie stars Kelsey Grammer, the Emmy Award winning star of "Frasier," playing Chuck Smith, the straightlaced, buttoned-up, flawed, but well-meaning pastor of a small and dying church in southern California in the early 1970s.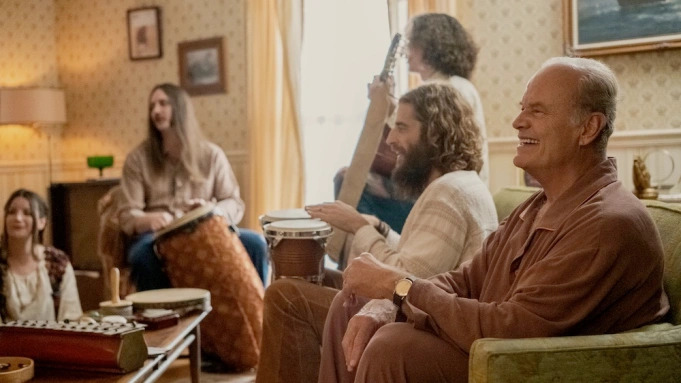 Kelsey Grammer playing Chuck Smith in "Jesus Revolution" (Photo courtesy of Lionsgate)
He sees the country and the world going to hell in a handbasket and a whole generation of young people hooked on drugs, sex and rock and roll.
He doesn't get them.
Frankly, he's repulsed by them.
But he's also discouraged by how little impact he's having for the Kingdom of Christ.
He's confused about what he's doing wrong.
And he's seriously considering giving up on ministry all together.
Enter Lonnie Frisbee, a flawed, flamboyant, but immensely loveable hippy street preacher who's played by Jonathan Roumie, best known for playing Jesus in the runaway hit TV series, "The Chosen."
Part of the magic of the film is that Chuck Smith and Lonnie Frisbee had absolutely nothing in common – except their love for Jesus and their desire to serve Him, even in their weaknesses.
And it was these two, real, complicated, imperfect men that God used to set into motion the greatest spiritual awakening in the modern history of America, a movement that brought tens of millions of lost souls into the Kingdom of Jesus Christ – myself and my parents included.
One of my favorite scenes is when Frisbee tries to help Smith see what he and his church are missing.
At a time when so many Americans – and so much of the media – is becoming so hostile to the Gospel message and the Church, why exactly would Emmy Award winning actor Kelsey Grammer want to play a Gospel-preaching, Bible-teaching pastor whose church – and the "Jesus People Movement" it helped ignite – wound up on the cover of TIME magazine?
Grammer explained in his own words to Tonight Show host Jimmy Fallon, "I want to do something worthwhile, something that has a bigger purpose than just me."
I actually knew Pastor Chuck Smith.
He passed away in 2013, but years before that, he invited me to come out and preach several times at Calvary Chapel in Costa Mesa, California, the very church where this whole "Jesus Revolution" began.
In turn, I invited him to speak at The Joshua Fund's first EPICENTER conference here in Jerusalem in 2008, to mark the 60th anniversary of the prophetic, miraculous rebirth of Israel in 1948.
I also interviewed him for a series of Joshua Fund videos we shot years ago.
And I can tell you, Kelsey Grammer not only looks like Pastor Chuck, but he really captures Chuck's heart and soul and story, the story of a man used by God far beyond anything he and his wife and family could have possibly imagined.
One fact that the movie gets right is that the turning point for Pastor Chuck came when he met that hippy street preacher, Lonnie Frisbee.
The friction of two flawed men, who both loved the Lord – and provoked change in each other – is a major part of this story.
But JESUS REVOLUTION is about more than just two preachers from two different sides of the tracks.
It's also about two young hippy kids – searching for truth, meaning and purpose, but using drugs, lost, lonely and afraid – who end up falling in love with each other. They get married and, through the ministry of Chuck Smith and Lonnie Frisbee, end up falling in love with Jesus and getting saved.
It's a beautiful, moving story of love and mercy and beautiful redemption.
The movie is actually based on Greg Laurie's memoir, JESUS REVOLUTION: How God Transformed An Unlikely Generation And How He Can Do It Again Today.
Over the years, Greg and his wife Cathe have become dear friends of mine.
Greg and I have spent a lot of time together in Orange County, California, where he pastors two of the largest and most influential Evangelical churches in the world, both of which he founded.
God raised Greg up to be one of the most effective evangelists in the world – preaching the Gospel to stadiums full of people and seeing many come to Christ.
Greg and I have also spent a great deal of time here in Israel, a country Greg loves dearly, talking about how the Jesus Revolution not only changed his life but mine.
I absolutely love how Greg and Cathe's remarkable journey to faith is at the heart of this movie – and why they wanted to make this movie in the first place: To tell more people about God's free gift of love and forgiveness.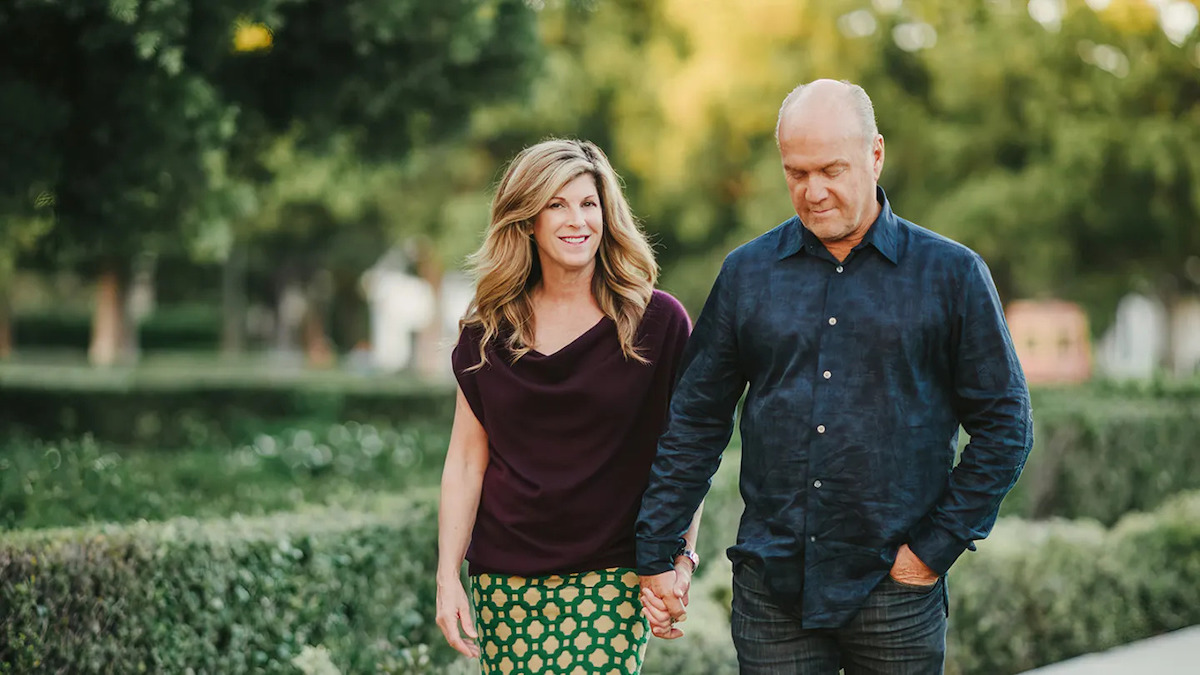 Pastor Greg Laurie and his wife, Cathe (Photo: Harvest Church/Pastor Greg Laurie)
I'm also fascinated that the movie has released at such a timely moment.
As we've reported on ALL ISRAEL NEWS, what began as a simple chapel service on the campus of Asbury University, a small Christian college in Wilmington, Kentucky, is now the location of what appears to be the beginning of another revival.  
Students were studying the scriptures and worshipping God as they always do.
But this time, they didn't stop at the end of the service.
Instead, they stayed all night, continuing to sing and pray and repent of their sins – and when morning came, they still didn't go back to their dorms.
Soon, parents, faculty and staff were joining the non-stop worship service.
Then, students from Christian colleges all over the country arrived.
And it's not just students. People of all ages have come.
The gathering has creating logistical challenges. There aren't enough toilets. Or food. Yet people keep coming.
School administrators are now moving the worship meetings off campus to larger facilities.
The revival is making national headlines. It has appeared in Fox News, CNN,
NBC News, The Washington Post, The New York Post and CBN News.
A recent column here at ALL ISRAEL NEWS – written by Kimberly Moeller, San Diego director of the National Christian Foundation – noted some signs that God is doing something new and exciting.
Moeller writes that Americans are both preaching Jesus and seeking Jesus in new and remarkable ways.
One example was the $100 million campaign to run ads about Jesus during NFL games and the Super Bowl. The "He Gets Us" ads, she notes, have already racked up 6.5 billion impressions and are sparking conversations all over the country about who Jesus really is and what He really came to do.
Bible prophecies tell us to expect the Holy Spirit to move mightily in the "last days."
In my favorite book of the Bible – the Book of Joel – God says: "Blow a trumpet in Zion,
and sound an alarm on My holy mountain! Let all the inhabitants of the land tremble, for the day of the Lord is coming; surely it is near….'Yet even now,' declares the Lord, 'return to Me with all your heart, and with fasting, weeping and mourning; and rend your heart and not your garments.' Now return to the Lord your God, for He is gracious and compassionate, slow to anger, abounding in lovingkindness and relenting of evil….'It will come about after this that I will pour out My Spirit on all mankind; and your sons and daughters will prophesy, your old men will dream dreams, your young men will see visions. Even on the male and female servants I will pour out My Spirit in those days." (Joel 2:1, 12-13, 28-29)
Great Awakenings are already underway in Iran and Communist China.
Why not in America and Israel, as well?
Please join me in praying that God would expand the revival we're seeing in Kentucky. And that God would use the JESUS REVOLUTION movie to trigger another Jesus movement.
I encourage you to go see it in theaters right away.

Joel C. Rosenberg is the editor-in-chief of ALL ISRAEL NEWS and ALL ARAB NEWS and the President and CEO of Near East Media. A New York Times best-selling author, Middle East analyst, and Evangelical leader, he lives in Jerusalem with his wife and sons.
Popular Articles
A message from All Israel News
Help us educate Christians on a daily basis about what is happening in Israel & the Middle East and why it matters.
For as little as $5, you can support ALL ISRAEL NEWS, a non-profit media organization that is supported by readers like you.
Donate to ALL ISRAEL NEWS
Latest Stories
Comments