Hero farmer saved 120 young people from Hamas slaughter at Oct. 7 music festival in southern Israel
Oz Davidian made around 20 trips between Kibbutz Re'im, where the party was held, and Maslul, as well as a neighboring village, Patish
Oz Davidian and partygoers her rescued on October 7, 2023. (Photo courtesy)
A farmer from the small village of Maslul, not far from where the Nova musical festival was being held on Oct. 7, saved 120 young people fleeing for their lives when Hamas terrorists descended upon the party and began its brutal attack on southern Israel border communities near Gaza.
Oz Davidian, rescued as many festival attendees as possible by driving groups of young people out of the danger zones and into safety.
Davidian made around 20 trips between Kibbutz Re'im, where the party was held, and Maslul, as well as a neighboring village, Patish. Each trip was a one-way journey of 15 to 17 kilometers (about 9 to 10.5 miles), depending on the route and to avoid Hamas terrorists who had infiltrated the cities.
During that time, which stretched far into the night and the following morning, the terrorists murdered some 260 festival attendees and kidnapped several others, bringing them back into Gaza, where they have been held hostage ever since.
Meanwhile, Davidian's wife and four children were in their protected room at home, waiting for his return.
Footage from the dashboard of Davidian's truck showed him driving past shattered cars, while shots were being fired. The terrorists had full control of the road, as it took seven hours for Israeli security forces to arrive and Davidian, by himself, tried to rescue as many young people as possible.  
לבד בתוך התופת: מכל הכתבה , ואומץ הלב שגילה עוז, מה שאני לוקח מהתיעוד זה ה״לבד״ שלו בשטח: גם כשהמצלמה הראתה את השעה 12:30 , שש שעות! אחרי הפלישה של החמאס, המחבלים הארורים היו לבד בשטח רעים, עשו מה שהם רןצים: אנסו ורצחו נשים (חסכתי את התמונות) , בזזו גופות של חיילים, ואף אחד לא… pic.twitter.com/1uTQ2EPtP8

— Yossi Eli יוסי אלי (@Yossi_eli) November 15, 2023
One girl thought he might be from Israel's Shin Bet security services, Davidian later told Israel's Channel 13 news.
"I said to her, 'Why?' and she said, 'Look around you, there's nobody here, nobody, we've been stuck here for hours, and there's nobody. You're the only one who came.'"
Davidian was also able to rescue a reserve army officer and together they went back to rescue more partygoers. Davidian described how, upon reaching Route 232, which was controlled by the terrorists, they became even more aware of the devastation.
"Hundreds of corpses all over the place, on the road and in the fields," and "loads of cars – some burnt out, some with their lights blinking, and corpses with shotgun wounds inside cars," Davidian said.
He described how at one point he had not been sure whether the terrorists were indeed terrorists.
He saw "two terrorists next to the corpse of a soldier and I thought, 'Great, there are paramedics and soldiers, and I asked one of them what was happening, and before he answered me, I realized that they might be terrorists. I addressed him in Arabic, and asked 'Are they dead, are there injured?' And he answered, and then suddenly, I understood that he was a terrorist and he understood that I was a Jew."
The terrorists tried to shoot him, but he sped away and managed to escape unscathed.
"By some miracle, none of them hit the car," he said. "They were spraying everywhere with bullets. You can't get your head around that level of evil. They shot at everything that moved."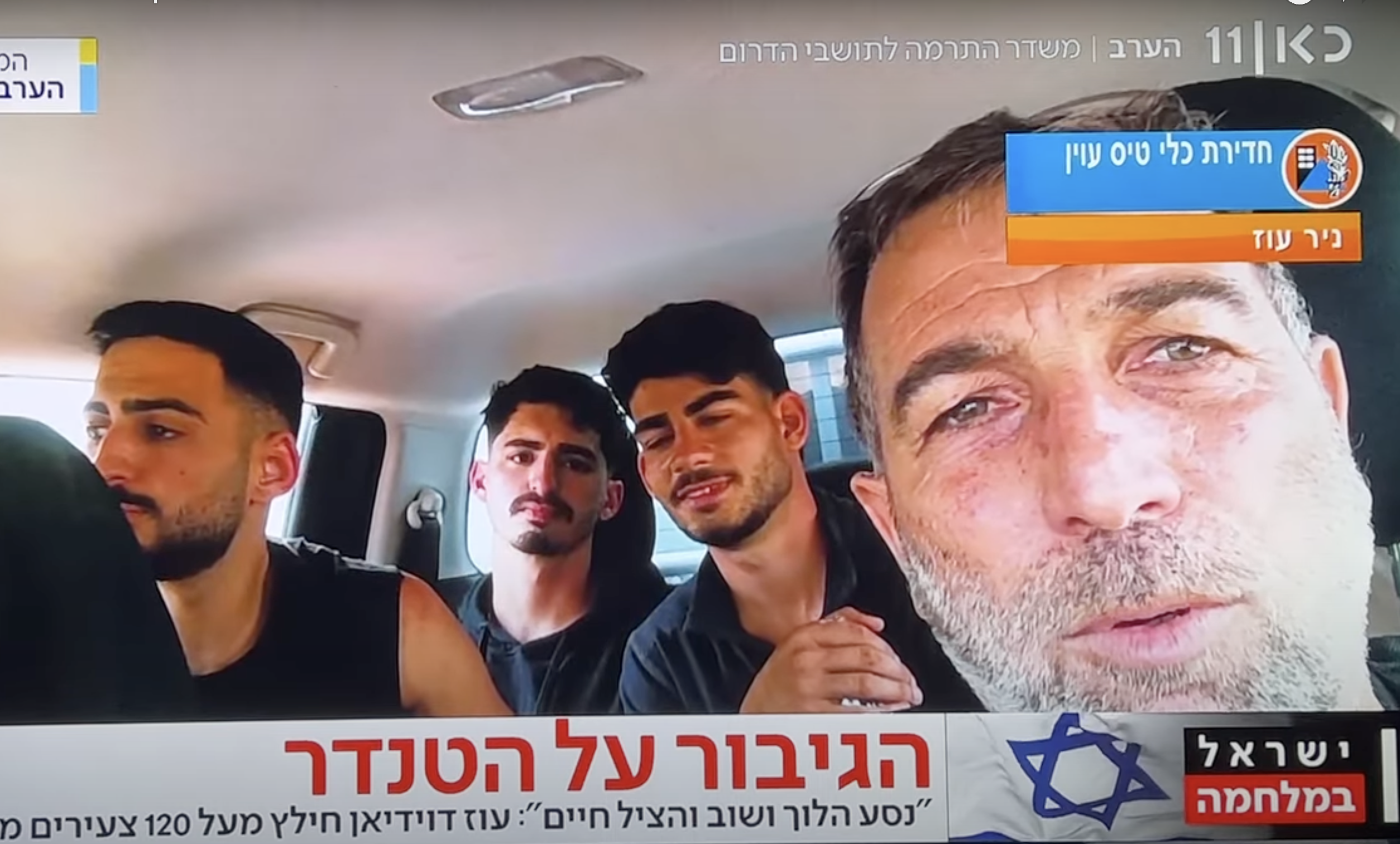 Oz Davidian and partygoers her rescued on October 7, 2023. (Photo: Screenshot)
Not only were they shooting everything but they also committed rape, Davidian confirmed.
"One was raping, another was shooting, protecting the former, watching him rape. You saw piles of corpses, one on top of the other, as if they'd been together and were just slaughtered and fell on top of one another in the shooting," Davidian recounted.
Davidian went on in his rescue efforts the entire day and night, only pausing briefly at midnight to check on his family. He drove around in the area where the music festival had taken place until 7 a.m. the following morning but didn't find anymore people to rescue.
The hero farmer said he put everything aside to rescue the young people from the horrors.
"When you see hundreds of young people, dead and wounded and fleeing into the fields and terrorists shooting in every direction, you put everything to one side; the fear, the family and you go to get them out."
"He has always been my hero," his daughter Oriah said of her father.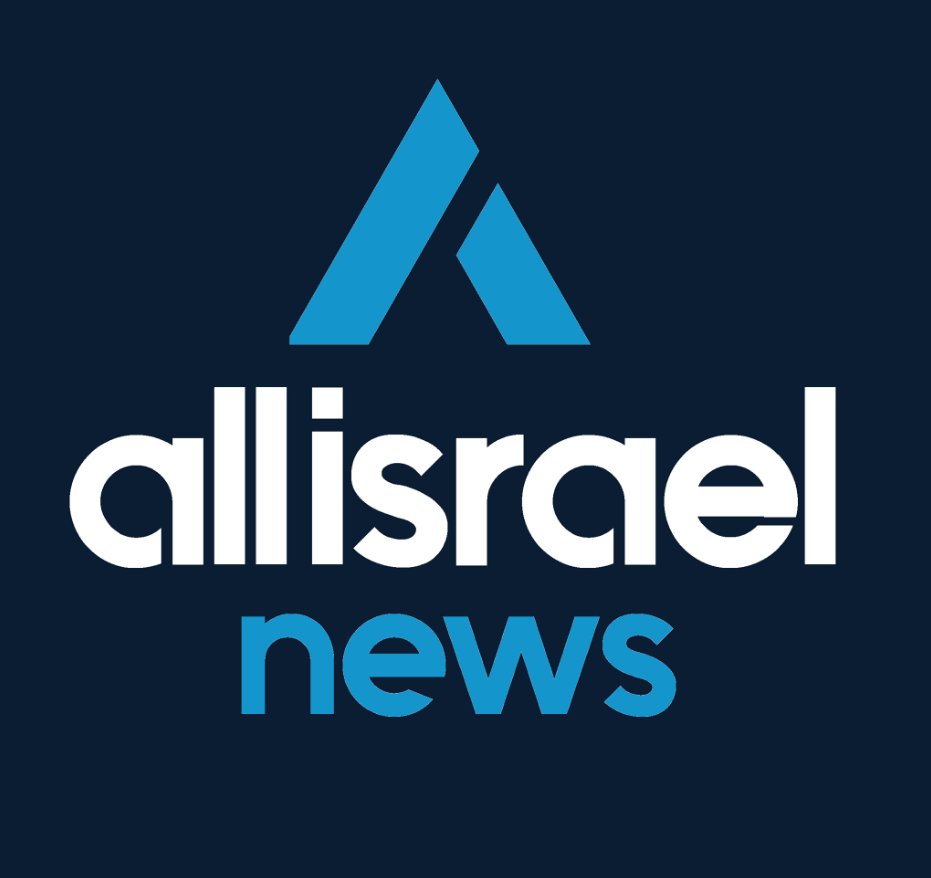 The All Israel News Staff is a team of journalists in Israel.
Popular Articles
A message from All Israel News
Help us educate Christians on a daily basis about what is happening in Israel & the Middle East and why it matters.
For as little as $5, you can support ALL ISRAEL NEWS, a non-profit media organization that is supported by readers like you.
Donate to ALL ISRAEL NEWS
Latest Stories