Former US Ambassador David Friedman reveals how Israel backtracked on plan to declare sovereignty over the West Bank
Friedman's new book tells the behind-the-scenes story of a rift between the Trump White House and Netanyahu over his plan to annex parts of the West Bank; 'Give me something I can sell to the president,' Friedman told the Israeli PM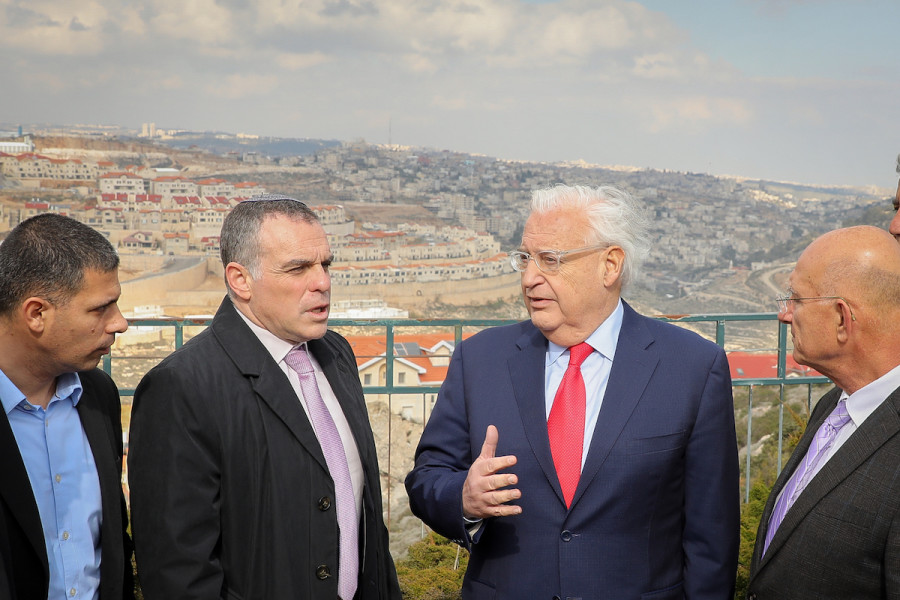 Then-U.S. Ambassador to Israel, David Friedman meets with heads of local councils in Judea and Samaria during a visit in the Jewish settlement of Efrat, in Gush Etzion, Feb. 20, 2020. (Photo: Gershon Elinson/Flash90)
A bit more than six months had passed between the Trump administration unveiling its Israeli-Palestinian peace proposal and the announcement of the Abraham Accords.
Within this period, between late January and mid-August of 2020, former Israeli Prime Minister Benjamin Netanyahu presented his own plan to declare sovereignty over parts of the West Bank.
He was then pressured by the Trump White House to backtrack on the idea in favor of historic diplomatic gains with two Gulf states, the UAE and Bahrain. 
Former U.S. Ambassador to Israel David Friedman initially supported Netanyahu's annexation plan. As an advocate of Israel's settlement policy, he views the West Bank as disputed territory.
"It is not, as almost the entire world maintains, illegally occupied territory," Friedman writes in his newly published memoir. 
But Friedman soon came to discover that "sovereignty had lost favor with the president. Even in Israel, sovereignty also had lost its luster." 
In his book, "Sledgehammer: How Breaking with the Past Brought Peace to the Middle East," the former U.S. envoy reveals how he attempted to bridge a rift between Netanyahu and the Trump White House. ALL ISRAEL NEWS reviewed the book here and published an exclusive glimpse into the book here.
"In mid-May, Jared (Kushner) sent me a picture of a headline from The Washington Post that Trump had circled and dropped on Jared's desk. It read, will Trump save Israel from Netanyahu's reckless land grab? That was not a pleasant sight, but it got even worse. Jared emailed me to warn that I was far away from the Oval Office and not current on the president's thinking. He thought I might be getting ahead of where the president was willing to go," Friedman writes. 
According to a recently published book by Israeli journalist Barak Ravid, Netanyahu decided to go forward with the annexation announcement only after receiving assurances from David Friedman that the U.S. would back the move, even though the envoy allegedly never ran the idea by the White House.
The former ambassador reveals now, for first time, that he held "heart-to-heart" conversations with Netanyahu in which he explained that unlike moving the embassy to Jerusalem and recognizing the Golan Heights, the sovereignty issue "had no chance of advancement" despite being in favor of it personally. 
Friedman told Netanyahu: "How do we proceed with sovereignty when it is opposed by your defense minister [Gantz] and your foreign minister [Gabi Ashkenazi]? No one seems to care about this right now in your country or mine and even Mark Meadows, the president's chief of staff who is very close to the Evangelical community, thinks that the Israeli right wing has sown so much confusion that even many Evangelicals are not on board."
To promote Israel's annexation plan in Washington, Friedman needed something to work with. The U.S. ambassador recommended to Netanyahu that he should first seek political stability within his unity government, then move to suggest a big package of practical initiatives for the Palestinians. 
"Give me something I can sell to the president," he told the former Israeli premier. 
Friedman turned his own words into actions. He approached Gantz and Ashkenazi by himself and asked them what would be the minimal territorial dimensions of West Bank sovereignty that they would be willing to accept. But the Blue and White party leaders did not trust that Netanyahu would keep his political agreement between them, as part of the unity government.
"I could see that the level of mistrust was insurmountable," Friedman recalls. 
"I reported all of this to Jared. I told him that Gantz would not come on board," Friedman writes. "To keep the process moving we would need to go with Bibi alone. He was the Prime Minister, and he had the votes to declare sovereignty. If we didn't, our efforts would come to a swift ending."
Yet an unexpected development has made Friedman change his mind. Yousef Al Otaiba, the UAE ambassador to the United States, penned an op-ed published in Hebrew in the Yedioth Ahronoth newspaper. He urged the Israeli people to resist a declaration of sovereignty, warning that they would hamper the prospects of improved relations between the two countries. 
"It was something that had been talked about behind the scenes for years, but the public statement in Hebrew in Israel made a lot of news," Friedman describes. Both him and Trump's son-in-law and adviser, Jared Kushner, thought that peace with the UAE was a much bigger prize than sovereignty.
Friedman told Kushner, "If we can delay rather than cancel sovereignty, and get full—FULL—diplomatic relations between Israel and UAE, it is clearly better for America, Israel, and the world, and a massive win for the president. I'm fully on board."
Netanyahu was on board as well. Despite harsh criticism from his right-wing rivals and some of his supporters, he decided to put the annexation plan on the back burner or as media headlines phrased, "ditched it."
In a different chapter of his book, Friedman stresses that although many people compare Trump with Netanyahu, in reality the two former leaders do not have very much in common.
"Like concentric circles, they overlap only with regard to their populism and 'America First' or 'Israel First' perspectives. But while Trump is instinctive and very close with his staff, engendering enormous loyalty, Netanyahu is far more cerebral and cautious, willing to review data and more data exhaustively before making a decision," Friedman writes. 
An analysis that begs the question, if their roles were reversed – would Trump have backed down?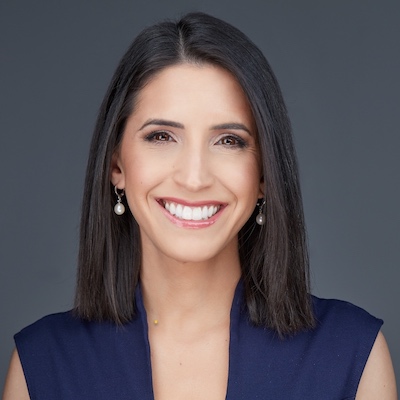 Tal Heinrich is a senior correspondent for both ALL ISRAEL NEWS and ALL ARAB NEWS. She is currently based in New York City. Tal also provides reports and analysis for Israeli Hebrew media Channel 14 News.
A message from All Israel News
Help us educate Christians on a daily basis about what is happening in Israel & the Middle East and why it matters.
For as little as $5, you can support ALL ISRAEL NEWS, a non-profit media organization that is supported by readers like you.
Donate to ALL ISRAEL NEWS
Current Top Stories
Comments