ARAB-ISRAELI PEACE PROCESS
Former Israeli Prime Minister Ehud Olmert urges his 'friend' Mahmoud Abbas to demonstrate courage and return to direct negotiations with Israel
Speaking in Dubai, Olmert praises "visionary" UAE Crown Prince, says Abraham Accords could lead to lasting peace between Israelis and Palestinians, but Abbas and new Israeli government must take a "great leap forward" and come back to the table
Former Israeli Prime Minister Ehud Olmert speaking at the Global Investment Forum in Dubai, June 2, 2021 (Photo: All Israel News)
DUBAI—Speaking in the commercial capital of the United Arab Emirates, former Israeli Prime Minister Ehud Olmert praised the "visionary" leadership of Crown Prince Mohammed bin Zayed al Nayhan for normalizing relations with Israel, signing the Abraham Accords, and setting a model for true Arab-Israeli peace-making.
Olmert could not have been more effusive about the leadership of the Emiratis.
He praised the UAE for being one of "the major centers of business in the world" and urged Israelis to "be humble" and learn from the Emiratis as they seek to do joint ventures and investments together.
But Olmert also criticized Palestinian Authority Mahmoud Abbas – whom he also called by his nickname "Abu Mazen" – for failing to accept the two-state solution deal that Olmert offered him in 2008.
He also said that in February of 2020 he met with Abbas in New York and urged him to embrace the "Deal of the Century" presented by then-President Donald Trump and use it as a starting point for direct negotiations, not because Abbas would like everything in the Trump plan but because it embraced the concept of a two-state solution.
Yet, Olmert said Abbas rejected his advice.
Saying the world is "growing tired" of Palestinian rejection of every peace plan that has been offered for several decades, he urged Abbas to follow the example set by the UAE crown prince, show true courage, and re-enter direct negotiations with a new Israeli government.
Likewise, saying he very much hoped Benjamin Netanyahu – his long-time rival – would soon be removed from office, he urged apparent incoming Prime Minister Naftali Bennett and Foreign Minister Yair Lapid to also have the "guts" to reengage the Palestinians in direct talks.
It is time, Olmert said, for both sides to take "a great leap forward."
The only way for Israel to have lasting peace and prosperity, he insisted, was to separate themselves from the Palestinians and let them have a state of their own.
Olmert spoke at the Global Investment Forum at the Armani hotel and conference center in the Burj al-Khalifa, the tallest building in the world.
The conference was organized by The Jerusalem Post and the Khaleej Times.
Yaakov Katz, editor-in-chief of the Post, interviewed Olmert in the conference's final session.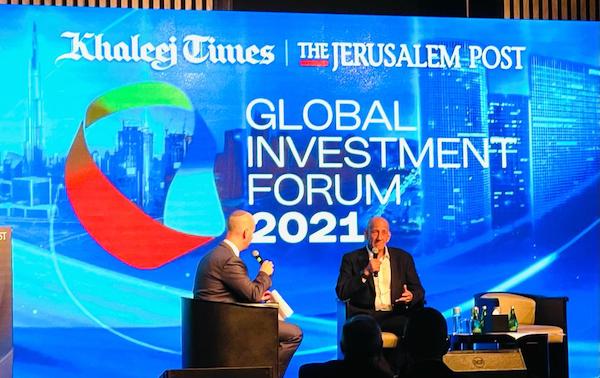 Yaakov Katz interviewing former Israeli Prime Minister Ehud Olmert at the Global Investment Forum in Dubai, June 2, 2021 (Photo: All Israel News)
While I found the conversation fascinating, especially watching a former Israeli premier be interviewed by a kippah-wearing Jewish newspaper editor in a major Arab city, there were questions Katz should have asked but didn't.
Among them:
Mr. Prime Minister, you are clearly passionate about establishing a two-state solution, and much of the world agrees with you, certainly President Biden agrees with you. But with Hamas in full control of Gaza, and increasingly popular in the West Bank, how would a two-state solution work in the current environment?

Polls over the past few years show that upwards of two-thirds of the Palestinians in the West Bank want Abbas to step down. He is deeply unpopular throughout the Palestinian Authority, and of course has no influence in Gaza. So, does Abbas truly have the necessary legitimacy to negotiate a two-state solution?

Mr. Prime Minister, the newly formed government in Israel has deep ideological differences – it's a hodge-podge of right-wing parties, centrist parties, left-wing parties, and the first Arab party to join a coalition – wouldn't direct negotiations with the Palestinians in 2021 blow up the new Israeli government and force the country back into political confusion and a fifth round of elections?
Olmert is a smart, experienced, interesting figure – his answers to these questions would have been intriguing, to say the least.
Still, what he did say is worth reading.
Here are some key excerpts from their conversation: 
OLMERT PRAISES THE UAE AND ITS LEADERS
"We are in one of the major centers of business in the world here in the United Arab Emirates – Dubai, Abu Dhabi – this is a rich country full of would-be entrepreneurs, with smart, energetic businesspeople who are looking for opportunities. Israel is filled with young people with lots of energy and creativity and imagination. So, these two groups can produce unbelievable opportunities. This [peace agreement] will certainly develop into a major business partnership."

"Some Israelis believe we should come and teach the Emiratis how things are to be built, developed, created. But let me tell you something, which I say to the Israelis. There is a lot we can learn from you guys [in the UAE. A lot]. The more open-minded we will be about [this relationship], the more humble we will be the more modest we will be when we talk to them, the more we can gain."

"The United Arab Emirates' leadership has managed something which is admirable. They were prepared to take a step which may have been seen by some, especially in the region, to be risky, to be maybe dangerous, to be unpopular, because it is not quite so easy with what was expected by the larger Arab Muslim community. And I say that they have set an example that should be followed by many others, and therefore they deserve the recognition for leadership that has set into motion a major change that can make life for the entire Middle East even more positive."
OLMERT URGES ISRAELIS AND PALESTINIANS TO TAKE "A GIANT LEAP FORWARD" TO MAKE PEACE
"Now it's time for the leaders of other countries – starting with the leaders of the State of Israel – to take a giant step forward in order to resolve all the outstanding issues which are still creating difficulties in all parts of the world. And if we will do it, my dream – my vision – is that the Middle East in a short period of time will become the most powerful region in the world – the richest, the most successful, the most powerful region and the most stable region in the world."

"It is well known that I am the friend of the President of the Palestinian Authority, Mahmoud Abbas, and the last time we met was before the coronavirus in February in New York shortly after the introduction of the 'Deal of the Century' by the former President of the United States. And I had a meeting with Abu Mazen, and it raised an enormous outrage in Israel because everyone criticized me, 'Why do you meet with Abu Mazen?' And they forget that he's not an enemy of Israel, but he is a partner in some agreements that we signed already. I called on him then, 'Don't say no to the Trump plan, which I thought was not serious. But since the Trump plan talked about the two-state solution as the ultimate goal, I told Abu Mazen, 'Don't focus on what you don't like. Say yes to what you like in this plan, and you'll be surprised that the Prime Minister of the State of Israel [Netanyahu] will not follow up because he's against the two-state solution. But he didn't take my advice."

"And this is why I say that the example that was set by Mohammed bin Zayed, the Crown Prince and the Supreme Leader of the United Arab Emirates, is admirable because he had guts, the vision, the leadership, to step ahead and say, 'I want to try and change something.' And I am very much impressed by him, by his brothers, for their great leadership." 

"So, what I think is this. Israel has to step up because we are stronger. Not because we are more responsible. But because we are stronger. We are occupying the Palestinians. So, we have to step up and say we are ready to sit down immediately, without any preconditions, [to discuss a plan] for a two-state solution. And I hope that Abu Mazen – Mahmoud Abbas – will have the wisdom and the courage to do what he failed to do when I proposed to achieve a solution, which was based on the '67 borders, with two states and say, 'Yes, I am ready to sit down with any prime minister of Israel.' And hopefully will be Bennett, or maybe Lapid, but whoever it is, he needs to say, 'I'm ready to do it.'"

"If they [Palestinian leaders] will have the guts to do it, the entire Middle East will change. And yes, I think that the agreement of the Arab Accords with the United Arab Emirates, and Bahrain, and Sudan, and Morocco. Though, in fact, we [Israelis] have a long relationship with Morocco, for maybe 25 years, I visited Morocco a few years ago, openly, and the country was absolutely incredible, and I love Moroccans, it's a great country."
OLMERT CALLS HIMSELF A "GREAT OPTIMIST," BELIEVES ISRAELIS AND PALESTINIANS WILL MAKE PEACE
"Look, I am a great optimist. First of all, I am one of the few who still firmly believe that there will be an agreement with the Palestinians, that it will be a two-state agreement, that the borders that will be safe will be more or less the ones that I proposed to Mahmoud Abbas in 2008, that the agreement would be more or less identical to what I proposed, because this is the only kind of agreement that could be signed."

"And I think that it will happen sooner than most people think. And there are two reasons for it. One is because it is essential for the Palestinians because they are becoming weaker. And I'm afraid, therefore, that from their point of view, the world is starting to become a little bit tired of dealing with this issue. And they may lose the sympathy and the support of large communities in the world if they will not show much more strength and courage and they will be more forthcoming towards a process of negotiation."

"And two, because this is in the interest of Israel to have this agreement. This is something that we must recognize. It is in our interest. We need this agreement because the only way that we can be real, genuine friends of the Palestinians is that we will separate from them. They have to have their own self-determination in the territories which are inhabited by Palestinians. And we have to respect this, and at the same time to cooperate with them."

"The partnership that I see in the future for Israelis and Palestinians will be extraordinary, outstanding and successful. Palestinians are a capable people. They can do things which will win them success and will win their welfare and quality of life, which they deserve. We can become their best supporters and their best partners. But for this, we need a leadership on their side, and a leadership on our side."

Joel C. Rosenberg is the editor-in-chief of ALL ISRAEL NEWS and ALL ARAB NEWS and the President and CEO of Near East Media. A New York Times best-selling author, Middle East analyst, and Evangelical leader, he lives in Jerusalem with his wife and sons.
Popular Articles
A message from All Israel News
Help us educate Christians on a daily basis about what is happening in Israel & the Middle East and why it matters.
For as little as $5, you can support ALL ISRAEL NEWS, a non-profit media organization that is supported by readers like you.
Donate to ALL ISRAEL NEWS
Latest Stories
Comments