FIRE HIM: If John Kerry really betrayed Israel to Iran – as Iran's Foreign Minister asserts – Biden should fire him immediately
Firestorm erupts over leaked audio recordings of Iran's Javad Zarif saying Kerry informed him that Israel struck Iranian interests 200 times in Syria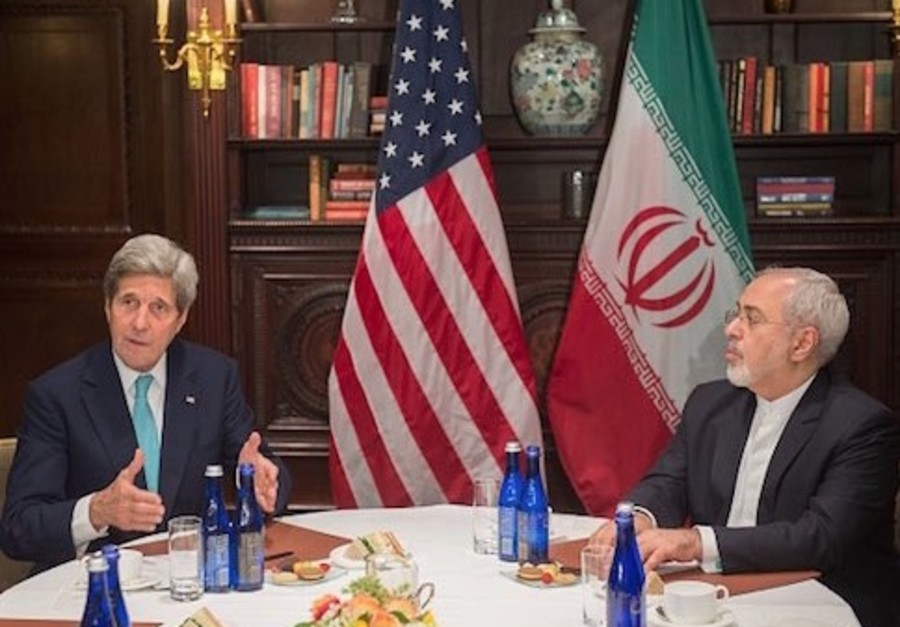 Then-U.S. Secretary of State John Kerry meets with Iranian Foreign Minister Mohammad Javad Zarif (Photo: screenshot Twitter)
JERUSALEM – Former U.S. Secretary Mike Pompeo is right.
A formal investigation must be launched.
But I'll go further – if it's true that John Kerry, the former secretary of state who is a newly-appointed member of President Joe Biden's National Security Council – betrayed Israel to Iran, then it is absolutely unconscionable and Biden should fire Kerry immediately.
On Sunday, The New York Times published a major story about "a leaked audiotape that offers a glimpse into the behind-the-scenes power struggles of Iranian leaders" in which "Foreign Minister Mohammad Javad Zarif said the Revolutionary Guard Corps call the shots, overruling many government decisions and ignoring advice."
"The recording of a conversation in March between Mr. Zarif and an economist named Saeed Leylaz, an ally, was not meant for publication, as the foreign minister can repeatedly be heard saying on the audio," the Times reported.
"A copy was leaked to the London-based Persian news channel, Iran International, which first reported on the recording and shared it with The New York Times."
Buried in this story was this shocking paragraph: "Former Secretary of State John Kerry informed him that Israel had attacked Iranian interests in Syria at least 200 times, to his astonishment, Mr. Zarif said."
What is not clear is whether Zarif is claiming this happened while Kerry was secretary of state, or while Kerry was a private citizen.
Kerry denies it ever happened.
"This never happened, either when I was Secretary of State or since," he tweeted. 
But Zarif's assertion has created a firestorm in Washington, in part because it is not an allegation or an attack by Zarif. It something he apparently said to someone in confidence.
What would have been his motive to lie in that discussion?
Democrats, so far, are saying nothing.
Pompeo is calling for an immediate and formal investigation of Kerry.
"What I've said for years [is] that [Zarif] continued to engage with former Secretary of State Kerry on policy matters after Kerry's public service and, according to Zarif, Kerry informed the Iranians of Israeli operations," Pompeo said Monday. "Before we cut a deal with Iran that reduces Americans' security, it would be good to know what the arrangement, if any, may have been between these two leaders."
Other Republicans are going further.
"John Kerry must resign immediately," said Rep. Jim Banks, the Indiana Republican and a member of the House Armed Services Committee. "The investigation should be retrospective."
"People are talking about treason — and I don't throw that word around a lot," said Sen. Dan Sullivan, the Alaska Republican, who also called on Kerry to resign. "John Kerry does all kinds of things that I can't stand. But this is the one that broke the camel's back."
"This disgusting is on many levels," tweeted former U.S. Ambassador to the United Nations Nikki Haley. "Biden and Kerry have to answer for why Kerry would be tipping off Iran, the number one sponsor of terror, while stabbing one of our greatest partners, Israel, in the back."
"If this tape is verified, it would signal catastrophic and disqualifying recklessness by Envoy Kerry to Foreign Minister Zarif that endangered the safety of Americans and our allies," said Senator Ted Cruz, the Texas Republican and former presidential candidate. "And it would be consistent with his long pattern of empowering Iran's regime. Kerry poured hundreds of billions of dollars into the Ayatollah's terrorist bank accounts, was a close confidant with Zarif during the Obama administration, and was caught repeatedly meeting with him during the Trump administration (notwithstanding the Logan Act) – and has never publicly accounted for what they discussed."
Israeli officials have yet to comment on the controversy.

Joel C. Rosenberg is the editor-in-chief of ALL ISRAEL NEWS and ALL ARAB NEWS and the President and CEO of Near East Media. A New York Times best-selling author, Middle East analyst, and Evangelical leader, he lives in Jerusalem with his wife and sons.
A message from All Israel News
Help us educate Christians on a daily basis about what is happening in Israel & the Middle East and why it matters.
For as little as $5, you can support ALL ISRAEL NEWS, a non-profit media organization that is supported by readers like you.
Donate to ALL ISRAEL NEWS
Current Top Stories
Comments