FAILING GRADE: Biden approval rating hits record low and barely 33% trust his handling of Putin – dismal marks ahead of first State of the Union address
"The voters see the invasion of Ukraine by Russia as directly tied to the withdrawal from Afghanistan and the perception that Joe Biden is a weak president," says a Democratic pollster
DENVER—Can you remember an American president who had a worst first year in office than Joe Biden? 
Neither can I. 
Neither can most Americans. 
In fact, by every metric, the American people are giving Biden a failing grade for his first year in power. 
PLUNGING POLL NUMBERS
At 9 p.m. eastern time tonight, Biden will deliver his first State of the Union address.
He will try to paint a rosy picture, claiming that America is finally on the right track due to his leadership.
But that's not how most Americans see it.
In poll after poll over the past three months, Biden keeps hitting one record low after another. 

MOST AMERICANS BELIEVE THEIR COUNTRY IS GOING IN THE WRONG DIRECTION
I'm not trying to be a partisan here – just truthful. 
The numbers tell a dismal story for the White House. 
Nearly two out of three Americans (62%) say their country is heading in the wrong direction, according to the Real Clear Politics average of recent polls. 
Only 30% say America is going in the right direction, while the rest aren't sure.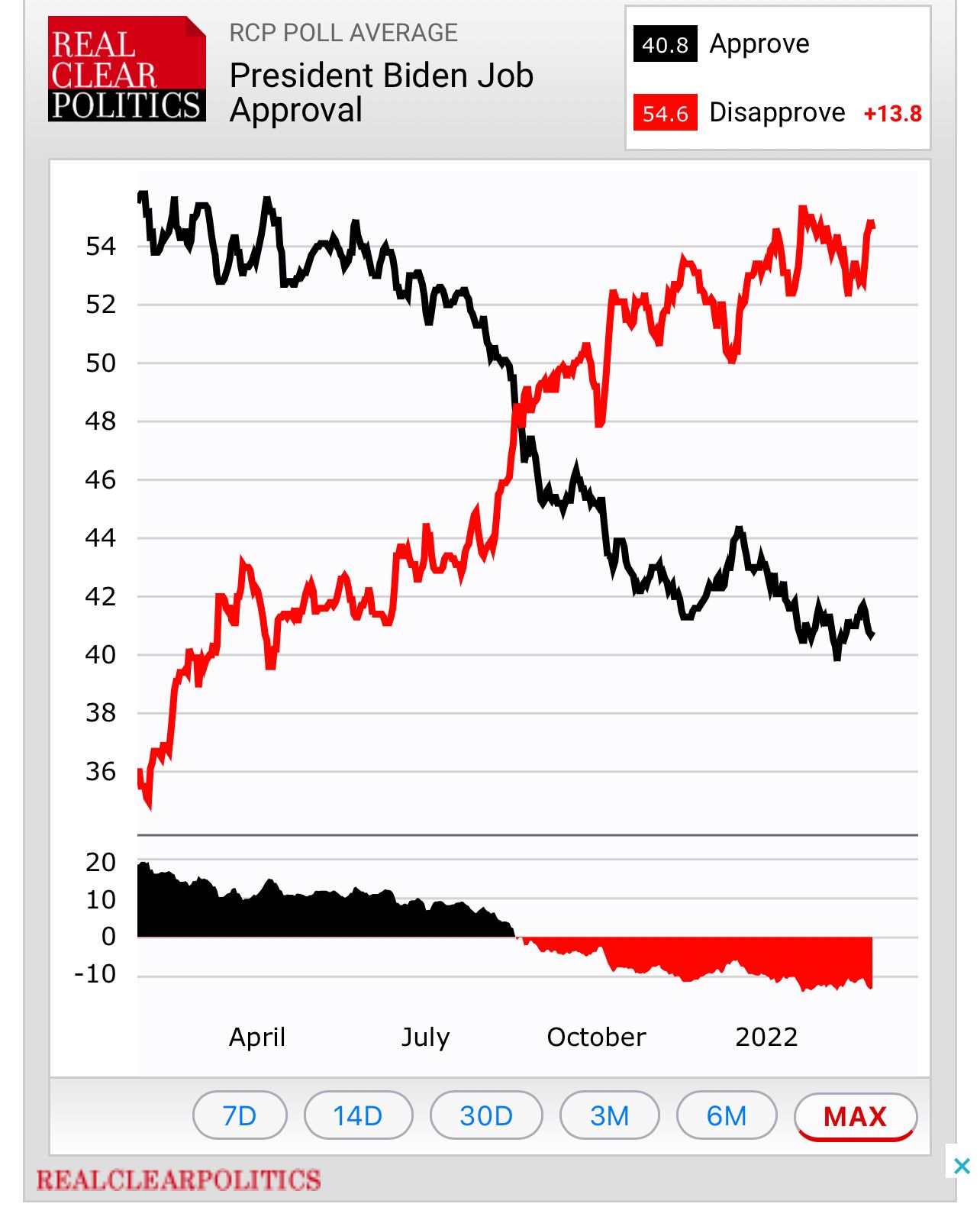 ONE REASON: SKYROCKETING INFLATION
There are several reasons for deep American pessimism.
One of the most important is how rapidly prices of almost everything have shot to the moon since Biden took office.
Overall inflation is up 7% over the past 12 months, the biggest annual jump in 40 years (since 1982).
Food prices alone have shot up 7.5% over the past 12 months, according to the U.S. government's Bureau of Labor Statistics, which noted in February that "by far the largest increase was…for meats, poultry, fish, and eggs, which rose 12.2% over the year."
Electricity rates are up 11%.
Gasoline prices are up 40%.
Used car and trucks are up over 40%.
And fuel oil prices are up 46%.
Americans are seeing the price of almost everything rise under Biden, they know it wasn't happening under the previous administration, and they're growing worried – and angry. 
True, the economy grew by 5.7% last year, the fastest rate since 1984. But most Americans know this isn't really new growth but the country trying to rebound after the COVID shutdowns. 
ANOTHER REASON: SKYROCKETING PERSONAL DEBT
Americans are also deeply worried about their personal finances.
With the prices of everything from homes to cars to food to gas going up, up, up, Americans are borrowing more and more money.
In fact, household debt in the U.S. rose by more than $1 trillion in 2021.
"Americans' holiday shopping and end-of-the-year purchases tend to push credit card balances up – but even so, Americans still spent big on their credit cards last year," reports Fortune magazine. 
The magazine notes that "during the last three months of 2021, credit card balances increased by $52 billion to $860 billion – the largest quarterly increase in the 22-year history of the data."
Soaring personal debt creates anxiety as people wonder if they'll have enough money to pay it off. 
YET ANOTHER REASON: SOARING FEDERAL DEBT
Another reason Americans believe their country is on the wrong track and that they don't approve of Biden's leadership is the massive overspending Biden is doing.
Can you guess how much Washington spent over and above what the Treasury took in last year in taxes?
Go ahead – take a guess.
The U.S. budget deficit in 2021 totaled $2.77 trillion — that's right, trillion, with a "t."
PLUS: AMERICANS DON'T APPROVE OF BIDEN'S HANDLING OF FOREIGN POLICY, ESPECIALLY RUSSIA 
Biden came into office boasting that he had 50 years of foreign policy experience and would correct all the mistakes he said Donald Trump was making around the world.
Then he single-handedly surrendered Afghanistan to the Taliban terrorists last August, just before the 20th anniversary of the 9/11 attacks. 
If that weren't bad enough, Biden began begging the Iranian terrorist to re-enter the disastrous and dangerous nuclear deal he and President Barack negotiated in 2027.
Then Biden did practically nothing to stand with the citizens of Ukraine and stop Russian President Vladimir Putin from invading our democratic ally. 
And even as the world rallies to provide Ukraine weapons and money and medical supplies and political and diplomatic support, Americans don't think Biden is doing nearly enough to help Ukraine. 
And they're right.
A new Washington Post-ABC News poll finds only one in three Americans say they approve of the president's handling of the Russia-Ukraine situation, reports The Hill newspaper.
Ouch.
Nearly half (47%) say they disapprove of Biden's handling of the war in Ukraine, while 20% say they have no opinion.
"Close to half of Americans polled – 48% – also said that they believed America's leadership in the world had gotten weaker under Biden," The Hill reported. "Meanwhile, 23% said they believed it had gotten stronger and 26% said they believed it had stayed the same."
AMERICANS THINK BIDEN IS BEING TOO WEAK TOWARDS PUTIN
A whopping 64% of Americans say Biden has been "too lenient" with Putin, according to a Harvard CAPS-Harris Poll survey released Friday and reported by The Hill newspaper. 
Only 31% think he's handling Putin "just right," while 5% say he's been "too tough."
"The voters see the invasion of Ukraine by Russia as directly tied to the withdrawal from Afghanistan and the perception that Joe Biden is a weak president," said Democratic pollster and strategist Mark Penn.
Dritan Nesho, co-director of Harvard CAPS-Harris poll, added that, "Voters believe the Biden administration can and should do more to protect Ukraine. They see the sanctions so far as too weak and ultimately ineffective, and a majority say the United States should defend Ukraine in case of a full Russian invasion – including a majority of Democrats. A stronger posture appears to be both the right policy and good politics for the administration."
PRAY FOR THE PRESIDENT
Partisans who love Biden will despair over such numbers.
Partisans who can't stand Biden will be tempted to gloat.
As Evangelical Christians, we all have our personal views, but the Bible commands us to pray for our leaders.
"Pray for kings and all who are in authority, so that we may lead a tranquil and quiet life in all godliness and dignity," the Apostle Paul wrote in I Timothy 2:1-2.
I hope you take that seriously.
I certainly do.
The world is too dangerous – and America is too close to implosion – to ignore, explain away or cheer Biden's failures.
Too much is at stake.
Israel certainly needs the U.S. to be strong rather than weak, at home and abroad.
We all do. 
Let us, therefore, pray daily that the Lord grants Mr. Biden the wisdom and courage and physical strength and stamina he needs to lead the U.S. and the world in the right direction.

Joel C. Rosenberg is the editor-in-chief of ALL ISRAEL NEWS and ALL ARAB NEWS and the President and CEO of Near East Media. A New York Times best-selling author, Middle East analyst, and Evangelical leader, he lives in Jerusalem with his wife and sons.
A message from All Israel News
Help us educate Christians on a daily basis about what is happening in Israel & the Middle East and why it matters.
For as little as $5, you can support ALL ISRAEL NEWS, a non-profit media organization that is supported by readers like you.
Donate to ALL ISRAEL NEWS
Current Top Stories
Comments