Poll: 62% of Americans say Putin would not have invaded Ukraine if Trump were president
Trump: I stand as the only president of the 21st century on whose watch Russia did not invade another country
Former U.S. President Donald Trump speaks during the Conservative Political Action Conference (CPAC) in Orlando, Florida, U.S. February 26, 2022. REUTERS/Octavio Jones
Most American voters agree with former President Donald Trump that Russian President Vladimir Putin would not have invaded Ukraine if Trump was still in office. 
According to a new survey released on Friday by Harris Poll with the Harvard Center for American Political Studies, 62% of respondents said that if Trump were in the White House, the attack on Ukraine would not have happened. This includes 85% of Republicans, 63% of Independents and 38% of Democrats.
However, 38% of U.S. voters believe that Putin would have invaded anyway regardless of who the sitting U.S. president was.   
In addition, 59% of respondents think that Putin invaded Ukraine because he recognizes weakness in U.S. President Joe Biden; 41% disagreed that it was even a factor in the Russian president's calculations. 
Trump addressed the situation in Ukraine during his speech Saturday night at the Conservative Political Action Conference (CPAC) in Orlando, Florida. Trump has been saying that this invasion would not have happened if he were still president. 
"Under Bush, Russia invaded Georgia. Under Obama, Russia took Crimea. Under Biden, Russia invaded Ukraine. I stand as the only president of the 21st century on whose watch Russia did not invade another country," Trump noted.
"When you have a weak president who is not respected by other nations, you have a very chaotic world and the world hasn't been this chaotic since WW2," the former president said. "I have no doubt that Putin took the decision to invade Ukraine only after witnessing the pathetic withdrawal from Afghanistan."
"Joe Biden has turned calm into chaos, competence into incompetence, stability into anarchy and security into catastrophe. The Russian attack on Ukraine is appalling. It's an outrage and an atrocity that should never have been allowed to occur. We are praying for the proud people of Ukraine. God bless them all," Trump added. 
The former president emphasized that it was his administration that gave Ukraine the Javelins (anti-tank busters) that the Obama administration did not approve, and Biden only recently delivered. 
"The previous administration was sending blankets. Let History so note!" Trump said in a post on his Telegram account on Monday.
Trump implied that sanctions taken by the West against Russia are not enough to deter Putin, who has been used to sanctions for decades. 
"The problem is not that Putin is smart which of course he is, but the real problem is that our leaders are dumb," Trump said.
The 45th president told the enthusiastic CPAC audience how as president, he predicted a long time ago the consequences of Europe's dependency on Russian energy sources. He described an absurd situation in which the longer the war gets, the higher gas prices will climb – benefiting Russia. 
When Trump left office, the price of oil per barrel stood on $36, whereas for a short period of time this week the price topped $105 – the highest since 2014. As the Biden administration faces domestic backlash for diminishing America's energy independence, GOP members call on the White House to reverse course, roll back restrictions, and reopen the Keystone XL pipeline. 
"They canceled many oil and gas leases because of the environment... while he enriched Putin by approving the Russian pipeline, which has been at the core of much of the problem we have right now," Trump said referring to Biden. 
At CPAC, Trump also recounted how he once gave former German Chancellor Angela Merkel a white napkin that was on his desk. When Merkel asked why he was giving it to her, Trump explained that due to her country's heavy reliance on Russian gas and Germany's history with Russia, she might need to wave a white flag in the face of a war. 
"If you ever have a conflict with Russia, you will be able to wave the white flag and surrender," Trump said, waving his hand.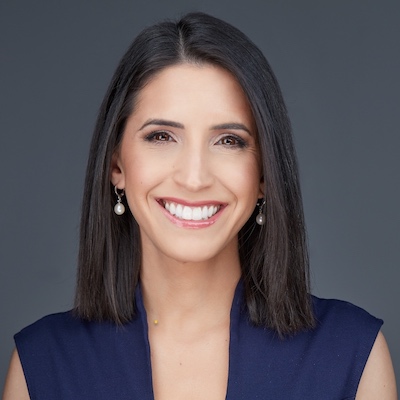 Tal Heinrich is a senior correspondent for both ALL ISRAEL NEWS and ALL ARAB NEWS. She is currently based in New York City. Tal also provides reports and analysis for Israeli Hebrew media Channel 14 News.
A message from All Israel News
Help us educate Christians on a daily basis about what is happening in Israel & the Middle East and why it matters.
For as little as $5, you can support ALL ISRAEL NEWS, a non-profit media organization that is supported by readers like you.
Donate to ALL ISRAEL NEWS
Current Top Stories
Comments