Facing utter annihilation, Zelenskyy pleads with Congress, Biden to impose no-fly zone, ban all Russian oil imports, declare Putin a 'war criminal' and provide Ukraine with fighter jets
But will Washington act boldly and in time?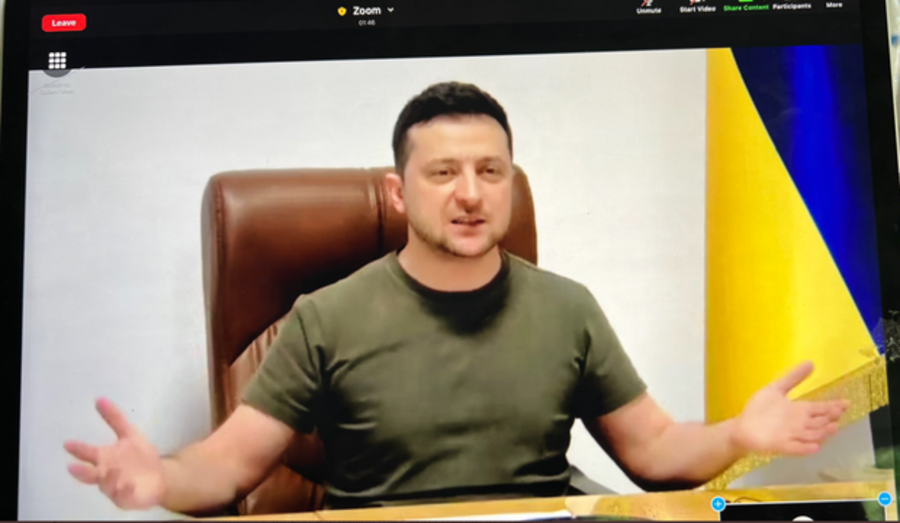 Ukrainian President Volodymyr Zelenskyy talks with U.S. lawmakers over Zoom, Mar. 5, 2022. (Photo: Screenshot via tweet by Sen. Rubio Marco)
Exhausted, defiant and facing the very real possibility of total annihilation and the enslavement of his nation's 43 million citizens, Ukrainian President Volodymyr Zelenskyy is pleading with Washington to provide far more help than has been forthcoming so far.
On Saturday, Zelenskyy spoke by Zoom to nearly 300 members of the House and the Senate.
Afterwards, he spoke by phone for 30 minutes with U.S. President Joe Biden.
He told them that time is running out to save Ukraine and save Europe from Russian President Vladimir Putin's madness.
He also gave them a list of urgent requests. 
The big question: is Washington really listening?
More importantly, will leaders in Washington – Biden and Congress – act quickly and decisively enough to save Ukraine from Czar Putin's savagery? 
To be honest, it's not looking good.
So, far the U.S. seems to be providing more rhetoric than tangible results and that's why Zelenskyy was so emphatic and emotional on the calls.  
WHAT EXACTLY HAPPENED ON THE CALL?
Several senators briefed their constituents after the call.
Among them were Senate Majority Leader Chuck Schumer and senators Marco Rubio, Steve Daines and Lindsey Graham.
"Here are the takeaways," Graham said in a video on Twitter. "President Zelenskyy and the Ukrainian people are just awesome. They're willing to fight for their freedom to the death, if they have to."
"[We need to] rise up and stop this madness [by Putin] by any means possible," he said. 
NEEDED: A NO-FLY ZONE OVER UKRAINE
"Zelenskyy spoke on a Zoom video call with more than 280 senators and House members," reported Fox News. "He wore a military green T-shirt, spoke aside a Ukrainian flag and appealed to the U.S. lawmakers for more help."
"He spoke from the heart," Sen. Steve Daines, the Montana Republican, said on Fox News Channel, adding that Zelenskyy also urged the U.S. and NATO to impose a no-fly zone over the skies of Ukraine to prevent Putin's air force from having dominance. 
"The meeting comes as NATO rejected a Zelenskyy request for a no-fly zone over Ukraine to provide air cover for the Ukrainian people," Fox reported. "Zelenskyy slammed the decision, but NATO Secretary-General Jens Stoltenberg warned that having alliance planes over Ukrainian airspace could spark a new world war."
NEEDED: FIGHTER JETS AND DRONES
Among Ukraine's most pressing needs, Sen. Graham explained, are fighter jets and drones that can be used to immediately attack Russian forces.
Kyiv is not asking for advanced American jets like F-22s or the F-35 stealth strike fighter. Instead, they're asking for aging, surplus Russian-made fighters already in NATO's arsenal from the pre-Cold War days.
"There are planes available in NATO nations – MiGs – that the Ukrainians can fly," Graham noted. "They're waiting to be delivered [but] apparently, the United States is part of the problem, not the solution."
That is, Biden thus far refuses to authorize the jets to be delivered to Kyiv.
"With planes and drones, President Zelenskyy indicated that Ukraine would be a more effective fighting force," Graham said. "So, let's get them the planes and drones they need."
"President Zelenskyy made a desperate plea for Eastern European countries to provide Russian-made planes to Ukraine," Senate Majority Leader Chuck Schumer, the New York Democrat, said after the call. "These planes are very much needed. And I will do all I can to help the administration to facilitate their transfer."
NEEDED: BAN RUSSIAN OIL IMPORTS
"The president emphasized that the oil and gas sector of Russia needs to be sanctioned," Graham continued. 
"Anything that could hurt the Russian economy will help the Ukrainian people and may make this war more difficult for Putin."
NEEDED: ASK CREDIT CARD COMPANIES TO STOP OPERATING IN RUSSIA
The Ukrainian leader asked Washington to "cut off VISA and MasterCard privileges to the Russian people."
"Even though Putin is our enemy, the Russian people need to feel this for our response to be effective," Graham said. 
Shortly after the call, VISA and MasterCard announced that they were, in fact, suspending their operations in Russia.
NEEDED: DECLARE PUTIN A WAR CRIMINAL 
"There were numerous examples of war crimes provided by President Zelenskyy," Graham added.
"Mayors have been captured, imprisoned and murdered. There's wholesale attacks on civilian targets – random, indiscriminate."
"The Putin war machine, in my view, is in full blown war crimes mode. The President indicated that labeling Putin a war criminal is the right thing to do, and he thinks would help tremendously."
The senator concluded by promising, "I will do everything I can to be the voice of the Ukrainian people on multiple fronts, particularly in the area of war crimes [against] the Russian people."

Joel C. Rosenberg is the editor-in-chief of ALL ISRAEL NEWS and ALL ARAB NEWS and the President and CEO of Near East Media. A New York Times best-selling author, Middle East analyst, and Evangelical leader, he lives in Jerusalem with his wife and sons.
A message from All Israel News
Help us educate Christians on a daily basis about what is happening in Israel & the Middle East and why it matters.
For as little as $5, you can support ALL ISRAEL NEWS, a non-profit media organization that is supported by readers like you.
Donate to ALL ISRAEL NEWS
Current Top Stories
Comments