EXCLUSIVE: How will Biden interact with new Netanyahu government? US Amb. Nides gives ALL ISRAEL NEWS first media interview since Israel's dramatic elections
U.S. Ambassador to Israel Tom Nides and Benjamin Netanyahu (Photo courtesy U.S. Embassy in Israel)
JERUSALEM—In his first interview with any media outlet since the Israeli elections last week, U.S. Ambassador Tom Nides sat down with me moments ago for a wide-ranging conversation.
It was also his first interview with any Christian media outlet since being confirmed as President Joe Biden's emissary to the Jewish State exactly one year ago. 
We covered a lot of ground, from the huge "comeback" victory of Benjamin "Bibi" Netanyahu, to the rapid rise of the enormously controversial and allegedly "racist" and "extremist" Religious Zionism party, to the growing Iran threat and the prospects of an historic Israeli-Saudi peace deal.
On this Thursday night's edition of THE ROSENBERG REPORT, I'll use several excerpts of our conversation.
The show airs at 9 p.m. eastern on TBN, the world's most watched Christian TV network.
On next week's show, I will share the full interview.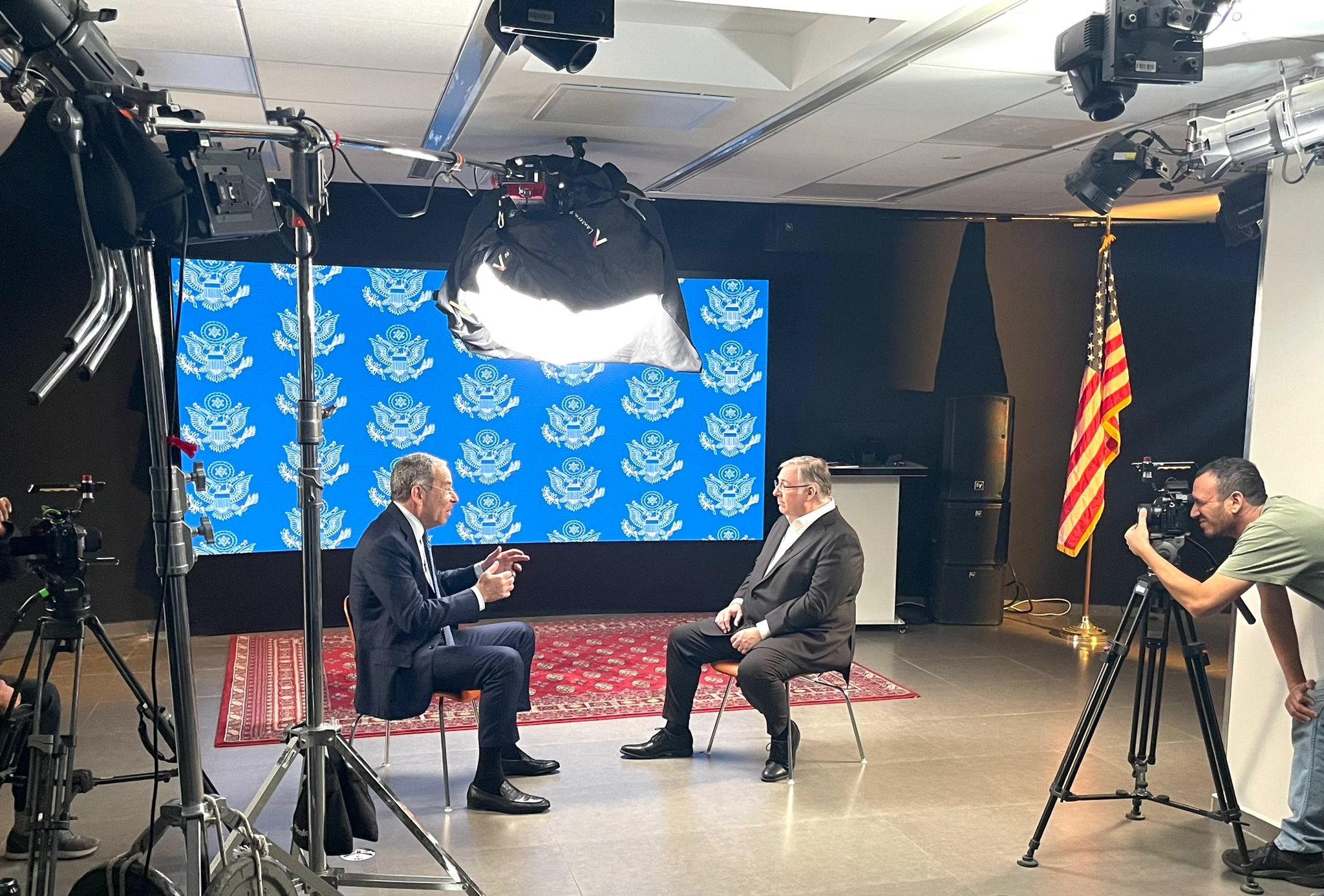 Joel C. Rosenberg interviews U.S. Ambassador to Israel Tom Nides for The Rosenberg Report on TBN, Nov. 8, 2022 (Photo: TBN/ALL ISRAEL NEWS)
But given that Nides made news, I don't want to wait that long to share at least some of what he said.
I pressed the ambassador on the big question of the hour: How will Biden and his team interact with Bibi given that Religious Zionism leaders Bezalel Smotrich and Itamar Ben Gvir are likely to have Cabinet positions and that already several prominent U.S. lawmakers have warned Netanyahu not to do so? 
There have also been reports in recent days that Secretary of State Antony Blinken and National Security Advisor Jake Sullivan are refusing to interact with Smotrich and Ben Gvir at all.
I pressed Nides on this, as well. 
Nides insisted that there is "an unbreakable bond" between the U.S. and Israel, regardless of who is in power.
It was a phrase he used repeatedly throughout our conversation.
Nides confirmed that Biden called Netanyahu last night to congratulate him, and that Nides himself made such a call, as well.
He characterized both calls as "warm" and "very friendly." 
He also vowed that Biden and his entire administration is ready and eager to work with the Netanyahu government on a full array of critically important issues.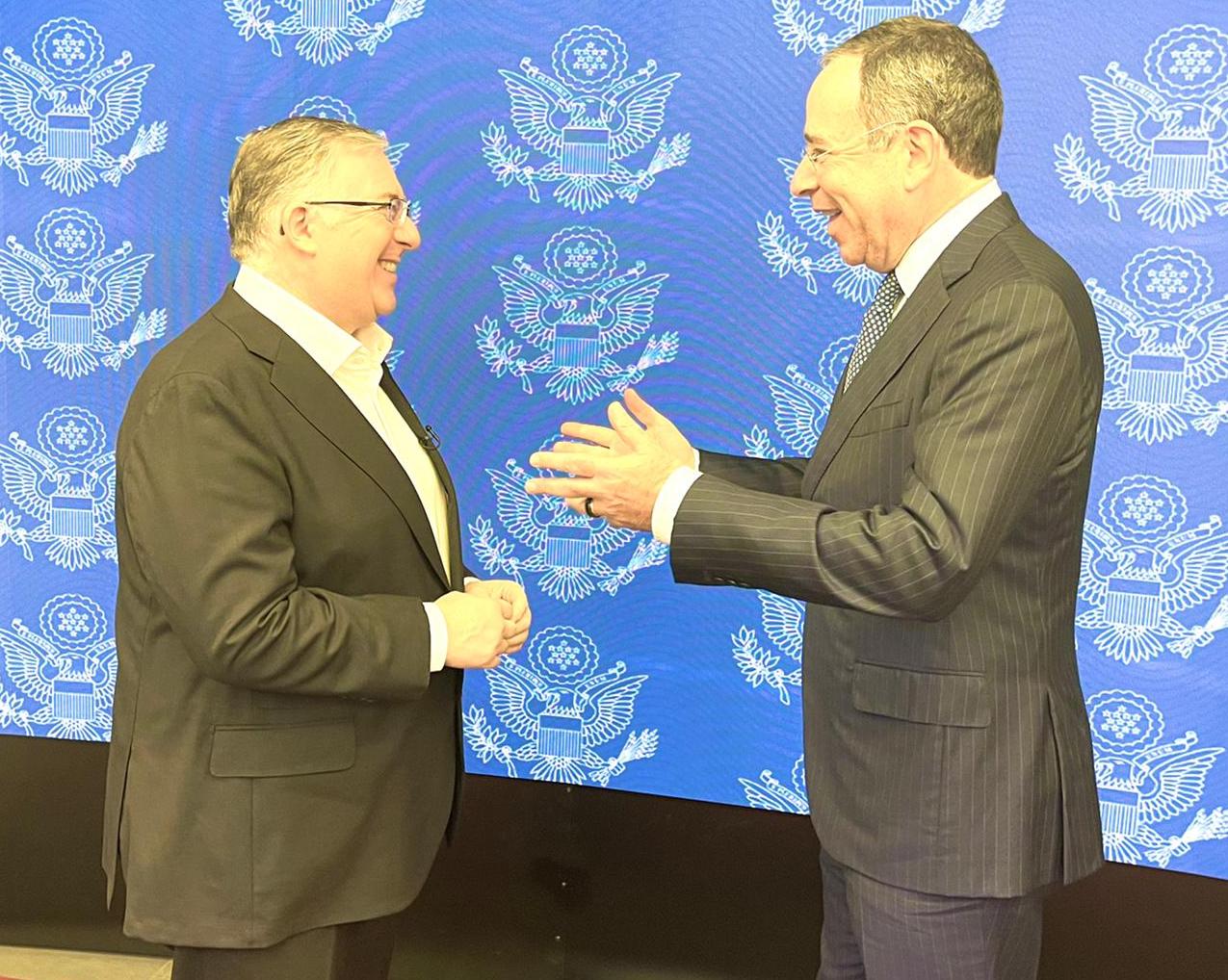 Joel C. Rosenberg talks with U.S. Ambassador to Israel Tom Nides, Nov. 8, 2022 (Photo: TBN/ALL ISRAEL NEWS)
Nides told me that it is "premature" to speculate on who will wind up in Netanyahu's government, much less who will serve in what Cabinet roles.
"Let's let things play out a bit," the ambassador said, indicating that the Biden team is not interested in prejudging Bibi's choices.
Nides said the White House, State Department and Pentagon are ready to work closely with Netanyahu on confronting Iran, and repeatedly underscored Biden's promise that he would "never allow Iran to have nuclear weapons."
I told him most Evangelicals are not comforted by such promises and deeply worry about the nuclear deal Biden has been negotiating with Tehran. 
Nides made more news on this and other matters. 
Can't wait to share more with you.
But that's my first dispatch for now.

Joel C. Rosenberg is the editor-in-chief of ALL ISRAEL NEWS and ALL ARAB NEWS and the President and CEO of Near East Media. A New York Times best-selling author, Middle East analyst, and Evangelical leader, he lives in Jerusalem with his wife and sons.
Popular Articles
A message from All Israel News
Help us educate Christians on a daily basis about what is happening in Israel & the Middle East and why it matters.
For as little as $5, you can support ALL ISRAEL NEWS, a non-profit media organization that is supported by readers like you.
Donate to ALL ISRAEL NEWS
Latest Stories