Evangelical leader, coordinating a network of 14,000 US pastors in 50 states, joins ALL ISRAEL NEWS Advisory Board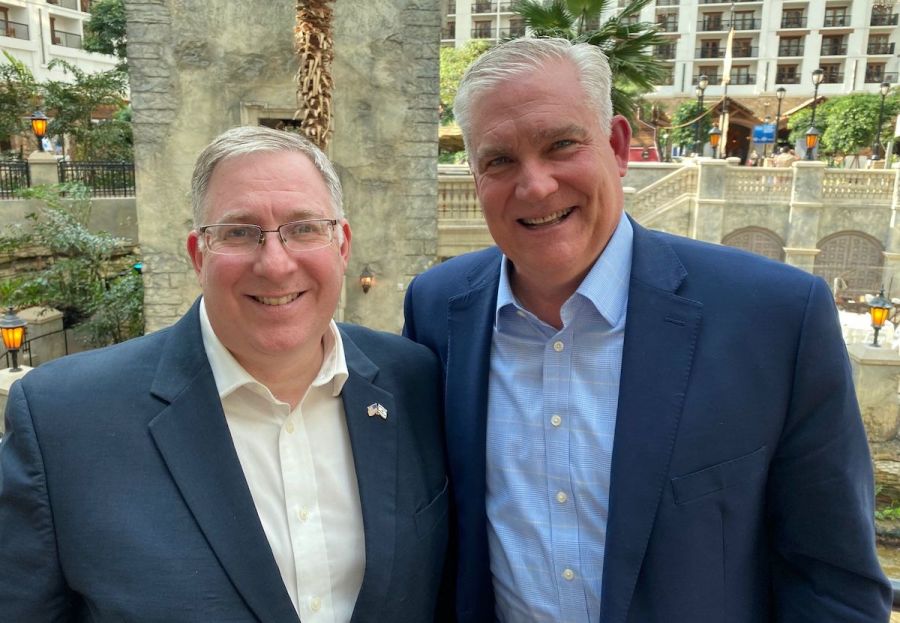 Joel C. Rosenberg and Chad Connelly (Photo: ALL ISRAEL NEWS)
JERUSALEM—I'm excited to share the news that another prominent Evangelical Christian leader has joined the ALL ISRAEL NEWS Advisory Board.
Based in South Carolina, Chad Connelly runs a non-profit organization called Faith Wins, "dedicated to educating, activating and mobilizing faith leaders, helping them leverage their influence and impact within the governmental and political arena."
He coordinates a network of some 14,000 American pastors across all 50 states, educating them on public policy issues and mobilizing them to pray.
Passionate about the importance of advancing peace, national security and religious freedom in the region, Connelly is a strong supporter of Israel and has made Israel one of his priority issues in communicating with these pastors.
Last September, Connelly organized a conference call with pastors and ministry leaders in 39 states in which I interviewed former Vice President Mike Pence about my just-released new book, "Enemies and Allies: An Unforgettable Journey inside the Fast-Moving & Immensely Turbulent Modern Middle East." We also discussed Pence's thoughts about the latest threats in the Middle East, and the exciting opportunities that have opened up because of the Abraham Accords, which he was deeply involved in.
The following is a transcript of the interview I recently did with him, lightly edited for clarity.
ROSENBERG: Chad, I'm so grateful that you have accepted my invitation to join the ALL ISRAEL NEWS Advisory Board. Why have you agreed to join us and advise us?
CHAD CONNELLY: Well, I'm incredibly honored to be asked to be on your ALL ISRAEL NEWS Board! I've read every one of your books and have followed your career, to call you friend is an amazing honor. You and I share a love for Israel that comes from our shared faith in God. Scripture is clear that we as Christians are to love and bless Israel and her people and the more I work to grow my faith walk, and the more I read the Word, the more I want to make sure that God's people the world over have an understanding and appreciation for God's chosen people and land! When I travel and speak in pastor groups, issues in Israel are always a topic of conversation. The depth of those issues is lacking and I want to be a part of improving that in my circles. 
ROSENBERG: You work with Evangelical pastors and ministry leaders in all 50 states, and you've built a grassroots network of some 14,000 pastors that you help educate, equip and mobilize when it comes to critical public policy issues facing the Church, urgent prayer issues, and so forth. How can ALL ISRAEL NEWS be useful to these pastors and ministry leaders?
CONNELLY: ALL ISRAEL NEWS is now – and will be – a growing part of what I use to communicate international and specifically Middle East and Israel issues to my pastor buddies. They have lots of questions and your effort to be a dedicated source is unique and special and on target to give them real answers that the mainstream press just doesn't cover. 
ROSENBERG: Why did you agree to organize the conference call last Fall with former Vice President Pence, and how might we use conference calls like these in the future to help educate folks about what's happening in Israel and the Middle East and how they can pray?
CONNELLY: Joel, we were so excited to host you and Vice President Pence on the national conference call. We had a great turnout, as you know, with pastors from that many states with pretty short notice given the vice president's schedule. Before COVID even hit, we began doing Zoom and conference calls, so it was a big part of our program all year long to help inform pastors on critical topics. We've found they were very effective and we had U.S. Senators and Congressmen, key leaders from national organizations and positions, and other thought leaders who shared on those calls. So, having Vice President Pence and you on that one was a great topping to those previous calls. We believe in them and can see us doing quite a few going forward. 
ROSENBERG: When are we going to get you over here to Israel, Chad, now that Israel is re-opening to tourists?
CONNELLY: I am so looking forward to coming back to Israel! You and I talked about getting key pastor leaders there and all you need to do is say the word brother!
ROSENBERG: Great, let's do something soon – welcome aboard!

Joel C. Rosenberg is the editor-in-chief of ALL ISRAEL NEWS and ALL ARAB NEWS and the President and CEO of Near East Media. A New York Times best-selling author, Middle East analyst, and Evangelical leader, he lives in Jerusalem with his wife and sons.
A message from All Israel News
Help us educate Christians on a daily basis about what is happening in Israel & the Middle East and why it matters.
For as little as $5, you can support ALL ISRAEL NEWS, a non-profit media organization that is supported by readers like you.
Donate to ALL ISRAEL NEWS
Current Top Stories
Comments