EXCLUSIVE: Evangelical bishop says Israel must deal with attacks, discrimination against Christians coming from 'radicalized' Jewish groups
Bishop Plummer says "time for silence is over;" urges dialogue and stepped-up support from current Israeli government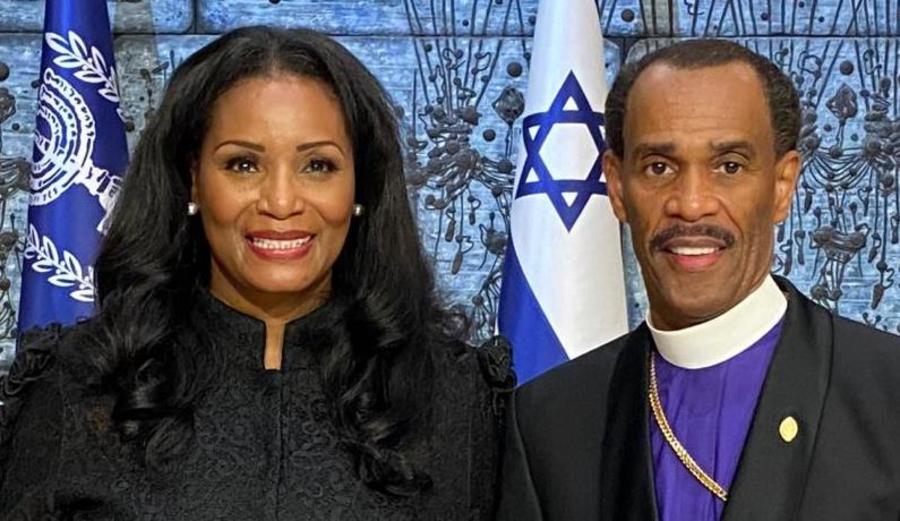 Church of God in Christ Bishop of Israel Glenn Plummer and First Lady Ruth Pauline Plummer, Ph.D. at the Israeli president's New Year's reception, Dec. 29, 2021. (Photo: courtesy)
An Evangelical bishop backed a statement issued by the heads of traditional Christian churches in the Holy Land, saying that the time for remaining silent is over in the face of radicalized hatred and attacks on Christians and their holy places.
"There's a verse in the Book of Ecclesiastes, that King Solomon wrote, that 'There's a time to be silent and there's a time to speak up,'" Bishop Glenn Plummer told ALL ISRAEL NEWS. "It has been, in my opinion, a rather long period of silence concerning the problems here against Christian believers and against Jewish Messianic believers."
Plummer, the Bishop of Israel for the Church of God in Christ (COGIC) – the world's largest Pentecostal denomination – is now breaking that silence.
Plummer, spoke with ALL ISRAEL NEWS after attending a New Year's reception hosted by Israeli President Isaac Herzog on Wednesday, where Herzog welcomed the leaders of several denominations in Israel – from Catholic and Coptic to Greek and Armenian Orthodox along with leaders of Evangelical ministries in the land.
The reception came a few weeks after these same denominational leaders issued a statement condemning racist acts against Christians in Israel, including "countless incidents of physical and verbal assaults against priests and other clergy, attacks on Christian churches, with holy sites regularly vandalized and desecrated, and ongoing intimidation of local Christians who simply seek to worship freely and go about their daily lives."
We have reported on several such incidents, here and here.
Plummer and his wife – who are both on our Advisory Board – experienced an onslaught of personal attacks when they first came to Israel over a year ago. One man, Rabbi Tovia Singer, led a campaign of incitement against the couple which garnered tens of thousands of views on social media. Plummer said police even arrested a man who planned to kill the couple.
The bishop also cited another example: A pastor of African migrants in Tel Aviv was threatened by Orthodox Jews who arrived in front of the church in two full buses. The church never opened its doors.
While the Plummers did not publicize their own plight at the time, he said the time has now come for the government to address its citizens who have "been radicalized against Christianity in general and against Christians in the land."
"The White Evangelical leadership and organizations have tried to keep it quiet because they don't want backlash against Israel – our mutual adversaries will take that and use it against Israel," Plummer said. "But secondly, it's also out of fear. It's out of fear that if they take a public position, that these guys will show up at their door as well."
But Plummer said that as "Bishop of Israel for the largest Black church in the world, we know what discrimination and racism feels like in America."
"We stand with Israel. We support the people of Israel, the land of Israel and even the State of Israel under the God of Israel," Plummer said, but it is time to confront this hatred.
Plummer drew inspiration from Rabbi Joachim Prinz, who demonstrated along with Martin Luther King, Jr.
In a 1963 rally in Washington D.C., right before King himself gave his "I had a dream" speech, Joachim said: "When I was the rabbi of the Jewish community in Berlin under the Hitler regime, I learned many things. The most important thing that I learned under those tragic circumstances was that bigotry and hatred are not the most urgent problems. The most urgent, the most disgraceful, the most shameful and the most tragic problem is silence."
Plummer said now is the time for this conversation in Israel, confronting persecution against Christians and Messianic Jews alike.
"It is shameful, it is tragic and it is disgraceful and so I raise my voice with the Catholics, the Armenians, the Greek Orthodox, the Coptics," Plummer said.
The event at the President Herzog's home marked a shift, Bishop believes. He was encouraged that the president affirmed Israel's commitment to dialogue with Christian leaders and the fact that Interior Minister Ayelet Shaked was also present at the reception, signifying that the government is willing to address the issue.
"This new Israeli government doesn't need this charge that has been leveled against Israel in terms of bigotry, racism, hatred, and violence against Christians," he said.
"I celebrate the Israeli government dealing with this issue," Plummer said. "We celebrate the State of Israel no matter who is in power, but we appreciate this government responding to this deep dark secret going on."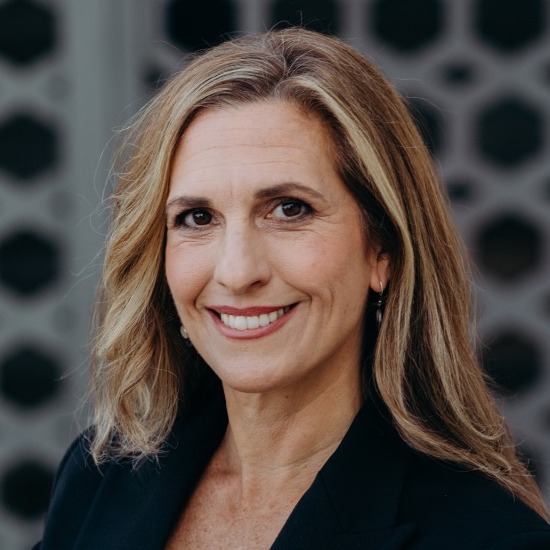 Nicole Jansezian was the news editor and senior correspondent for ALL ISRAEL NEWS.
A message from All Israel News
Help us educate Christians on a daily basis about what is happening in Israel & the Middle East and why it matters.
For as little as $5, you can support ALL ISRAEL NEWS, a non-profit media organization that is supported by readers like you.
Donate to ALL ISRAEL NEWS
Current Top Stories
Comments