Europe erupts in anti-Israel rallies around the continent; Merkel warns against anti-Semitic acts
In one gruesome comparison, banner shows Jesus being crucified: "Don't let them do the same thing today again"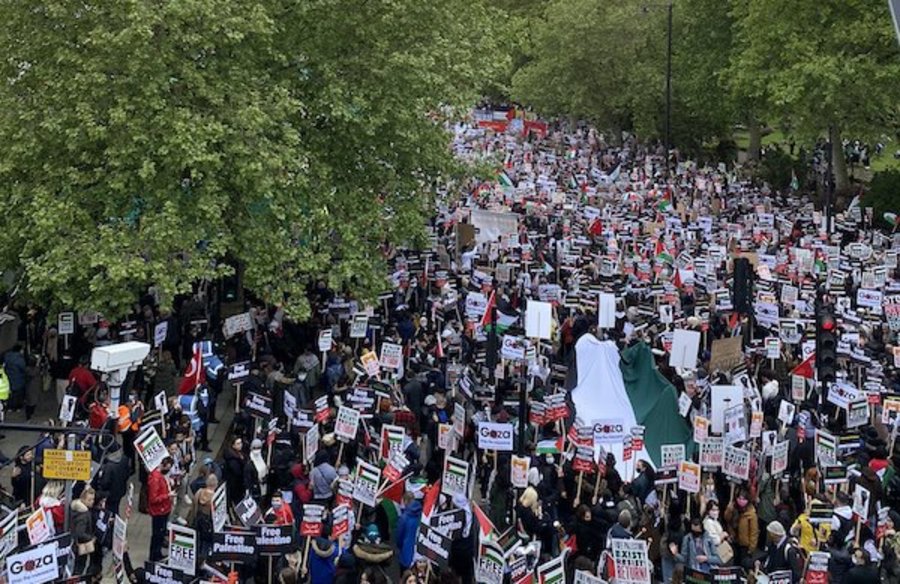 Pro-Palestinian protest in London, May 22, 2021 (Photo: Twitter)
While the latest war between Israel and Hamas ended with another ceasefire on Friday, anti-Semitic incidents have exploded around the world, especially in Europe and in the United States. 
Many even turned violent.
Ahead of the weekend's planned anti-Israel rallies, German Chancellor Angela Merkel warned against any display of anti-Semitic or racist behavior. Merkel stressed that anti-Semitic and racist expressions violate the laws of Germany. 
"Those who bear hatred towards Jews in the street, those who incite racial hatred put themselves outside our Basic Law," said Merkel. "Such acts must be punished severely." 
German police arrested 60 people at an anti-Israel demonstration in Berlin on Saturday, in which 100 police officers were injured. 
After the Holocaust, in which 6 million Jews were killed, modern Germany has assumed a special responsibility to combat anti-Semitism. Despite Merkel's strong stance against Jew-hatred, anti-Semitic slogans were chanted at rallies in different German cities. Israeli flags were burned and the entrance to a synagogue was stoned. 
Merkel stressed that the German constitution "guarantees the right to freedom of expression and peaceful assembly. But it offers no place for attacks on people of a different confession, no place for violence, racism or denigration" of ethnic and religious communities and their beliefs. 
Given the shadow of the Holocaust, German-Israeli ties are complex and sensitive. While Berlin has generally been supportive of the Jewish state, the German government has also been a major financial backer of radical leftist anti-Israel NGOs. 
Meanwhile in the United Kingdom, Israel's flag was dragged through the streets of London. According to the Palestinian Solidarity Campaign, which organized the huge rally, some 180,000 were reportedly in attendance. If true, it would be the largest anti-Israel rally in the history of the UK. High-profile individuals who addressed the crowd included former Labour Party leader Jeremy Corbyn and Labour lawmaker John McDonnell. 
McDonnell blasted Israel, calling it an "apartheid state."
"Yes, a ceasefire has been negotiated and we welcome a ceasefire," he said. "But let's be clear, there will be no ceasefire in our campaign to boycott, disinvest and sanction the Israeli apartheid state." 
The organizers behind the rallies officially deny that they promote anti-Semitism. However, during a similar anti-Israel rally in London last week, protesters were carrying anti-Semitic banners equating the Jewish state and Zionism with Nazism. Anti-Semitism was also clearly present at the huge May 22 rally where both the Jewish state and the Jewish people were demonized and dehumanized. 
One of the most explicit anti-Semitic banners showed a picture of Jesus being crucified, accompanied by the message "Do not let them do the same thing today again." 
The activist speaker Tariq Ali, who is an acquaintance of Corbyn, reportedly attacked "right-wing Israelis" by referring to the Holocaust when stating, "they have learned nothing from what happened to them in Europe. Nothing." 
Ali also blamed the Jewish people themselves for anti-Semitism, a classic anti-Semitic tactic. 
"They talk a lot about saying 'all those marching for Palestine are anti-Semites.' This of course isn't true," Ali said, according to the report. "Every time they bomb Gaza, every time they attack Jerusalem – that is what creates anti-Semitism." 
Unsurprisingly, Ali did not mention the fact that the Israeli military operations targeted armed terrorists in response to more than 4,000 Gaza rockets being fired at Israeli civilians. 
While Europe officially rejects anti-Semitism, anti-Jewish expressions tend to explode following Middle Eastern violence between Israel and terrorist organizations such as Hamas. While the largest rallies against Israel were held in Britain, France and Germany, manifestations against Israel and Jews also took place in Sweden, Denmark and Spain.
The anti-Semitic activity was not limited to offensive slogans and banners but included graffiti equating the Jewish state with Nazis.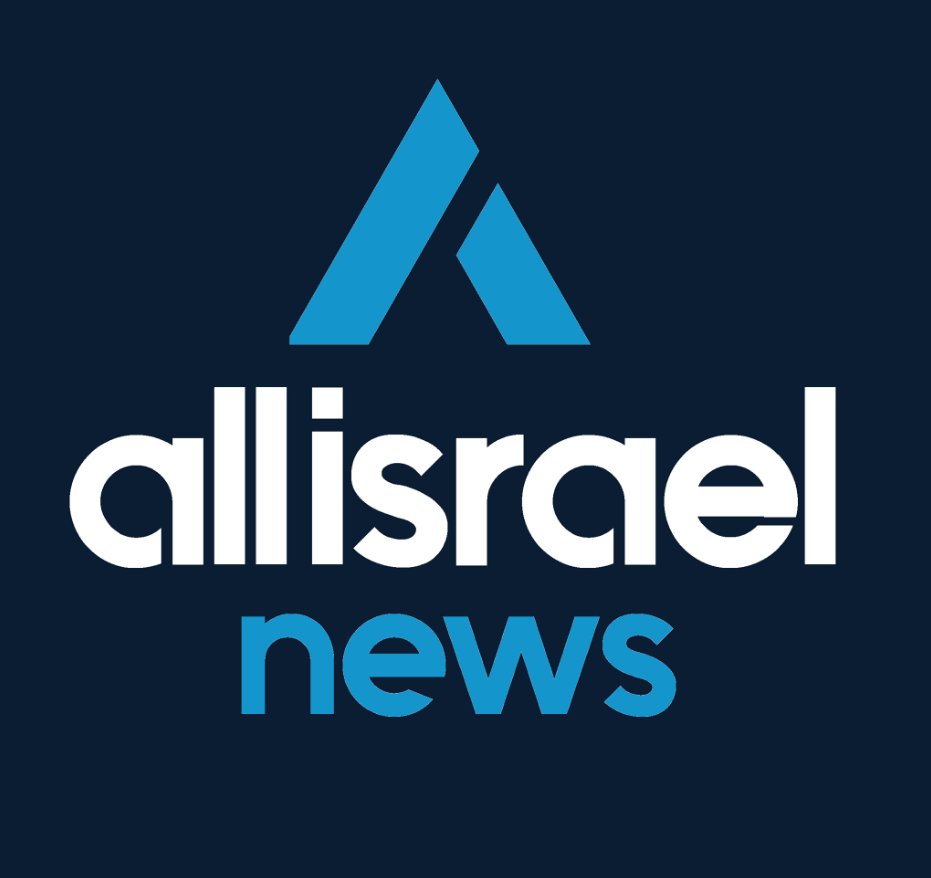 The All Israel News Staff is a team of journalists in Israel.
A message from All Israel News
Help us educate Christians on a daily basis about what is happening in Israel & the Middle East and why it matters.
For as little as $5, you can support ALL ISRAEL NEWS, a non-profit media organization that is supported by readers like you.
Donate to ALL ISRAEL NEWS
Current Top Stories
Comments