Israeli Election 2022 Roundup
Israeli election is less than one month away – but campaigning overshadowed by holidays
From laws to override the Supreme Court to a U.S. warning against extremism, here's what you need to know...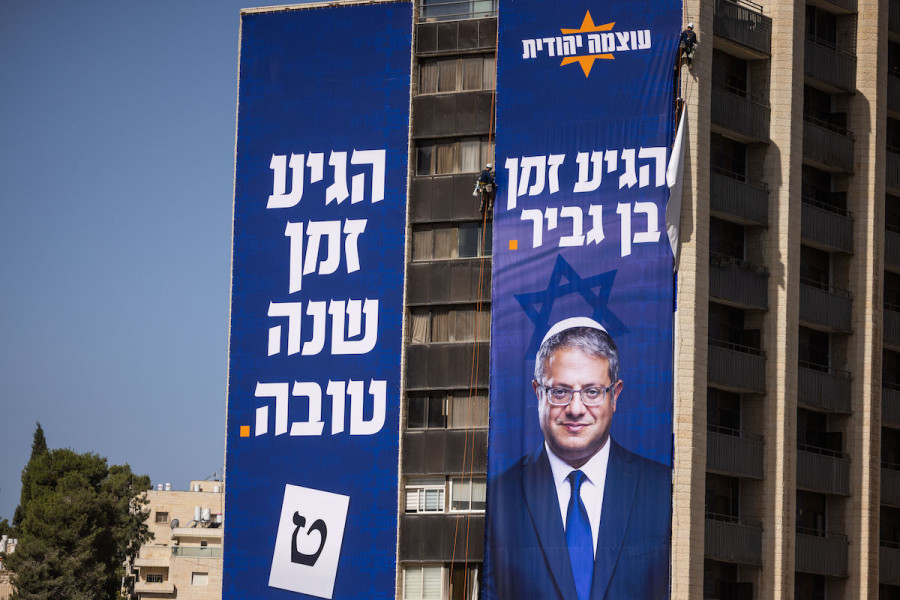 Workers hang a large election campaign poster of Otzma Yehudit head Itamar Ben Gvir in Jerusalem, Sept. 29, 2022. (Photo: Yonatan Sindel/Flash90)
Israel's fifth national election in just over three years is less than a month away, but instead of campaign mode the country is in holiday mode.
With Rosh Hashanah and the somber Yom Kippur behind us, Israel is now approaching the festive week-long Feast of Tabernacles, Sukkot, which begins on Sunday.
The campaign will likely go into high gear after that with just two weeks before the Nov. 1 election.
Nevertheless, to anyone who will listen before then, some politicians are trading jabs not the least of whom are Prime Minister Yair Lapid and opposition leader Benjamin "Bibi" Netanyahu.
POLITICIZING THE MARITIME BORDER
Netanyahu used the occasion of a pending agreement on the maritime border between Lebanon and Israel to slam Lapid last week, saying he "surrendered to Hezbollah's threats" by giving up Israeli territory – despite no agreement being signed.
"Yair Lapid shamefully capitulated to (Hezbollah chief Hassan) Nasrallah's threats. He gives Hezbollah a sovereign territory of the State of Israel with a huge gas reservoir that belongs to you, the citizens of Israel. He does it without a debate in the Knesset and without a referendum," Netanyahu said.
Lapid swung right back at Netanyahu.
"I understand that it pains you that you didn't succeed in achieving an agreement [when you were prime minister], but that is no reason to join Nasrallah's propaganda campaign," Lapid directed his tweet at Netanyahu noting that he has not even seen the agreement.
However, when Lapid cast doubt on the deal today – rejecting Lebanon's new requests – Netanyahu took credit for that too.
"Only intense pressure from myself and my friends has caused him to back away from this surrender agreement, for now," the opposition leader said on social media.
The United States has been working to broker an agreement between Israel and Lebanon who do not have diplomatic ties. Hezbollah – the Iranian-backed terror group which also hold seats in the Lebanese government – has threatened to attack Israel's natural gas field if Lebanon does not get what it wants in the border dispute.
REPORT: SENATOR WARNS BIBI AGAINST PARTNERING WITH EXTREMISTS
A U.S. senator has apparently warned Netanyahu that forming a coalition with extremists – as he is expected to do to reach a majority in the Knesset – could damage Israeli-American relations.
Axios reported that New Jersey Sen. Robert Menendez has "serious concerns" about Netanyahu's cooperation with Knesset Member Itamar Ben Gvir who runs the Jewish Power party and has been branded a racist by many in the political establishment.
Reporter Barak Ravid quoted two unnamed officials who said the senator warned Netanyahu against working with "extremist and polarizing individuals like Ben Gvir."
"The senator told Netanyahu he needed to realize the composition of such a coalition could seriously erode bipartisan support in Washington, which has been a pillar of the bilateral relationship between the U.S. and Israel," said one of Axios' sources.
According to polls, Netanyahu would need Ben Gvir's party to help him form a coalition. Ben Gvir has referred to the Arab political parties in the Knesset as "terrorists." Read more about him here.
AYELET SHAKED: ASSET OR THREAT TO NETANYAHU?
Ayelet Shaked – who has long been a rising star in the Israeli right wing – may not even make it into the Knesset this time.
Shaked cast her lot with Naftali Bennett, serving as his No. 2 for years. But now that he's out of politics, Shaked is on her own and her Jewish Home party is not expected to garner enough votes to pass into the next government.
Recent polls show that if she drops out, her votes would go to anti-Netanyahu parties, hampering him from forming a government.
Nevertheless, settlement leaders have also come to her defense saying that an attack on her party is "not wise" so close to the election.
Meanwhile, between Shaked and Netanyahu, the competition has become 'who is more right wing than the other.'
"It's called more right than right. Netanyahu, your personal hatred endangers the right-wing bloc. Are 5 elections not enough for you to understand? The Jewish Home is the only chance for a right-wing government," Shaked said on social media.
RELIGIOUS PARTY HEAD WANTS LAW TO OVERRULE SUPREME COURT
Aryeh Deri, head of the ultra-Orthodox Shas party, promised that if his party manages to form a coalition with a Netanyahu-led coalition, they will pass a law giving the Knesset power to override Supreme Court rulings.
This would certainly help Deri, convicted for tax offenses earlier this year. He wants to push through legislation that would let him become minister even if the Supreme Court or elections committee barred him from doing so.
"If Aryeh Deri, Benjamin Netanyahu, [Bezalel] Smotrich, and Ben Gvir establish the next government, there will be an override clause," he said.
In addition to his recent conviction, Deri was convicted in 1999 on bribery and breach of trust charges that arose while he served as interior minister. He served 22 months in prison but returned to politics and was re-elected in 2013.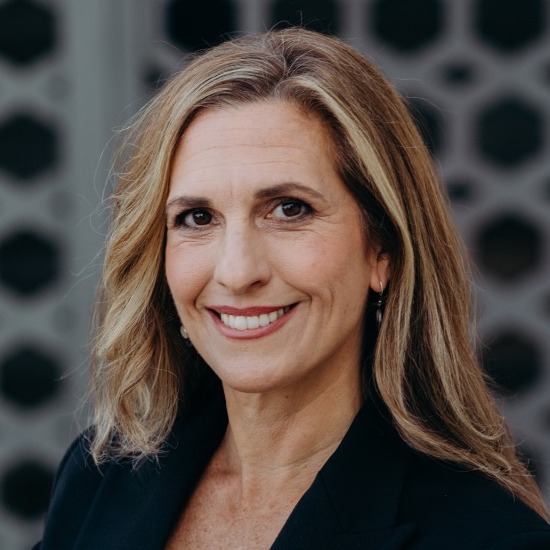 Nicole Jansezian is the news editor for both ALL ISRAEL NEWS and ALL ARAB NEWS and senior correspondent for ALL ISRAEL NEWS
A message from All Israel News
Help us educate Christians on a daily basis about what is happening in Israel & the Middle East and why it matters.
For as little as $5, you can support ALL ISRAEL NEWS, a non-profit media organization that is supported by readers like you.
Donate to ALL ISRAEL NEWS
Current Top Stories
Comments