ECHOES OF GOG & MAGOG? Tensions between Russia, Israel soar as top Putin ally threatens Moscow ready to cut diplomatic relations with Jerusalem
Dmitry Medvedev, deputy chairman of Russia's Security Council, delivers a speech during a ceremony marking Shipbuilder's Day in Saint Petersburg, Russia, June 29, 2022. (Photo: Sputnik/Valentin Yegorshin/Pool via REUTERS)
A member of Russian President Vladimir Putin's inner circle of advisors threatened this week that Moscow is ready to sever diplomatic ties with Israel.
The threat came via former Russian President Dmitri Medvedev who publicly warned that any Israeli effort to supply arms to Ukraine will "destroy all diplomatic relations between our countries."
"Israel appears to be getting ready to supply weapons to the Kyiv regime," Medvedev wrote Tuesday on Telegram, the social media platform.
"A very reckless move," he wrote. "It would destroy all bilateral relations between our countries."
Medvedev is currently the deputy head of the Russian Security Council.
On Sunday, Israeli Diaspora Affairs Minister Nachman Shai wrote on Twitter that due to Iran reportedly transferring ballistic missiles to Russia for use in the Ukraine war "there is no longer any doubt where Israel should stand in this bloody conflict," the Israeli news site Ynet reported.
"The time has come for Ukraine to receive military aid as well, just as the USA and NATO countries provide," Shai wrote.
WHY SHOULD THIS MATTER TO CHRISTIANS?
This is the most tense moment that I can recall in Israeli relations with the Kremlin in decades.
It's significant to many Bible-believing Christians – and to religious Jews – for a very specific reason.
The prophecies found in the book of Ezekiel, chapters 38 and 39, foretell a day when Russia (Gog) and its dictator (Magog) will build an alliance with Persia (Iran), Gomer (Turkey), and other countries to turn against Israel and attack the Jewish state in the "last days" of history.
While it's too early to draw any conclusions, geopolitical trends in recent years – indeed, in recent months – are intriguingly consistent with the "War of Gog & Magog" prophecies.
Some Christians are openly asking, "Is Vladimir Putin 'Gog'?" – a question I addressed on the debut of my new primetime TV show on TBN, "The Rosenberg Report."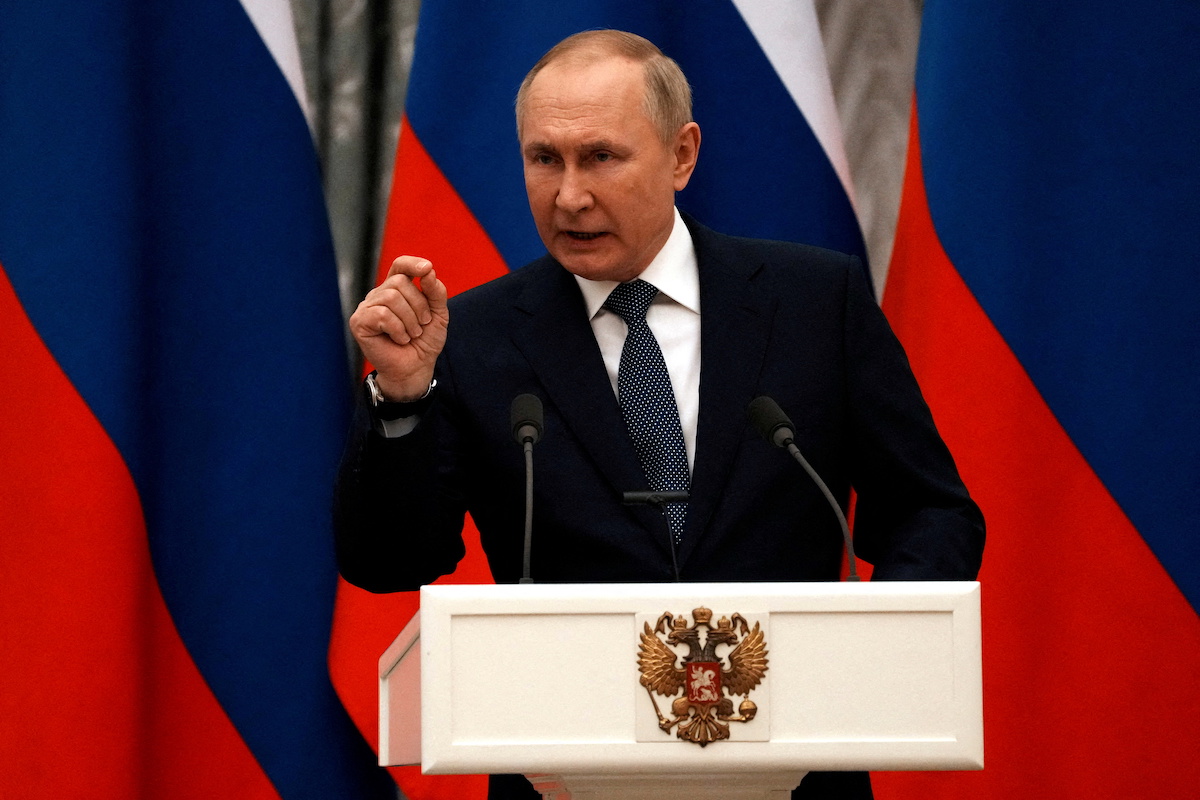 Russian President Vladimir Putin gestures during a press conference in Moscow, Russia, Feb. 7, 2022. (Photo: Thibault Camus/Pool via REUTERS)
WHY IS ISRAEL WALKING SUCH A FINE LINE WITH RUSSIA?
For months, Ukrainian President Volodymyr Zelenskyy and his closest advisors have been urging Israel to sell them defensive weapons, particularly the Iron Dome and other technologies that would allow them to shoot down Russian missiles and Iranian-made suicide drones that Tehran has recently begun supplying Moscow.
Israeli leaders have tried hard not to directly involve themselves in the conflict for several reasons.
Why?
Several reasons.
First, Israel does not want to shift the ire of the Russian Bear towards itself.
Second, Israel needs Moscow's tacit approval – or at least Putin's blind eye – towards Israeli operations to attack and destroy Iranian weapons caches and bases in Syria.
Third, Israel wants to protect the ability of the Jewish Agency to operate in Russia and thus facilitate any Russian Jewish person or family emigrating to Israel as the Russia economy suffers, poverty rates soar, and freedom of worship and expression continue to be curtailed.
That said, Prime Minister Yair Lapid has made clear it clear that he personally sides with Ukraine and believes that Putin is in the wrong by illegally invading Ukraine.
"We'll be on the right side of history," Lapid said back in February.
The comments of both Medvedev and Shai were widely reported in Israeli media, and in Europe. 
GANTZ RULES OUT ISRAELI WEAPONS FOR UKRAINE
In response to the escalating war of words, Israeli Defense Minister Benny Gantz told European ambassadors that Israel won't be selling weapons to Ukraine, but adding that it could build the embattled country a civilian early warning system to warn of incoming strikes, like the one used in Israel, reported the Times of Israel.
"Israel conducts a policy of supporting Ukraine through humanitarian support, and the supply of life-saving systems and defensive equipment," Gantz said.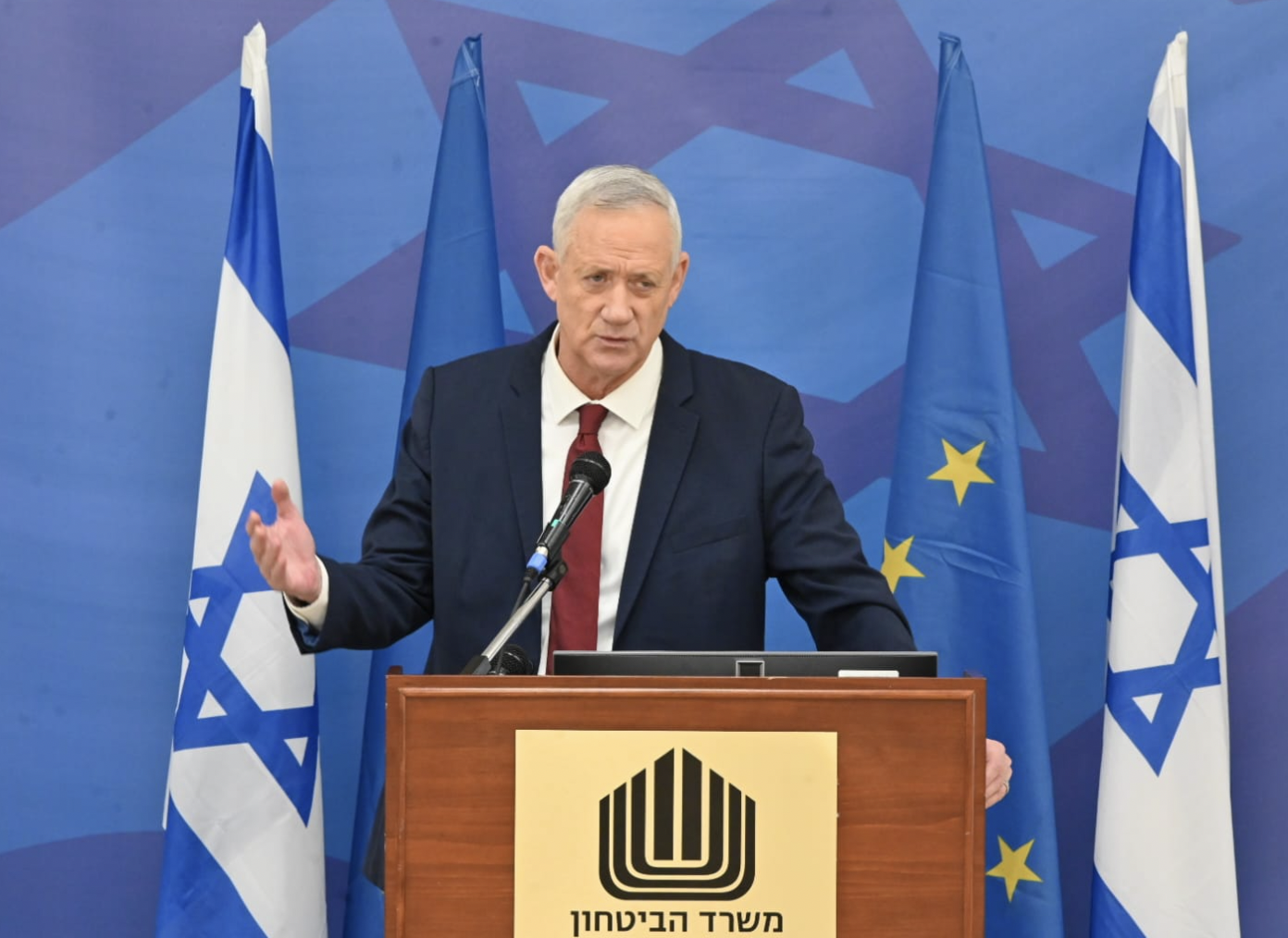 Israeli Defense Minister Benny Gantz speaks to ambassadors from EU nations, Oct. 19, 2022 (Photo: Ariel Hermoni/Defense Ministry)
"However, I would like to emphasize that Israel will not transfer weapon systems to Ukraine due to a variety of operational considerations. We will continue to support Ukraine within our limitations, as we have done so far," he said.
"As part of the expansion of aid and the supply of life-saving equipment, after a conversation with representatives from Ukraine, we applied for data that would allow us to assist in the construction and supply of a smart alert system like there is in Israel against aerial and other threats," Gantz says.
"Such a system will have advantages both in saving civilian lives and in targeting alerts and alarms to the relevant areas," he said.

Joel C. Rosenberg is the editor-in-chief of ALL ISRAEL NEWS and ALL ARAB NEWS and the President and CEO of Near East Media. A New York Times best-selling author, Middle East analyst, and Evangelical leader, he lives in Jerusalem with his wife and sons.
A message from All Israel News
Help us educate Christians on a daily basis about what is happening in Israel & the Middle East and why it matters.
For as little as $5, you can support ALL ISRAEL NEWS, a non-profit media organization that is supported by readers like you.
Donate to ALL ISRAEL NEWS
Current Top Stories
Comments