Determined to prevent a second Holocaust, Bennett set for high-stakes session with Biden on Iran nuclear threat
With Iran just two months away from nuclear weapons, and IDF ramping up plans for possible preemptive strikes, Bennett met Wednesday with US secretaries of defense, state, seeking closest possible security cooperation – here's what we know so far
Israeli Prime Minister Naftali Bennett and U.S. Secretary of State Antony Blinken meeting in Washington (Photo: Avi Ohayon/GPO)
WASHINGTON, DC – Naftali Bennett, 49, may be Israel's newest and youngest prime minister with very little experience on the global stage.
Yet as Israel's former defense minister, and once an IDF special forces commando himself, Bennett knows just how serious the Iran threat is.
He also knows the clock is ticking.
His task now: to convey to Biden the urgency of the hour and that the U.S. and Israel need to work together on a comprehensive new strategy to contain and neutralize the Iran threat before it's too late.
Israeli Defense Minister Benny Gantz told a group of foreign ambassadors in Israel this week that "Iran is only two months away from acquiring the materials necessary for a nuclear weapon."
Also this week, IDF chief of staff Aviv Kochavi told reporters in Tel Aviv that he and his colleagues are accelerating preparations for possible preemptive strikes on Iran's nuclear facilities, including requesting from the Cabinet a significant budget increase specifically for operations against Iran.
"The progress in the Iranian nuclear program has led the IDF to speed up its operational plans, and the defense budget that was recently approved is meant to address this," Kochavi said.
Bennett is set to bring these messages – and his own "Plan B" strategy on Iran – to the White House on Thursday.
What worries Bennett and his team is the view that Biden is retreating from the Middle East and does not truly understand just how dangerous and aggressive the Iranian regime really is.
And the sinking feeling that if the U.S. continues to dither on Iran, Israel may have no choice but to launch military strikes to prevent a second Holocaust.
WHAT HAPPENED AT THE PENTAGON?
To lay the groundwork for his high-stakes meeting at the White House today, Bennett met with U.S. Secretary of Defense Lloyd Austin on Wednesday at the Pentagon.
Bennett and Austin "discussed a series of regional, diplomatic and security issues, especially the ways to block Iran's regional aggression and the progress of its nuclear program," according to the readout from Bennett's office.
"The Prime Minister thanked the Secretary of Defense for the close cooperation between Israel and the U.S. in the security sphere and emphasized that he views the continued strengthening of the ties as a matter of utmost importance. Prime Minister Bennett stressed that alongside the strategic alliance between the U.S. and Israel, Israel will continue to insist on its right to maintain security supremacy in the Middle East and would continue to do everything necessary in this regard."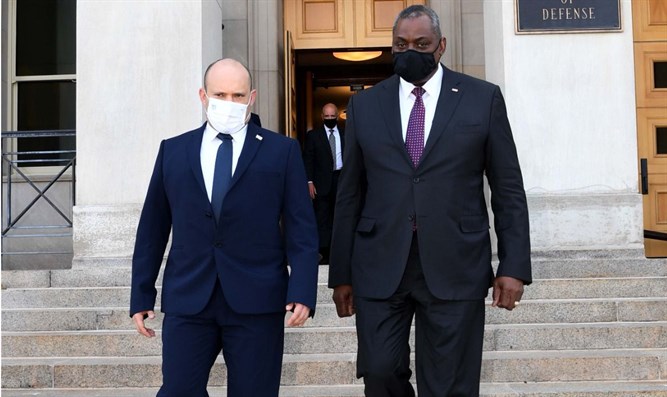 Israeli Prime Minister Naftali Bennett and U.S. Secretary of Defense Lloyd Austin (Photo: Avi Ohayon/GPO)
Austin warmly welcomed Bennett and focused most of his public remarks on the Iran threat.
"Mr. Prime Minister, I look forward to a frank discussion today about Iran's alarming – alarming – nuclear steps and continued regional aggression," Austin said as the meeting began. "Iran must be held accountable for acts of terrorism and aggression, whether in the Middle East or in international waters, like the July 30th attack on the Mercer Street commercial vessel."
The secretary was referring to the three "kamikaze drone" attacks on an Israeli-owned cargo ship in late July that killed two crew members.
Both U.S. and Israeli intelligence have confirmed the drones were Iranian-made and armed with explosives.
Austin promised Bennett that the U.S. would replenish Israel's supply of Iron Dome rocket interceptors, so many of which were used to defend Israeli civilians and soldiers during the May war with Hamas in the Gaza Strip.
"The administration remains committed to Israel's security and right to self-defense," the secretary said. "That is unwavering, it is steadfast and it is ironclad."
"You can see that support expressed in our commitment to providing Israel with $33 billion in foreign military financing, as well as $5 billion for the ballistic missile defense research and development under our current 10-year memorandum of understanding."
"You can also see that commitment as we advocate for the replenishment of the Iron Dome missile defense system," Austin added. "The administration is committed to ensuring that Iron Dome can defend Israeli civilian population centers targeted by terrorist attacks, and we're working closely with Congress to provide all the necessary information to respond positively to your request for $1 billion in emergency funding [related to the Iron Dome system], and it's going to save more innocent lives."
Joining Bennett at the Pentagon were:
National Security Council head Dr. Eyal Hulata

the Prime Minister's Military Secretary, Maj.-Gen. Avi Gil

Israeli Ambassador to the US and the UN Gilad Erdan

Cabinet Secretary Shalom Shlomo

the head of the Prime Minister's staff, Tal Gan-Tzvi

and diplomatic adviser Shimrit Meir
WHAT HAPPENEND IN THE MEETING WITH SECRETARY BLINKEN?
Later Wednesday afternoon, Bennett met with the secretary of state at the Willard Intercontinental Hotel, across the street from the White House, where the Israeli delegation is staying.
"I appreciate you taking time in pretty hectic days here in the States – it means a lot to us," Bennett began, alluding both the U.S. efforts to fight COVID and the massive airlift now underway in Afghanistan to bring American citizens and Afghan loyalists out of the country before August 31.
"Israel has no stronger and more reliable ally than the United States of America," Bennett continued.
"From our inception and to this day, especially these days, you are always with us, you have our back and that matters a lot to us. I can assure you that you'll find no friend which is more reliable and appreciative than us. I bring from Israel a new spirit, a spirit of folks who sometimes harbor different opinions but work together in cooperation, in good will, in a spirit of unity and we work hard to find common things that we do agree upon and move forward on it. It seems to be working."
"This is the same spirit that I want to bring to our relationship of cooperation, of goodwill, of friendship. We're going to be talking about a bunch of issues, primarily how do we fend off and curtail Iran's pursuit to dominate the region and its race to a nuclear weapon. We will also talk about regional stability and climate change, which is an issue for all of us. I'm looking forward to having a very good relationship with you. I appreciate the time."
While the public comments were meant to be friendly, light, cooperative, the real question is just how hard Bennett will press Biden to abandon the dangerously flawed notion that the Iranians can be persuaded by American diplomacy to abandon its pursuit of the bomb and its support of terrorism throughout the region.

Joel C. Rosenberg is the editor-in-chief of ALL ISRAEL NEWS and ALL ARAB NEWS and the President and CEO of Near East Media. A New York Times best-selling author, Middle East analyst, and Evangelical leader, he lives in Jerusalem with his wife and sons.
A message from All Israel News
Help us educate Christians on a daily basis about what is happening in Israel & the Middle East and why it matters.
For as little as $5, you can support ALL ISRAEL NEWS, a non-profit media organization that is supported by readers like you.
Donate to ALL ISRAEL NEWS
Current Top Stories
Comments