Despite rumors and winds of war building up these past few weeks, many experts did not believe Russia would invade
Ukrainians, Russians and many experts are in shock that a Russian incursion took place this morning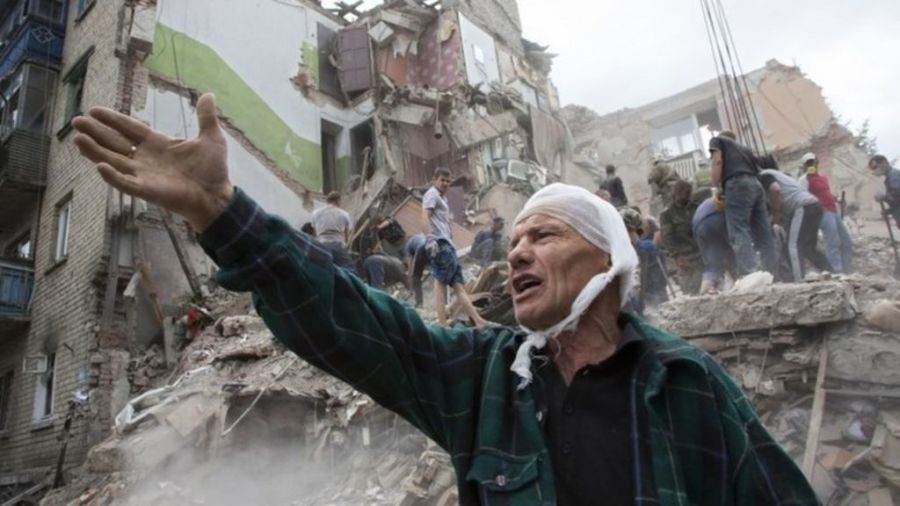 Apartment building leveled by Russian bombing in the town of Snizhne in Donetsk region of Eastern Ukraine, Feb. 24, 2022 (Photo: Screenshot)
What led scores of Ukrainians and Russians alike to presume that Russian President Vladimir Putin would not follow through on his threats to invade Ukraine?
Russia spent months escalating threats and mobilizing troops to the Ukrainian border, as well as recruiting Belarus to provide military support.
But the West was slow to act. Many leaders came to Ukraine's defense verbally, but sanctions only began this week. In fact, just days ago, German Chancellor Olaf Scholz rejected calls to sanction Russia, saying it was better to keep Moscow in the dark over "exactly" how the West would respond to an invasion.
At the Munich Security Conference in Germany, Scholz said Western allies were "well prepared" to sanction Russia, but that he wanted to wait and see if Putin would actually invaded.
"It's better to say we do it then, instead of doing it now, because we want to avoid the situation," he said. "We want to go in the direction where peace is having a chance."
Ukrainian President Volodymyr Zelenskyy questioned why Western nations would wait for an actual incursion until they imposed sanctions against Russia when everyone expected an invasion was imminent.
"You're telling me that it's 100% that the war will start in a couple of days. Then what [are you] waiting for?" he said at the conference. "We don't need your sanctions after the bombardment will happen, and after our country will be fired at or after we will have no borders or after we will have no economy or parts of our country will be occupied. Why would we need those sanctions then?"
Few believed that Putin had anything to gain by invading Ukraine. And over the past few months, some experts echoed that sentiment.
Dr. Vladislav Inozemtsev, special advisor to the Russian Media Studies Project at the Middle East Media Research Institute (MEMRI), believed Putin was bluffing.
"He is the first to fear the consequences of a Russian invasion of Ukraine, and therefore he will not give an order to start it," Inozemtsev wrote back in December.
"Yes, we trust Russia that it will not invade Ukraine, and of course Ukraine itself poses no threat to Russia, so for what do we need so many talks with Putin or his envoys? Leave him alone for a while – this would be the most sophisticated strategy for dealing with the Kremlin."
He also said that Russia cannot afford to launch a formal war since it is under too many sanctions.
In the United States, Sen. Mike Braun (R-Ind.) just a few days ago, presumed there would not be an invasion.
"I don't think Putin will end up doing it because his economy is smaller than what it was when they were the Soviet Union," Braun said at the time. "That's what did the Soviet Union in back decades ago."
Braun said he believes even though Putin is empowered by American weakness under the Biden administration, he was simply "lapping up the attention."
"Remember he maneuvered into the position that gives him all the leverage when we were projecting weakness," said Braun.
But he would not attack because "his economy is under half the size of Germany's economy. But, Putin punches above his weight."
An editorial two weeks ago in Al Jazeera was headlined: "No, Russia will not invade Ukraine," and was also posted in the Frontier Post.
"Until the Kremlin feels that it has received the necessary security guarantees, it will likely continue to keep military pressure on the Ukraine border. It might deploy intermediate-range ballistic missiles in Belarus or even escalate in other hotspots in its immediate neighborhood, such as Georgia. It may organize war games closer to Western Europe, as it did with recent naval exercises near Ireland. It could even show off military capabilities closer to US borders, by deploying hypersonic missiles on its submarines or setting up long-range missiles in Venezuela, for example.
"All these measures, however, will fall within Russia's cost-effective calculations. That means that a large-scale invasion or war is highly unlikely."
Another analysis from back in November echoed the sentiments, even saying that claims of an invasion are "sensationalist."
"Russia has recently increased its military presence on the border with Ukraine, sparking alarmist suggestions by Western officials and think tanks that Russia is about to invade its neighbor. Last week US officials suggested a high probability of Russian military intervention and briefed their European colleagues about a potential military assault.
"While such claims make for sensationalist headlines, a deeper examination of the situation leads to the conclusion that Russia will not invade Ukraine. From military, economic and diplomatic standpoints, Russia has nothing to gain and much to lose from attacking its neighbor."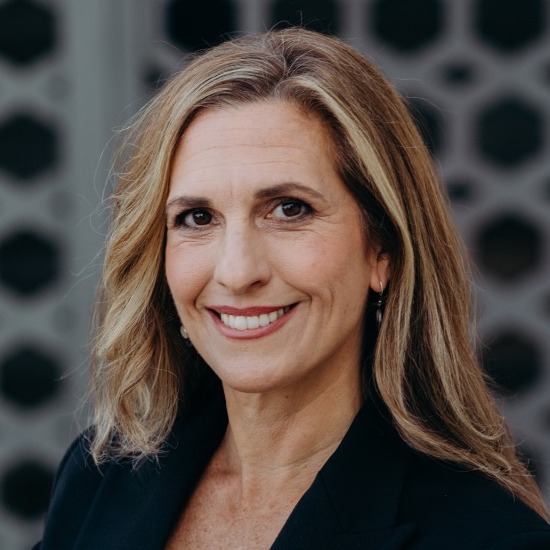 Nicole Jansezian is the news editor for both ALL ISRAEL NEWS and ALL ARAB NEWS and senior correspondent for ALL ISRAEL NEWS
A message from All Israel News
Help us educate Christians on a daily basis about what is happening in Israel & the Middle East and why it matters.
For as little as $5, you can support ALL ISRAEL NEWS, a non-profit media organization that is supported by readers like you.
Donate to ALL ISRAEL NEWS
Current Top Stories
Comments