OPEN LETTER TO THE NEW PRESIDENT OF THE UAE
Dear President Mohamed bin Zayed: As an Israeli Evangelical, I ask that your first act as UAE's president would be to show mercy and repeal the death penalty on an Israeli woman convicted of drug possession
If she is guilty, let her serve a lengthy prison sentence – but please spare her life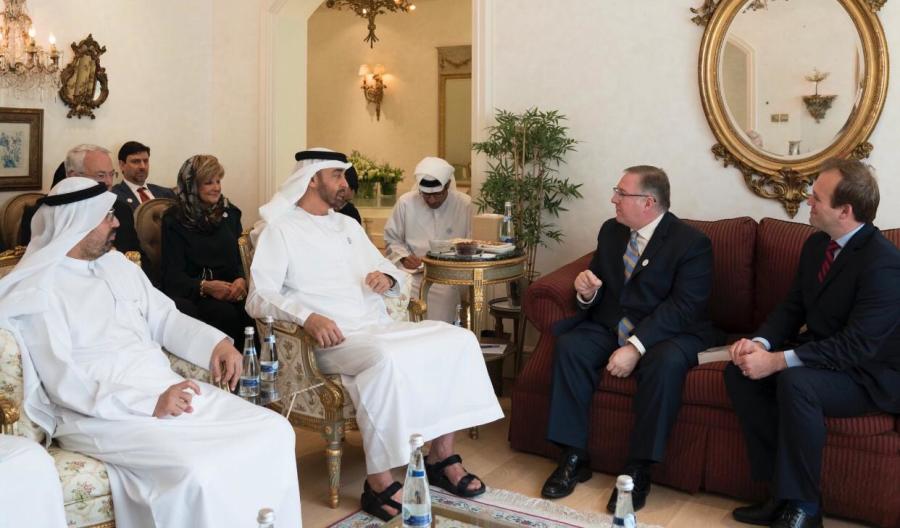 Then-Crown Prince of Abu Dhabi Sheikh Mohamed bin Zayed welcomes a delegation of American evangelicals led by Joel C. Rosenberg in 2018. (Photo: ALL ISRAEL NEWS)
JERUSALEM – The following is an open letter to the newly-installed president of the United Arab Emirates:
May 15, 2022
His Highness Sheikh Mohamed bin Zayed Al Nahyan
President
The Royal Palace
Abu Dhabi, United Arab Emirates
Your Highness:
Greetings from Jerusalem, the Holy City.
First, please accept my deepest condolences to you and your people on the passing of His Highness Sheikh Khalifa bin Zayed Al Nahyan. May the God of Abraham comfort you all in this period of national mourning.
Having just led a delegation of Evangelical Christian leaders to the UAE last month, and having met with His Highness Foreign Minister Sheikh Abdullah bin Zayed Al Nahyan, as well as other members of the royal family, I am saddened for your loss.
We are so grateful for you and the Emirati people and we want you to know that we stand shoulder to shoulder with you at this time of transition.
Your Highness, please allow me also to congratulate you on your unanimous election by your colleagues to serve as the new president of the United Arab Emirates.
Ever since you first welcomed my Evangelical colleagues and me to meet with you several years ago, we have developed an enormous respect for the sweeping, and immensely positive reforms and remarkable modernization and gracious religious freedom that you have been pursuing.
We have also been so blessed by your courageous decision to normalize relations with Israel. You told us when we met in October 2018 that you would normalize relations with the State of Israel, and you have kept your word. Thank you.
The Bible teaches us – notably in the writings of the prophet Daniel, chapter two – that God sovereignly chooses whom He wishes to raise up as kings and national leaders. I believe that God has chosen you to lead your people at a critical moment in regional and world history, and I want you to know that I will be praying for your health, wisdom and success every single day.
In this spirit, I am also writing to Your Highness to humbly request that your first act as president would be to show mercy to an Israeli woman who was recently arrested and convicted in the UAE for drug possession.
Fidaa Kiwan is a 43-year-old Israeli-Arab woman who grew up in the Israeli coastal city of Haifa.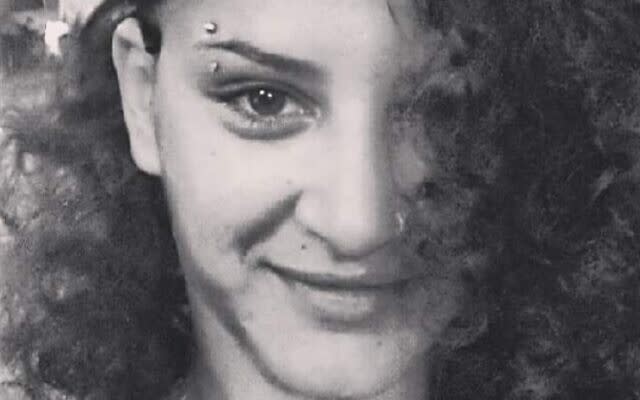 Fidaa Kiwan (Photo courtesy)
I cannot say whether she is guilty of the charges against her, as I do not have first-hand familiarity with all the facts of the case.
However, if she is truly guilty of the crimes alleged against her, I would ask you to repeal the death sentence against her.
Rather than put Ms. Kiwan to death, please sentence her to a lengthy prison sentence.
I ask not only as a private individual who has had the honor of meeting you and your family and colleagues and has been blessed to start a friendship with you and the people of the United Arab Emirates.
I am also asking on behalf of Jewish and Christian Israelis who care deeply about the new peace agreement between Israel and the United Arab Emirates and the new breezes of tolerance, kindness and compassion that are blowing in each direction.
Indeed, I understand that a group of Israeli-Arab Evangelical Christians recently wrote to you and asked you to show leniency in this case.
Historically, I realize that it is unusual for Jewish and Christian Israelis to petition an Arab Muslim head of state to ask for leniency in the capital case of an Israeli-Arab Muslim.
Yet we do so in obedience to the Holy Bible, and in the spirit of the Abraham Accords.
In Exodus chapter 34, verses 6 and 7, the Lord God Almighty explained His holy character to the prophet Moses, explaining that He is "compassionate and gracious, slow to anger, and abounding in lovingkindness and truth; who keeps lovingkindness for thousands, who forgives iniquity, transgression and sin."
In Psalm 18:25, David, the future king of Israel, teaches an important principle about God's character: "With the merciful, You will show Yourself merciful."
In the New Testament, we see that the Lord Jesus Christ yet again reaffirmed this principle, teaching His disciples, "Be merciful, just as your Father is merciful."
Your Highness, you know far better than I – since you are a devout Muslim – that Allah is kind and merciful.
From the very first verse of the Qur'an, we read, "In the name of God, the Compassionate (al-Rahman), the Merciful (al-Rahim)…."
In light of the eternal truths, I ask you to show mercy on Fidaa Kiwan.
I have never met her.
I do not know her personally.
But I am praying for her, that she might receive your compassion, that you would spare her life, even if that means she must serve a lengthy prison term.
I would also hope that she could be transferred back to Israel to serve her prison term, whatever the appropriate length, where her family could visit her more easily.
Your Highness, I know you have many important and pressing matters before you, especially this week.
Nevertheless, I bring this matter before you because I know you to be a wise and just ruler.
Thank you for your consideration.
And may the Lord show mercy on you and your family and colleagues as you lead the United Arab Emirates with great vision and courage.
With the deepest respect and gratitude,
Joel C. Rosenberg

Joel C. Rosenberg is the editor-in-chief of ALL ISRAEL NEWS and ALL ARAB NEWS and the President and CEO of Near East Media. A New York Times best-selling author, Middle East analyst, and Evangelical leader, he lives in Jerusalem with his wife and sons.
A message from All Israel News
Help us educate Christians on a daily basis about what is happening in Israel & the Middle East and why it matters.
For as little as $5, you can support ALL ISRAEL NEWS, a non-profit media organization that is supported by readers like you.
Donate to ALL ISRAEL NEWS
Current Top Stories
Comments