Could Benny Gantz emerge as Israel's 'kingmaker,' or even our next 'king'? I just profiled him on 'The Rosenberg Report' on TBN
Here's why Evangelicals should keep a close eye on Israel's defense minister in next week's election
(Photo: Screenshot/TBN)
JERUSALEM—He spent 38 years in the Israel Defense Forces.
Became one of the IDF's most respected chiefs of staff.
And is now the country's defense minister.
But more than that, Benny Gantz just may be the most important political leader in Israel.
Why?
On the latest episode of THE ROSENBERG REPORT on TBN, I profiled the man who could become "kingmaker," or even Israel's next "king."
[You can watch the full episode for free by clicking here]
GANTZ IS THE SON OF HOLOCAUST SURVIVORS
Benjamin "Benny" Gantz was born June 9, 1959, in a small village south of Tel Aviv.
His father came to Israel from Romania. His mother from Hungary. Both were Holocaust survivors. And it's this combination of his parents' escape from the Nazis and Gantz's extensive military service that shaped his character and his belief in national service.
As I've sought to build relationships with all of Israel's top leaders, I first met Gantz several years ago.
Though we don't agree on everything, we've become friends.
Last year, I asked him to write an op-ed for ALL ISRAEL NEWS.
The article he sent me provided an interesting window into the values that shaped him.
Consider some excerpts:
On International Holocaust Remembrance Day, I reflect on the lessons I learned from my parents, both Holocaust survivors, who taught me the capacity for both evil and kindness that exists within the human spirit….
Anti-Semitism always rears its ugly head during times of stress. Hatred always thrives when there is a lack of love; darkness always prevails in the absence of light. 
My mother endured firsthand the consequences of the Nazi ideology of hate in the Bergen-Belsen concentration camp.
But after surviving and rebuilding her life in Israel, she always ensured that she spoke softly and respectfully, even to those with whom she disagreed….
In any military campaign or operation I led, my mother always asked me if I had remembered to provide humanitarian aid, medicine and food for the civilian population on the other side.
I imagine she must have been very proud when she looked down at me from heaven on the day that the Israeli army offered to treat casualties from Syria's bloody civil war; perhaps even more proud than the day I was promoted to the rank of general. I remember she held me [that day], smiling, and then calmly said: "Now General — please take out the trash." 
GANTZ'S RISE THROUGH THE IDF MILITARY RANKS
In 1977, Benny Gantz served Egyptian President Anwar Sadat's protective detail when came to Jerusalem.
As a commando, he fought terrorists inside Lebanon.
As a commander, he ran "Operation Solomon," the secret airlift that brought 14,000 Ethiopian Jews to Israel.
Promoted to IDF chief of staff in 2011, then-Prime Minister Netanyahu called Gantz an "excellent officer and experienced commander."
Together, the two men ran covert operations against Iran and fought to crush terrorists in Gaza.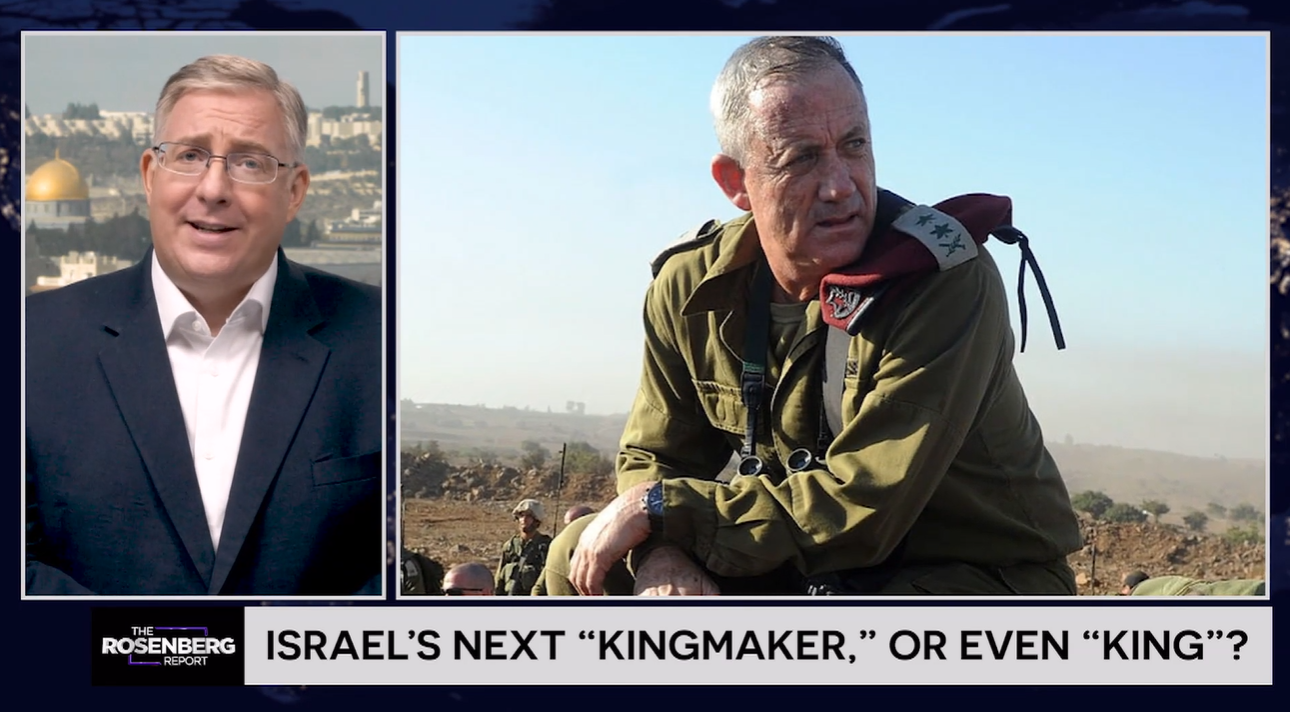 (Photo: Screenshot/TBN)
ENTERING POLITICS
After retiring from the IDF in 2015, Gantz went into business.
But the call of national service was too strong.
In 2018, Gantz founded a center-right political party – Hosen L'Israel, Hebrew for Israel Resilience Party.
Yet just before the April 2019 elections, Gantz shocked everyone by forging an alliance with Yair Lapid that fundamentally reshaped the political battlefield.
They merged their parties into one called Kahol Lavan, Hebrew for Blue & White, the colors of the Israeli flag.
Why?
To create a center-right bloc big enough to block Benjamin "Bibi" Netanyahu from ever being re-elected.
That year, they won 35 seats, tying Bibi's Likud party.
But neither team could form a government.
When Israel went back to the polls in September 2019, Blue & White won 33 seats, one more than Likud.
But again, neither side could form a government.
When Israelis voted again in March 2020, Blue & White held at 33 seats.
Likud increased to 36.
Still, neither side could form a government.
But with COVID sweeping the world, and the Iran threat growing, Gantz announced that for the sake of the country, he would form an emergency government with Bibi.
Bibi would serve first as prime minister, while Gantz served as Defense Minister.
After 18 months, they would rotate.
Lapid was furious, saying Gantz had "betrayed" his voters.
Breaking from Gantz, Lapid became opposition leader.
Netanyahu and Gantz – together again – confronted COVID, fought another rocket war with Hamas in Gaza, and worked to neutralize Tehran.
But as the moment of rotation approached, Blue & White supporters say Netanyahu stabbed Gantz in the back.
Rather than keep their deal, Bibi found the one loophole that could prevent Gantz from becoming prime minister.
Netanyahu refused to pass a new state budget.
This triggered the Knesset's collapse, and another round of elections.
Lapid crowed, "I told you so."
When the March 2021 elections came, the bottom dropped out.
Gantz and his party dropped from 33 seats to just eight.
Benny Gantz was warned not to forge an alliance with Benjamin Netanyahu.
Yair Lapid insisted Bibi would double cross him.
So did others.
When it happened, Gantz and his party took a beating.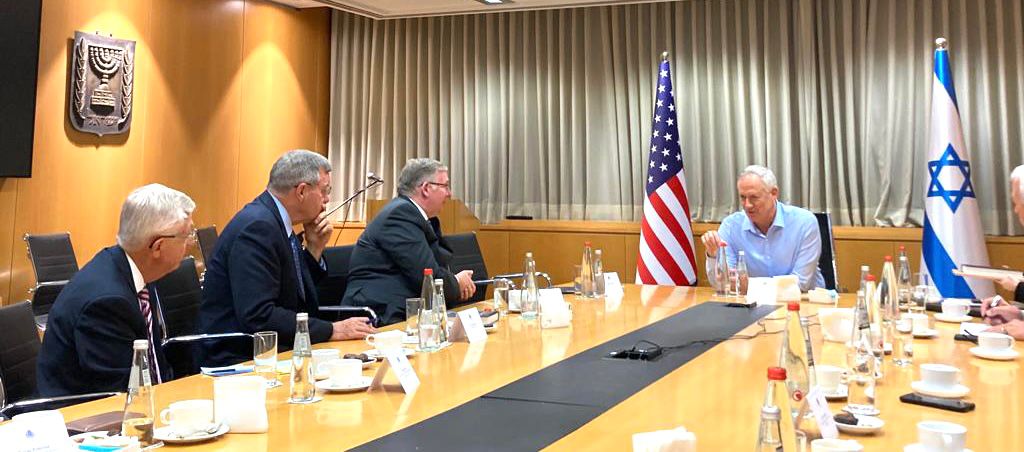 Israeli Defense Minister Benny Gantz meets with a delegation of Evangelical leaders led by Joel C. Rosenberg (Photo: ALL ISRAEL NEWS)
GANTZ'S POLITICAL RESURRECTION
How, then, did Gantz rebuild his political fortunes?
Why is he now positioned to be "kingmaker" – or even Israel's next "king"?
Why is he reaching out to Evangelicals?
And how does he view the Iran threat?
Here are four things Christians need to know.
First, though his party was in freefall, Gantz refused to quit.
Instead, he apologized to Lapid and voters for disappointing them.
Still, he held his ground, insisting that in a national emergency he'd put his country's interests ahead of his own, as he'd done his whole life.
That rang true with many Israelis.
When Lapid formed a government last year, Gantz vowed he'd learned his lesson and would not be tricked by Netanyahu again.
Then, Gantz helped recruit Naftali Bennett – who was also done with Netanyahu.
Together, the three rebuilt trust step by step.
Having re-established his own credibility, Gantz then recruited three more respected leaders to join his team: 
Justice Minister Gideon Sa'ar

Religious Affairs Minister Matan Kahan

And former IDF Chief of Staff Gadi Eisenkot.
COULD GANTZ EMERGE AS ISRAEL'S NEXT PRIME MINISTER?
The second thing Evangelicals need to know – as I first wrote on ALL ISRAEL NEWS in July – is that Gantz could actually emerge as Israel's "kingmaker," or even our next king.
There's no way Yair Lapid can remain prime minister without Gantz and all the seats he brings from his party. Polls currently put that at between 11 and 13 seats.
But Gantz's price of rejoining with Lapid will be steep – he'll insist he serve as prime minister first.
If Bibi can't forge a government, he may also have to seek Gantz's help.
It's unlikely Gantz agrees.
But if he does – if – Gantz will demand that he, Gantz, serve as prime minister first.
In either scenario, Gantz becomes kingmaker and king.
WHY IS GANTZ REACHING OUT TO EVANGELICALS?
The third thing you need to know is that Gantz is reaching out to Evangelicals precisely because he's preparing to be prime minister.
When we first met, Gantz asked if I'd brief him on who Evangelicals are, why we love Israel, and whether I'd introduce him to Evangelical leaders.
I readily agreed.
And that's precisely why I've continued to meet with Gantz and brought a Delegation of Evangelical leaders to meet with him earlier this year.
Just as I've done with Netanyahu, Lapid, and others.
I have no interest in taking sides in Israel's political wars.
But I am happy to explain to any leader who asks – Israeli, Palestinian or other – what Evangelicals believe, and how strategically important 600 million Evangelicals are to the peace and prosperity of Israel and her neighbors.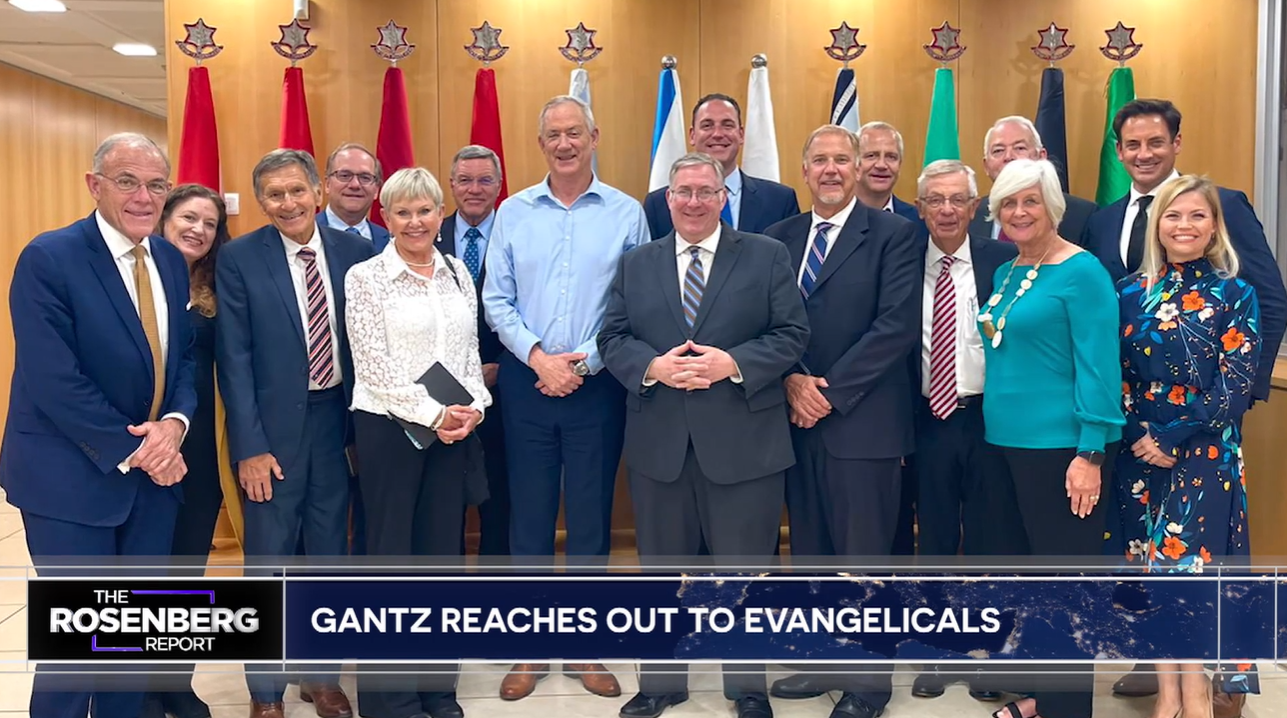 (Photo: Screenshot/TBN)
HOW DOES GANTZ VIEW THE IRAN THREAT?
The fourth and final thing Evangelicals need to know is that if Israel really needs to go to war against Iran – God forbid – few Israeli leaders are better prepared than Gantz.
Teddy Roosevelt used to say, "Speak softly and carry a big stick."
The phrase applies to Gantz.
He's not a dynamic public speaker.
In private, though, it's clear he's smart, thoughtful and ready to listen.
When I interviewed him for "Enemies and Allies," Gantz made clear he's been fighting Iran in the shadows for more than a decade.
And preparing for a war he prays is never needed.
"While I'm very respectful of the Iranian culture and the Iranian people, I'm very much worried about the Iranian regime," Gantz told me.
"It's not only the nuclear aspect," he said. "It's also the launcher capabilities, the missile capabilities, the regional aggression—that we see them [supporting] different militias in Iraq and Syria, supporting the Houthis in Yemen. It all comes from this octopus—the Iranian octopus, I would say—which sends out its arms [in many directions]."
I asked Gantz whether he believes Tehran truly wants to "wipe Israel off the map," or if the nation's leaders are just talking trash.
"I cannot allow myself to think it's just rhetoric," Gantz told me. "He [the Supreme Leader] said it, and he's trying to build measures to be able to do it."
I noted that former Iranian President Akbar Hashemi Rafsanjani had famously suggested Israel is a "one-bomb country."
"So, if Tehran ever gets to the point of having nuclear weapons, there is really no margin for error, is there?" I asked.
"That's right," Gantz said. "Therefore, we are adamant" about stopping them.
Gantz calls the regime "fundamentalist and radical."
And as the son of Holocaust survivors, Gantz vows to use all the power necessary to prevent the terror masters in Tehran from bringing about a Second Holocaust.
Will Benny Gantz truly emerge as Israel's "kingmaker" or "king"?
One thing's for sure: he's a man Evangelicals should be watching closely.

Joel C. Rosenberg is the editor-in-chief of ALL ISRAEL NEWS and ALL ARAB NEWS and the President and CEO of Near East Media. A New York Times best-selling author, Middle East analyst, and Evangelical leader, he lives in Jerusalem with his wife and sons.
A message from All Israel News
Help us educate Christians on a daily basis about what is happening in Israel & the Middle East and why it matters.
For as little as $5, you can support ALL ISRAEL NEWS, a non-profit media organization that is supported by readers like you.
Donate to ALL ISRAEL NEWS
Current Top Stories
Comments