Conservative media experts praise Christian TV network TBN for hiring Lyndsay Keith from Newsmax to anchor nightly news show
Trinity Broadcasting Network, long pro-Israel, is now building an impressive news division, experts say
Lyndsay Keith (Photo: TBN News)
JERUSALEM, ISRAEL – Wow, what a crazy couple of years it has been in the TV news business.
Ratings for nightly news programs on the Big Three broadcast networks continue to plunge.
And cable news is experiencing one earthquake after another.
CNN+ spent $300 million to launch, then collapsed after a single month on air.

CNN fired its president, Jeff Zucker, and then fired Chris Cuomo and Don Lemon, two of its biggest stars.

MSNBC, meanwhile, fired host Tiffany Cross, and anchor Hallie Jackson, and laid off 75 additional employees.

NBCUniversal Media just fired Jeff Shell, its president, while CNBC parted ways with Hadley Gamble, one of its best known anchors.

Fox News just canceled Tucker Carlson's show – its highest-rated prime time program – and saw its 8 p.m. ratings plunge by some 50%.
Meanwhile, audience confidence in journalism in the U.S. is dropping like a stone.
Only 16% of Americans have a great deal/quite a lot of confidence in newspapers, according to a 2022 Gallup poll.

Only 11% have some the degree of confidence in television news, down from 42% thirty years ago.
TBN PLUNGES INTO THE NEWS BUSINESS
Now, the Trinity Broadcasting Network (TBN) – the most-watched Christian TV network in the U.S. – is making news….by going into the news business.
The network has never been known for news and commentary, but for Bible teaching, worship music, Christians specials – and being intensely pro-Israel.
But yesterday, TBN President Matt Crouch announced that he has hired Lyndsay Keith – a former Newsmax co-anchor – to anchor CENTERPOINT, a nightly news show on TBN at 7 p.m. eastern.
Keith will have an impressive team at her side.
These will include former Arkansas Gov. Mike Huckabee, former Fox News reporter Doug McKelway, former CBN News correspondent Erick Stakelbeck, and Blynda Lane, a 22-year media veteran and spokeswoman for TBN.
"We're pleased that Lyndsay Keith is joining TBN's CENTERPOINT team, alongside several of the most experienced television news professionals in the business," Crouch said. "Lyndsay's accurate yet compassionate approach to reporting current events is the ideal fit for TBN, CENTERPOINT — and the countless viewers who've been looking for a positive alternative to TV's mainline news media."
"With all that is going on in the world, I am looking forward to reporting on national and global news from a biblical worldview, leaving viewers with a sense of hope," Keith said.
"What a great opportunity to cover the news with the goal of equipping viewers to have a better understanding of issues that matter to them, the world, and their faith," Keith added. "I've been impressed by TBN's team and success, and am excited to join a network whose core purpose is to share the truth and good news."
True, CENTERPOINT is not technically a new show – it's actually been on the air for about a year – but in many ways it has been an experiment for TBN, with various people anchoring the show, as Crouch and his senior staff have been tinkering with the show's mission, format, look, and team. 
But the decision by Crouch to not cancel CENTERPOINT and to instead hire Lyndsay Keith away from Newsmax, and make the show a big deal on the TBN schedule, is significant.
So is the fact that Keith – a devout Evangelical Christian who for the last several years co-anchored a nightly newscast with Sean Spicer, the former Trump White House press secretary – decided to leave Newsmax, move from Washington, D.C., to Dallas, and take the position.
For Crouch, it means that he truly believes that amidst all the tectonic changes going on in the TV news business, TBN is uniquely positioned to become a trusted source of news and commentary for millions of Evangelical and Pentecostal Christians who increasingly distrust the news divisions of the leading broadcast and cable TV companies.
And he's willing to invest significantly to make TBN a force in cable news.
For Keith, it means she believes Crouch – and is willing to stake the next stage of her rising career to advance his vision. 
During interviews with ALL ISRAEL NEWS over the past 24 hours, prominent Evangelical and conservative journalists and media experts praised TBN's decision to hire Keith, and her decision to say "yes."
CONSERVATIVE MEDIA STRATEGISTS PRAISE MOVE TO HIRE LYNDSAY KEITH
No one was more supportive than Sean Spicer.
"This is such a great fit for Lyndsay," he told me. "She's going to bring her insight and expertise to the TBN audience which will make for a facilitating show. Her connections in the political, religious and tech industries will ensure that her audience will always have the top guests each evening'"
"It was brilliant of TBN to land someone as talented as Lyndsay," he added. "She's built a name as an insightful and skilled operator who can bring viewers inside the biggest stories."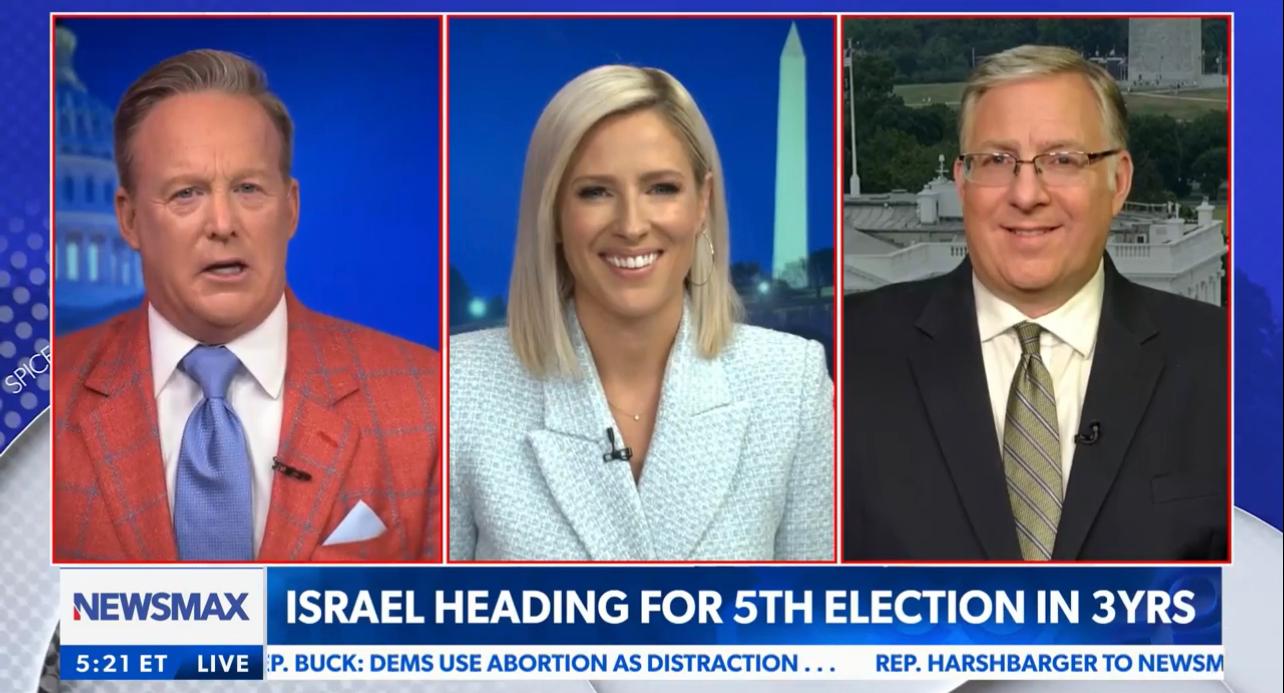 Sean Spicer, Lyndsay Keith and Joel C. Rosenberg on Newsmax (Photo: Screenshot)
Johnnie Moore – the former vice president of Liberty University and a leading Christian conservative public relations strategist – hailed the move as a major development.
"Lindsay Keith isn't a rising star – she is a star," he told me by phone. "And this move, both for her and for TBN, is perhaps even bigger than most people imagine."
First, Moore said, "it shows that Lindsay Keith is as good as it gets in the news business."
Second, "it's a clear signal that the Trinity Broadcasting Network isn't just dipping their toe into adding news as a robust part of their unrivaled global television network, but that they're diving in full on – and doing so at a time where Christians in particular, but most Americans and many people around the world, are looking for news and information they can trust."
"Anyone who's paying attention to the news business recognizes that we're in a time of profound change, and that profound change is opening up a once-in-a-generation opportunity for new leaders in the news to accelerate their market share," Moore noted.
"And it's clear that TBN – which is by far the unrivaled Christian television network around the world in every way you can measure it – is now clearly intending on accelerating their offerings in news."
"This is a big, big piece of news, not just for Christians, but it's a piece of news that should be noticed by the entire industry at a time of great disruption in the news business," Moore said. "One of the world's biggest players is deciding increasingly to go all in."
CHRISTIAN JOURNALISTS ALSO PRAISE THE MOVE
David Brody, chief political analyst for the Christian Broadcasting Network (CBN), also lauded the move.
"In this day and age, where we need a heavy dose of biblical truth now more than ever, Lyndsay Keith arrives at CENTERPOINT at the exact right time," Brody told me. "Her fair-minded journalism skills combined with a foundation of God-centered Judeo Christian principles is the perfect match."
"At Newsmax, she showed her journalistic chops – and her pairing with Sean Spicer was strong – but I'm excited to see Lyndsay take the helm solo because she oozes talent, kindness and smarts that will bless viewers with thought-provoking discussions," he added.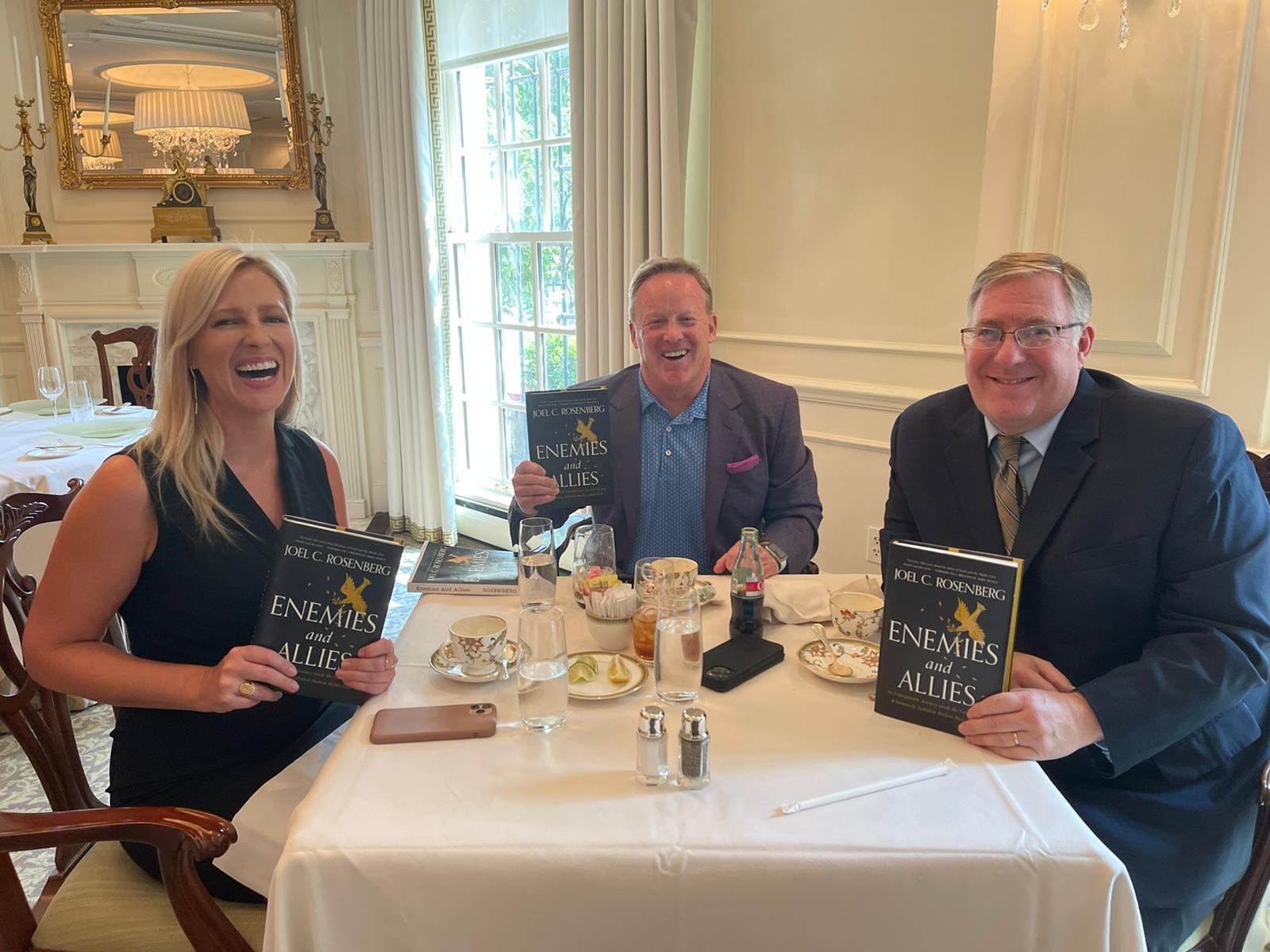 Sean Spicer and Lyndsay Keith with Joel C. Rosenberg presenting his book (Photo: All Israel News)
Jenna Ellis, a former top legal advisor to former U.S. President Donald Trump, who now has her own radio show on the Salem Christian radio network, was similarly enthusiastic 
"This is a great opportunity for TBN to work with one of the best in the business," she told me. "Lyndsay will help move TBN as a network into a broader viewership for a younger generation, while staying true to the network's core values of news and commentary from a Christian and biblical worldview."
"The 'fake news media' has lost credibility and there is a huge opportunity for TBN to become more relevant and provide content for evangelicals who want a trusted mainstream source for news and commentary," Ellis said. "TBN has largely been viewed by my generation and younger as antiquated or outdated in programming, so these steps at this time are wise for the network."
TWO OTHER PROGRAMS ILLUSTRATE TBN'S GROWING COMMITMENT TO BUILD NEWS DIVISION
While CENTERPOINT will be the flagship of the TBN news division, Crouch didn't start there. 
Two years ago, he hired former CBN reporter and terrorism expert Erick Stakelbeck to work for TBN full-time.
Stakelbeck is the anchor of "The Watchman," a news magazine program that focuses on threats facing America, Israel, Christians, and the Church worldwide.
Also the host of numerous prime time news specials that air on the network, he's an impressive, experienced journalist who has landed some major exclusive interviews, including with Israeli Prime Minister Benjamin Netanyahu.
Last year, Crouch invited me to launch my own prime time news show on TBN.
With everything else on my plate, I was reluctant to say yes, at first.
But the more I got to know Crouch and his senior team – and see their vision for building a news and commentary division that can earn the trust of Evangelicals in the U.S. and around the world – the more I was impressed and excited.
THE ROSENBERG REPORT launched on Oct. 6, 2022, and can be seen on TBN on Thursdays at 9 p.m. eastern, and again on Saturdays at 9:30 p.m. eastern.
What's next for TBN?
I actually have no idea at this point.
But I'm excited to see where Matt Crouch is taking the company.
And I'm thrilled that my friend, Lyndsay Keith, is now onboard.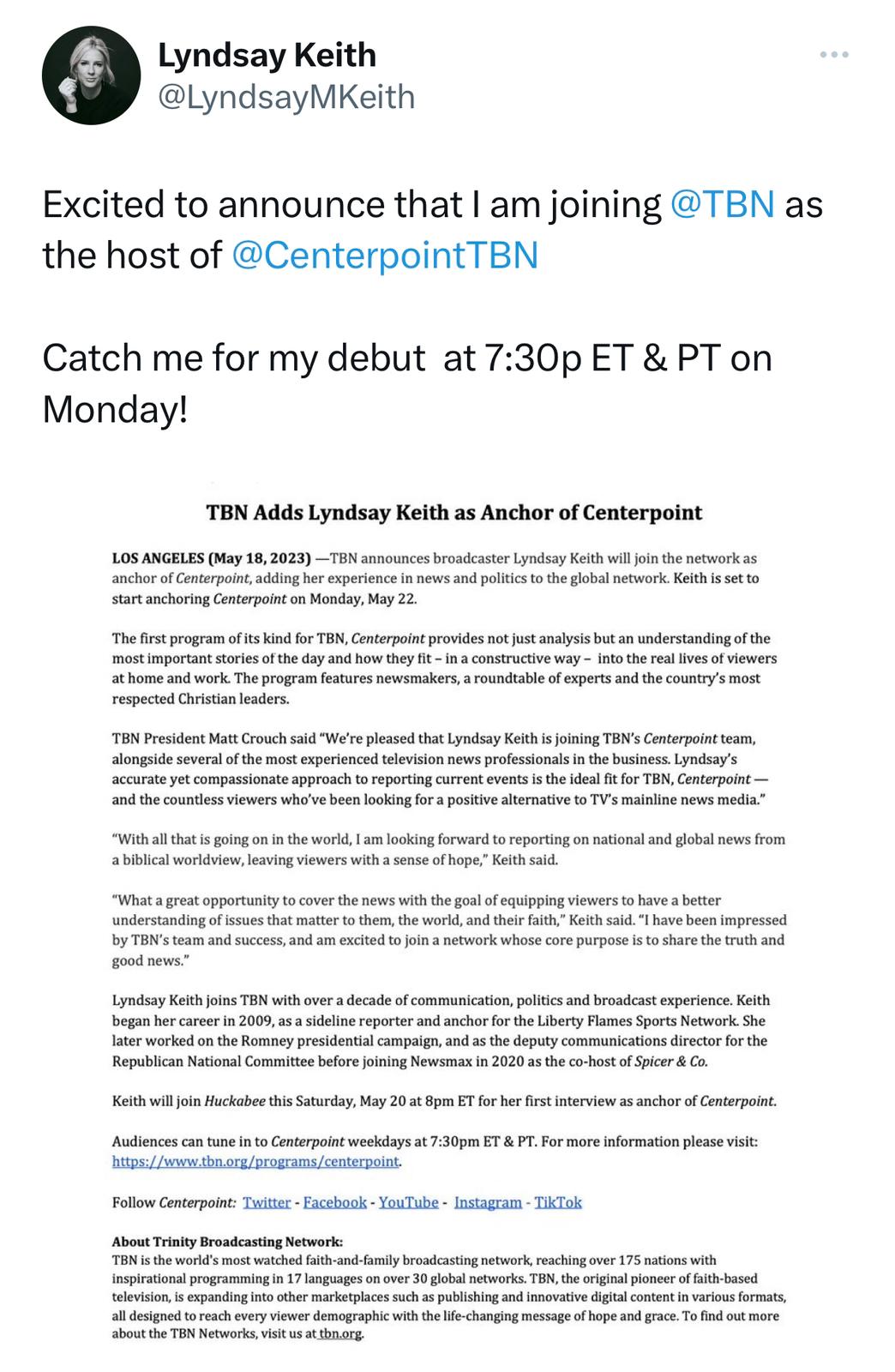 Joel C. Rosenberg is the editor-in-chief of ALL ISRAEL NEWS and ALL ARAB NEWS and the President and CEO of Near East Media. A New York Times best-selling author, Middle East analyst, and Evangelical leader, he lives in Jerusalem with his wife and sons.
Popular Articles
A message from All Israel News
Help us educate Christians on a daily basis about what is happening in Israel & the Middle East and why it matters.
For as little as $5, you can support ALL ISRAEL NEWS, a non-profit media organization that is supported by readers like you.
Donate to ALL ISRAEL NEWS
Latest Stories
Comments