Christians, don't stop praying — Putin has been unmasked and humiliated, but he is now more dangerous than ever
The world hasn't been this close to nuclear war since the Cuban Missile Crisis sixty years ago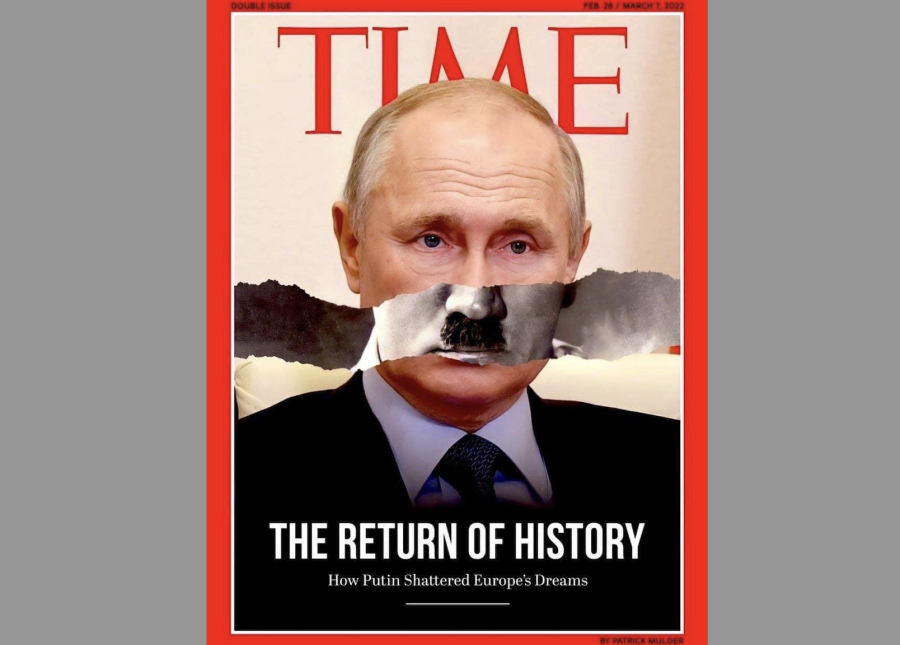 Cover of Time magazine March 1, 2022 edition
DENVER, COLORADO — My, how the pendulum swings.
Just a week ago, almost no one in the world thought Russian President Vladimir Putin was evil enough — or crazy enough — to actually invade Ukraine (though we at ALL ISRAEL NEWS have been warning of this for nearly a year.)
Now almost everyone in the media and on social media thinks Putin is finished.
That's as dangerous as thinking he would never invade. 
Let's pray that Putin is toppled soon and the Russian and Ukrainian people are liberated from his reign of terror over their lives.
But no one should count Putin out just yet.
Here's why. 
Yes, the would-be czar of the Kremlin has certainly been unmasked.
With Putin's attempt to rape and pillage Ukraine, most Europeans and a growing number of Americans now see what I've been writing about for nearly 20 years — and wrote about again in "ENEMIES AND ALLIES" — that Putin poses a grave and growing danger to the world order and must be stopped before it's too late. 
This is a good thing — that the world is being roused from its slumber. 
Yes, Putin is being humiliated.
After the initial shock that Putin would order his forces into Ukraine, conventional wisdom expected Moscow to mow down all Ukrainian opposition quickly, seize the capital of Kyiv, and capture or kill President Volodymyr Zelenskyy.
That's why U.S. President Biden offered to evacuate Zelenskyy from Kyiv and get him to safety, prompting the Ukrainian leader's priceless reply — "I need ammunition, not a ride."
Love it.
But the former actor and comedian and his military and people have — so far — proven the conventional wisdom wrong.
Ukraine hasn't fallen.
Kyiv hasn't collapsed.
The sleeping beauties of the world have begun to wake up — day by day they're finding new ways to punish and isolate Putin economically, diplomatically, legally, socially and in many other ways. 
Fellow European nations — as well as the U.S. and Israel — are finally sending Zelenskyy desperately needed military, medical, humanitarian and other supplies.
All good, though the Biden administration should be doing far, far more.
Suddenly, the conventional wisdom is that Putin is not only going to lose this war but could lose power, as well.
I see such sentiment — brimming with bravado — all over Twitter and other social media platforms.
Don't get me wrong: I hope it's true.
We've never seen the world turn against Putin like this — ever.
Still, let's be clear: Putin could prove far more dangerous when he's cornered and humiliated.
Remember, he is sending a huge military force against Kyiv. 
He's absolutely Hell-bent on capturing it, humiliating Zelenskyy, and proving that he is the king of the world.
Putting Russian nuclear forces on high alert — shocking even his top generals — is another example of how determined and dangerous this man really is.
Few people think Putin is evil enough — or crazy enough — to actually use battlefield tactical nuclear weapons.
Or nuclear-armed missiles.
But I absolutely believe Putin is capable of going nuclear.
I'm not predicting he will.
But I urge Biden and other world leaders to take this threat with the utmost seriousness.
The very fact that Putin is making this threat is proof of how cornered and humiliated he really feels.
Christians, don't stop praying for the full liberation of Ukraine and the reestablishment of peace and security in Europe. 
Don't stop praying for the Lord to restrain Putin and thwart his evil intentions.
The world hasn't been this close to nuclear war since the Cuban Missile Crisis sixty years ago. 

Joel C. Rosenberg is the editor-in-chief of ALL ISRAEL NEWS and ALL ARAB NEWS and the President and CEO of Near East Media. A New York Times best-selling author, Middle East analyst, and Evangelical leader, he lives in Jerusalem with his wife and sons.
A message from All Israel News
Help us educate Christians on a daily basis about what is happening in Israel & the Middle East and why it matters.
For as little as $5, you can support ALL ISRAEL NEWS, a non-profit media organization that is supported by readers like you.
Donate to ALL ISRAEL NEWS
Current Top Stories
Comments