Christian influencers meet Israelis, connect at Jerusalem media summit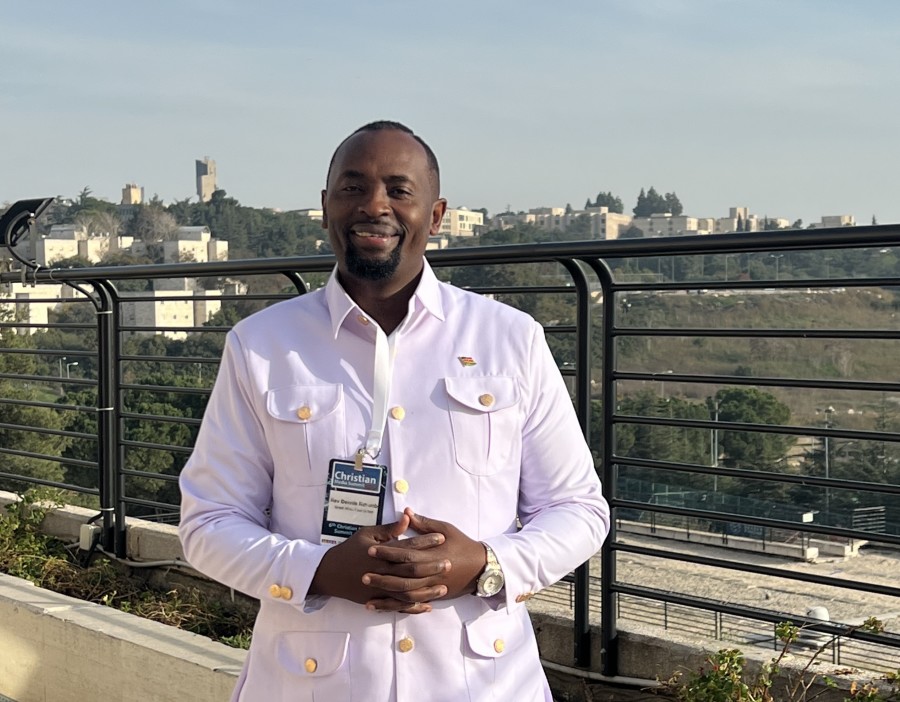 Reverend Dennis Nthumbi at the sixth annual Christian Media Summit in Israel (Photo: Maayan Hoffman)
Top Christian media personalities say they have forged new ties with each other and the State of Israel this week during the sixth annual Christian Media Summit.
Around 180 reporters, editors and TV personalities from more than 30 countries have been in Israel since Sunday for the four-day event, which included opportunities to hear from exciting speakers, see the history they read about firsthand and visit the Gaza border. Today, the group was in the Knesset where they met with parliamentarians, including controversial, far-right lawmaker Itamar Ben Gvir (Jewish Power party).
But some folks at the Dan Jerusalem Hotel on Monday for a series of panel discussions and lectures told ALL ISRAEL NEWS that the highlight of the summit for them is connecting with other like-minded journalists and meeting Israelis.
"I always felt that we Christians love Jews so much. We pray for them, pray for Jerusalem, pray for Israel, but somehow, I did not find reciprocation from the Jewish side," said Paul Devapriyam Pulla, chairman and managing director of Aradana Broadcasting in southern India. "This kind of effort is clearing my mind. I see now that Jews are recognizing us, they're trying to make us part of their growth."
Pulla runs a Christian satellite TV channel with around 10 million viewers. He also arranges tours to the Holy Land. He said he had brought 64 groups and around 3,000 people to the country before COVID. His first post-pandemic tour will take place in February with around 120 people. 
According to the latest Indian census, nearly half of the country's 2.8 million Christians live in south India. 
Paul Devapriyam Pulla (Photo: Maayan Hoffman)
"I love Israel and have been blessed by her since my first visit to the country," Pulla told AIN. "Every Christian prays for Jerusalem and most of them want to visit Israel. In the years to come, thousands of people from India will visit Israel and be blessed.
"I'll do anything for Israel," he concluded. 
'A solid, supportive Christian population'
Risto Huvila from Finland is a return visitor to the Christian Media Summit. He attended twice before the pandemic and said, "as a friend of Israel, a promoter of Israel, it is always good to connect and reconnect."
Huvila is chairman of the Federation of Finland-Israel Associations and vice-chair of the Finnish Holocaust Remembrance Association.
"Finland has a solid, supportive Christian population," Huvila explained in an interview with AIN. "However, I would say that politically, we are as bad as any other European Union country."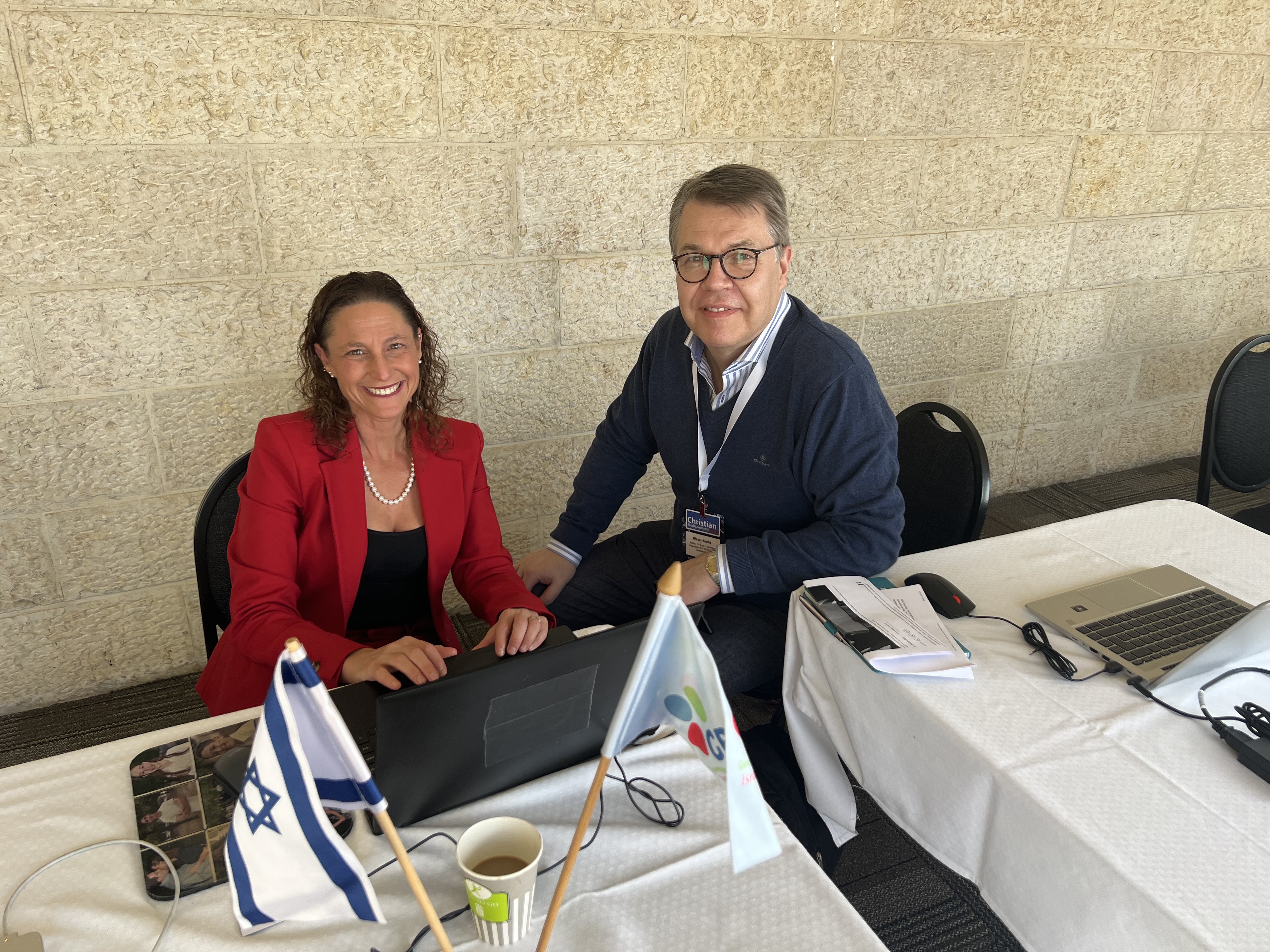 Risto Huvila (right) with the author
Although Israel and the E.U. have close relations and the E.U. is Israel's largest trading partner, it is often portrayed as an opponent to Jewish state. Part of this stems from the E.U.'s staunch support for a Palestinian state, while most Israelis do not feel that the country has a partner for peace nor believe in a two-state solution anymore. In addition, the E.U. has been supportive of the Joint Comprehensive Plan of Action – the Iranian nuclear deal – while Israel is adamant that it will put a nuclear weapon directly in the hands of the rogue regime. 
"I was so happy to see that our Finnish defense forces have signed several contracts for Israeli defense equipment so Finland will be 'stuck' with Israeli support and maintenance of those armed systems for the next 20 or 30 years," Huvila said. "Our security establishment understands and appreciates Israel's capability to produce security technology."
He said Finland also recently launched a parliamentary group to fight rising anti-Semitism.
Huvila said the Christian Media Summit allowed him to get an Israeli perspective on some of the issues he is grappling with, such as the impact of the newly elected Religious Zionism party – some of whose members have said terrible things about Christians – on the state of affairs in the country.
"Suddenly, you hear from your Israeli counterparts and realize that they are struggling with similar questions," Huvila said. 
Moreover, he said he is making new connections in the Christian media arena, which he said will be valuable for exchanging ideas and supporting each other in the fight for Israel. 
'I believe in faith-based democracy'
Reverend Dennis Nthumbi from Kenya expressed similar sentiments. He is the Africa Director of the Israel Allies Foundation and a staunch supporter of the Jewish state. 
"I believe in faith-based democracy and faith-based governance," Nthumbi told AIN. "Israel stands as one of the most civilized and developed first-world nations. You visit this place, and you wonder, how did they do it? You essentially see the strength of every human in the nation of Israel – something we do not always see in nations that have been around for a long time.
"Essentially, there's a lot to learn from Israel," he continued. "My work is to make sure that the posture of Africa is a posture that will reflect love and brotherhood to Israel."
But it is not always easy in Nthumbi's region.
Most of Africa has taken a pro-Palestinian stance in recent decades. In 2019, for example, South Africa downgraded its embassy in Tel Aviv to a liaison office in protest of the frozen peace process and what it considered human rights violations against the Palestinians. 
In July 2021, Israel was accepted into the African Union with observer status. However, only nine months after its acceptance, Israel's position was questioned. Now, a committee has been formed to look into the question and a report and final decision about Israel's standing will be debated in February of next year.
"We are fighting the African Union to ensure that Israel maintains its observer status," Nthumbi said. "The observer status must stay because it is beneficial to Africa to relate to Israel. Hopefully, common sense will prevail at the end of the day."
Nthumbi said Africa should tap into Israel's technology and socioeconomic prowess. Moreover, he believes that the Christians in his country should help give Israel much-needed immunity from misinformation and disinformation. 
"The mobilization of hatred towards Israel is something that Africa must stand against," he told AIN. "We have no business in hating Israel. We have no business in ostracizing Israel. We have every business in loving Israel."
When asked about the Abraham Accords and the decision two years ago for Morocco to normalize ties with Israel, Nthumbi said the accords are important for uniting Jews and Muslims. Morocco considers itself the gateway for doing business in Africa, and business and trade are starting to flourish between the two nations.
He said that Christians and Jews were already united and that his own country, Kenya, stands as the most significant gateway toward Christian nations. Kenya alone is 85% Christian, according to the country's latest statistical report.
"I'm just here to say that one of the most important relationships that Africa can have is with Israel," Nthumbi concluded.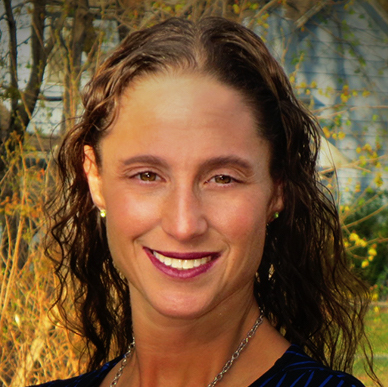 Maayan Hoffman is a veteran American-Israeli journalist and strategic communications consultant. She is Deputy CEO - Strategy & Innovation for the Jerusalem Post, where she also served as news editor, head of strategy and senior health analyst.
A message from All Israel News
Help us educate Christians on a daily basis about what is happening in Israel & the Middle East and why it matters.
For as little as $5, you can support ALL ISRAEL NEWS, a non-profit media organization that is supported by readers like you.
Donate to ALL ISRAEL NEWS
Current Top Stories
Comments