CANCEL CULTURE COMES TO MIDEAST? Netanyahu cancels state visit to UAE for the 4th time
UPDATED: Defense Minister Benny Gantz blasts Netanyahu for straining ties with Jordan. Also, senior official in Amman tells ALL ISRAEL NEWS why Jordan delayed giving permission to Netanyahu to fly to UAE through Jordanian airspace.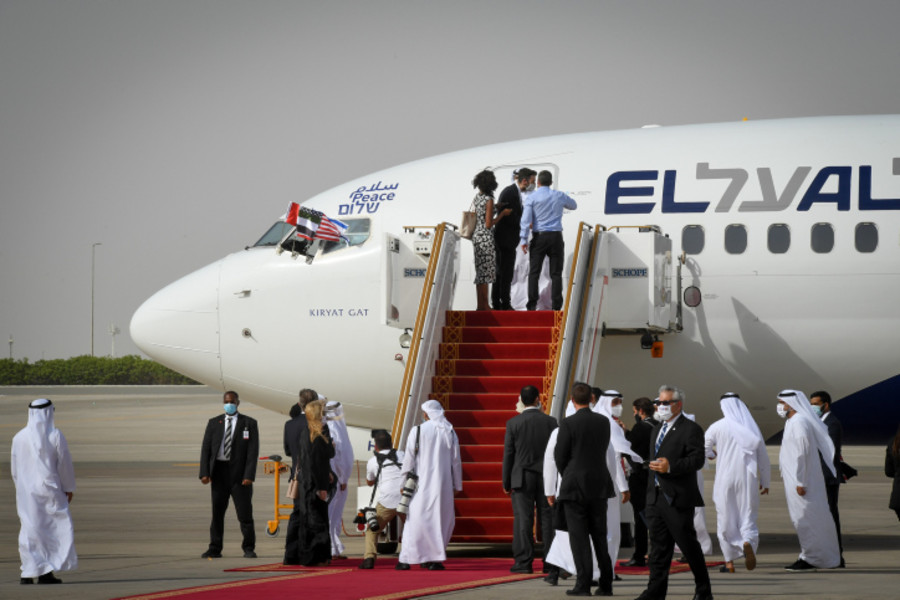 A U.S.-Israeli delegation arrives at Abu Dhabi International Airport on Aug. 31, 2020. (Photo: Matty Stern/U.S. Embassy Jerusalem)
JERUSALEM – The "cancel culture" movement so controversial in the U.S. has apparently come to the Middle East.
With less than two weeks before Israelis go to the polls to choose their next leader, Israeli Prime Minister Benjamin Netanyahu has just canceled what was supposed to be his historic, first-ever state visit to the United Arab Emirates.
Astonishingly, it is the fourth time since November that Netanyahu has canceled this visit to the UAE.
The PM was supposed to fly to Abu Dhabi today to meet with Sheikh Mohammed bin Zayed Al Nayhan, the crown prince and de facto ruler of the UAE, widely known in the region by his initials MBZ.
MBZ was the first Arab leader in more than a quarter of a century to sign a peace and normalization agreement with Israel that became known as the Abraham Accords.
And Netanyahu pulled the plug even though today is MBZ's 60th birthday.
The UAE leadership has not commented.
All evidence so far suggests they will handle this graciously. They want a positive relationship with Israel. 
But this is not going over well.
The Emiratis did not even want Netanyahu to visit this close to the Israeli elections, concerned it would look like they were interfering in Israel's domestic matters.
But Netanyahu and his team pushed hard for a quick visit, even without all the usual pomp and circumstance a state visit would normally afford.
MBZ consented. Then Bibi bailed.
The question is, why does Netanyahu keep canceling?
Each time has different reasons, of course.
This time, Netanyahu's advisors are citing two factors – the health of the PM's wife, and a diplomatic spat with Jordan.
Let's start with the latter which is more serious.
Israel's Government Press Office put out the following statement at 2:15 p.m. Israel time:
"Prime Minister Benjamin Netanyahu was expected to visit the United Arab Emirates today – Thursday, 11 March 2021. However, his visit was postponed due to difficulties in coordinating his flight in Jordanian airspace. These difficulties apparently stemmed from the cancellation of the Jordanian crown prince's visit to the Temple Mount due to a disagreement over security procedures at the site. Jordan recently announced that it would allow the Prime Minister's flight to use Jordanian airspace but since the announcement was received late, the Prime Minister and Crown Prince Sheikh Mohammed bin Zayed agreed to coordinate on another date for the Prime Minister's visit."
This is more complicated.
A senior diplomatic source close to the Jordanian leadership spoke to me on condition of anonymity.
"It was straight forward," the source said. "First, Israel had been both slow and unsupportive of the [Jordanian] crown prince's planned trip to Jerusalem. The Israelis were given ample advance notice. Second, Jordan did not deny the overflight, they simply took their time in approving it. As well, that often happens to Jordanian flights requesting overflight clearance over Israel. Jordan has an exceptionally close relationship with the UAE. Knowing that relationship, it is doubtful that Jordan would have forced the delay without good reason and, most probably, letting the UAE know of the decision and reasoning."
Defense Minister Benny Gantz has sharply criticized Netanyahu for straining relations with Jordan in recent years.
"Jordan is Israel's strategic partner," Gantz said in a statement. "The defense and diplomatic ties we share are a cornerstone of our national security approach. I wish to state clearly that Israel is committed to the agreements we share with Jordan and has the highest regard for King Abdullah and the Jordanian government."
"Unfortunately, Netanyahu's conduct in recent years has done significant damage to our relations with Jordan, causing Israel to lose considerable defensive, diplomatic and economic assets," Gantz added. "I will personally work alongside the entire Israeli defense establishment to continue strengthening our relationship with Jordan, as well as with Egypt — countries with whom we've had enduring peace accords for years — while also deepening ties with other countries in the region."
Another expert in Middle East affairs noted the positive aspect of Netanyahu's latest failed attempt to get to the UAE.
"The circumstances of the cancellation are tied to an unfortunate spat between Jordan and Israel," David Makovsky, former senior advisor to Secretary of State John Kerry and now a fellow at the Washington Institute for Near East Policy, told me. "However, the silver lining is that I think instead of a rushed three hour pre-election visit by the PM, I hope the parties will go back to 'Plan A' for a major visit after the election that reflects the magnitude of Israeli-Emirati normalization."
Every Israeli Knesset member I have reached out to so far has refused to comment. 
One senior aide to a major Israeli leader said his boss was not going to make a statement.
We'll know more in the hours ahead.
Then there is the issue of Sara Netanyahu. She was hospitalized overnight with an infected appendix and is expected to remain in the hospital for several days. We will be praying for her quick recovery.
But let's also be honest: There is nothing the prime minister can do to help his wife get better. She's in the hands of great doctors. 
Unless Mrs. Netanyahu's condition is far worse than is being publicly stated, the prime minister can certainly take a day trip to Abu Dhabi to meet with a vital new Arab peace partner rather than cancel for the fourth time.
The second matter is more serious.
For now, this is what we know: Netanyahu – long seen even by his critics as an impressive global statesman – is straining Israeli relations with two Arab peace partners at a moment when he can least afford it politically.

Joel C. Rosenberg is the editor-in-chief of ALL ISRAEL NEWS and ALL ARAB NEWS and the President and CEO of Near East Media. A New York Times best-selling author, Middle East analyst, and Evangelical leader, he lives in Jerusalem with his wife and sons.
A message from All Israel News
Help us educate Christians on a daily basis about what is happening in Israel & the Middle East and why it matters.
For as little as $5, you can support ALL ISRAEL NEWS, a non-profit media organization that is supported by readers like you.
Donate to ALL ISRAEL NEWS
Current Top Stories
Comments