ISRAELI ELECTIONS RESULTS 2021
Can Netanyahu finally build a stable government? Final vote count shows 97 seats for center and right-wing parties, only 23 for left-wing, Arab parties
In interview with ALL ISRAEL NEWS, Jerusalem Deputy Mayor Fleur Hassan-Nahoum urges like-minded Knesset members to unify behind Netanyahu rather than force country to 5th round of elections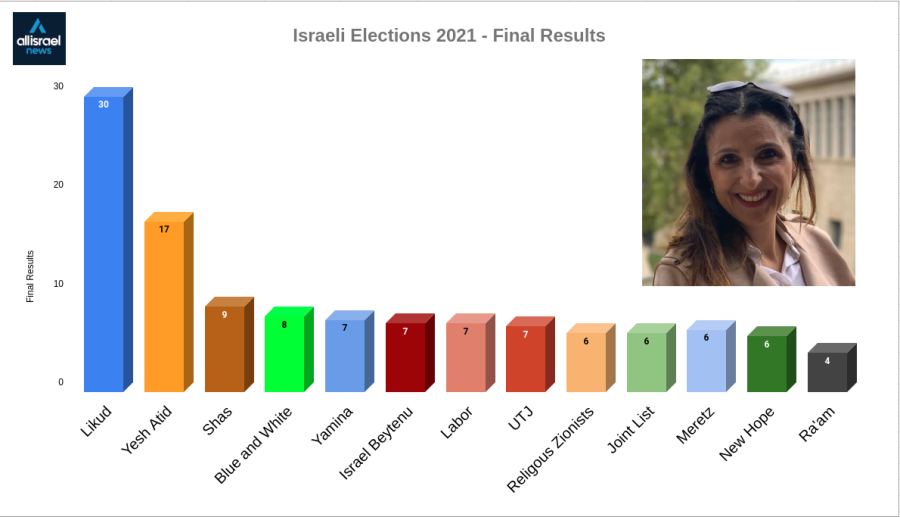 Deputy Mayor of Jerusalem Fleur Hassan-Nahoum speaks with ALL ISRAEL NEWS about the Israeli elections results.
JERUSALEM – The final vote count is in, and the results are intriguing.
Of the 120 seats in the Knesset, there are a total of 97 seats for parties of Israel's right-wing, far-right wing, center-right and centrist factions.
These include:
Likud (center-right party led by Netanyahu) – 30 seats

Yesh Atid (centrist party led by Yair Lapid) – 17

Shas (right wing ultra-Orthodox party led  by Aryeh Deri) – 9

Blue and White (centrist party led by Benny Gantz) – 8

Yamina (right-wing party led by Naftali Bennett) – 7

Yisrael Beytenu (center-right party led by Avigdor Liberman) – 7

United Torah Judaism (right-wing ultra-Orthodox party led by Moshe Gafni) – 7

New Hope (center-right party led by Gideon Sa'ar) – 6

Religious Zionism (far-right party led by Bezalel Smotrich) – 6   
There are only 23 seats for Israel's left-wing and Arab parties. These include:
Labor (left-wing party led by Merav Michaeli) – 7 seats

Meretz (left-wing party led by Nitzan Horowitz) – 6

The Joint List (a coalition of Arab parties led by Ayman Odeh) – 6

Ra'am (Arab Islamist party led by Mansour Abbas) – 4  
COALITION-BUILDING CONFUSION
A cursory glance would suggest that Israeli Prime Minister Benjamin "Bibi" Netanyahu should have no problem putting together a center-right government of at least 61 seats.
Yet as the nation shifts from the elections to the Passover holiday, Netanyahu is – for the fourth election in a row – having enormous trouble building a coalition to stay in office.
Literally every leader of the parties representing the 97 seats have served with Netanyahu in government in the past. 
Some of them have been Netanyahu's closest political allies – even his chief of staff – before breaking off and starting parties of their own.
The problem now is that many of them say they have had it with Netanyahu and will never serve with him again. The main cause of friction isn't policy; it's personal. Most of these politicians generally agree with Netanyahu on the direction the country needs to go. But they say they can no longer stand his style of leadership. 
Netanyahu's main advantage is that those who call themselves the "change bloc" and want to remove him from office aren't sure how to do it, and don't have a single unifying leader to rally around.
A CALL TO UNIFY THE CENTER-RIGHT
It is in this context that a key voice in the Likud party is calling on all Members of Knesset on the right side of the political spectrum to unify for the good of the country.
In an interview with me on Thursday, Jerusalem's Deputy Mayor Fleur Hassan-Nahoum made the case for a broad center to right-wing government with Netanyahu as prime minister to avoid a fifth round of elections.
She urged even those leaders who have opposed Netanyahu to set aside their differences, take advantage of their numbers, demand good cabinet positions and form a stable government.
"I do believe that if the smaller right-wing parties really wanted to make good on their electoral promises, on their political ideology, what they have to do is join the prime minister and create a government," she said. "They are in the best place to negotiate."
"Prime Minister Netanyahu needs them to create a center, right-wing government," Hassan-Nahoum emphasized. 
And, she added, it is better for them to join Netanyahu than to remain "in the wilderness of the opposition." 
SHOULD NETANYAHU INVITE ARAB PARTIES INTO HIS COALITION?
Hassan-Nahoum said a broad-based center-right government is vastly preferable than for Netanyahu to depend on the Arab Islamist party Ra'am, led by Abbas.
"I believe that there is no consensus in the Likud for this [bringing Abbas into a Netanyahu coalition]," she said. "We are talking about a very complicated puzzle and it's not just the Likud – there are other parties that have already said that they would form a government [with Likud] that will not do so if Mansour Abbas is involved."   
"[Ra'am] is a Muslim Brotherhood party and most right-wing Zionists would have a real problem with a party that wants the Jewish character of the State of Israel to disappear and that would quite happily create a bi-national state, and not a Jewish state," she said. "This is something that most people would have trouble accepting. And I completely understand that. I feel the same way." 
Historically, Arab parties in Israel have had no interest in joining the government. Now Abbas is suggesting he and Ra'am might be ready.
Hassan-Nahoum acknowledged that Abbas could be taking a far more practical, pragmatic approach to Israeli politics, somewhat like the ultra-Orthodox parties who, despite having many different interests, have found a way to co-exist with a ruling right-wing government. 
But she still finds it hard to imagine a Netanyahu government being dependent on Abbas.
COULD BENNY GANTZ BECOME PRIME MINISTER?
She ruled out a government run by Defense Minister and alternate-Prime Minister Benny Gantz, rumors of which are buzzing about in Israeli political circles in the last 24 hours.
"Gantz was never right wing," she insists.
Likud is "the only real large party left" and should get the first shot at building a coalition.
"If anybody has been chosen as the leader of this country, it's Binyamin Netanyahu," Hassan-Nahoum said. "The mandate really is to create a (Likud-led) government when you look at just the cold, hard numbers."
While she admits that the path to building a government remains elusive for Netanyahu at the moment, it is for anyone else at this point as well.
"If there's one consolation for my party, it is that while we can't form a government, I don't think anybody else can either."

Joel C. Rosenberg is the editor-in-chief of ALL ISRAEL NEWS and ALL ARAB NEWS and the President and CEO of Near East Media. A New York Times best-selling author, Middle East analyst, and Evangelical leader, he lives in Jerusalem with his wife and sons.
A message from All Israel News
Help us educate Christians on a daily basis about what is happening in Israel & the Middle East and why it matters.
For as little as $5, you can support ALL ISRAEL NEWS, a non-profit media organization that is supported by readers like you.
Donate to ALL ISRAEL NEWS
Current Top Stories
Comments