'Big agenda' ranging from Iran to COVID as President Biden, Prime Minister Bennett reaffirm 'unshakable partnership'
Biden says U.S. is ready for "other options" regarding Iran should diplomacy fail, supports strengthening Abraham Accords
Prime Minister Naftali Bennett, right, meets with U.S. President Joe Biden in the Oval Office of the White House, Friday, Aug. 27, 2021, in Washington. (Photo: GPO)
In a meeting with the Israeli prime minister, U.S. President Joe Biden said that Iran will never get nuclear weapons and that the U.S. is "ready for other options" if diplomacy with the Islamic regime fails.
The 50-minute meeting Friday morning between Biden and Prime Minister Naftali Bennett took place at the Oval Office and marked Bennett's first major diplomatic trip.
Speaking to reporters, Biden said the two nations have a "big agenda" and will "discuss the threat from Iran and our commitment to ensure Iran never develops a nuclear weapon."
"We're putting diplomacy first and seeing where that takes us. But if diplomacy fails, we're ready to turn to other options," Biden reassured Bennett. 
After affirming the American commitment to Israel's security, Biden said another priority is to find "ways to advance peace and security for Israelis and Palestinians."
The American president also signaled he would support continuing the Abraham Accords, the treaty brokered by the former administration that normalized relations between Israel and Muslim nations in the region.
"That's a trend that I think should be encouraged, not discouraged," Bennett said. "And we're going to do all we can to be of value [to it]. We also are going to discuss ways to advance peace and security and prosperity for Israelis and Palestinians. And we're also going to direct our teams to work toward Israel fulfilling the requirements of the visa waiver program to get that done."
In laying out his case on security and defense, Bennett said "we're in the toughest neighborhood in the world."
"We've got ISIS on our southern border, Hezbollah on our northern border, Islamic Jihad, Hamas, Iranian militias that surround us," he said. "And all of them want to kill us, kill Israelis. They all want to annihilate the Jewish state. And that's why Israel always has to be overwhelmingly stronger than any of our enemies."
He also drove home his point on Iran.
"Iran is the number one exporter in the world of terrorism, instability and human rights violations. As we sit here right now, the Iranians are spinning the centrifuges," he said. "And we have to stop it."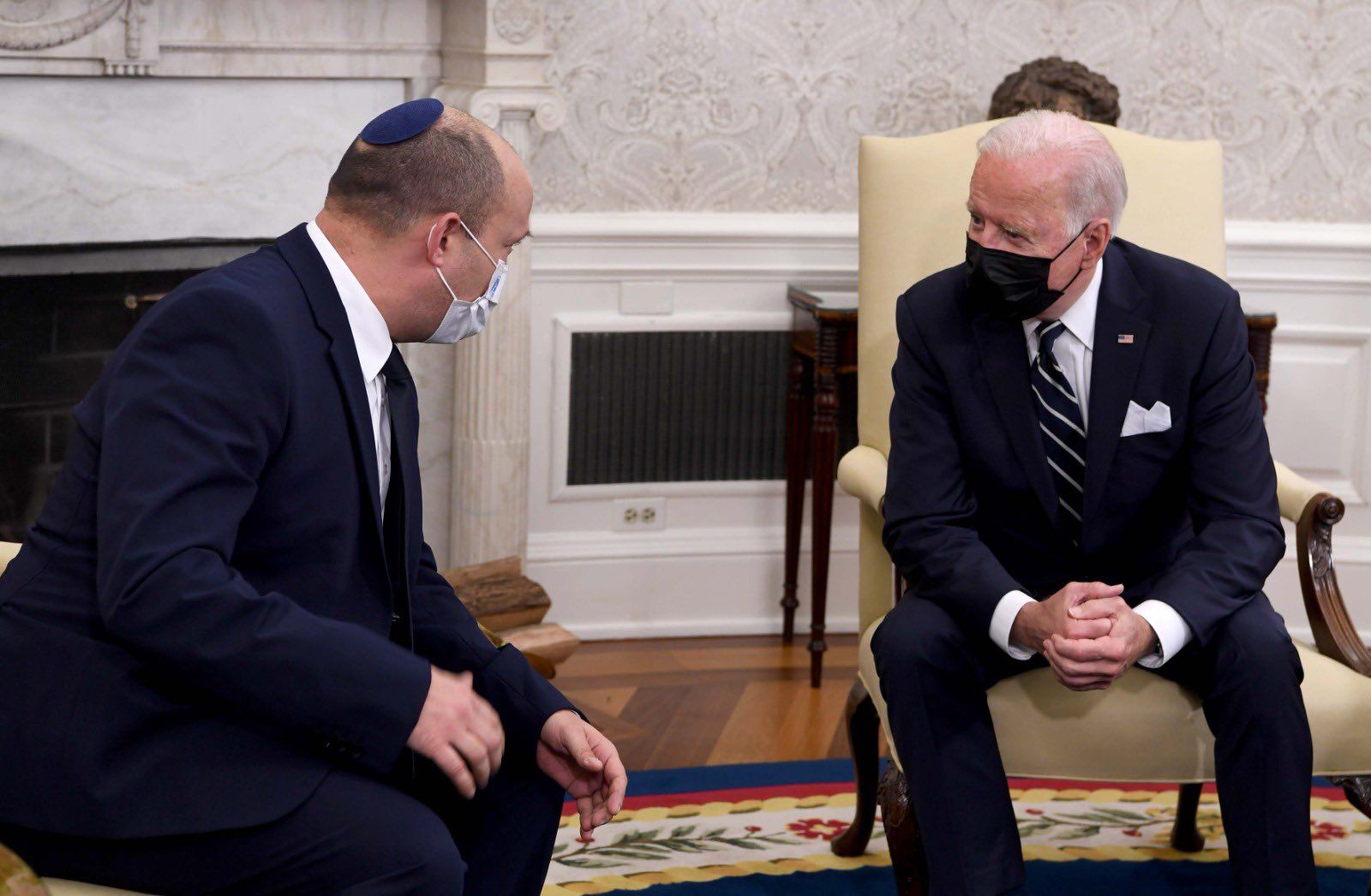 Prime Minister Naftali Bennett and U.S. President Joe Biden in the Oval Office of the White House, Friday, Aug. 27, 2021, in Washington. (Photo: Avi Ohayon/GPO)
Bennett reiterated the commitment of the new Israeli government to engender a "new spirit of goodwill… of hope, a spirit of decency and honesty, a spirit of unity and bipartisanship" with the new American administration.
The two leaders spoke about their countries COVID vaccination campaigns as well.
"We've got a big agenda today, starting with COVID, which we've been talking about, and both our successful vaccination programs, and we've talked a little bit and we're going to continue to talk about the issue of booster shots," Biden said.
"You started your program early and you're having great results, and we're going to start mid-September. But we're considering the advice you've given that we should start earlier, and this is promising. The booster program is going to start here in September, the 20th, pending approval of the FDA and the CDC committee of outside experts. And the question raised is, should it be shorter than eight months? Should it be as long as five months?"
The White House later put out a statement saying that the U.S. will stick to its initial recommendation of eight months until a booster is given.
Israel – which has led arguably the world's most aggressive vaccination campaign, dispensing shots to pregnant women and now the booster before international bodies recommended it – right now offers a third shot to anyone over 30 years old and five months after their second shot.
Bennett said he made a tough policy decision but called Israel a pioneer in COVID vaccines.
"I can report to you, Mr. President, and to everyone that we've reached almost 3 million Israelis that have received the booster shot," he said. "And the bottom line is, it's safe and it works. The good news, finally, is that the tide is turning in Israel."
(According to the Ministry of Health, fewer than 2 million Israelis have received the third shot.)
The full text of both Biden and Bennett's remarks are here.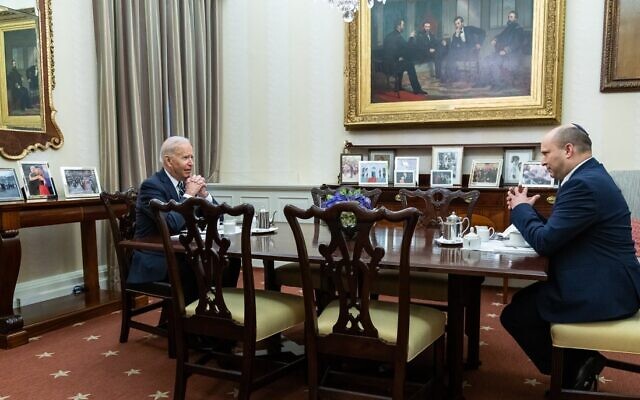 Prime Minister Naftali Bennett and U.S. President Joe Biden in the Oval Office of the White House, Friday, Aug. 27, 2021, in Washington. (Photo: White House/Twitter)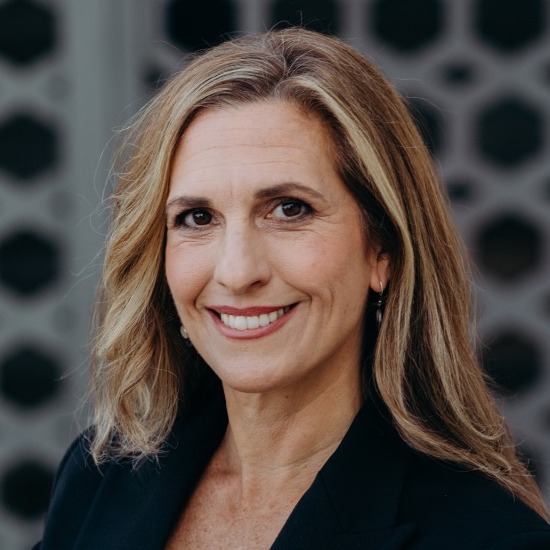 Nicole Jansezian is the news editor for both ALL ISRAEL NEWS and ALL ARAB NEWS and senior correspondent for ALL ISRAEL NEWS
A message from All Israel News
Help us educate Christians on a daily basis about what is happening in Israel & the Middle East and why it matters.
For as little as $5, you can support ALL ISRAEL NEWS, a non-profit media organization that is supported by readers like you.
Donate to ALL ISRAEL NEWS
Current Top Stories
Comments