Biden threatens Russia with harsh economic sanctions if it invades Ukraine, but is he serious – and does Putin even care what Biden says?
With invasion of Ukraine seeming imminent, a call between U.S. and Russian leaders on Tuesday lasted more than two hours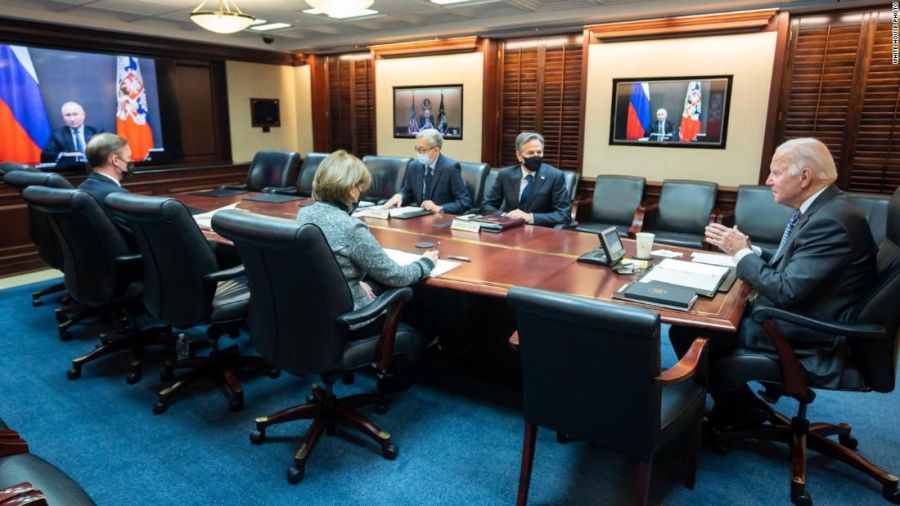 Video call between U.S. President Joe Biden and Russian President Vladimir Putin (Photo: The White House)
DALLAS—With each day that passes, more Russian military forces are amassing along the borders of Ukraine.
U.S. intelligence expects some 175,000 Russian troops – along with combat tanks and other heavy armaments – in the theater by January.
War appears increasingly imminent, which is why the secure video call on Tuesday between U.S. President Joe Biden in the White House Situation Room and Russian President Vladimir Putin at the Kremlin – a call that lasted for more than two hours – was so important. 
Biden "told President Putin directly that if Russia further invades Ukraine, the United States and our European allies would respond with strong economic measures," U.S. National Security Adviser Jake Sullivan told reporters once the call was over.
Biden also said the U.S. would "provide additional defensive materiel to the Ukrainians.. and we would fortify our NATO allies on the eastern flank with additional capabilities in response to such an escalation," Sullivan explained.
The talk from Biden was tough.
"I will look you in the eye and tell you – as President Biden looked President Putin in the eye and told him today – things we did not do in 2014, we are prepared to do now," Sullivan said.
The question is whether Putin believes Biden, or even cares. 
If Putin is absolutely determined to invade, seize and occupy Ukraine – a former Soviet Republic – then Biden's threats may carry little weight.
Biden, after all, is sinking in the polls at home, and not seen as strong and decisive overseas. 
Video call between US President Joe Biden and Russian President Vladimir Putin (Photo: Office of the President of Russia)
Meanwhile, Putin "warned against shifting the responsibility on Russia, since it was NATO that was undertaking dangerous attempts to gain a foothold on Ukrainian territory, and building up its military capabilities along the Russian border."
Ukrainian Defense Minister Oleksiy Reznikov said Tuesday that there would be a "really bloody massacre" if Russia chose to invade Ukraine.
Some experts are warning that upwards of 5 million Ukrainian refugees may flood into Europe if war comes, and that many Russians and Ukrainians will die.
"UK Foreign Minister Vicky Ford today said the cost of Russia invading Ukraine would be 'catastrophically high' and the UK is considering an extension of 'purely defensive' support for Kiev," reported the UK Daily Mail.
"European Commission chief Ursula von der Leyen said Russia will be hit with tougher EU sanctions if its military threatens Ukraine," the Daily Mail also reported. 
Sullivan said that Biden plans to hold a call with Ukrainian President Volodymyr Zelensky on Thursday.
Secretary of State Antony Blinken previously spoke with Zelensky and "reiterated the United States' unwavering support for Ukraine's sovereignty, independence, and territorial integrity in the face of Russian aggression, ahead of President Biden's discussion with President Putin."
"The two agreed on the need for a peaceful, diplomatic resolution to the conflict in the Donbas and the full restoration of Ukrainian sovereignty over its internationally recognized borders, including Crimea," according to a State Department statement.
Biden spoke with U.S. allies French President Emmanuel Macron, German Chancellor Angela Merkel, Italian Prime Minister Mario Draghi and British Prime Minister Boris Johnson both before and after his conversation with Putin as the situation escalates.
Please pray that cooler heads prevail, and a massive ground war does not begin in Europe. 

Joel C. Rosenberg is the editor-in-chief of ALL ISRAEL NEWS and ALL ARAB NEWS and the President and CEO of Near East Media. A New York Times best-selling author, Middle East analyst, and Evangelical leader, he lives in Jerusalem with his wife and sons.
A message from All Israel News
Help us educate Christians on a daily basis about what is happening in Israel & the Middle East and why it matters.
For as little as $5, you can support ALL ISRAEL NEWS, a non-profit media organization that is supported by readers like you.
Donate to ALL ISRAEL NEWS
Current Top Stories
Comments