Bennett asks for government to be sworn-in on Wednesday – several days early
Netanyahu calls Bennett a "serial liar;" Bennett responds, "Free the country to move on," as the two exchange barbs during separate speeches on Sunday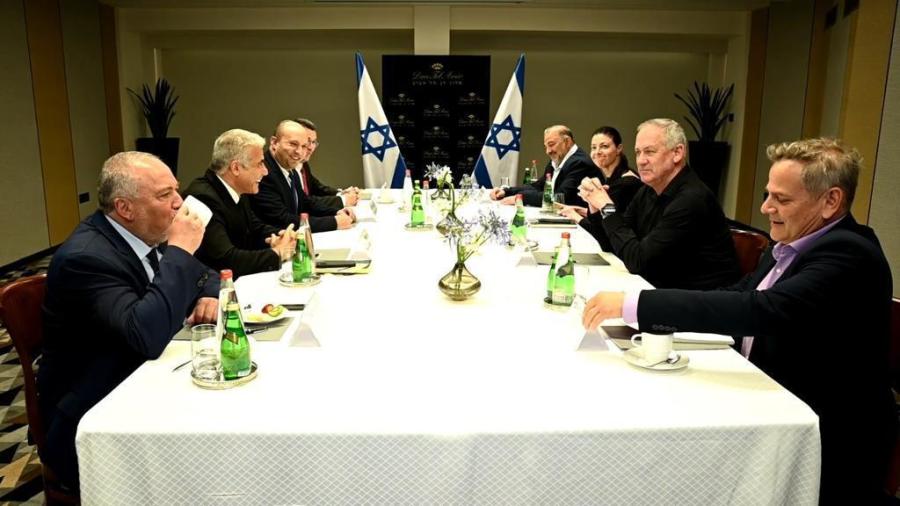 (L-R) Yisrael Beytenu leader Avigdor Liberman, Yesh Atid leader Yair Lapid, Yamina chair Naftali Bennett, New Hope chair Gideon Sa'ar, Blue and White head Benny Gantz, Ra'am chair Mansour Abbas, Labor head Merav Michaeli and Meretz leader Nitzan Horowitz at a meeting of the heads of the would-be-coalition in Tel Aviv, June 6, 2021. (Yesh Atid Twitter feed)
We could be 48 hours from a new government.
But the drama has only intensified. Prime Minister Benjamin Netanyahu is pulling out all the stops to make sure the change bloc will not come to fruition. 
He took several last-minute swipes at the composition of the proposed coalition calling it "a dangerous left-wing government."
"There is still time to vote against this government that would endanger the State of Israel. The hour is late, but not too late. Do the right thing and vote against the left-wing government," Netanyahu said in a midday news conference.
"We in Likud will firmly oppose formatting this dangerous government of trickery and surrender, and if, God forbid, it is formed, we will bring it down very quickly."
This comes a day after the head of the Shin Bet, Israel's Internal security agency, warned leaders to tone down the rhetoric which has incited mass demonstrations outside the homes of certain party members who are signed on to the coalition – including Prime Minister-designate Naftali Bennett himself. Security details have been assigned to several Knesset members in the incoming government.
In his own speech later on Sunday during the primetime news, Bennett said Netanyahu had crossed all sorts of red lines when trying to lure members of the change bloc into defecting and instead joining Likud. He called on Netanyahu to enable a peaceful transition of power for the sake of the nation.
"Free the country to move on," Bennett said. "People are allowed to vote for the formation of a government, even if it is not led by you. This government will be 10 degrees more right-wing than the current one."   
"No one has a monopoly over power. Naturally, any regime that atrophies and degenerates after many years is replaced," Bennett said.
"Don't leave scorched earth in your wake. We want to remember the good, the great deal of good you did during your service [as prime minister], and not, God forbid, a negative atmosphere you would leave upon your departure."
Netanyahu waved a piece of paper he said Bennett signed in a live interview in which he promised to never serve in a government with Ra'am leader Mansour Abbas. The prime minister said he would not form a government with "Mahmoud, I mean Mansour Abbas," although he courted him heavily to sit in his Likud-led government. 
"We didn't want Ra'am with us at any stage," he said, calling the party "terror supporters."
He called Bennett "a serial liar" who "craves the perks of power and is ready to sell the state." Netanyahu warned that Israel would be susceptible to Iranian threats.
"This is a government that will not be able to withstand the pressure from the United States to return to the nuclear agreement with Iran that will bring Iran atomic bombs that would threaten us," Netanyahu said.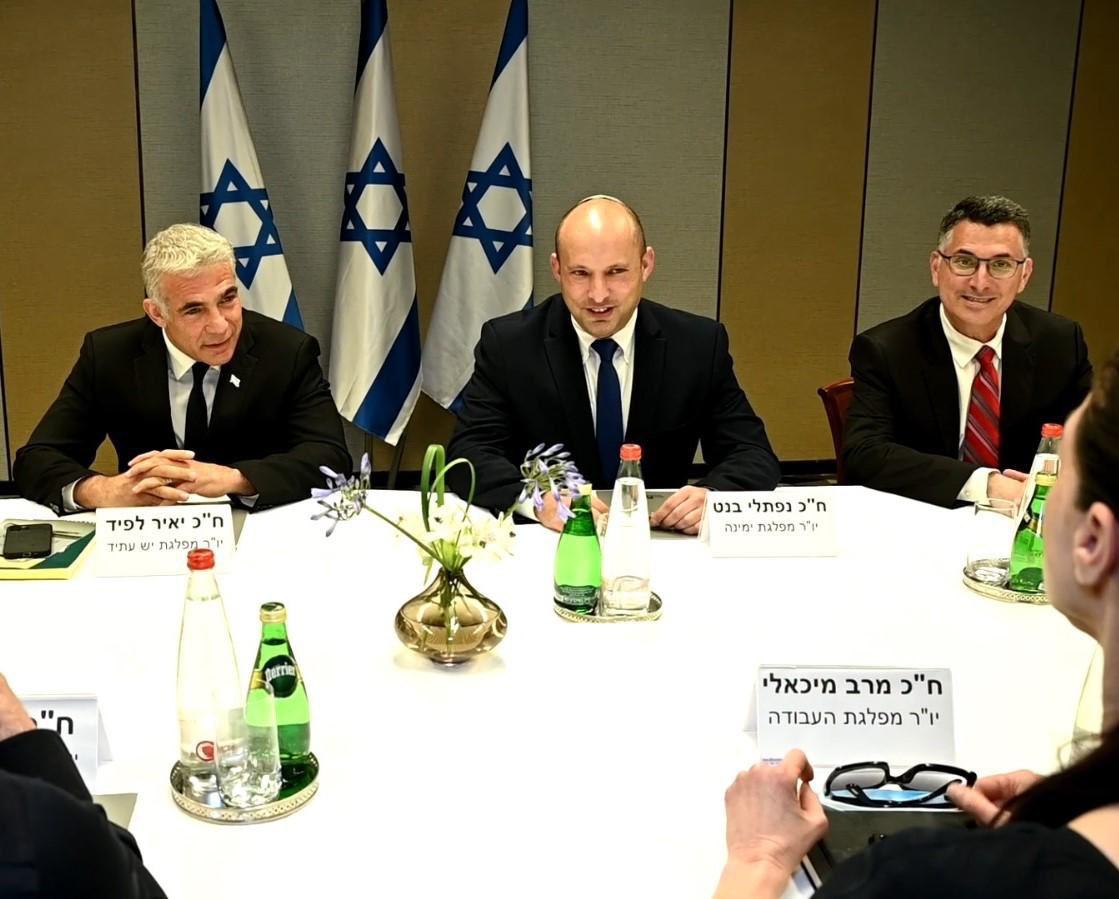 (L-R) Yesh Atid leader Yair Lapid, Yamina chair Naftali Bennett and New Hope head Gideon Sa'ar at a meeting of the heads of the would-be-coalition in Tel Aviv, June 6, 2021. (Yesh Atid Twitter feed)
"When this agreement comes, the security cabinet with (Yair) Lapid, (Merav) Michaeli and (Nitzan) Horowitz will not approve any daring steps in enemy territory inside Iran. A government that is dependent on supporters of terror cannot take consistent and systematic steps against terrorist groups in Gaza, and it is doubtful that it will be able to fight decisions against IDF soldiers by the International Criminal Court in The Hague."
Bennett called on Knesset Speaker Yariv Levin to swear in the ministers on Wednesday. 
"I know Netanyahu is pressuring you to stall for an additional five days to give him time to hunt for defectors," Bennett said. "This might be good for Netanyahu, but you know it's not good for the country. Free us of more long days of poison, fire and smoke. That is what the public expects you to do." 
Israel's KAN TV obtained a leaked recording in which Levin is overheard telling Likud members that he will "do what is best for Likud."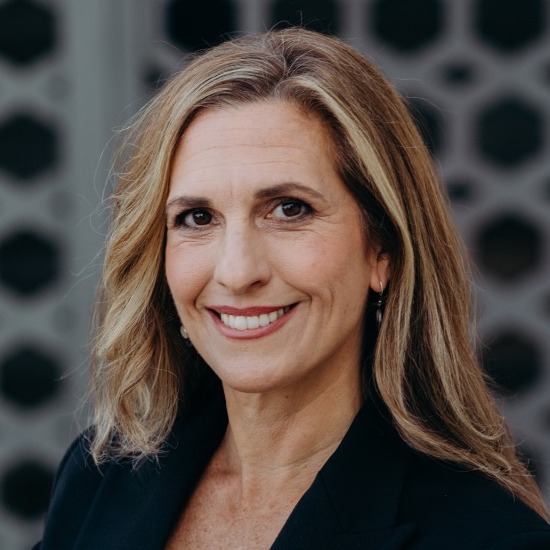 Nicole Jansezian is the news editor for both ALL ISRAEL NEWS and ALL ARAB NEWS and senior correspondent for ALL ISRAEL NEWS
A message from All Israel News
Help us educate Christians on a daily basis about what is happening in Israel & the Middle East and why it matters.
For as little as $5, you can support ALL ISRAEL NEWS, a non-profit media organization that is supported by readers like you.
Donate to ALL ISRAEL NEWS
Current Top Stories
Comments