American reactions to Netanyahu's comeback filled with concern over his coalition partners
The White House is looking forward to working with Israel's next government on 'shared interests and values' – but how many will there be?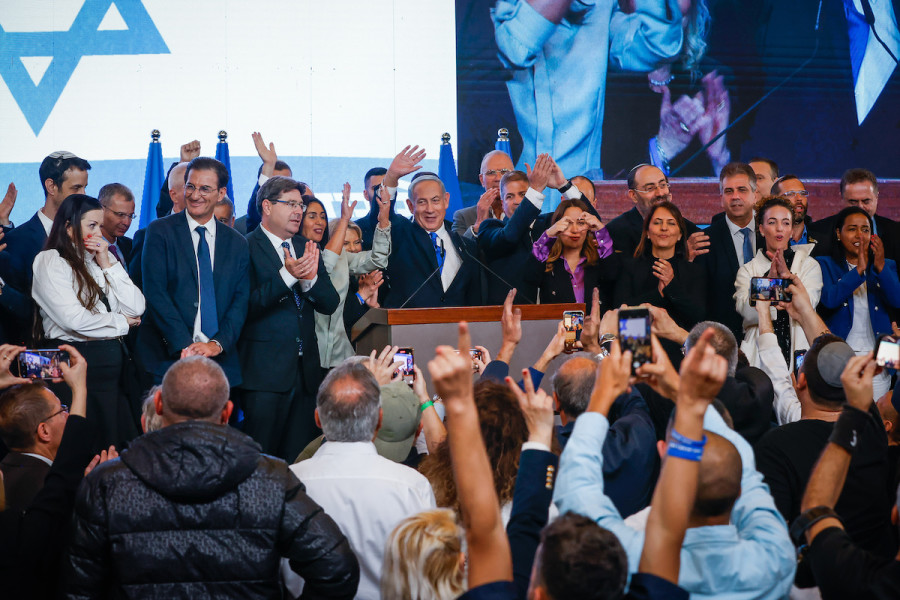 Head of the Likud party Benjamin Netanyahu and party members on the night of the Israeli elections, at the party headquarters in Jerusalem, Nov. 2, 2022. (Photo: Olivier Fitoussi/Flash90)
With most of Israel's Nov. 1 election votes counted, the White House is still waiting for the final results before issuing an official statement about Benjamin Netanyahu's apparent big comeback to Israeli leadership. 
"We don't want to get ahead of that," said White House Press Secretary Karine Jean-Pierre on Tuesday, reiterating the earlier statement of U.S. Ambassador to Israel Thomas Nides, who said, "It is too early to speculate on the exact composition of the next governing coalition until all the votes are counted." 
The U.S. ambassador said that he is "pleased to see" the high voter turnout in Israel, 71.3% of the state's population – compared to a reported 66.9% voter turnout in the United States' 2020 elections – and said he looks forward "to continuing to work with the Israeli government on our shared interests and values."
However, U.S. President Joe Biden's Democrat administration might not find as many "shared interests and values" in Netanyahu's potential coalition partners compared to previous Israeli governments.
While the Religious Zionism party appears to have won 14 parliamentary seats, up from seven seats in the previous parliament, Israeli journalist Barak Ravid reported on Axios that the U.S. administration is unlikely to engage with the party's far-right leader Itamar Ben Gvir, who is poised to become a minister in the nascent government. 
According to the repot, unnamed Israeli and American officials said that U.S. Secretary of State Antony Blinken and U.S. National Security Advisor Jake Sullivan will "have a problem working with specific politicians."
Dennis Ross, who served as Middle East envoy under former U.S. President Barack Obama, wrote in a Washington Institute article that "shared interests are important, but Americans identified with Israel because of shared values." 
According to the Democratic appointee, the government is at risk of developing a coalition with "senior ministers who incite against Arabs," which "would undermine the shared values that buttress the bilateral relationship" between Israel and the U.S. "while giving fuel to Israel's critics in Washington." 
Meanwhile, former U.S. Secretary of State Mike Pompeo congratulated Netanyahu on social media for "his strong performance in the election." The Republican leader added that "Israel is fortunate that he's still serving." 
U.S. Senator Ted Cruz, R-TX, also hailed the high voter turnout and wrote "good luck friend" in Hebrew in a tweet tagging Netanyahu. 
The U.S. media on the political left suggested their view as to what Netanyahu's return to power means for Israel domestically and globally: 
The Associated Press wrote, "The initial results pointed to a continued rightward shift in the Israeli electorate, further dimming hopes for peace with the Palestinians and setting the stage for possible conflict with the Biden administration and Israel's supporters in the U.S." 
A Foreign Policy magazine headline alleged that Israel's "far-right party will push anti-Arab agenda" and a CNN headline read that Netanyahu is "on course to lead Israel's most right-wing government ever," thanks to a "far-right surge." 
CNN analyst Stephen Collinson wrote that Netanyahu's comeback in Israel and Luiz Inácio "Lula" Da Silva's return to the presidency in Brazil – which thousands of protestors are contesting in the streets claiming election fraud and slamming Da Silva for embezzling from the country – "may be a hopeful sign for Trump."
Unlike Netanyahu's victory which marks an Israeli shift rightwards, the media defined Da Silva's comeback as "stunning" and "astonishing," taking Brazil left. 
The Palestinian Authority celebrated the outcome of Brazil's elections, with P.A. official Ahmad al-Deek welcoming Da Silva's victory, saying the president-elect "is known for his support of the Palestinian cause; his views are aligned with the United Nations resolutions."
Mustafa Barghouti, a vocal Israel opponent and leader of the Palestinian National Initiative, told The New Arab news outlet that Lula's victory would benefit the P.A.
Meanwhile, many are questioning how quickly Biden will pick up the phone to call Netanyahu, given his quick call to Da Silva earlier this week.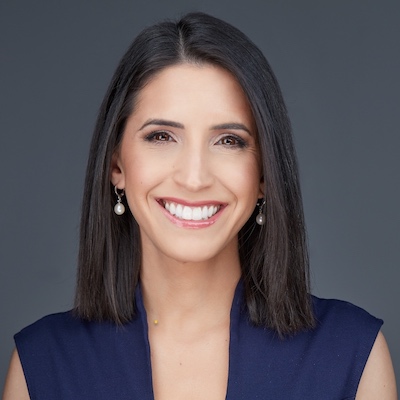 Tal Heinrich is a senior correspondent for both ALL ISRAEL NEWS and ALL ARAB NEWS. She is currently based in New York City. Tal also provides reports and analysis for Israeli Hebrew media Channel 14 News.
A message from All Israel News
Help us educate Christians on a daily basis about what is happening in Israel & the Middle East and why it matters.
For as little as $5, you can support ALL ISRAEL NEWS, a non-profit media organization that is supported by readers like you.
Donate to ALL ISRAEL NEWS
Current Top Stories
Comments